Coal Miner Sees Growth in Asia
Watch the video with Andrew Stotz or read a summary of the World Class Benchmarking on PT Adaro Energy Tbk.
---
---
Background
PT Adaro Energy Tbk is one of the biggest coal producers in one of world's top coal exporters—Indonesia.
Its pit-to-port operations cover mining, logistics and related services.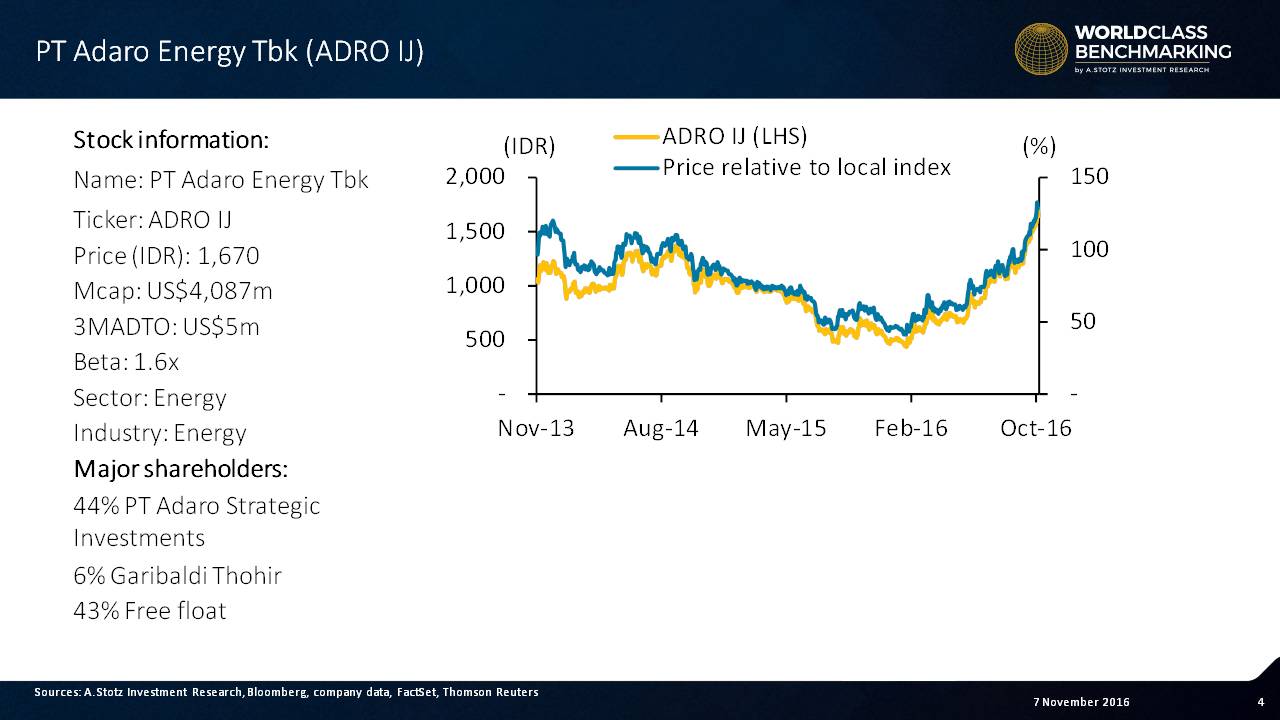 Eyeing Indonesia's growing energy needs, ADRO has also entered the country's power-generation market with three coal-fired power-plant projects in the works.
Business Description
The company produces about 50-60 million tons of coal annually. About 80% of ADRO's coal is exported, and about 20% is used in the domestic market.
In addition to its pit-to-port operations, ADRO is in the power-generation business, holding a 65% stake in Tanjung Power Indonesia, 34% in Bhimasena Power Indonesia, and all of Makmur Sejahtera Wisesa, all of which run coal-fired plants.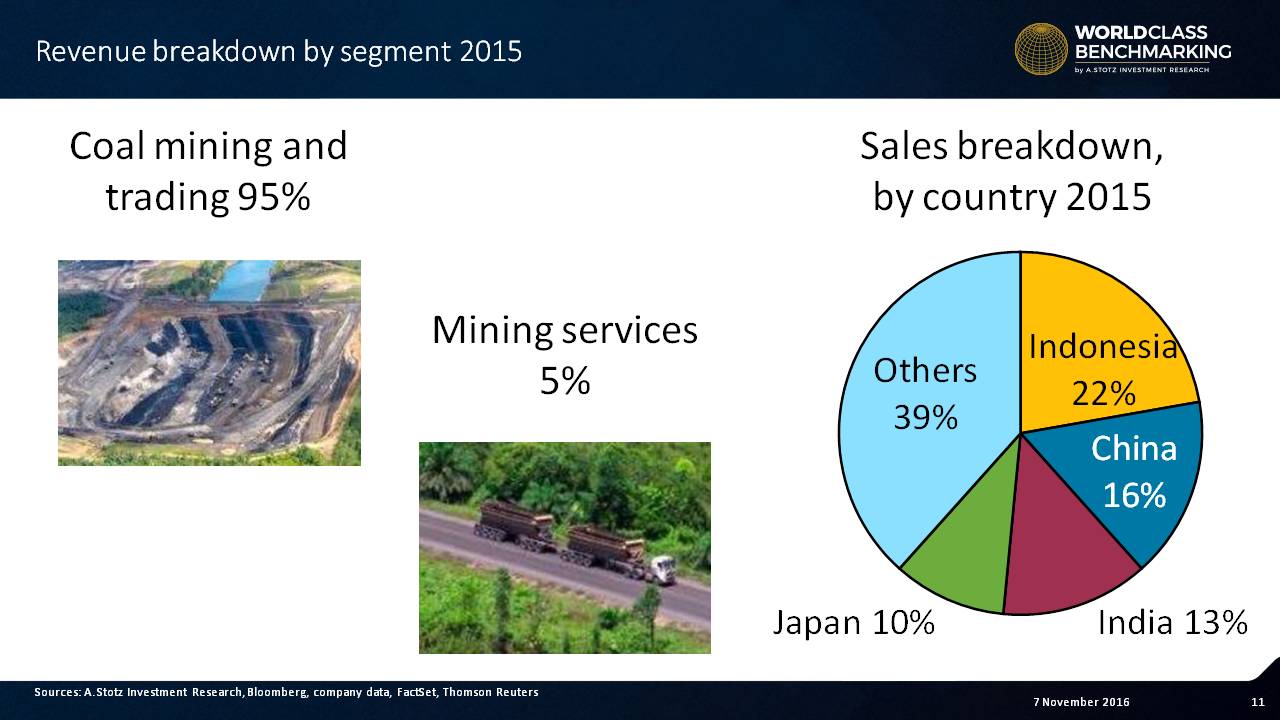 Tanjung Power Indonesia will use around one million tons of coal annually when in operation, mostly to be supplied by ADRO. Bhimasena Power Indonesia will start commercial operations at the end of 2016 and has received a 25-year power-purchase agreement from Perusahaan Listrik Negara, a state-owned electricity distributor.
Leadership
President Commissioner Edwin Soeryadjaya  has been in his role since 2008. After acquiring a business degree from USC in 1974, he joined his father's company, PT Astra International Tbk (ASII IJ). After leading that firm to its IPO, he left and founded an investment firm.
In addition to Adaro Energy, he sits on a half dozen other corporate boards as well, not to mention non-profits.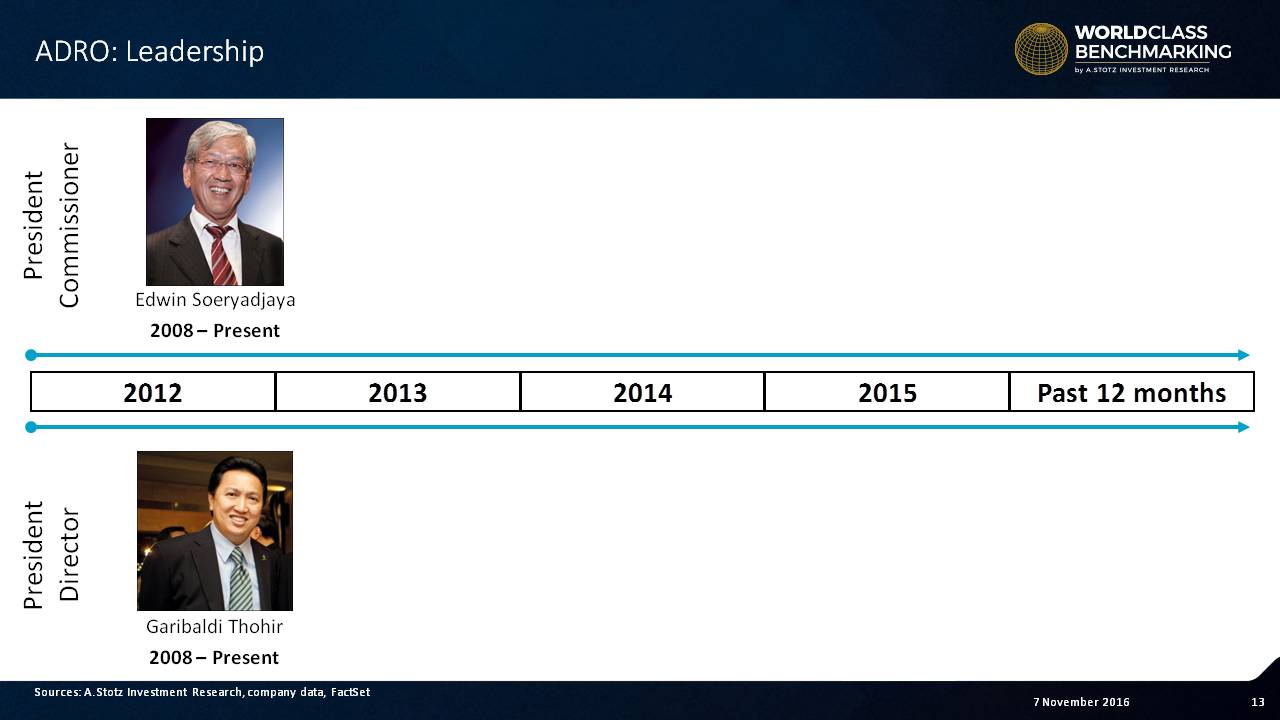 President Director and CEO Garibaldi Thohir has led the company since 2008. In recent years, the firm has performed about average for a firm in its sector.
Like Soeryadjaya, he is the son of one of the founder's of Astra International. In 2005, the two along with others bought the firm and then took it public in 2008.
World Class Benchmarking
ADRO's Profitable Growth improved to #4 in the past year, slightly above average for its sector. The firm ranks among the best 128 of 320 large energy companies.
Its Profitability metric is also ranked #4, and Growth has improved to #3 from #8 in 2013. Improvements are partly coming from higher coal prices.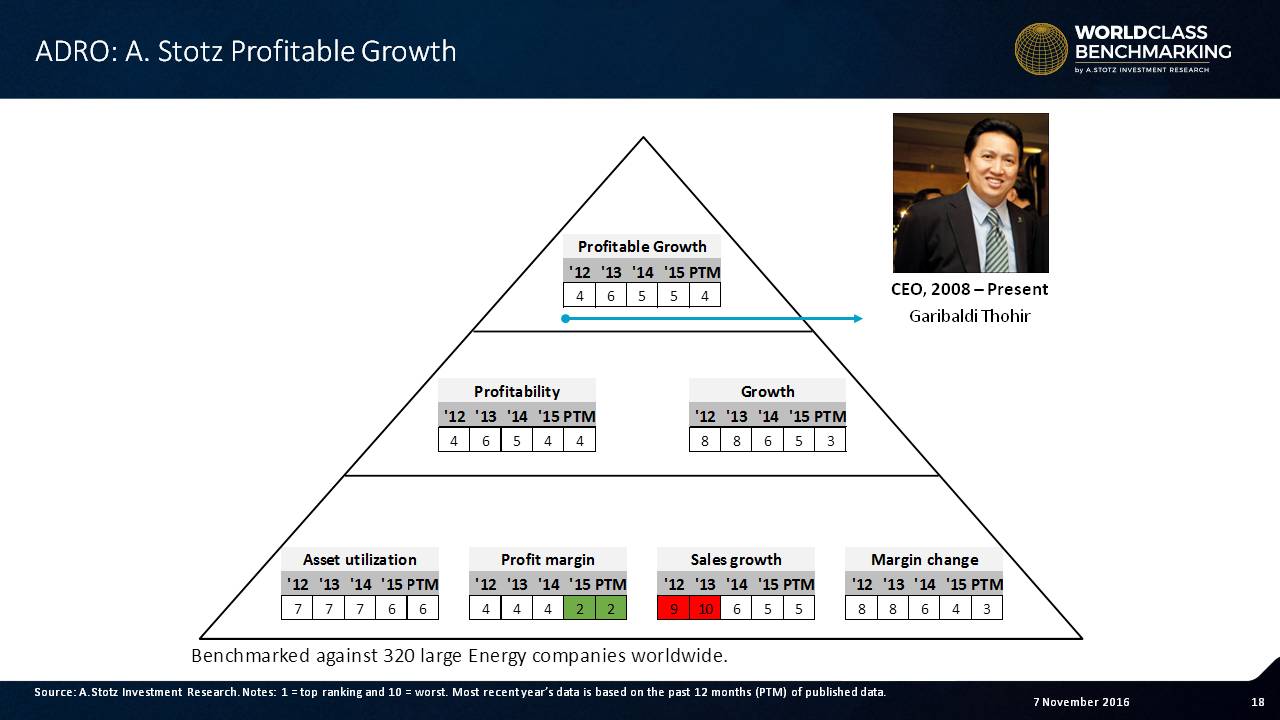 Another positive sign is that its Profit Margin ranking has remained at #2 for two years now and has driven the company's profitability.
The Margin change ranking of #3 is the main driver of ADRO's improvement in Growth since 2014.
---
Would YOU invest in a coal business? Why / Why not?
If you like our research, please share with your friends.
---
DISCLAIMER: This content is for information purposes only. It is not intended to be investment advice. Readers should not consider statements made by the author(s) as formal recommendations and should consult their financial advisor before making any investment decisions. While the information provided is believed to be accurate, it may include errors or inaccuracies. The author(s) cannot be held liable for any actions taken as a result of reading this article.