Care to Buy a Dump Truck?
Watch the video with Andrew Stotz or read a summary of the World Class Benchmarking on PT United Tractors Tbk.
---
---
Background
PT United Tractors Tbk, founded in 1972, distributes heavy equipment used at mines, plantations, construction sites and in forestry.
It is the sole distributor of Scania, Bomag, UD Trucks, Tadano and Komatsu. It also does contract mining support through PT Pamapersada Nusantara Tbk, where it provides design, exploration, hauling and other mining-related services.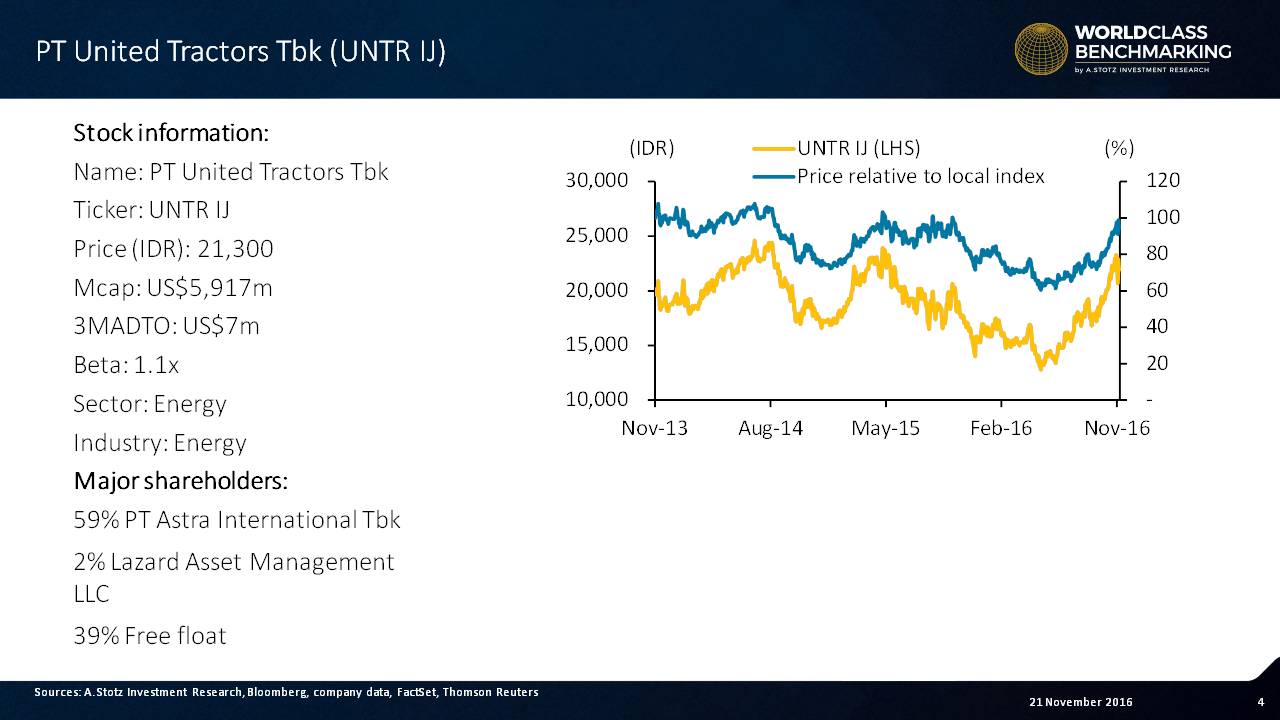 Business Description
United Tractors' business can be divided into three main segments: construction machinery, mining contracting and mining.
Construction machinery is the company's core business. UNTR acts as the sole distributor of heavy equipment and spare parts for Komatsu, UD Trucks, Scania, Bomag and Tadano, which all produce construction, mining, military and industrial equipment. The company is the largest distributor of heavy equipment in Indonesia, and Komatsu has the largest domestic market share there.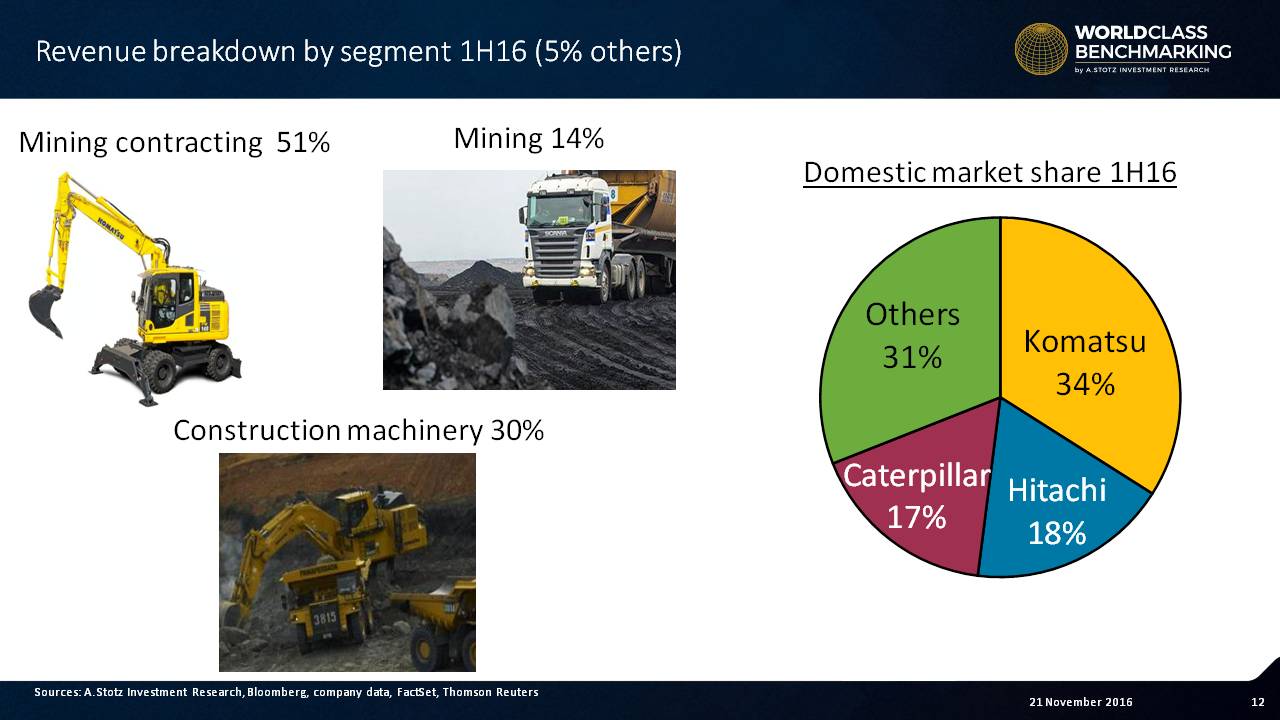 The mining contracting business, the biggest revenue contributor, is conducted through subsidiary PT Pamapersada Nusantara. The unit carries out mine design, exploration, extracting, hauling and transportation. It helps mine owners from the first step of mine design to expansion and marketing activities.
Mining is conducted through subsidiary PT Tuah Turangga Agung. The subsidiary holds many coal mine concessions with total reserves of around 400 megatons (one megaton = one million metric tons). The company's coal mines offer both average and high grades of coal.
Because a large share of the company's revenues come from the coal sector, that sector's health has an inordinate bearing the on the company's overall success.
Leadership
President Commissioner Prijono Sugiarto has served in his role since 2005. He is also presently the President Director of the majority shareholder Astra International (ASII IJ).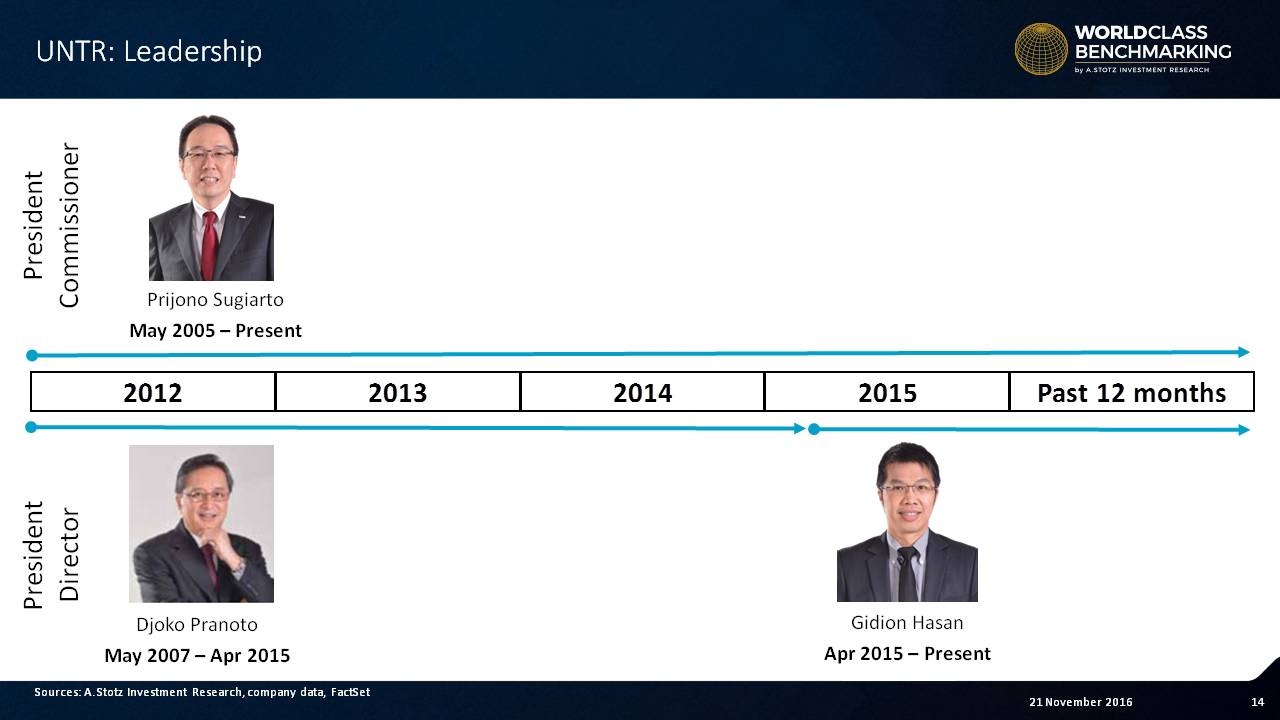 Prior to taking over as President Director of United Tractors in 2015, Gidion Hasan had also worked for Astra International's Corporate Planning and Investor Relations Division. He also has served as the Manager of Corporate Finance for the Salim Group.
He graduated in 1994 with a Bachelor's Degree in Finance from Rogers State University in The United States.
World Class Benchmarking
United Tractors' Profitable Growth has been ranked in the top 3 since 2012. It was ranked #2 in both 2012 and 2014 under Djoko Pranoto's leadership but has fallen to three in each of the past two years.
Still, UNTR ranks among the best 96 of 320 large Energy companies.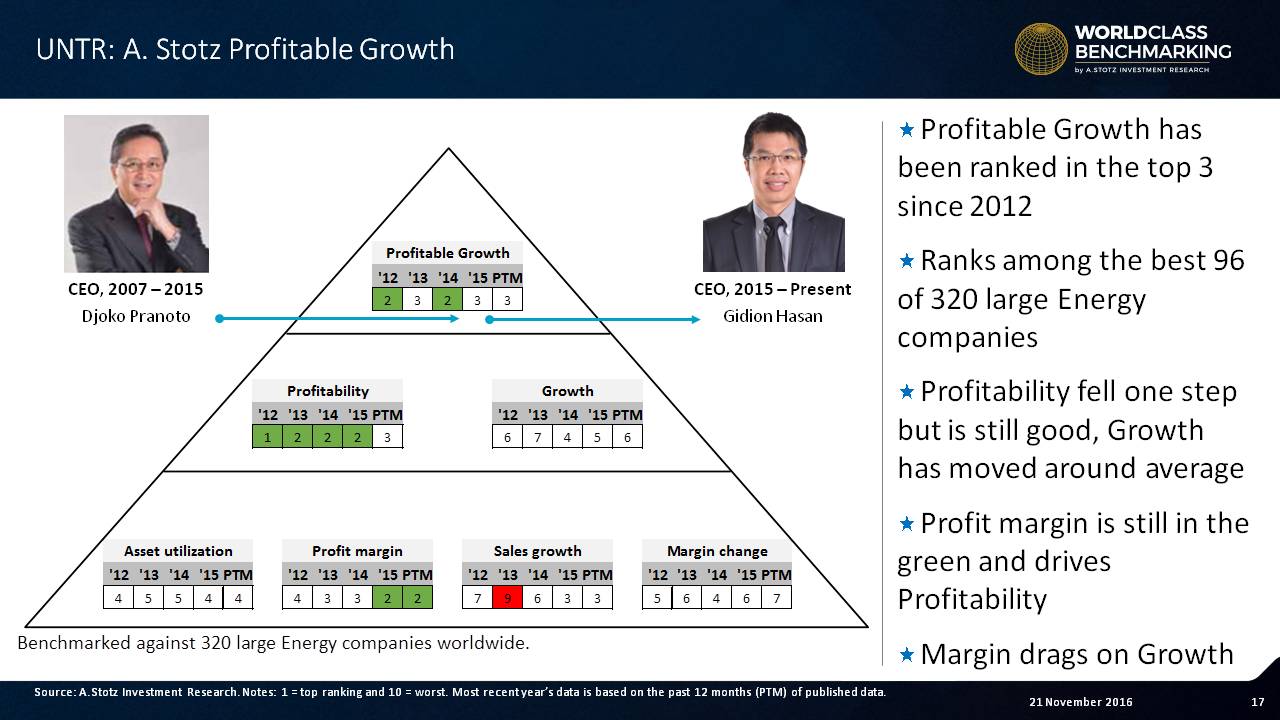 Profitability fell one step but is still good. Growth has moved around over the years but typically registers as close to average.
Profit margin is still in the green and drives Profitability. Margin change has been dragging down Growth, however, of late.
---
 Would you invest in United Tractors?
If you like our research, share it with your friends.
---
DISCLAIMER: This content is for information purposes only. It is not intended to be investment advice. Readers should not consider statements made by the author(s) as formal recommendations and should consult their financial advisor before making any investment decisions. While the information provided is believed to be accurate, it may include errors or inaccuracies. The author(s) cannot be held liable for any actions taken as a result of reading this article.