Get on the Road to Better Investing Results
Top 5 of the Week of January 29
Meb Faber kicks off our Top 5 this week with some sound advice for getting better investing results. Joshua M Brown, The Reformed Broker, cautions us on being asset fans. And A Wealth of Common Sense's Ben Carlson shares the annual update to his favorite asset allocation quilt.
Collaborative Fund partner Morgan Housel argues if history is made by actions or not. And Callum Thomas, from Top Down Charts, reveals the results of his recent market sentiment survey…
---
Get on the Road to Better Investing Results
To set yourself apart from other investors, go through the short-term pain of sitting down and establishing a full blank slate portfolio of holdings that you want to invest in
Compare this against your current legacy portfolio and be brutal about getting rid of those that don't match, then culminate your investment action plan
Having an actionable plan is a critical step to reaching better investing results because all the financial knowledge in the world won't be of help if you don't have a plan
How have you constructed your actionable investing plan? Share your comments in the section below
---
Proceed with Caution
Avoid becoming too much of an avid supporter of individual stocks, bonds, companies, currencies, etc
Being single-minded about an asset makes you a fan, not an investor—instead, act bullish on something long-term and be wary about it short-term
This is arguably one of "the highest planes of enlightenment" you can ever hope to achieve as an investor
---
Stock Performance Chart Update for 2017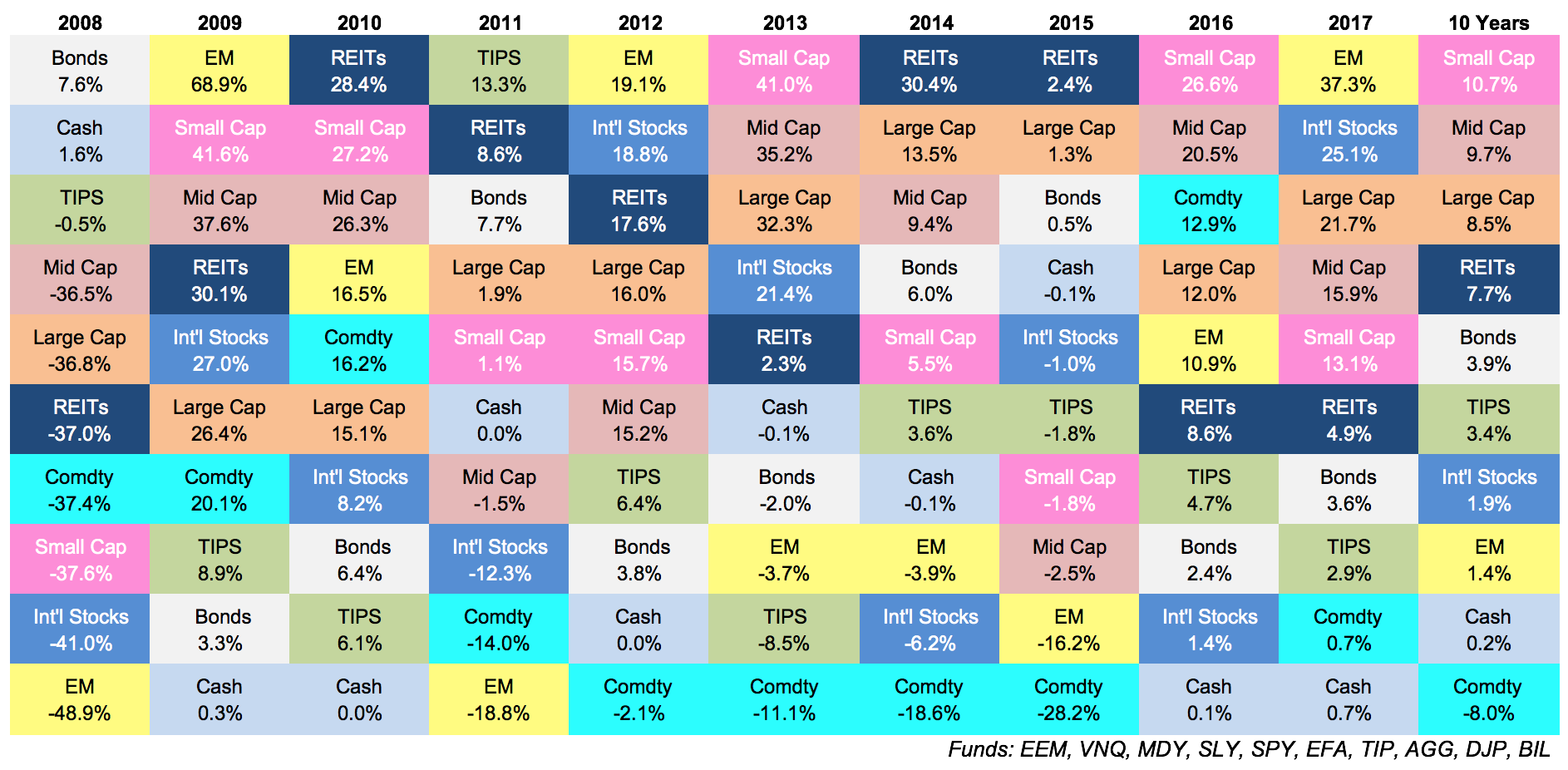 A Wealth of Common Sense's Stock Performance Chart
As in 2016, each asset class has seen positive growth but remember that this year marks the end of the 2008 data for 10-year return numbers
While the numbers will look fantastic, don't be tempted to do anything you'll regret based on past performance—instead, plan and act for the long-term
Also, this chart is a great reminder for investors to stay humble, diversify, and understand just how random markets can act
---
"To Do Nothing Is Often the Best Course of Action…"
"…But history was not made by those who did nothing"—except, this quotation is arguably incorrect in some instances
While not as exciting or controversial perhaps, doing nothing—especially in investing—can be the critical difference between becoming rich and staying rich
So, as tempting as it is to take bold courses of actions and leap into life-changing strategies, you're far better not to, as you'll invariably have more options available to you in the future
---
Recent Investor Sentiment Analysis
On asked whether investors are "bullish or bearish for fundamental vs. technical rationale," responses show a major reevaluation of the fundamentals since mid-2017
There is also a pervasive sense of optimism across the market in the surveyed sentiment, analysts' expectations and predictions, and even in your average Twitter patron
Investors are no longer all talk, but are living up to their chat and following through with their spouted stock speculations on leveraged bets
---
Top 5 of the Week is a summarized collection of financial investment articles that we like and think you might like too. Having written thousands of pages of equity strategy and company research between us, we understand the allure of the ever-changing world of finance. Investing is an art form—and like everything, something you can work on and improve at. There are some excellent writers out there on the finance web, some offer a running commentary on today's market, some are doing research, some have tips on how to Become a Better Investor, and some just lift the cloud of fog behind a lot of financial jargon. Each week we will keep you up to date with the top 5 articles worthy of your attention.
---
Anything you would like to discuss about this week's top 5? Do you have another favorite that isn't mentioned here? Feel free to add it below. Let's start a discussion in the comments section!
Do you like Top 5 of the Week? Feel free to share it with your friends.
---
DISCLAIMER: This content is for information purposes only. It is not intended to be investment advice. Readers should not consider statements made by the author(s) as formal recommendations and should consult their financial advisor before making any investment decisions. While the information provided is believed to be accurate, it may include errors or inaccuracies. The author(s) cannot be held liable for any actions taken as a result of reading this article. The Become a Better Investor Team doesn't necessarily endorse any stocks or shares mentioned in the articles or the author of such articles linked to and summarized in Top 5 of the Week and cannot guarantee the accuracy of its information.