Beautiful Growth in Cosmetics
Background
Beauty Community Public Company Limited is a Thailand-based company engaged in the retail sale of cosmetic and skincare products.
It operates retail shops selling beauty products mainly made from natural extracts.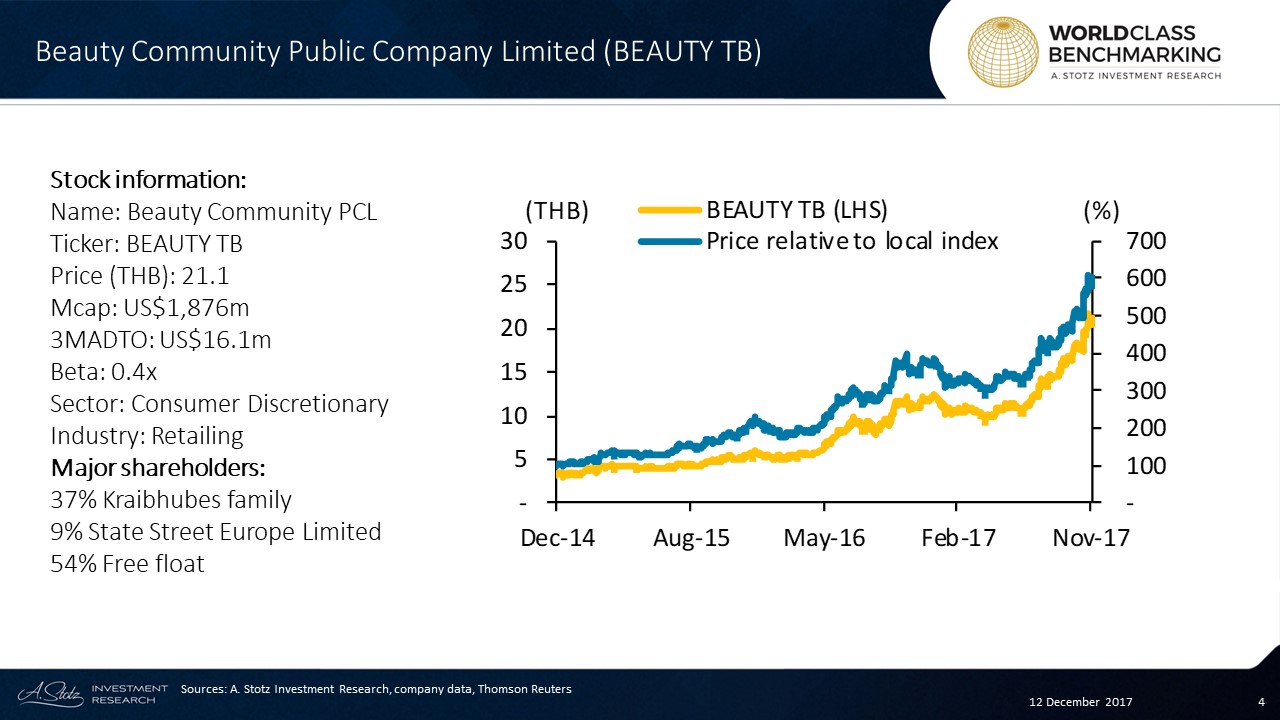 The company produces its own products and has online stores. It has a presence in the CLMV (Cambodia, Laos, Myanmar, Vietnam) sub-region.
Business Description
BEAUTY is a manufacturer and retailer of cosmetics and skincare products, which are sold under the brand names of Beauty Buffet, Beauty Cottage, Girly Girl and Made in Nature.
Beauty Buffet is similar to buffet-style dining, in which a wide range of cosmetic products are offered for customers to try before they buy. Beauty Cottage sells under the store's own brand name; its products are made from natural extracts and sold in a vintage decoration setting. Beauty Market stores are a mixed concept of supermarket and beauty store together. As of end 3Q17, BEAUTY had 255 Beauty Buffet, 72 Beauty Cottage and 9 Beauty Market stores in Thailand.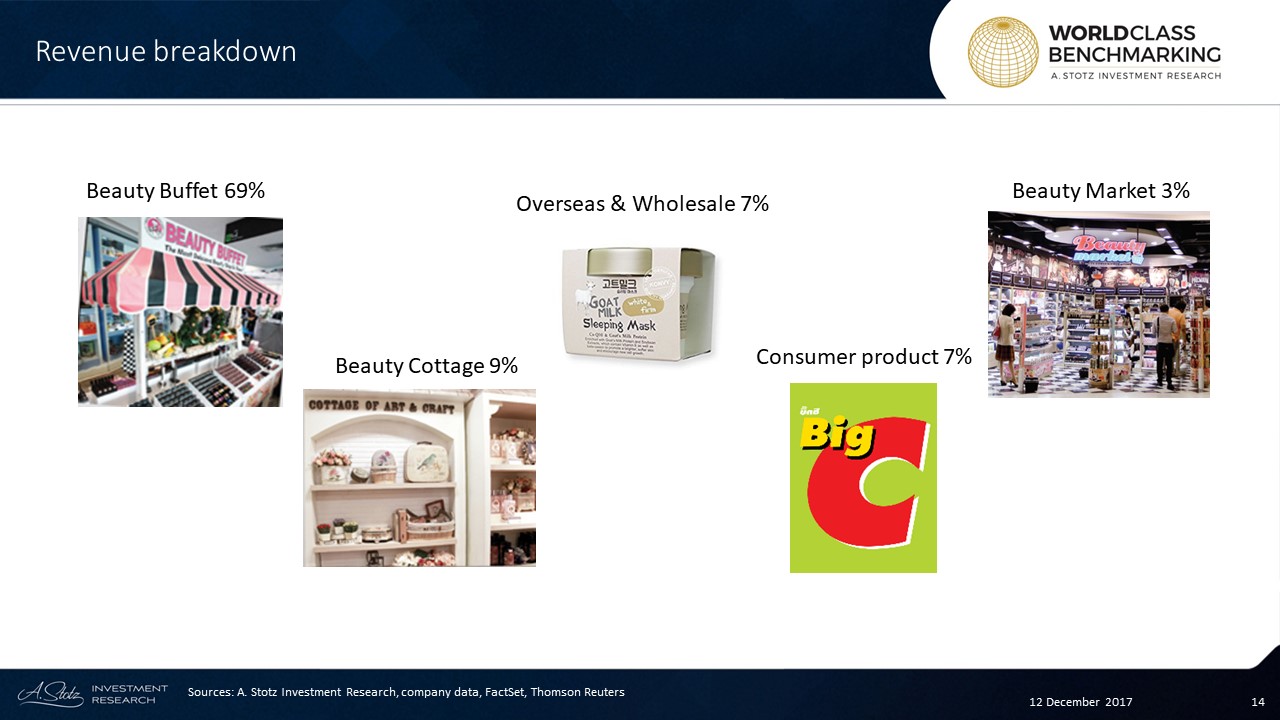 BEAUTY also sells its products as "consumer products" through over 1,300 distribution points within big supermarket chains such as Big C, Tesco Lotus, 7 Eleven, and duty-free shops. It also runs e-commerce service under Beautyplazaonline.com, accounting for 4% of sales in 3Q17.
Continues expansion in Southeast Asia focused on developing countries such as Myanmar, Vietnam, Laos and Cambodia where it has 40 shops.
Leadership
Padet Charuchinda is an independent director and chairman of BEAUTY since 2012. He is also currently an Advisor of the Royal Thai Army, Director of the Provost Marchal General. His qualification includes a Bachelor of Science from Chulachomkloa Royal Military Academy and a Certificate of Director Accreditation Program from the Thai Institute of Directors.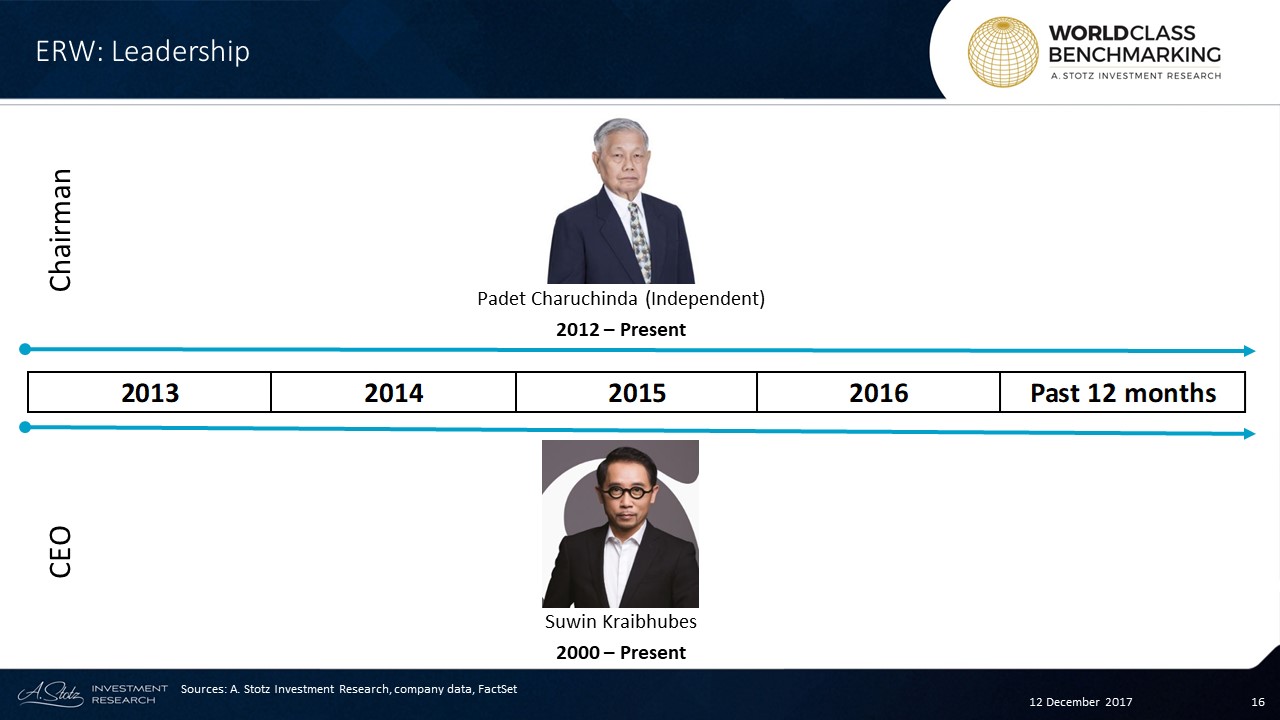 Suwin Kraibhubes have served in the position as CEO of BEAUTY since 2000. He holds 17.5 percent of the shares outstanding directly, altogether his family owns 37 percent of the company. He has received multiple qualifications including a Bachelor of Science from the Faculty of Medicine, Chiang Mai University in Thailand, and Global Business Leaders Program from LEAD Business and Cornell University among others.
World Class Benchmarking
Profitable Growth has ranked consistently World Class since 2013. BEAUTY ranked among the best 88 of 880 small Consumer Discretionary companies globally.
Profitability has been BEAUTY's main strength and consistently ranked the best. Growth has stayed in the top 3 since 2014.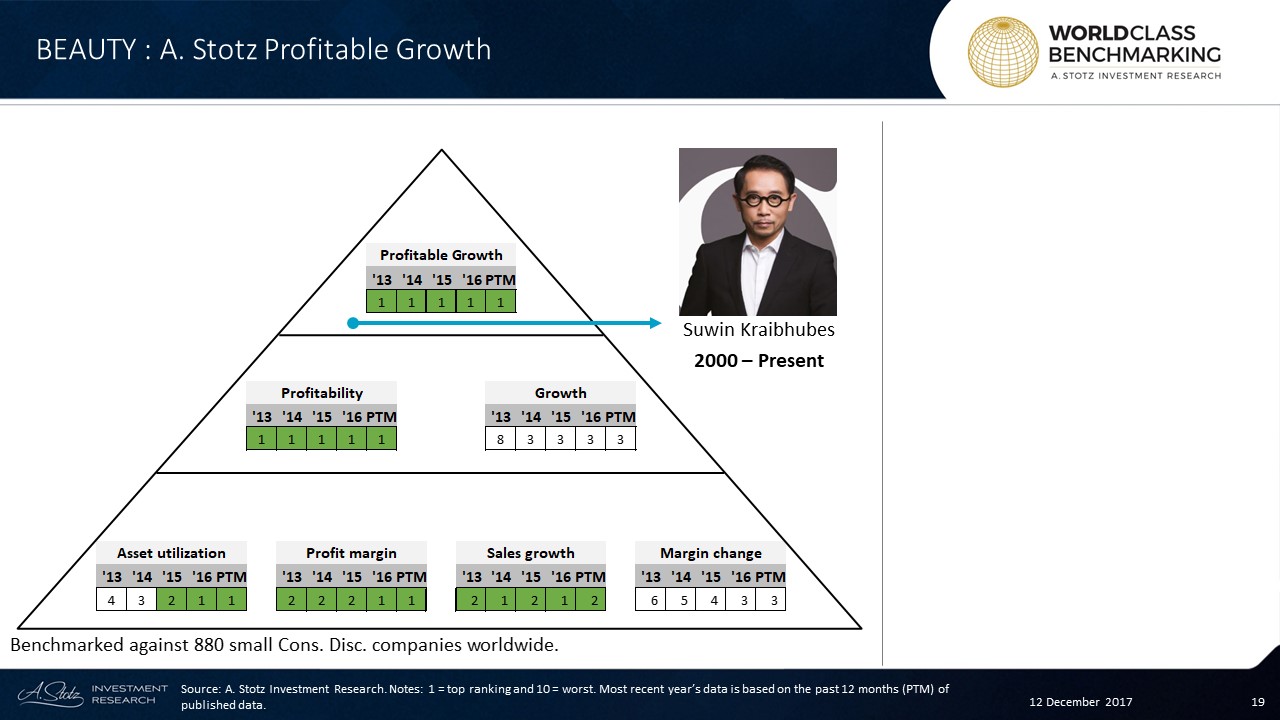 Asset utilization and Profit margin both improved to #1 in 2016 and stayed there for the past 12 months. BEAUTY's Profitability is driven by both high efficiency and high margin.
Sales growth has been in the top 2 for the whole time period, Margin change has improved and ranked #3 in the past 12 months.
---
What're your thoughts on BEAUTY?
If you like our research, share it with your friends.
---
DISCLAIMER: This content is for information purposes only. It is not intended to be investment advice. Readers should not consider statements made by the author(s) as formal recommendations and should consult their financial advisor before making any investment decisions. While the information provided is believed to be accurate, it may include errors or inaccuracies. The author(s) cannot be held liable for any actions taken as a result of reading this article.