United Paper's Profitable Growth Has Benefited from Tight Global Paper Supply
Background
United Paper Public Company Limited is a Thai group involved in the manufacture and distribution of cardboard for paper boxes and kraft paper for the packaging used inside cardboard boxes.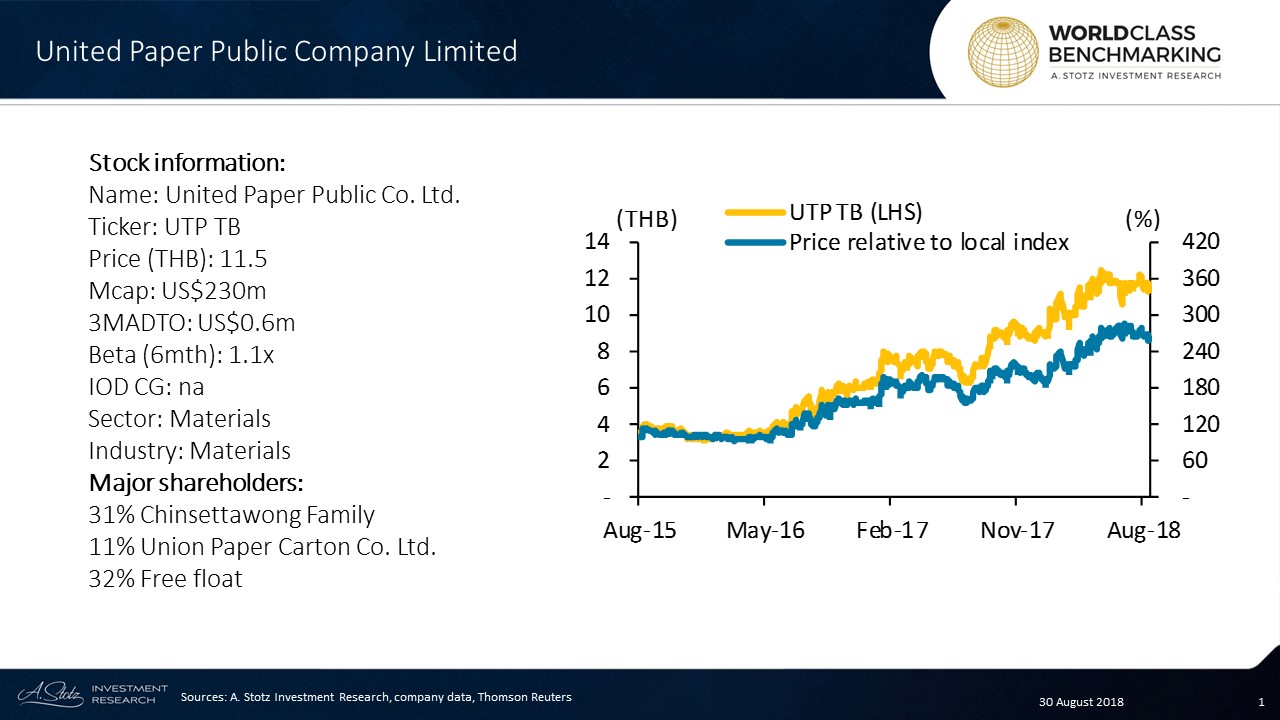 It sells into the domestic market and exports its products.
Business Description
UTP is a producer and distributor of cardboard paper for corrugated cardboard boxes and box cardboard packaging in Thailand. Total production, which is entirely domestic based, was around 200,000 tons annually, but is currently being ramped up by 20%. Therefore, by yearend production should reach approximately 240,000 tons per annum.
Products are marketed largely to domestic customers, virtually all of which are owned by UTP's shareholders.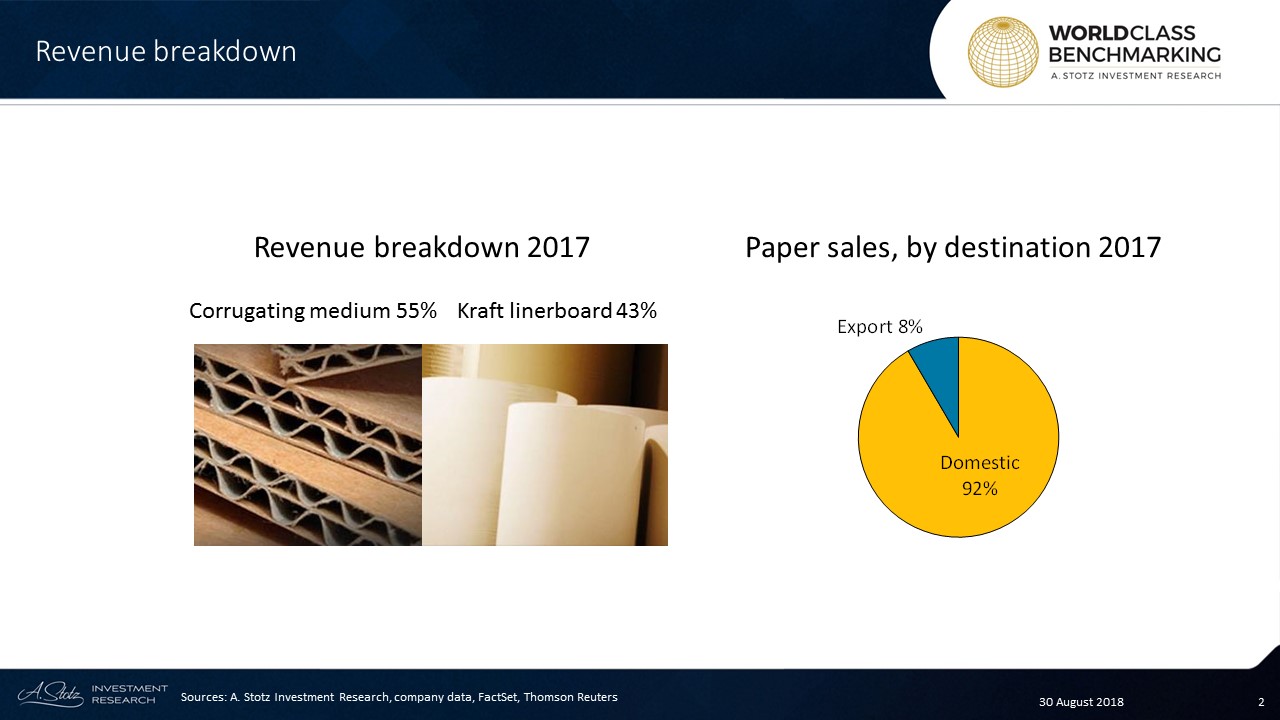 Cardboard paper is the basic material for making corrugated cardboard paper boxes, and the packaging used inside cardboard boxes. End use ranges from food containers to electronic appliances.
The Chinese are the biggest players in global paper production, and hence their ongoing domestic capacity restraint is helping to maintain tight demand supply conditions. This is in turn helping both the company's exports, at around 8% of sales, and its domestic average selling prices.
Leadership
Chin Chinsettawong serves as the Chairman of UTP and also as an Independent Director of Thai Textile Industry Public Company Limited (TTI TB). He holds a doctorate from California Coast University, US.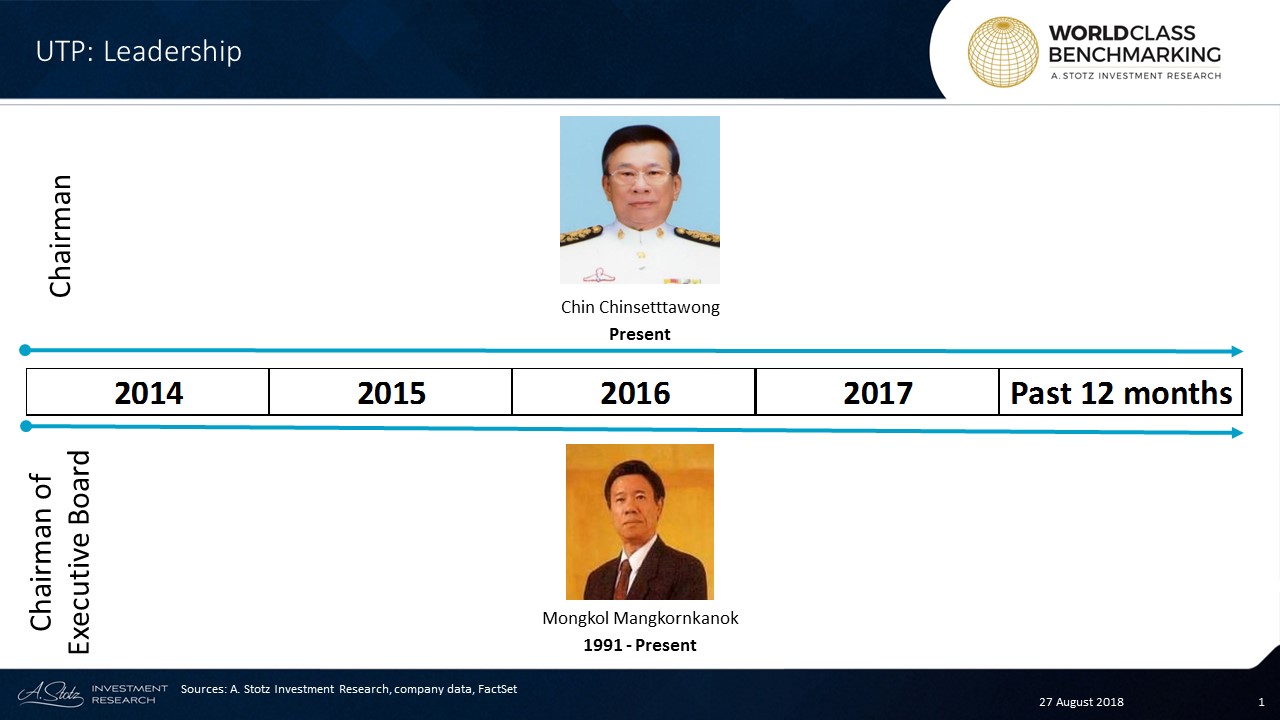 Mongkol Mangkornkanok has been the Managing Director of UTP since 1991 and is an Executive Director of Thai Textile Industry Public Company Limited (TTI TB). Additionally, he has served as the Managing Director of Thai Far East Company Limited and of Rama Textile Company Limited since 1984. He has been the Chairman of Asia Fiber Public Company Limited since 2016 (AFC TB). For educational background, he holds a Master's Degree of Mechanical Engineering from Purdue University, US.
World Class Benchmarking
UTP's Profitable Growth has been in an improving trend after the dip to #6 in 2015. In the past 12 months, UTP ranked at #2 which is in the top 98 out of 490 small Materials companies worldwide.
Profitability has improved since 2015 as well, and the past 12 months performance is ranked at #1. Growth has shown a similar trend and ranked at #2 in the most recent period.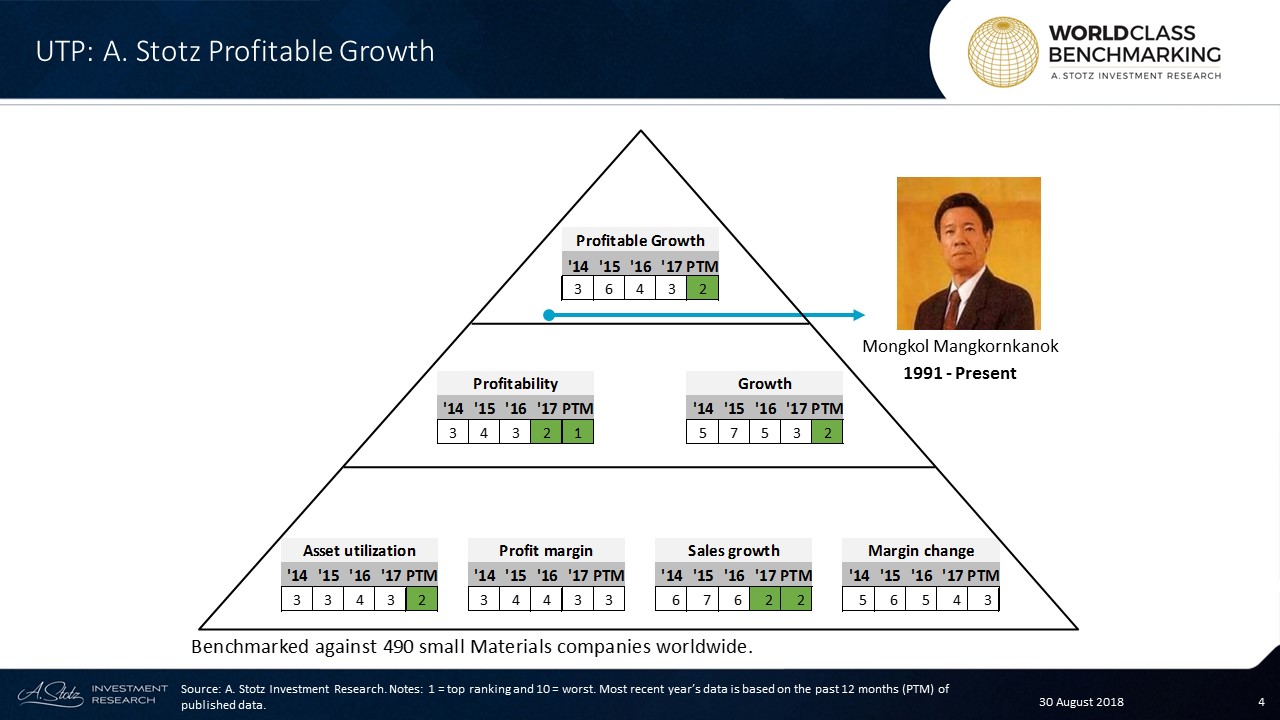 Asset utilization improved to #2 from #3 in the most recent period. Profit returned to #3 in 2017 and has stayed there.
Sales growth has ranked at #2 since 2017 after three years at below-average ranks. Margin change has shown a desirable trend and ranked at #3 in the past 12 months.
---
What're your thoughts on UTP?
If you like our research, share it with your friends.
---
DISCLAIMER: This content is for information purposes only. It is not intended to be investment advice. Readers should not consider statements made by the author(s) as formal recommendations and should consult their financial advisor before making any investment decisions. While the information provided is believed to be accurate, it may include errors or inaccuracies. The author(s) cannot be held liable for any actions taken as a result of reading this article.