2018's Investing Watchword
Top 5 of the Week of January 15
In our Top 5 this week, Cullen Roche author of the Pragmatic Capitalism blog helps us get started with our portfolios properly. The Reformed Broker Joshua Brown reveals the investing theme we should take note of for 2018. And Dana Lyons examines how stock valuations are at their highest level since 2000 in his Tumblr feed.
The Financial Samurai Sam Dogen shares his investing lessons post-2017. And Jason Zweig on his Safe Haven for Intelligent Investor's blog discusses whether it really is Bitcoin's era or not…
---
Where to Start with Your Portfolio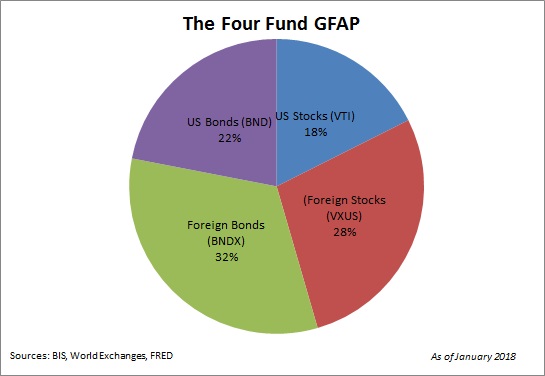 For anyone looking to build a diversified portfolio, the Global Financial Asset Portfolio (GFAP) is a great view of the world's financial assets according to current market capitalization
Despite the level of complexity suggested by trying to quantify these assets in real-time, this portfolio only really comprises of four low-cost index funds
And when it comes to investing, simple beats complex every time right?
Plan on constructing your portfolio on another model? Share your comments in the section below
---
2018's Investing Watchword
Though it's not been in circulation since mid-2008, the watchword for 2018 will likely be inflation
Stocks are part of the large concern due to the recent increase of inflation rate and its rather unfortunate impact on multiples
So, it looks as though the unusual run of negative relative returns over the last 7 years with commodities underperforming is coming to an end
---
Stocks Skyrocketing to Dotcom Levels
A survey for the monthly allocation of investors' current level of stocks, bonds, and cash allocation is an accurate way to read longer-term investor sentiment
Since the crash of 1987, investor stock allocation has floated between 41% and 77% at the high in 2000
Last December, we peaked again at 72% heading back up to those heights of the dotcom bubble, which suggests significant longer-term market risk ahead of us
---
What 2017 Taught Us
Look past politics and your feelings about the people in power; this narrow-minded perspective can make you miss out on stock market performance otherwise
Real estate is simpler than investing in stocks, but if you don't have the funds going long-term in an S&P 500 index fund is the next best thing
Be positive about the bull market by reassessing what you're investing for in the first place—always keep your eye on the prize
---
Bitcoin: The Currency of Choice?
The popularity of blockchain technology has been adopted increasingly by significant organizations
It's set to make other methods of gathering and safekeeping information antiquated, but it's not clear yet which digital currency will come out on top
Early leadership and success doesn't necessarily mean currencies will triumph, and other ones may yet overtake them, be wary of this if your bitcoin interest is only because of its popularity—you may get caught out
---
Top 5 of the Week is a summarized collection of financial investment articles that we like and think you might like too. Having written thousands of pages of equity strategy and company research between us, we understand the allure of the ever-changing world of finance. Investing is an art form—and like everything, something you can work on and improve at. There are some excellent writers out there on the finance web, some offer a running commentary on today's market, some are doing research, some have tips on how to Become a Better Investor, and some just lift the cloud of fog behind a lot of financial jargon. Each week we will keep you up to date with the top 5 articles worthy of your attention.
---
Anything you would like to discuss about this week's top 5? Do you have another favorite that isn't mentioned here? Feel free to add it below. Let's start a discussion in the comments section!
Do you like Top 5 of the Week? Feel free to share it with your friends.
---
DISCLAIMER: This content is for information purposes only. It is not intended to be investment advice. Readers should not consider statements made by the author(s) as formal recommendations and should consult their financial advisor before making any investment decisions. While the information provided is believed to be accurate, it may include errors or inaccuracies. The author(s) cannot be held liable for any actions taken as a result of reading this article. The Become a Better Investor Team doesn't necessarily endorse any stocks or shares mentioned in the articles or the author of such articles linked to and summarized in Top 5 of the Week and cannot guarantee the accuracy of its information.