A. Stotz All Weather Alpha Focus – December 2021
All Weather Alpha Focus outperformed a 60/40 portfolio in December 2021. Fed and ECB are going to do what they can to prop up markets. The economic recovery is going to continue in 2022, which makes equities attractive. Risks: New lockdowns, crash in the Indian stock market, US default.
A. Stotz All Weather Alpha Focus is Global, Opportunistic, Long-term, and Defensive:
Global – Invests globally, not only Thailand
Opportunistic – Tilts towards asset classes, sectors, regions, and themes in a quest to enhance returns and manage risks
Long-term – Gains from long-term equity return
Defensive – Aims to reduce extreme losses during equity market downturns
All Weather Alpha Focus is available in Thailand through FINNOMENA, and you can learn more here. Please note that this post is not investment advice and should not be seen as recommendations. Also, remember that backtested or past performance is not a reliable indicator of future performance.
Review
Santa Claus came to town
Despite new fears of Omicron in the news, we got a Santa Claus rally, and World equity was up by almost 4% in December 2021
European small caps outperformed
European small caps performed the second-best among the funds All Weather Alpha Focus was invested in
Amidst uncertainty and fear of new lockdowns returning to the markets, European stocks were up
Strong European return thanks to Omicron potentially being a mild variant, and approved big 2022 Gov't budgets in Spain and Italy
Infrastructure kept up with world equity
World infrastructure returned slightly more than World equity
The World infrastructure fund has more than 30% allocated to energy-related infrastructure, and the Energy sector recovered in December
Expected rise in infrastructure spending in for example the US helped too
World healthcare performed strongly
World healthcare was the best performer among the funds All Weather Alpha Focus was invested in
The overall sector doesn't necessarily benefit from the Coronavirus as costs related to restrictions are high, but it helped the sector in December
India was below world equity
Santa came to India too, and the market recovered in the last week of December
While foreign outflows continued, the market got support from strong domestic institutional buying
India closed up in December but underperformed World equity
The money market remained flat
The Thai money market was flat in December
The purpose of our money market allocation is downside protection
Other asset classes were up in the past month; hence, a small allocation to bonds was good for the strategy's performance
Energy rebound drove commodities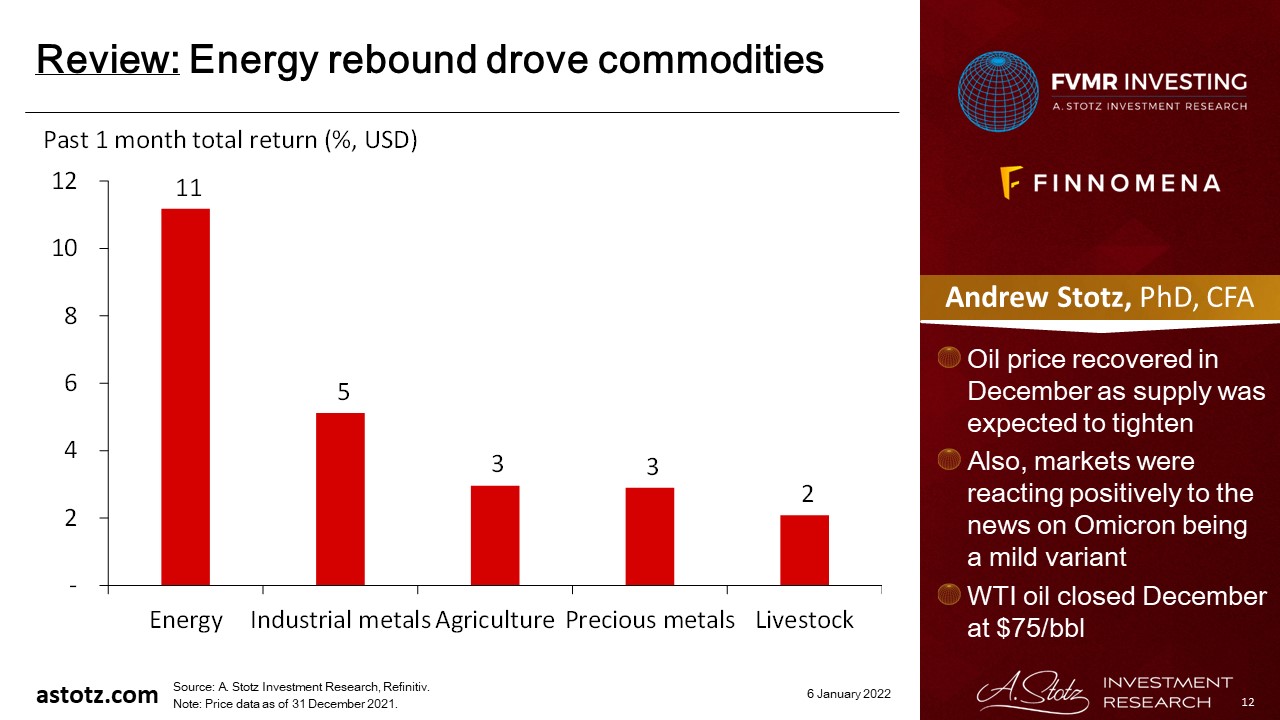 Oil price recovered in December as supply was expected to tighten
Also, markets were reacting positively to the news on Omicron being a mild variant
WTI oil closed December at $75/bbl
Gold closed slightly up in December
Gold reacted to inflation expectations and rate hike by Bank of England and expected earlier hikes by the Fed, which led to relatively high price volatility
While the price was volatile, it rose in the second half of December as the US Dollar weakened
Gold closed December at US$1,829/oz t
Alpha Focus recovered by the end of December
Two months is a short period to evaluate any performance
As Omicron news hit the market, our strategy got hit hard
The strategy reduced the gap to 60/40 by the end of December
Alpha Focus beat the 60/40 by 1.5%
Of our three tilts, European small caps and Commodities outperformed, and India underperformed relative to World equity
All Weather Alpha Focus is an exclusive strategy available in Thailand through FINNOMENA, learn more here. 
---
DISCLAIMER: This content is for information purposes only. It is not intended to be investment advice. Readers should not consider statements made by the author(s) as formal recommendations and should consult their financial advisor before making any investment decisions. While the information provided is believed to be accurate, it may include errors or inaccuracies. The author(s) cannot be held liable for any actions taken as a result of reading this article.