The Super Strong Thai Baht Pressuring Growth and Squashing Rates
Recently the Thai Baht has been the strongest currency in Asia. Strong Baht thanks to current account surplus, high foreign reserves, and low inflation. A stable and strong currency is beneficial to some investors, and Thailand exports should gain from the US-China trade war but, two pillars of the Thai economy (exports and tourism) are hurt by the strong Baht. Expect the Bank of Thailand (BOT) to have to continue to lower rates.
Baht has been extremely strong in Asia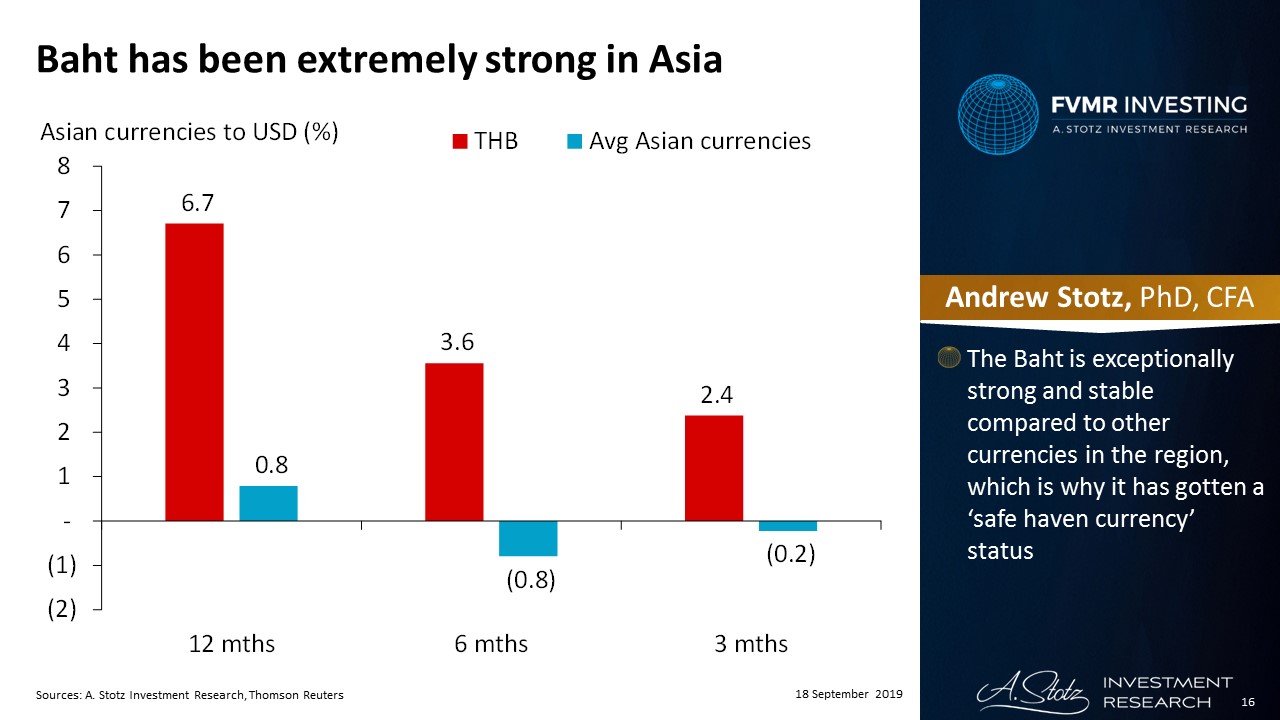 The Baht is exceptionally strong and stable compared to other currencies in the region, which is why it has gotten a 'safe-haven currency' status.
Thailand's current account surplus supports the Baht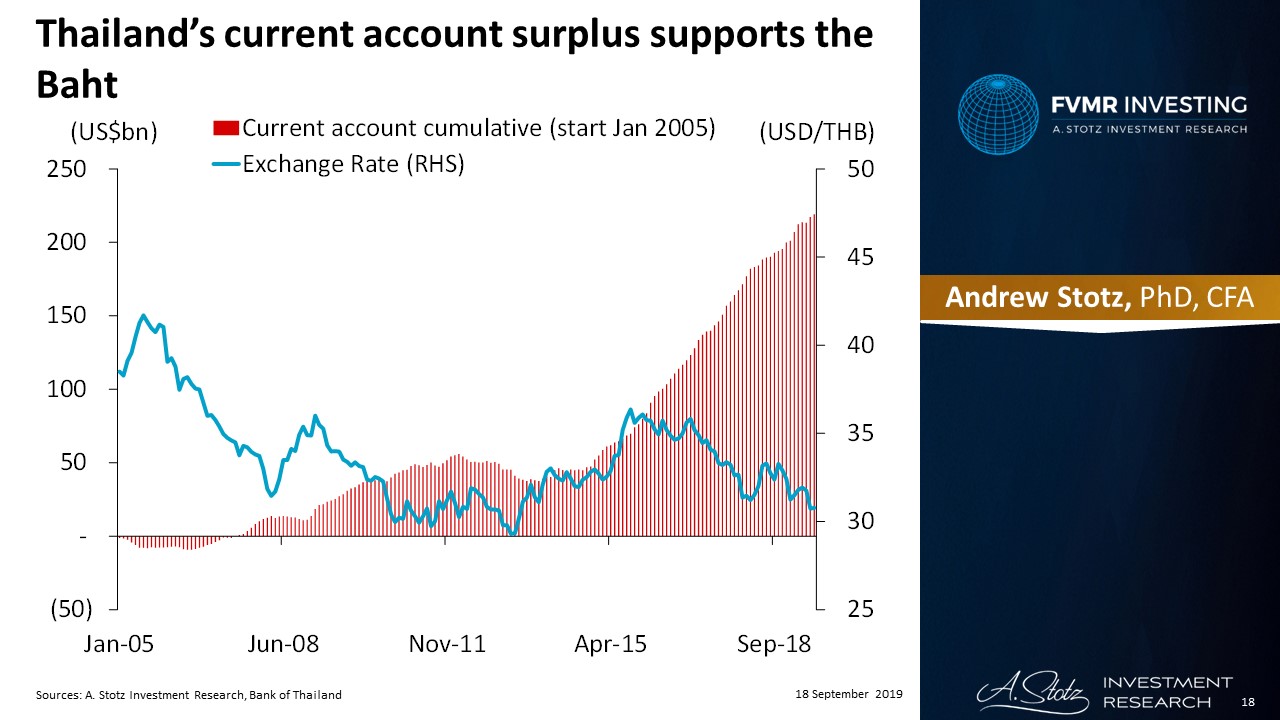 High foreign reserves support the Baht as well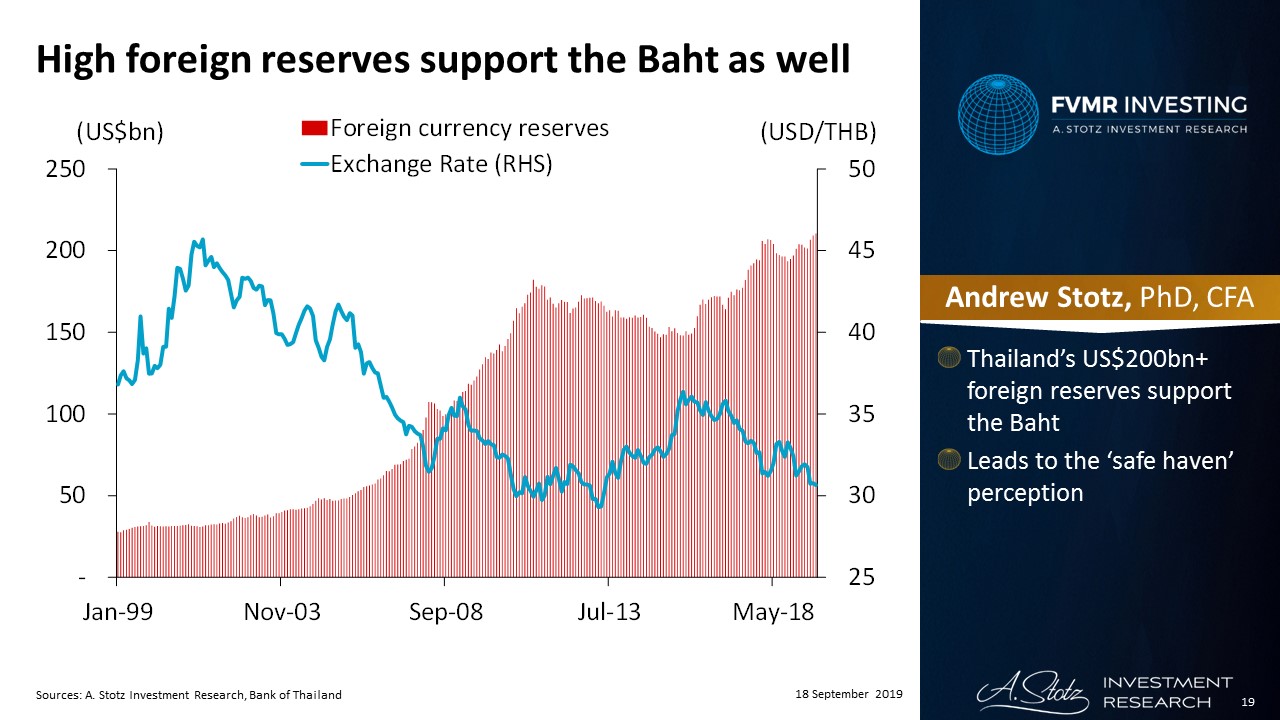 Thailand's US$200bn+ foreign reserves support the Baht and lead to the 'safe haven' perception.
Thailand's low and stable inflation supports the Baht as a 'safe haven'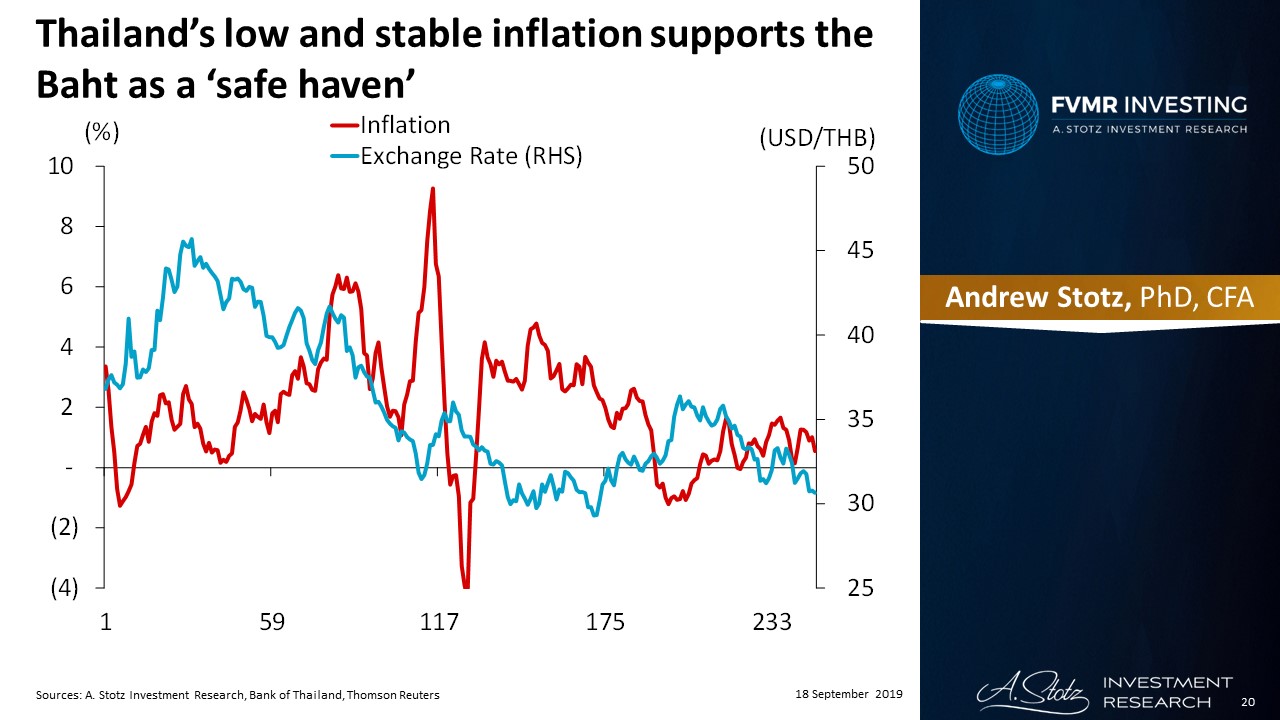 A stable and strong currency has its advantages
Currency stability matters more for bond investors as expected returns are lower and easily wiped out by currency movements. Regional equity managers might prefer to allocate more to a stock market with a stable currency to have a purer equity risk exposure and less worry about the currency.
US-China trade tensions should boost exports
Thai exporters should eventually gain from US-China trade tensions. The Thai government is incentivizing relocation from China. So, a stable and strong currency can attract money inflows in times of uncertainty.
Strong Baht dampening exports and tourism–two pillars of the Thai economy
Strong Baht is biggest threat to Thai exports, hence the economy. Strong Baht also hurts the important tourism industry as travel expenses increase for foreign visitors.
Expect the Bank of Thailand to lower rates
Due to slowing Thai GDP growth, super strong Baht, global low interest rates, and central banks leaning towards accommodative monetary policy BOT is likely to have to continue to lower rates. Though, it might not have the anticipated effect because other countries are also lowering rates as well as the Thai policy rate is already low at 1.50% (after the latest 25bps rate cut).
---
DISCLAIMER: This content is for information purposes only. It is not intended to be investment advice. Readers should not consider statements made by the author(s) as formal recommendations and should consult their financial advisor before making any investment decisions. While the information provided is believed to be accurate, it may include errors or inaccuracies. The author(s) cannot be held liable for any actions taken as a result of reading this article.