The Only Mega-Containership Builder in China
Background
Yangzijiang Shipbuilding (Holdings) Limited is a leading shipbuilding enterprise in China founded in 1956 and the only mega-containership builder in China.
About 70% of revenue is derived from shipbuilding of container, cargo and other vessels.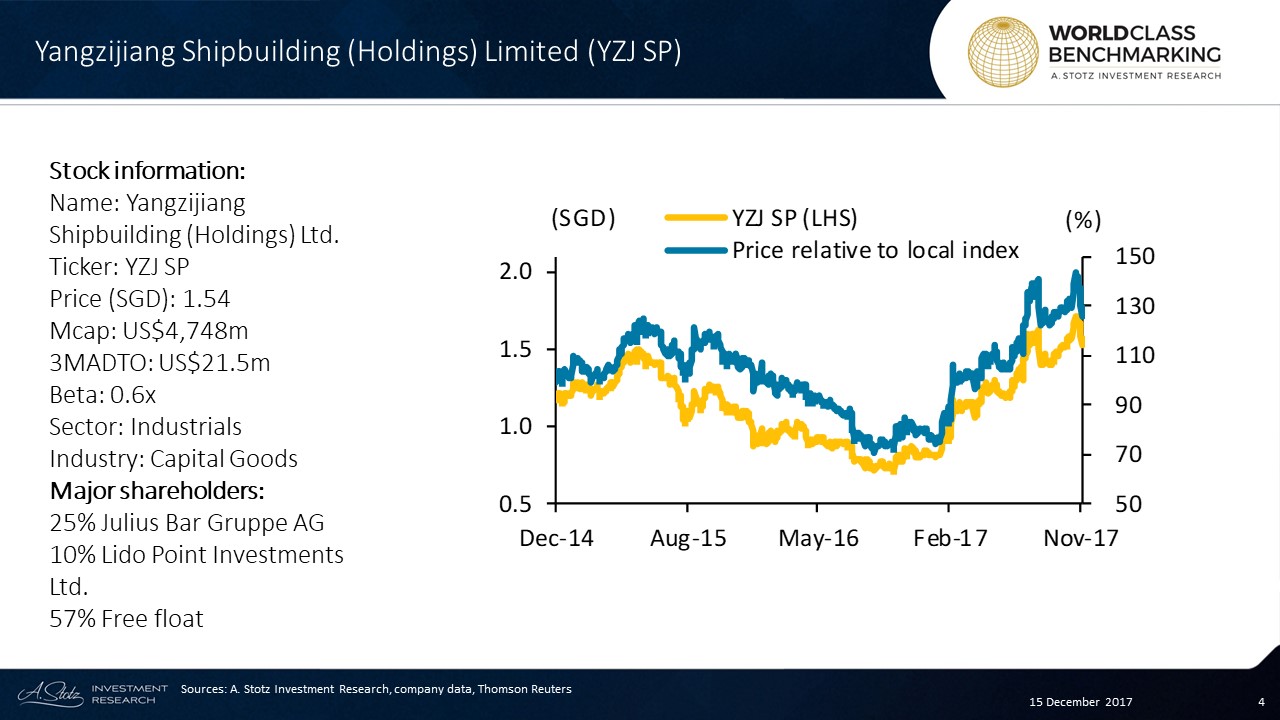 The remainder comes from investments, sales of shipping-related goods and services and trading.
Business Description
Rising iron ore demand, as well as higher rate of ship demolition and a lower rate of global vessel delivery, should sustain the demand for seaborne transportation.
The company's main products range from medium- to mega-sized containerships, medium-sized multipurpose ships and large bulk carriers with more than one million DWT in shipbuilding capacity.
The shipbuilding industry shows signs of recovery. The outstanding orders as of end 3Q17 were 103 vessels valued at US$4.3bn. YZJ is on track to achieve double the amount of last year for the whole of 2017.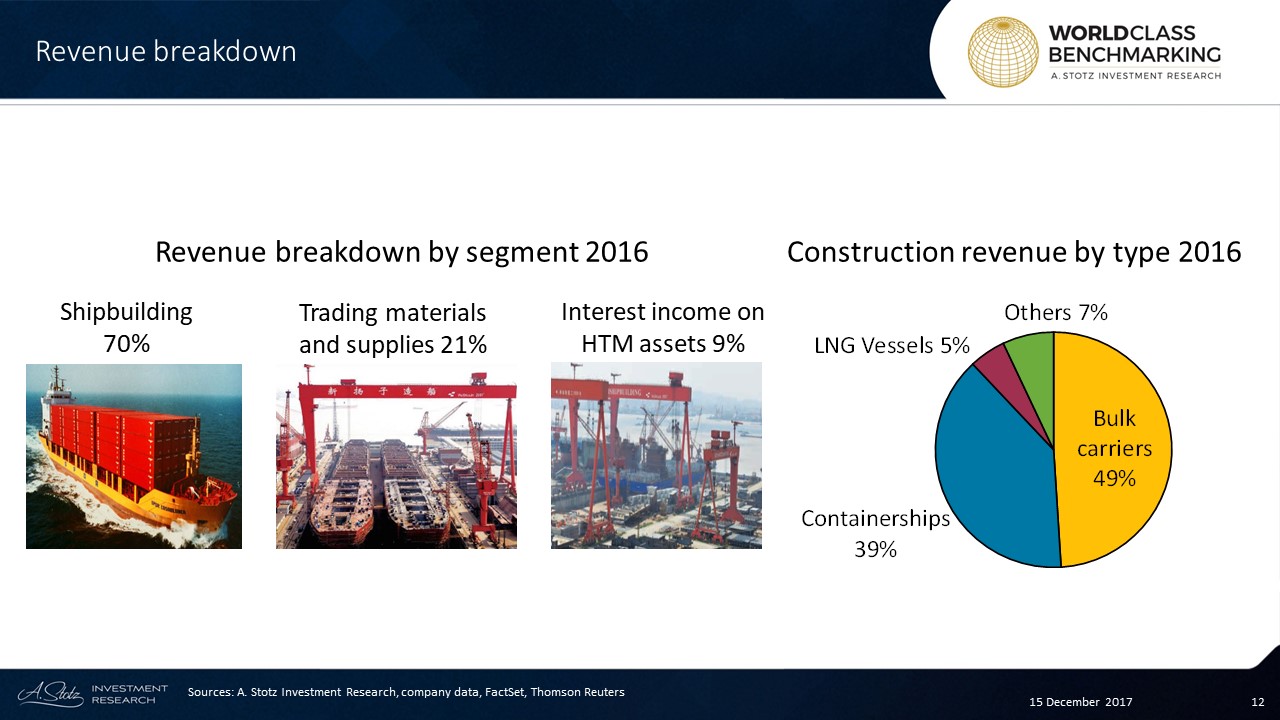 YZJ's second biggest revenue contributor is ship supplies and materials trading which represented 21% of total revenue in 2016. The company also provides ship demolition and fabrication services as well as charter services with a fleet of 13 bulk carriers.
The third biggest revenue contributor is the interest income on held-to-maturity assets (HTM) and from micro loans services. As of 3Q17, the HTM portfolio size was US$1.6bn.
Leadership
Ren Yuanlin is the current chairman of the board for YZJ. He has won numerous awards including the Ernst and Young Entrepreneur of China mainland in 2011 and was named "The donation person having the most loving heart" of the eighth China Charity Award of Ministry of Civil Affairs.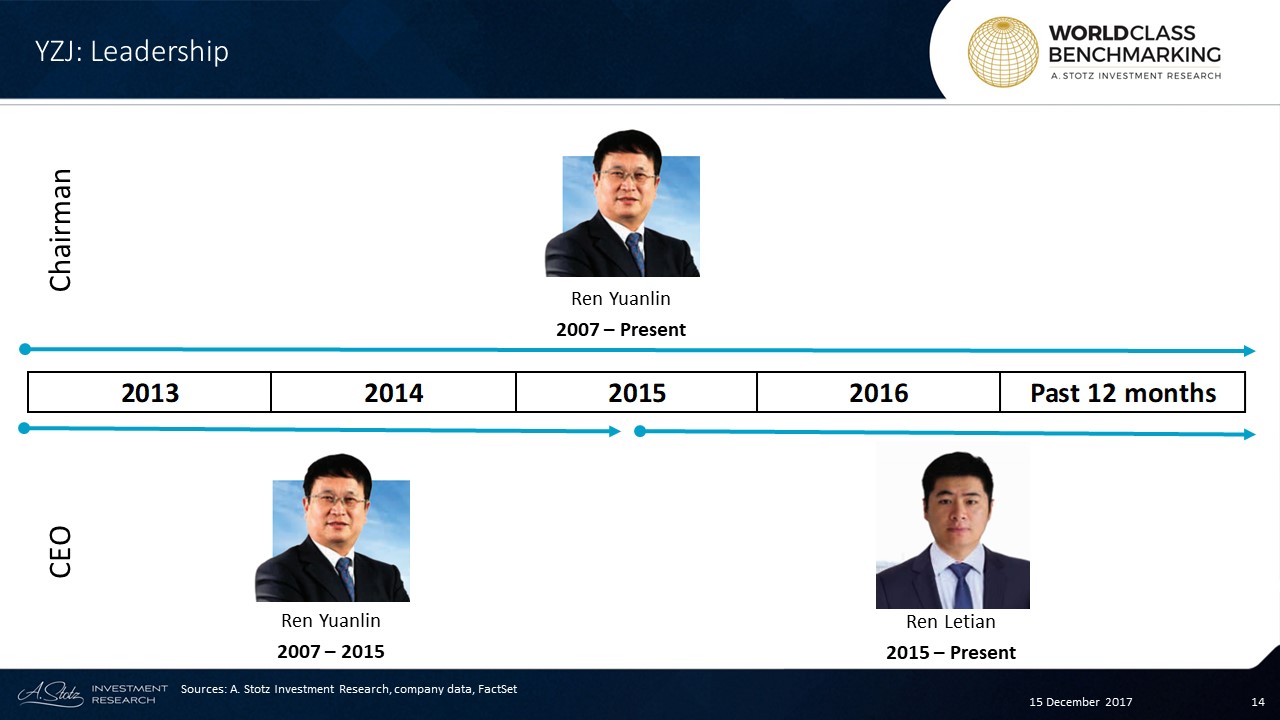 Ren Litian succeeded his father as the CEO of YZJ in 2015. He has experience in managerial positions in Jiangsu New Yangzi Shipbuilding Co., Ltd. before taking on this role. He obtained his Master's degree from London South Bank University, UK.
World Class Benchmarking
Profitable Growth improved to World Class in the past 12 months. Yangzijiang ranked among the best 148 of 1,480 large Industrials companies globally.
Profitability has stayed in the top three since 2013. Growth jumped to #1 in in the past 12 months from #7.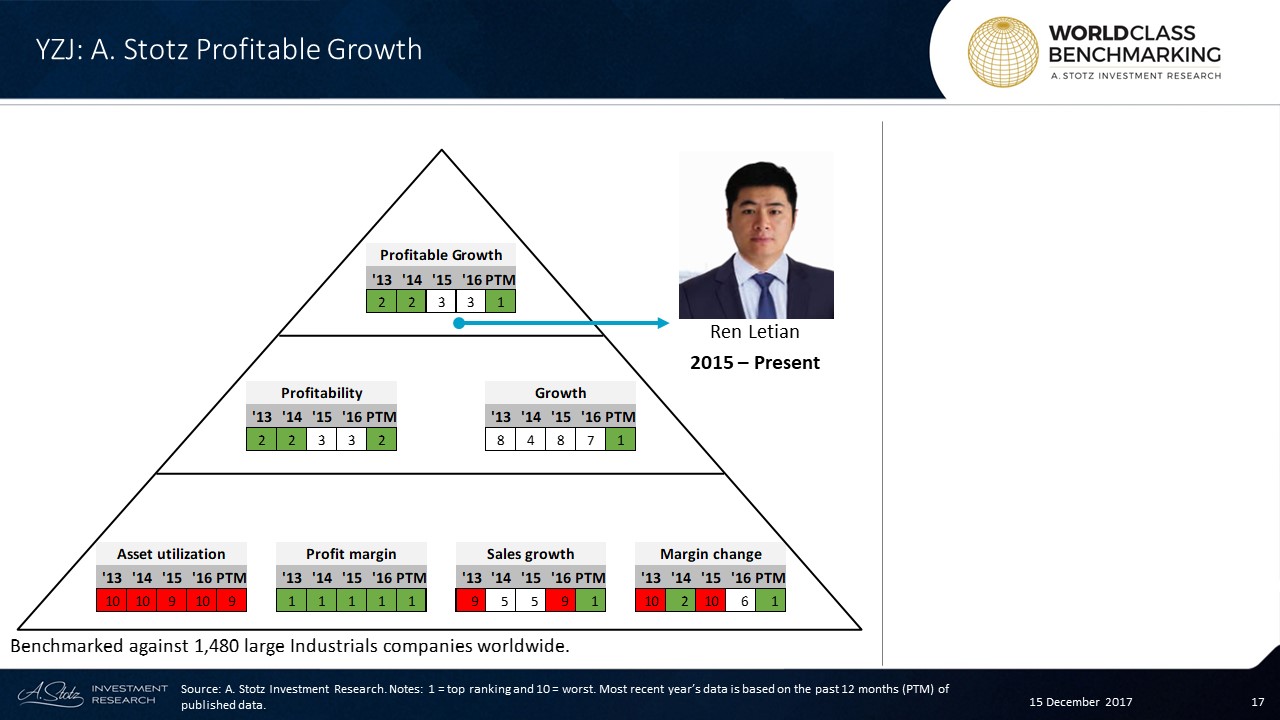 Asset utilization has continuously been in the bottom ranks, while Profit margin always has ranked at #1.
Both Sales growth and Margin change jumped to the top rank in the past 12 months from being #9 and #6 respectively.
---
What're your thoughts on YZJ?
If you like our research, share it with your friends.
---
DISCLAIMER: This content is for information purposes only. It is not intended to be investment advice. Readers should not consider statements made by the author(s) as formal recommendations and should consult their financial advisor before making any investment decisions. While the information provided is believed to be accurate, it may include errors or inaccuracies. The author(s) cannot be held liable for any actions taken as a result of reading this article.