Thai Veggie Processor Gives Green Light to Growth Mode
Background
Agripure Holdings Public Company Limited is a Thai producer of sweet corn and other processed, vacuum-packed, canned and fresh vegetables.
All of its vegetables are grown and processed locally at its owned or contracted farms, but most of its output is sold and marketed overseas under the brands, Tastee and River Kwai.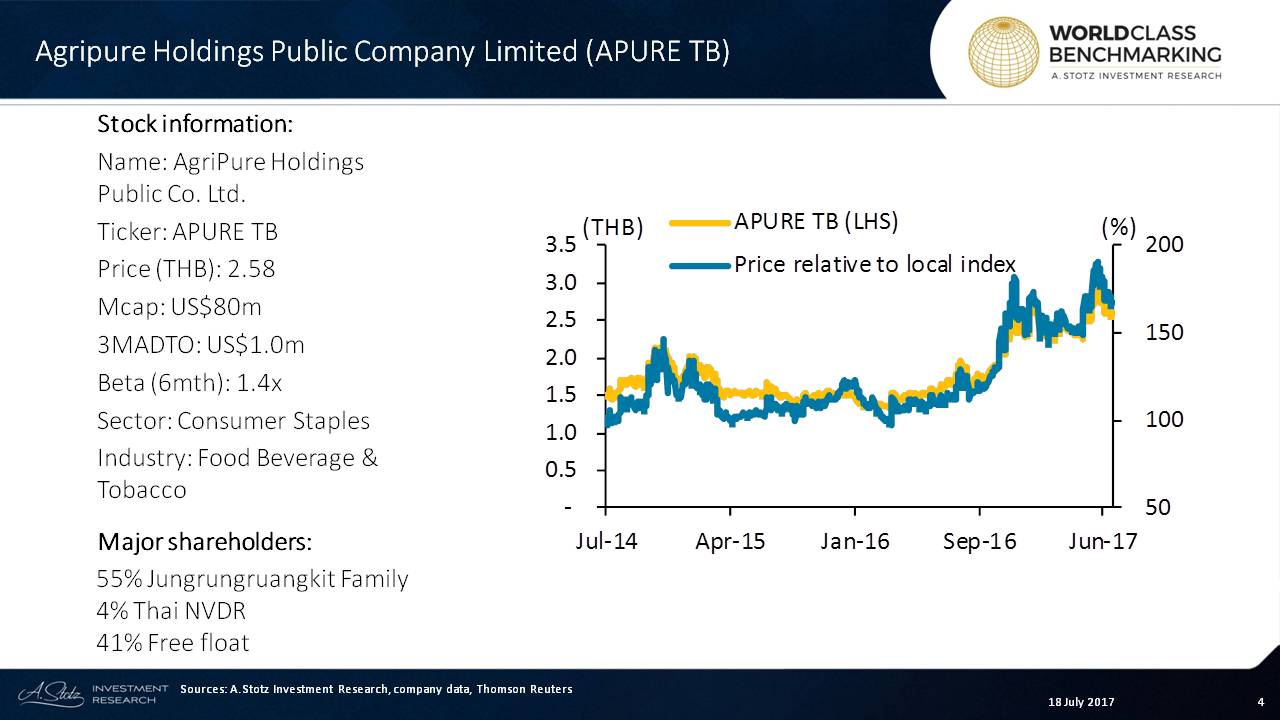 Business Description
APURE is a holding company involved in the production of processed sweet corn and other vegetables. In 2016, 91% of its sales were shipped to export markets. The company's two main brands are Tastee and River Kwai.
Its sweet corn products, including canned kernels, creamed corn and vacuum-packed corn on the cob, account for more than three-quarters of revenue. Fresh vegetables, most of which are exported, largely account for the rest.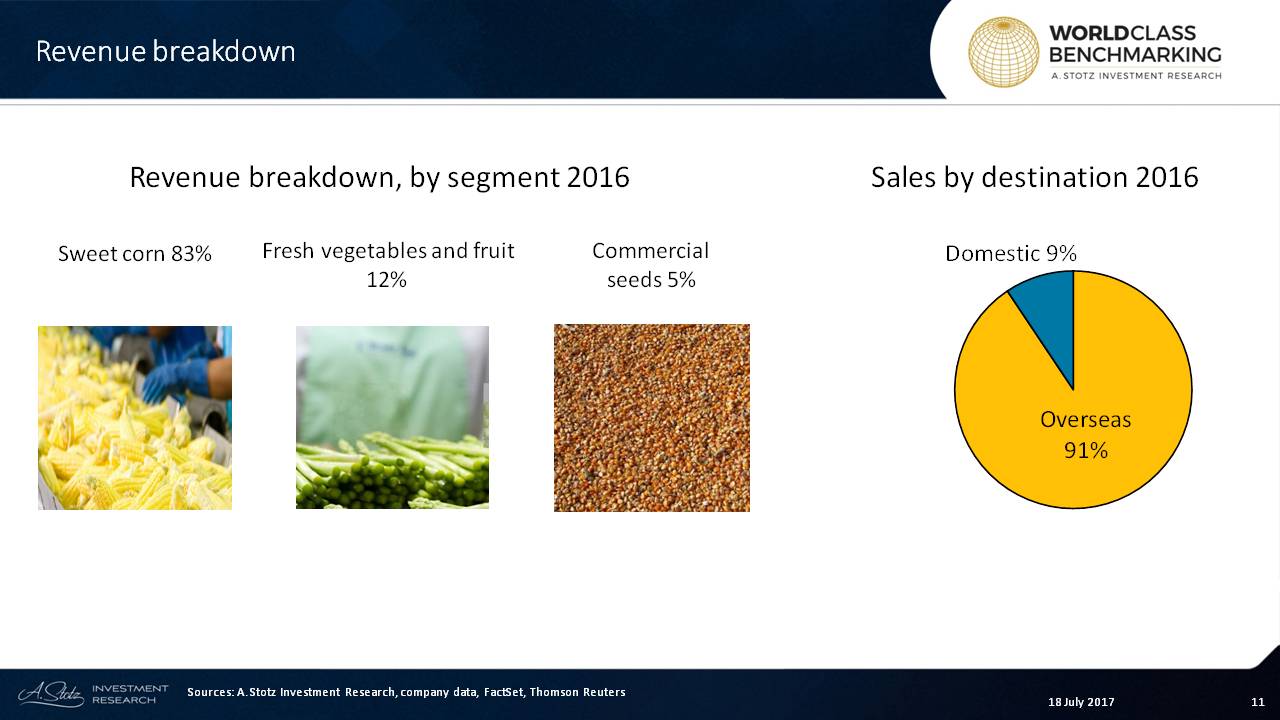 All of its owned and contracted farms are in Thailand, while its biggest export markets are Japan, Russia, Korea, Taiwan and the UK. Its main competitors in the processed sweet corn market include other Thai companies and major producers in the US, Russia and Hungary.
Over the long term, the Thai government is hoping to improve productivity in the agricultural export sector by supporting more efficient and larger farmers. It also plans to introduce more mechanization and technology, which should lead to greater profitability for APURE.
Leadership
Chairman Suredpon Jungrungruangkit, a 34-year-old member of the family that owns 58% of APURE, has held the position of Chairman & President since 2011.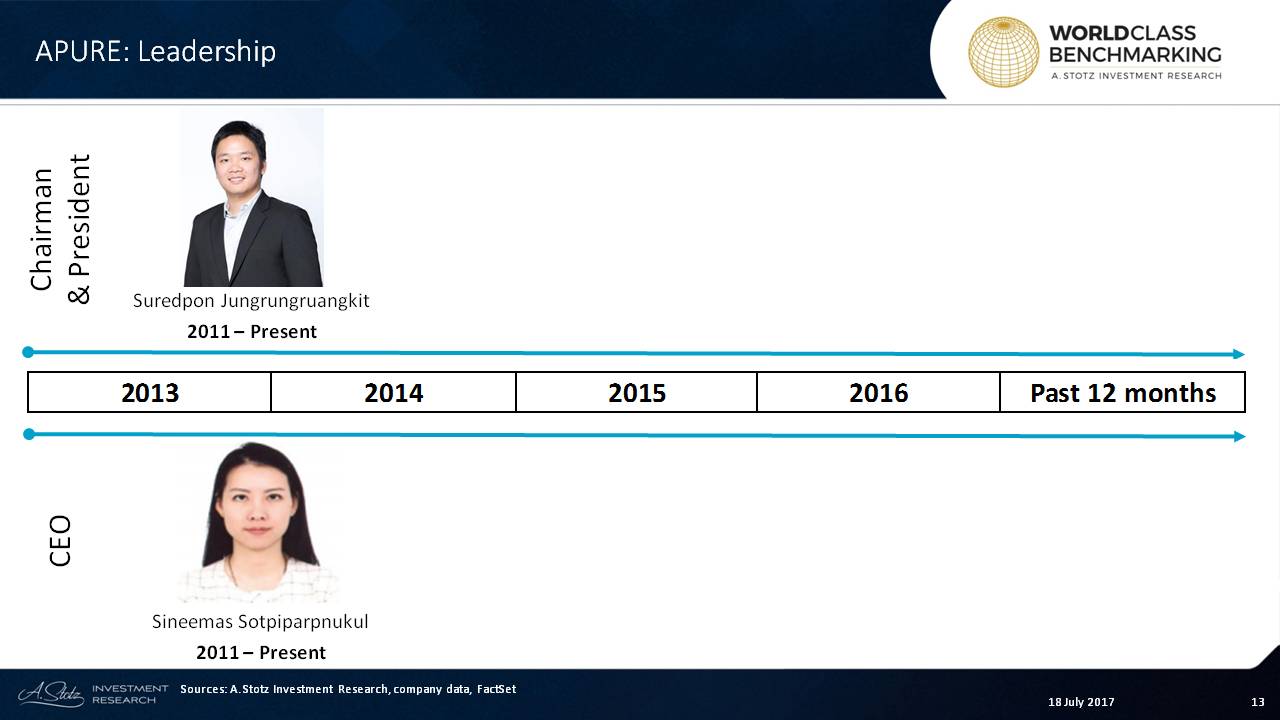 CEO Sineemas Sotpiparpnukul has held her position since 2011 as well, and has placed the upstart vegetable distributor on a heavy growth trajectory since 2014.
World Class Benchmarking
Profitable Growth has improved to #2 from #8 in 2013.
APURE is ranked among the top 62 of 310 small global, consumer staples companies.
Profitability maintained its #2 rank in the current period, but Growth fell one step from 2016.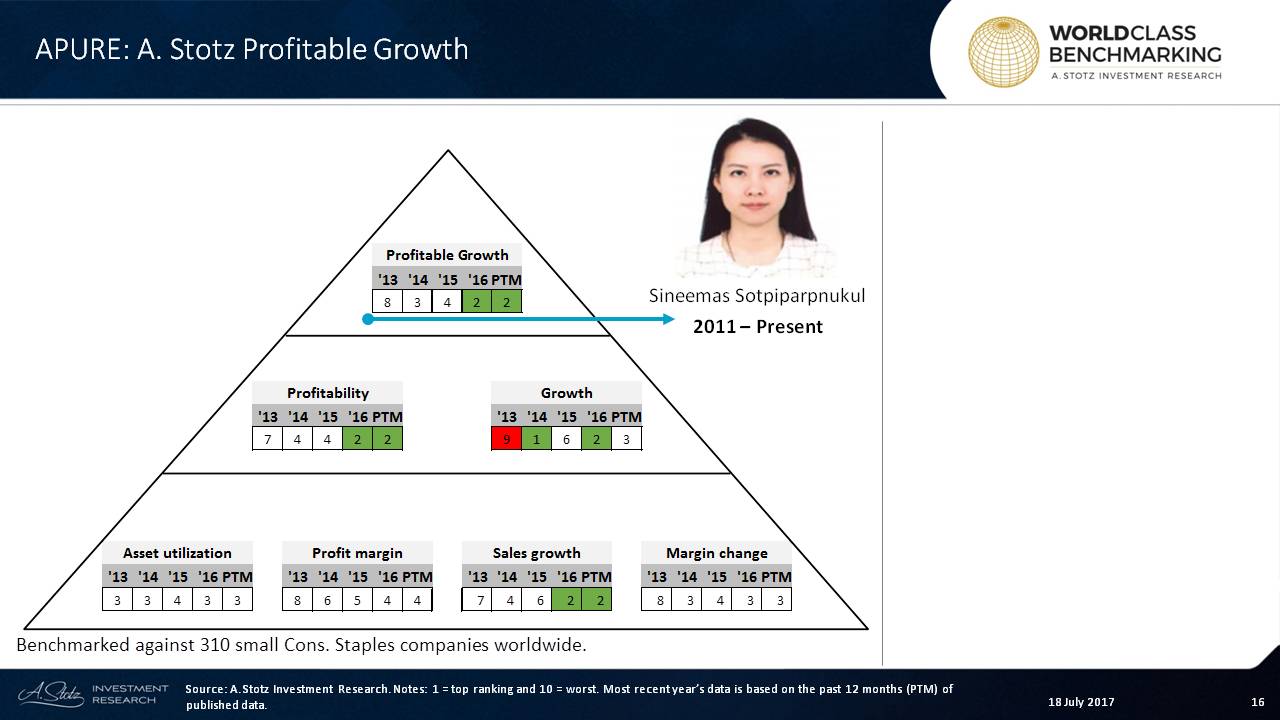 Asset utilization and Profit margin remained above average in the past 12 months.
Sales growth stayed in the green at #2, and Margin change held steady at a ranking of #3.
---
Are you impressed by Agripure Holdings?  What's your thoughts?
If you like our research, share it with your friends.
---
DISCLAIMER: This content is for information purposes only. It is not intended to be investment advice. Readers should not consider statements made by the author(s) as formal recommendations and should consult their financial advisor before making any investment decisions. While the information provided is believed to be accurate, it may include errors or inaccuracies. The author(s) cannot be held liable for any actions taken as a result of reading this article.