Thai Independent Power Producer Goes Global
Watch the video with Andrew Stotz or read a summary of the World Class Benchmarking on Electricity Generating Public Company Limited.
---
---
Background
Electricity Generating Public Company Limited is engaged in the power generation business in Thailand and was the first Independent Power Producer (IPP) in the country.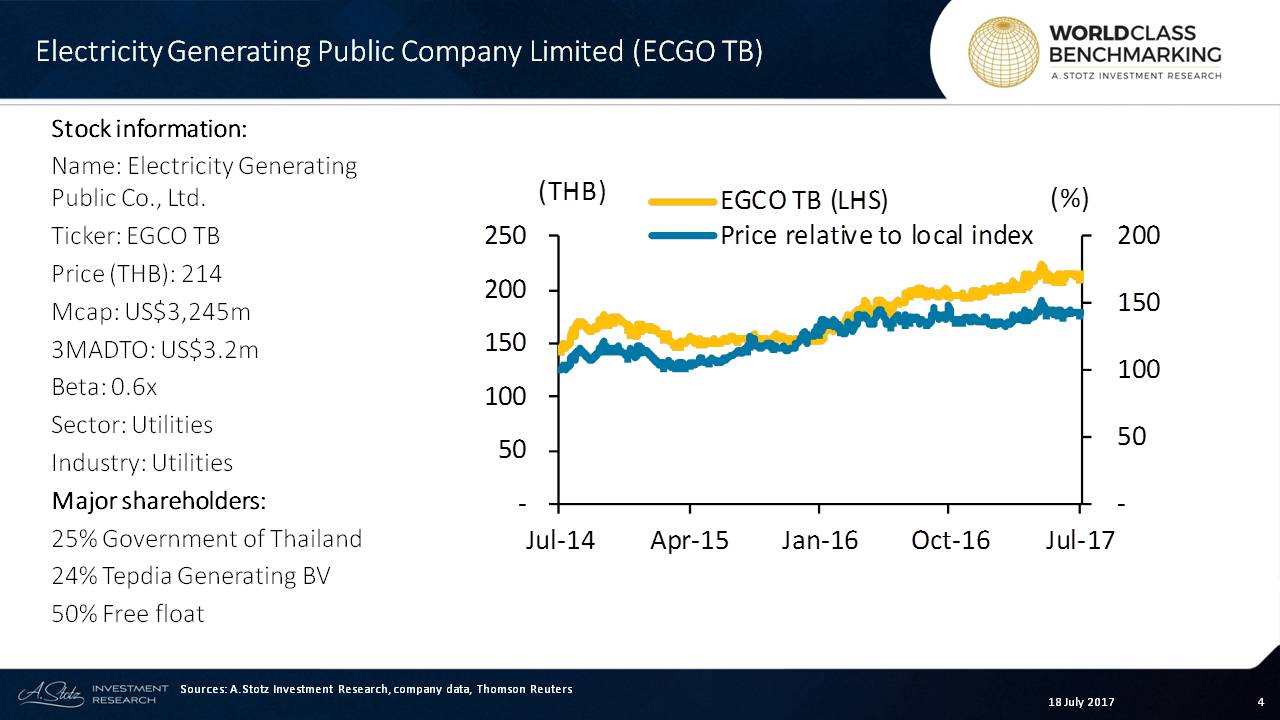 More recently, the company has expanded its operations into the Philippines, Laos, Indonesia and Australia. The Philippines now makes up 45% of overall revenue.
Its portfolio consists of 26 operating power plants with a total contracted capacity of 4,245MW.
Business Description
Besides its current assets, ECGO has six projects under construction with equity capacity of 852MW. Overseas capacity currently accounts for 34% of total installed capacity.
ECGO categorizes its business as the Independent Power Producer (IPP) segment, the Small Power Producer (SPP) segment and the Overseas segment.
IPPs are private companies that own generation facilities and sell power to the grid, as well as directly to commercial or industrial customers. The IPP segment represents 55% of the company's total assets. Khanom Power Plant Unit 4 (930MW) began operations in June 2016.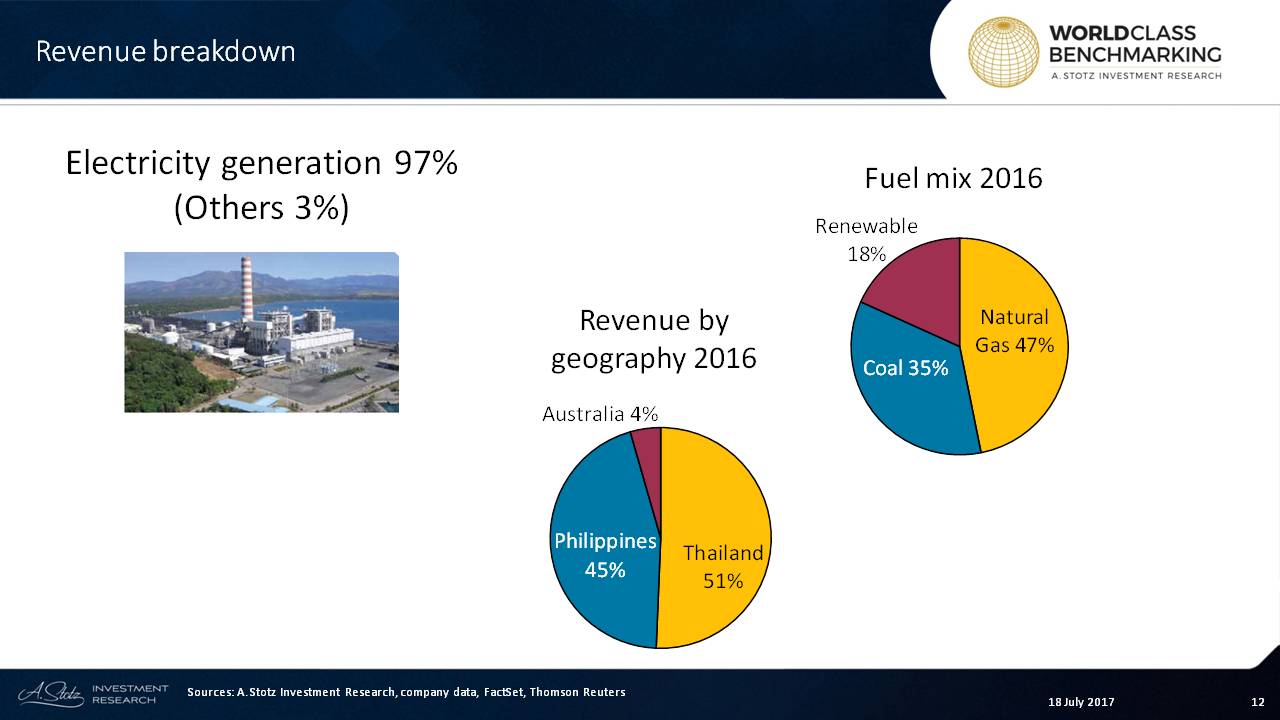 SPP generates electricity using waste, renewable and geothermal energy, making up 9% of its total asset capacity. The company also owns several very small power producers that contribute to 2% of total asset capacity.
ECGO acquired a 20% indirect stake in Chevron's geothermal fields in Indonesia, the company's second investment in the country. ECGO also provides operation and maintenance services to power plants and other industries, as well as water supply and water pipe network services.
Leadership
Chairman Sombat Sarntijaree began his present position in late 2014. Mr. Sarntijaree served as Vice President of Generation Business 1  since 2000, Senior Executive Vice President of Operation and Maintenance since 2005 and Deputy Governor of Generation since 2006. He served as Deputy Governor of Production and Deputy Governor of Operation & Maintenance.
He holds a Master of Engineering in Mechanical Engineering from Lamar University and a Bachelor's of Engineering in Mechanical Engineering from Kasetsart University and Senior Executive Program, Sasin Graduate Institute of Business Administration of Chulalongkorn University.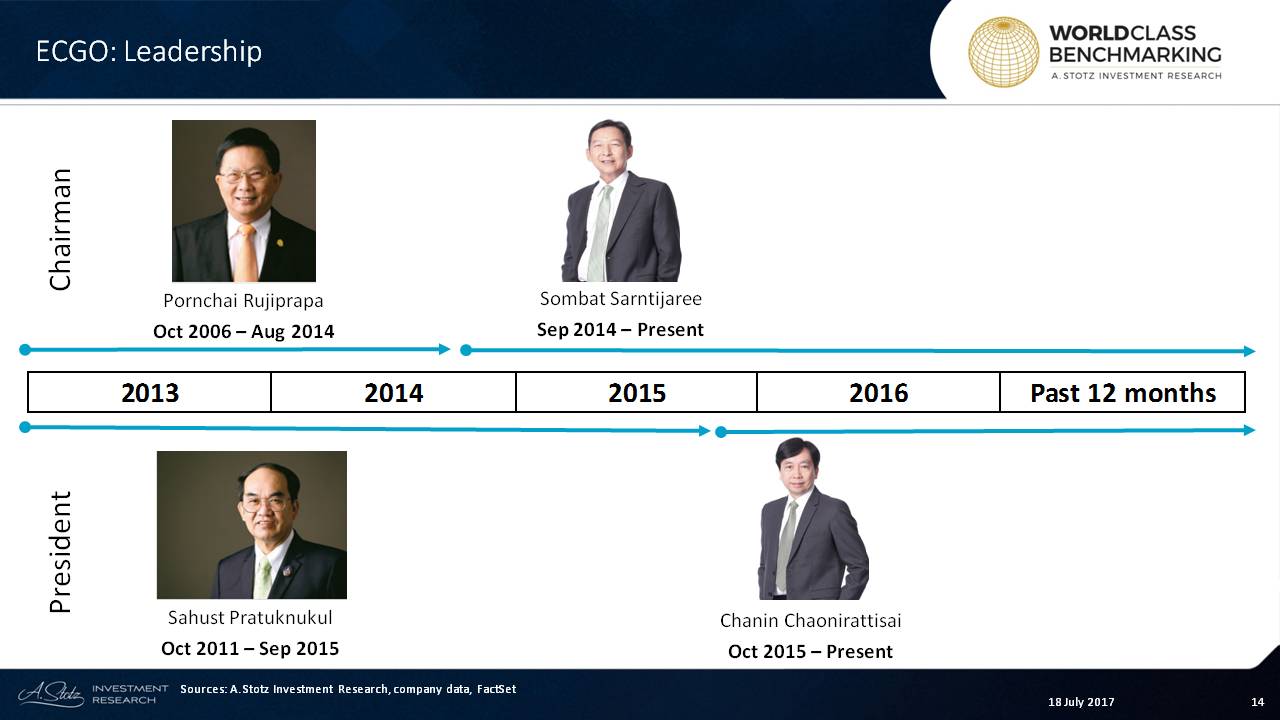 President Chanin Chaonirattisal became a president in late 2015 after serving on a slew of board committees.
He holds a Bachelor's and a Masters of Engineering in Electrical Engineering from the University of Missouri-Rolla.
World Class Benchmarking
Since 2015, Profitable Growth has improved to #3 from #8, a demonstration that management has quickly made good on its growth plan.
EGCO ranked among the top 93 of 310 large utilities globally.
Profitability has remained #3 since 2015, while Growth has placed EGCO in the top 20% of companies in its sector during the same time period.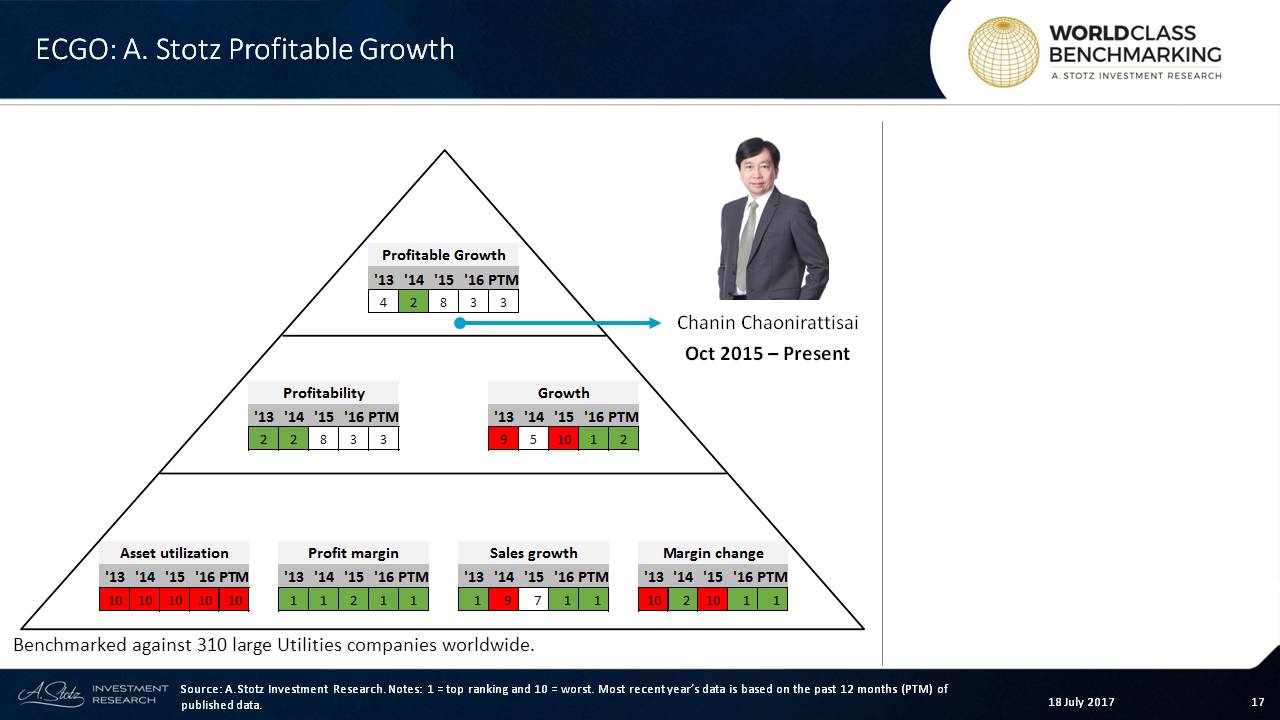 Asset utilization is ranked in last place. On the other hand, Profit margin, continually ranked in the top 10-20%, drives Profitability.
Sales growth and Margin change maintained their World Class ranks for the second straight year.
---
What's your thoughts of ECGO?
If you like our research, share it with your friends.
---
DISCLAIMER: This content is for information purposes only. It is not intended to be investment advice. Readers should not consider statements made by the author(s) as formal recommendations and should consult their financial advisor before making any investment decisions. While the information provided is believed to be accurate, it may include errors or inaccuracies. The author(s) cannot be held liable for any actions taken as a result of reading this article.