Sweden Appears Cheap but Earnings Growth Is Flattish
Sweden Equity FVMR Snapshot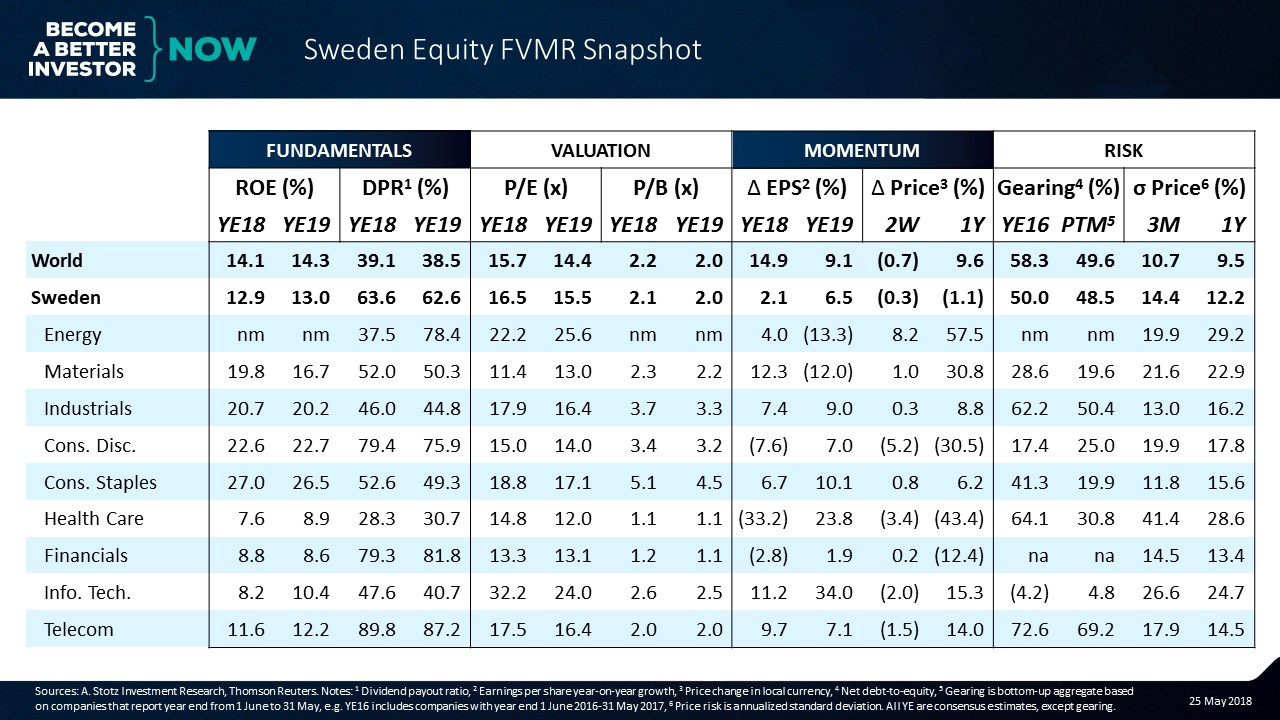 Remember that FVMR stands for Fundamentals, Valuation, Momentum, and Risk. Those are the factors that we look at to get an understanding of the market.
Fundamentals: Profitability in Sweden is below the global average
The return on equity (ROE) of Sweden is 13% versus the World at about 14%. The two consumer sectors deliver the highest profitability, measured as ROE. Health Care has the lowest profitability and also the lowest dividend payout ratio (DPR).
Overall, Swedish companies pay out more of their earnings as dividends than the global average. The three sectors in Sweden with the highest DPR are Telecom, Consumer Discretionary, and Financials.
Valuation: Sweden trades on lower multiples relative to the World
The overall Swedish market trades below the World on 2018CE* price-to-earnings (PE) and slightly below on price-to-book (PB).
Info Tech is most expensive at 2018CE* 32.2x PE and the sector still appears expensive when accounting for growth as the PEG ratio is at 2.9. Materials appear to be the cheapest sector at 2018CE* 11.4x PE and a PEG ratio of 0.9.
Looking at PB, Consumer Staples, Industrials, and Consumer Discretionary are most expensive on 2018CE* PB while Health Care is cheapest at 2018CE* 1.1x PB. If we take ROE into account Materials look most attractive at 2018CE* 8.7% ROE/PB and Info Tech least attractive at 2018CE* 3.1% ROE/PB.
Momentum: Flattish earnings are expected in Sweden in 2018
Sweden is not expected to see much earnings per share (EPS) growth in 2018CE*, only 2.1%. Materials and Info Tech are expected to see double-digit earnings growth, while Health Care and Consumer Discretionary are expected to show the largest contraction.
Sweden has underperformed the world by 10.7% in the past one year in terms of price performance. In the past one year, Energy has been the best performing sector at 57.5% followed by Materials at 30.8% while Health Care has been the worst at -43.4% followed by Consumer Discretionary at -30.3%.
Risk: Swedish Health Care has been highly volatile
Highest gearing, measured as net debt-to-equity, in Telecom and lowest in Info Tech.
The Swedish market has been more volatile than the world in the past one year and the past three months. In the past three months, Health Care has been the most volatile sector and Consumer Staples was the least volatile.
* Consensus Estimates
---
DISCLAIMER: This content is for information purposes only. It is not intended to be investment advice. Readers should not consider statements made by the author(s) as formal recommendations and should consult their financial advisor before making any investment decisions. While the information provided is believed to be accurate, it may include errors or inaccuracies. The author(s) cannot be held liable for any actions taken as a result of reading this article.