Solid Profitable Growth at Thai Hospital Giant
Background
Through its group companies, Bangkok Dusit Medical Services Public Company Limited operates 43 hospitals across Thailand (under six brands, including Bangkok Hospital, Phyathai Hospital) and two in Cambodia, which drives 91% of total revenue.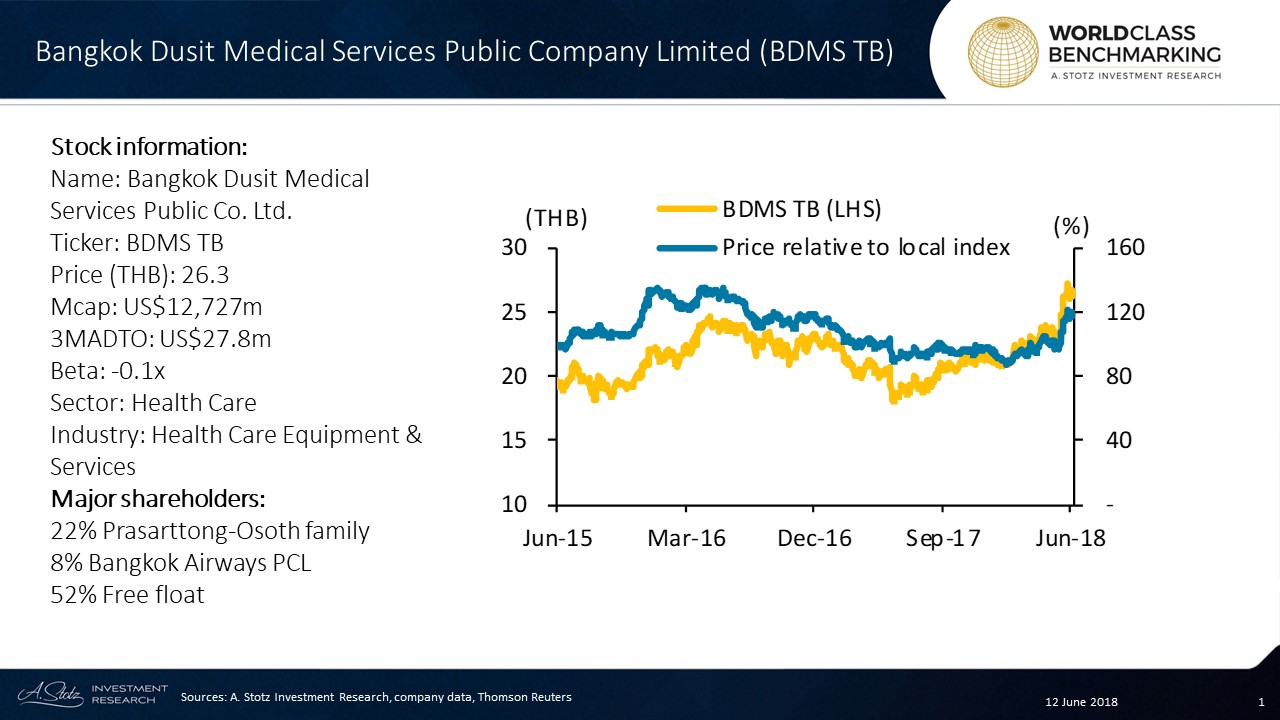 It also provides laboratory services, rental and medical supplies. Foreign patients are 30% of revenue.
Business Description
Within its hospitals and clinics, BDMS provides medical care services, including diagnostics, treatment, and rehabilitation for a large range of diseases, from allergies to mental health, as well as plastic surgery.
Bangkok Hospital is the largest private hospital group, with 45 hospitals in total under six brands: Bangkok Hospital, Samitivej Hospital, BNH Hospital, Royal International Hospital, Phyathai Hospital, and Paolo Memorial Hospital. Two of the group's hospitals are located in Cambodia.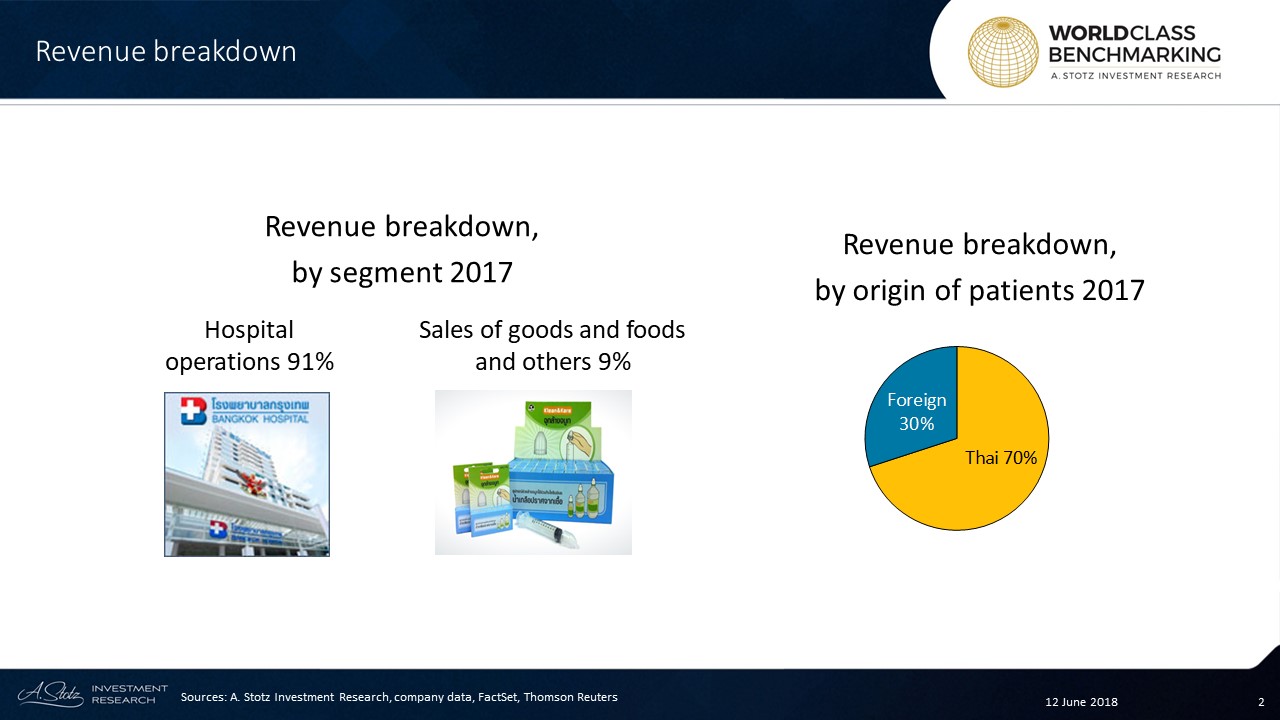 BDMS also owns National Healthcare Systems, the largest blood diagnosis center in Thailand. The production and distribution of pharmaceuticals are carried out by subsidiaries A.N.B. Laboratories and Medic Pharma, while Bangkok Health Insurance offers insurance products.
In 1Q18, BDMS entered into a partnership with local insurance firm Allianz Ayudhaya to issue health insurance packages incentivizing plan holders to use services of BDMS' hospitals rather than other hospitals. These packages are aimed to increase utilization rate at BDMS.
Leadership
Arun Pausawasadi has served as the independent Chairman of Bangkok Dusit Medical Services since 1998.  He also holds chairmanship at others medical organization, namely Scientific Session Medical and The Medical Association of Thailand and Centre for Continuing Medical Education of Thailand. He earned his certificate of Medical Clinic and Medical Doctor from Mahidol University, Thailand, and Dr. Med. from Hamburg University in Germany.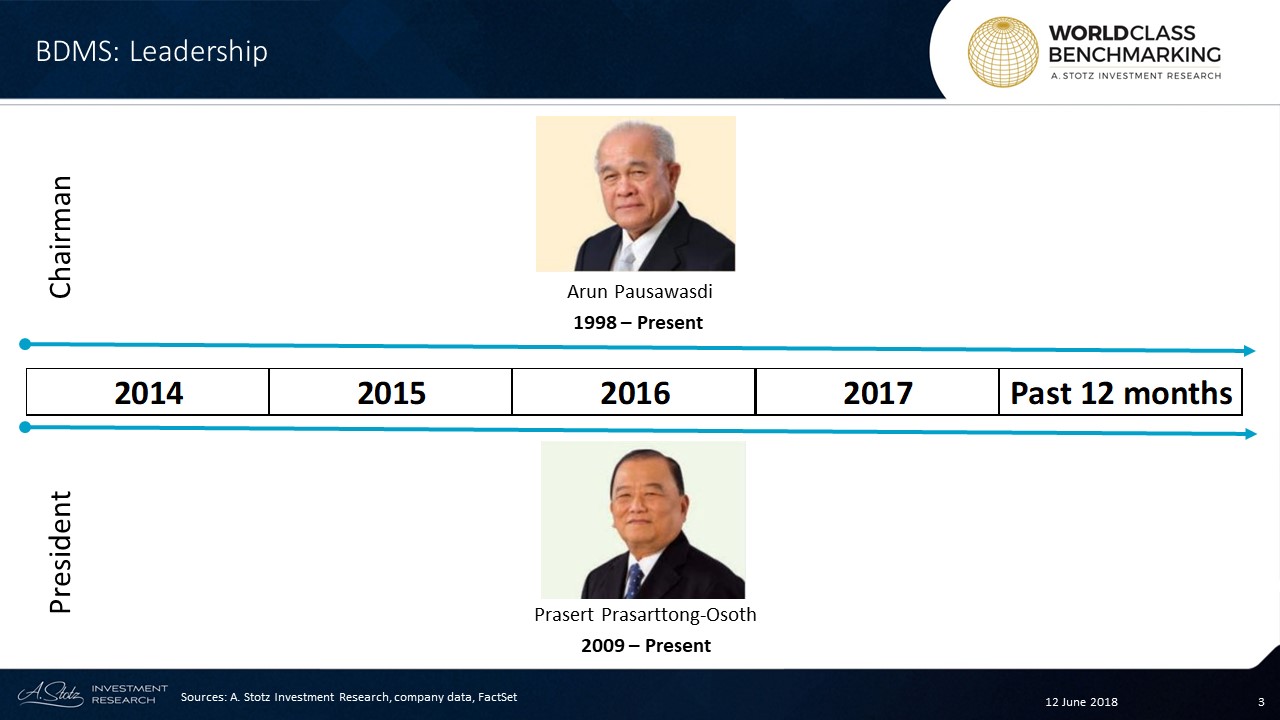 Prasert Prasarttong-Osoth has been the President of Bangkok Dusit Medical Services since 2009. He obtained a Bachelor's degree from Siriraj Medical School and Medical Doctor from Mahidol University, both in Thailand.
World Class Benchmarking
Profitable Growth has continuously ranked above average and ranked at #3 in the past 12 months which is among the top 105 of 350 large Health Care companies worldwide.
Profitability has a similar trend to Profitable Growth and has stayed in the top 30% for most of the past five years. Growth has shown a great improvement from being ranked at #7 in 2015 to rank #3 in the past 12 months.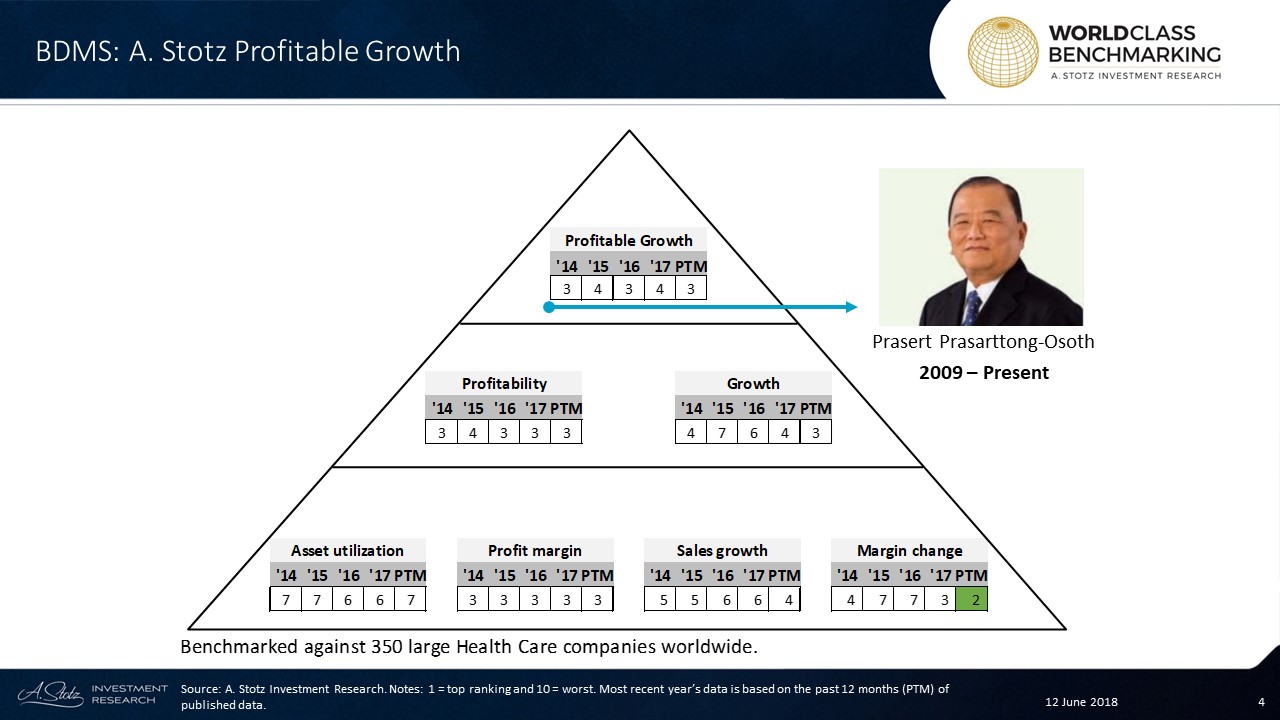 Both Asset utilization and Profit margin have been stable in ranks. Asset utilization has persistently ranked below average, while Profit margin has ranked at #3 for the past five periods.
Sales growth improved to #4 from #6 in the past 12 months. Margin change rose to #2 in the past 12 months from being ranked #7 as recent as 2016.
---
What're your thoughts on BDMS?
If you like our research, share it with your friends.
---
DISCLAIMER: This content is for information purposes only. It is not intended to be investment advice. Readers should not consider statements made by the author(s) as formal recommendations and should consult their financial advisor before making any investment decisions. While the information provided is believed to be accurate, it may include errors or inaccuracies. The author(s) cannot be held liable for any actions taken as a result of reading this article.