Sinopharm Is the Top Distributor of Pharma Products in China
Background
Sinopharm Group Company Limited is the largest pharmaceutical distributor in China by revenue.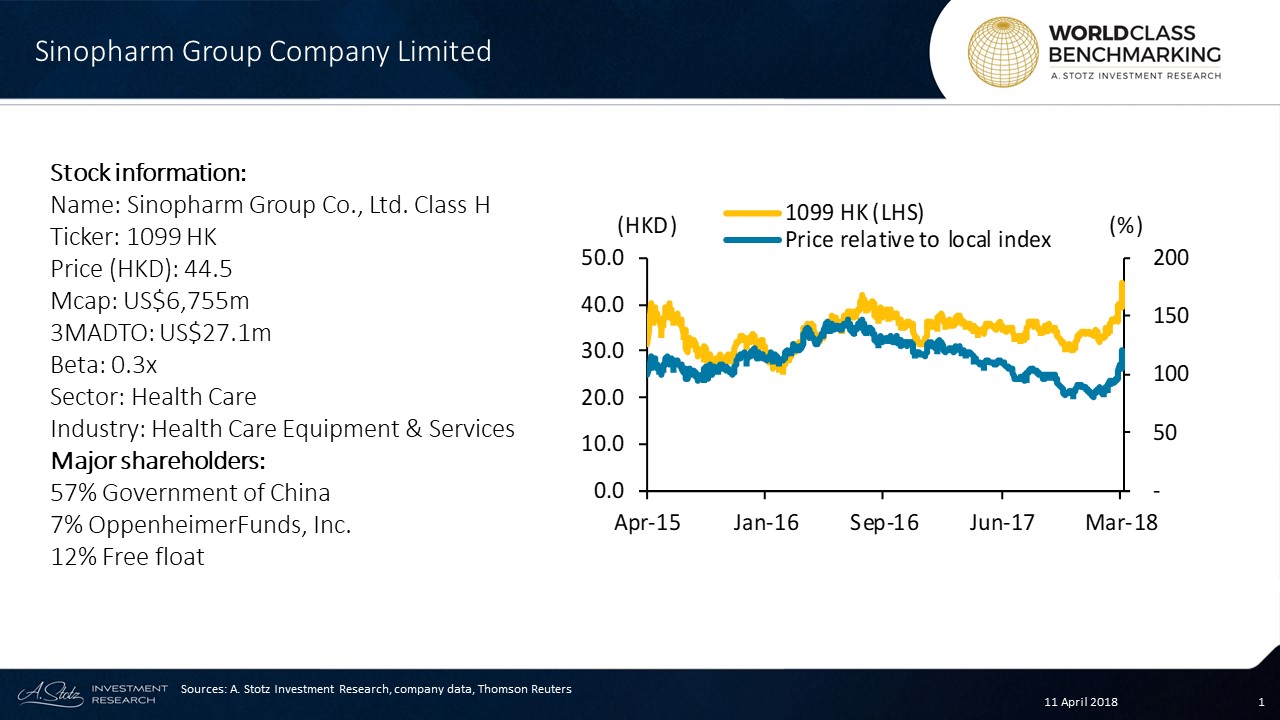 It researches and develops, manufactures and markets medicines, ranging from traditional Chinese medicines to prescription and over-the-counter healthcare products and medical devices.
The company serves hospitals, clinics and drug stores.
Business Description
Sinopharm is the biggest pharmaceutical supplier in China in terms of sales. The company is a state-owned enterprise (SOE). Most of its sales come from distribution of pharma products and equipment, mainly to hospitals, 4% from its own retail pharmacy operations, and 2% others, including manufacturing.
Because of its extensive sales network, Sinopharm continues to gain market share. In 2018 the government has mandated that multi-tier wholesaling will no longer be permitted, so smaller, weaker players will likely disappear, to the further benefit of the leader, Sinopharm.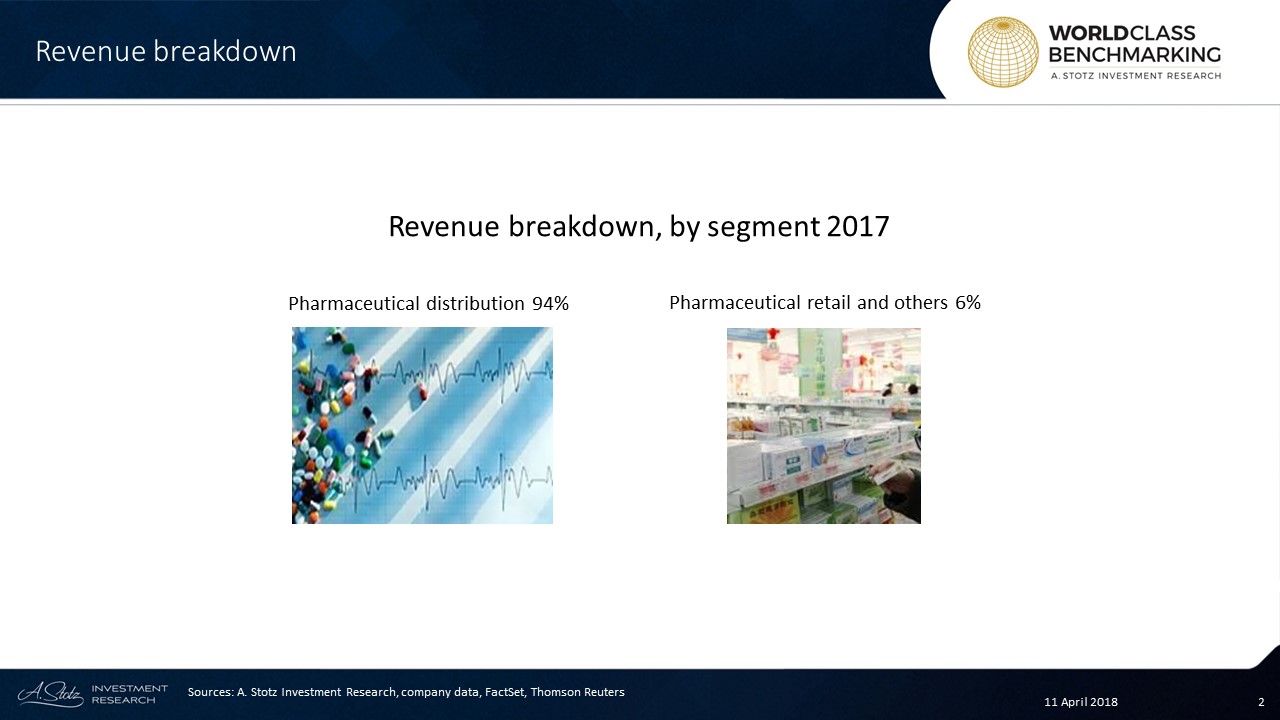 Management is focused on expansion in the retail pharmacy business, as hospital reform has promoted the separation of drug sales from hospital services, and outflow of prescriptions is accelerating development of retail pharmacies. The retail pharmacy industry in China is still highly fragmented, and Sinopharm's market share is only about 2.5%, leaving plenty of growth potential, both organic and through M&A. In November 2017, the company introduced Walgreen Boots Alliance Inc (WBA US) as a strategic investor in its GuoDa Drugstores which should add important retail know-how.
Leadership
Li Zhiming currently serves as the Chairman and the President of Sinopharm. He was appointed to these positions in 2014 after joining the company in 2010 as Vice President. He has more than 31 years of experience in management within the healthcare industry.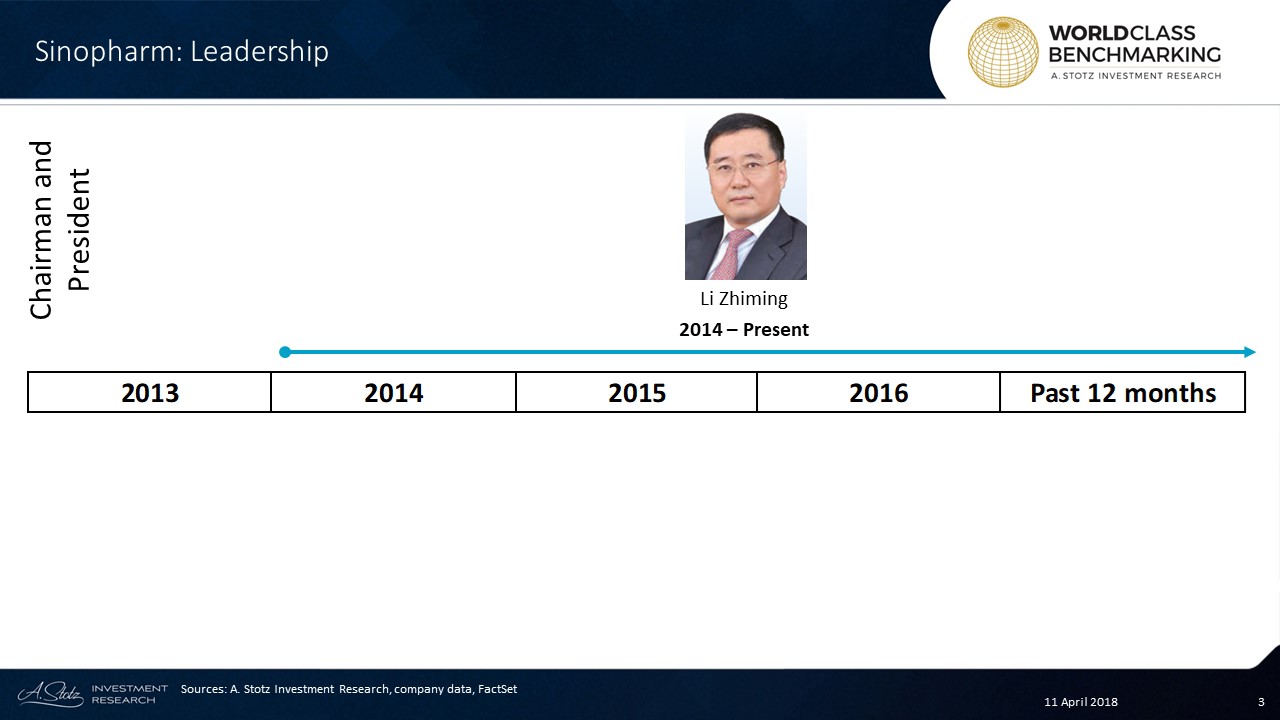 Li Zhiming graduated from the Xinjiang Commerce College, China with an associate degree and a major in finance and accounting. He also received an associate degree from the economic management discipline of the Urumqi Branch of Xi'an Military Academy, China.
World Class Benchmarking
Profitable Growth has stayed at relatively low ranks in the past few years with only a marginal improvement in the past 12 months. Sinopharm ranked at #7 among 340 large Health Care companies globally.
Profitability has been consistently ranked at #8, Growth has moved a bit more in ranks and has ranked at#4 since 2016.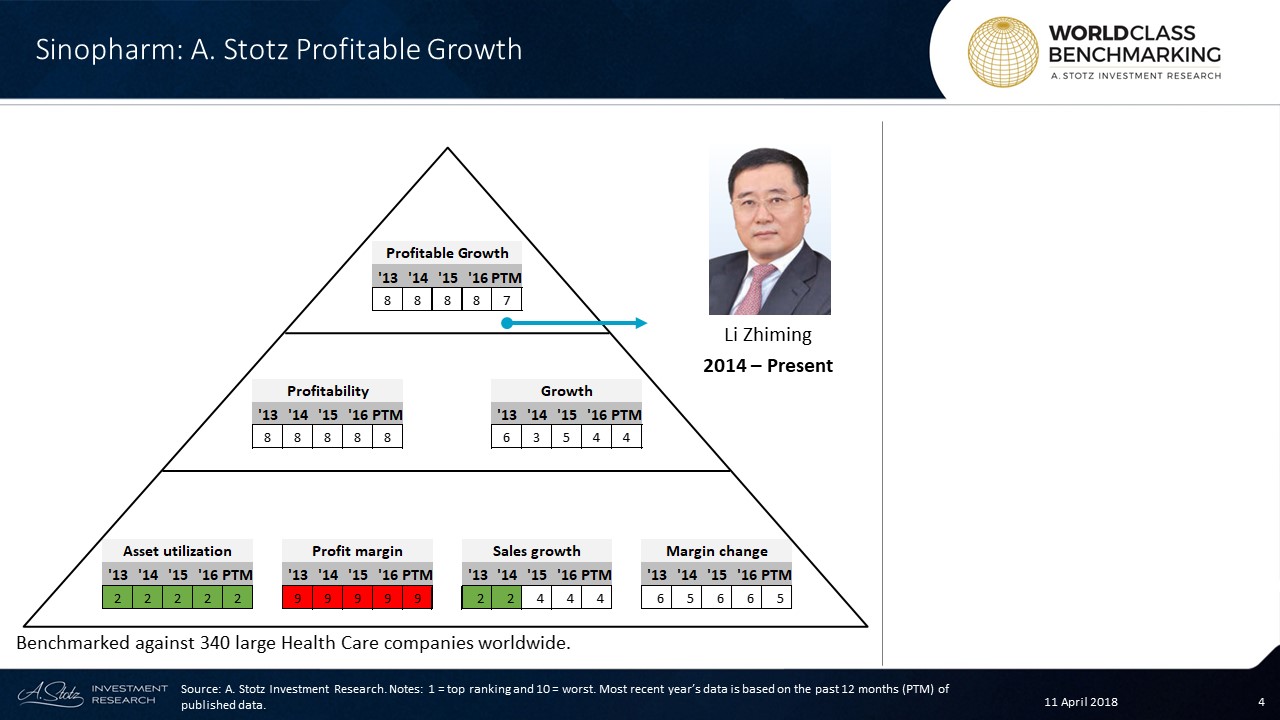 Asset utilization and Profit margin have experienced no change in its ranks since 2013. However, there is a stark contrast to their performance with Asset utilization ranked at #2 and Profit margin at #9.
Sales growth has dropped since 2014 but is still ranked above average while Margin change has mostly ranked average or slightly below.
---
What're your thoughts on Sinopharm?
If you like our research, share it with your friends.
---
DISCLAIMER: This content is for information purposes only. It is not intended to be investment advice. Readers should not consider statements made by the author(s) as formal recommendations and should consult their financial advisor before making any investment decisions. While the information provided is believed to be accurate, it may include errors or inaccuracies. The author(s) cannot be held liable for any actions taken as a result of reading this article.