Singapore Technologies Engineering Has a Strong Profit Margin
Background
Singapore Technologies Engineering Limited is a Singapore software and engineering company with major focus on electronics and aerospace.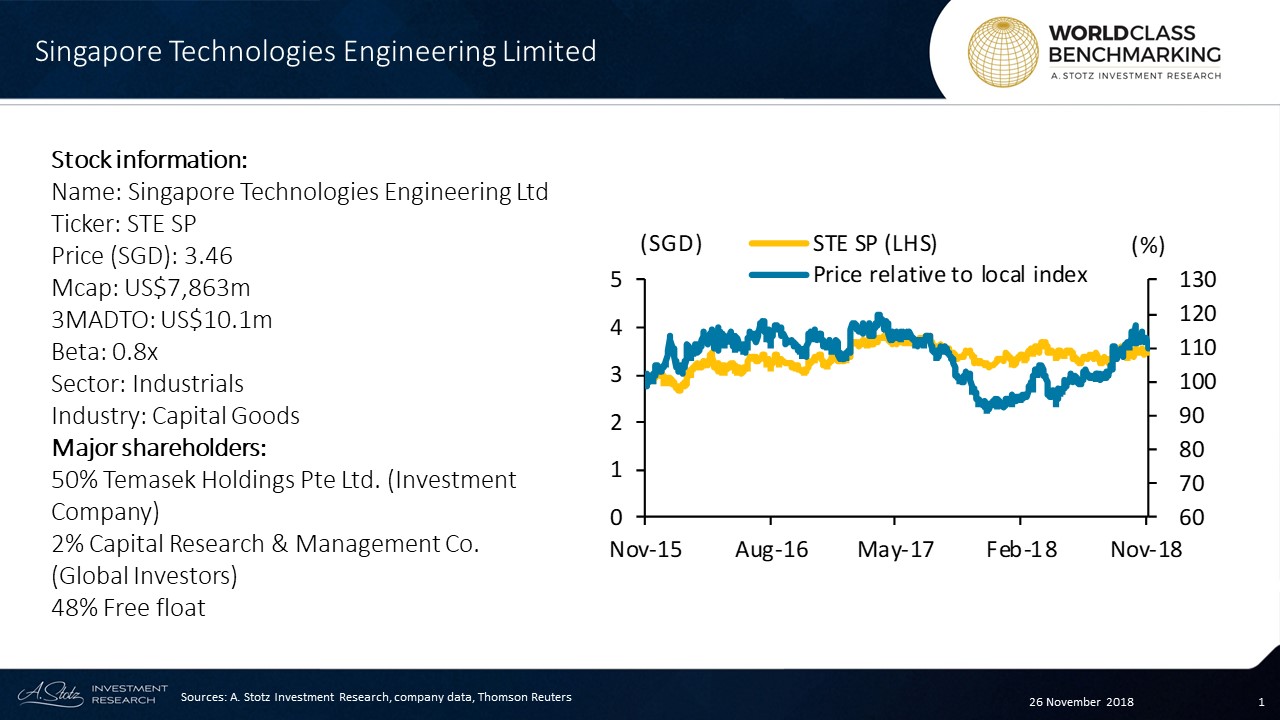 Via a subsidiary, it has the largest mechanical airframe maintenance, repair and overhaul (MRO) operations for commercial aircraft in the world.
Business operations are conducted in 20 countries.
Business Description
STE is a Singapore-based software and engineering company. The group's biggest division, which accounts for just under 1/2 of sales, is aerospace. This encompasses the maintenance, repair, and overhaul (MRO) business for airframes of commercial airlines, and is the biggest in the world by revenue. Airframes refer to the mechanical engineering areas. The acquisition of Middle River Aircraft Systems (MRAS) in 1Q19 will further enhance revenue and profits of this division.
The electronics division, slightly less than 1/3 of revenue, is focused on e-government initiatives in the Asian region, ranging from rail and intelligent transportation to cybersecurity and satellites.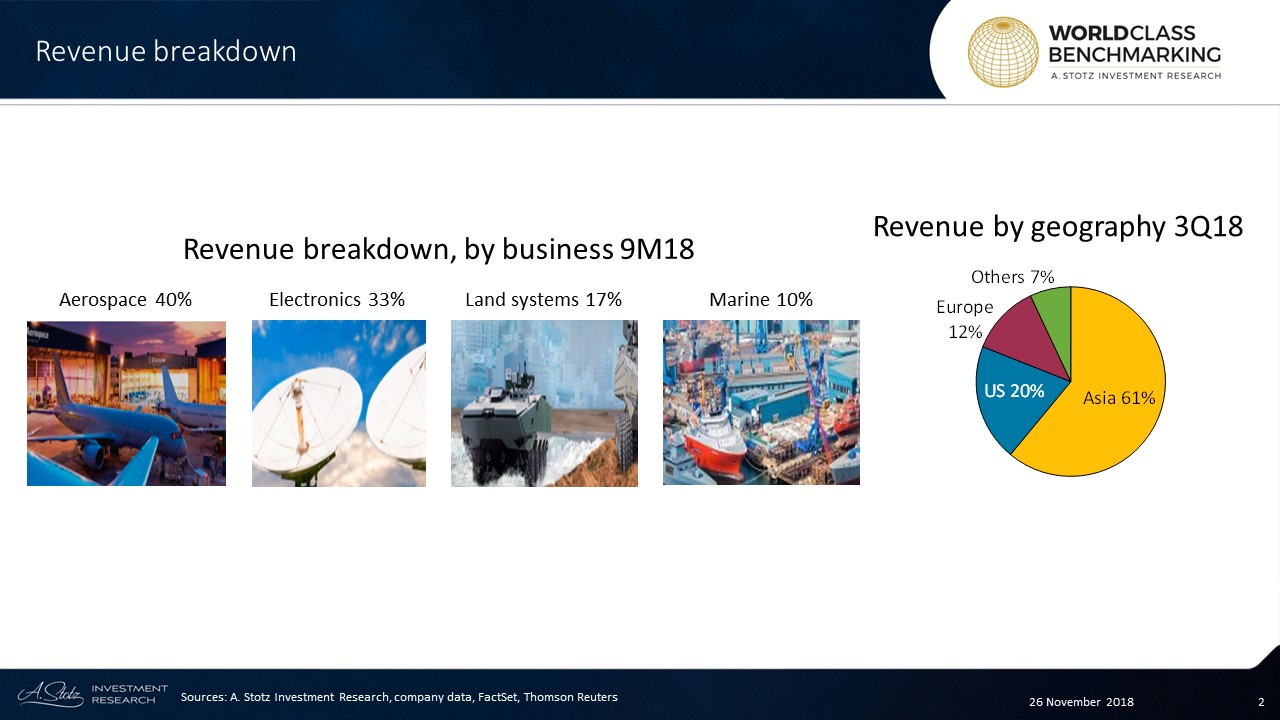 The Land systems division, at about 1/5 of sales, provides mainly engineering for specialty vehicles, and support for government defence and homeland security.
The rest of the company's business is centered on engineering for ship repairs and conversions in both the public and private sector. The company also owns and operates a shipyard.
Leadership
Kwa Chong Seng has served as the Chairman of STE since 2013. Prior to his current position, he served as Chairman and Managing Director at ExxonMobil Asia Pacific Pte. Ltd. up until 2011. In addition to his current role at STE, he also serves as the Chairman and Lead Independent Director of Singapore Exchange Limited (SGX SP). He received his Bachelor's degree in Mechanical Engineering from the National University of Singapore.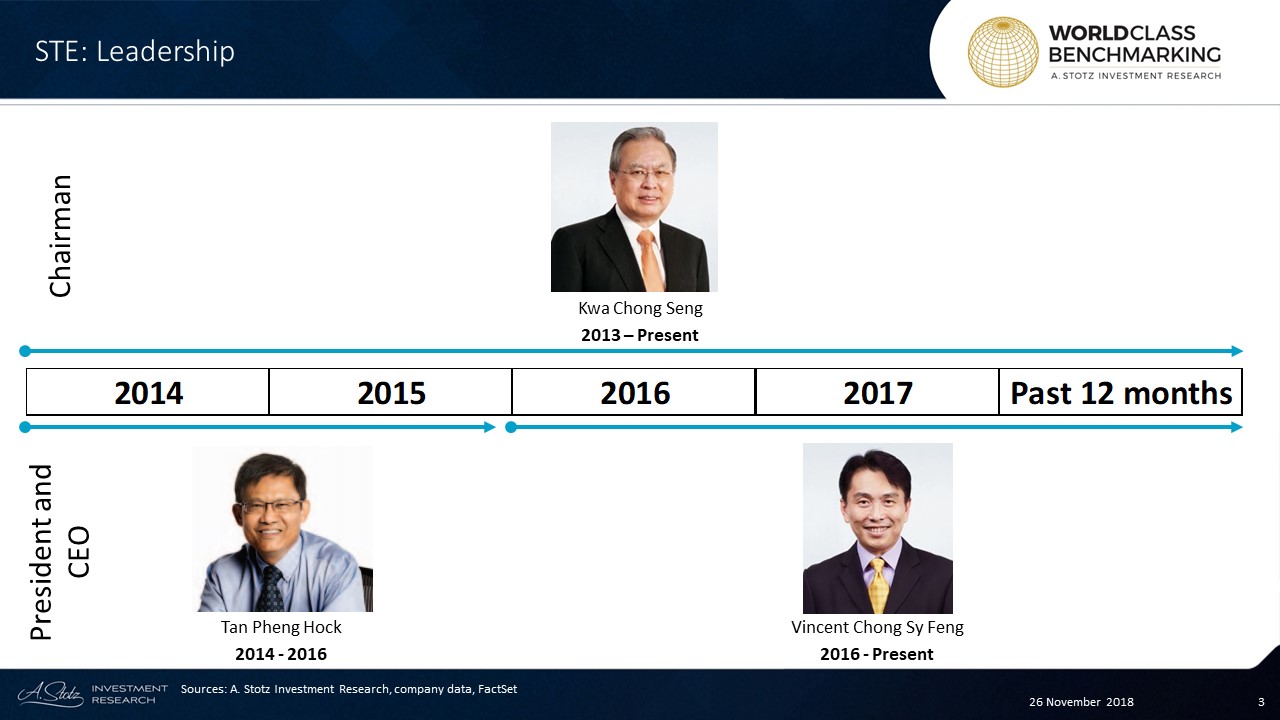 Vincent Chong Sy Feng joined STE in 2014 as President of Strategic Plans & Business Development before being appointed his current role of President and CEO of STE in 2016. He obtained his Bachelor's degree in Mechanical Engineering from the National University of Singapore.
World Class Benchmarking
Profitable Growth has performed relatively well, mostly ranked at #3 with some marginal drop to #4 in recent years. In the past 12 months, STE ranked in the top 450 out of 1,500 large Industrials companies worldwide.
Profitability ranks have been the exact match to that of Profitable Growth. In contrast, Growth has performed well below average but has shown a slow but gradual improvement over the years.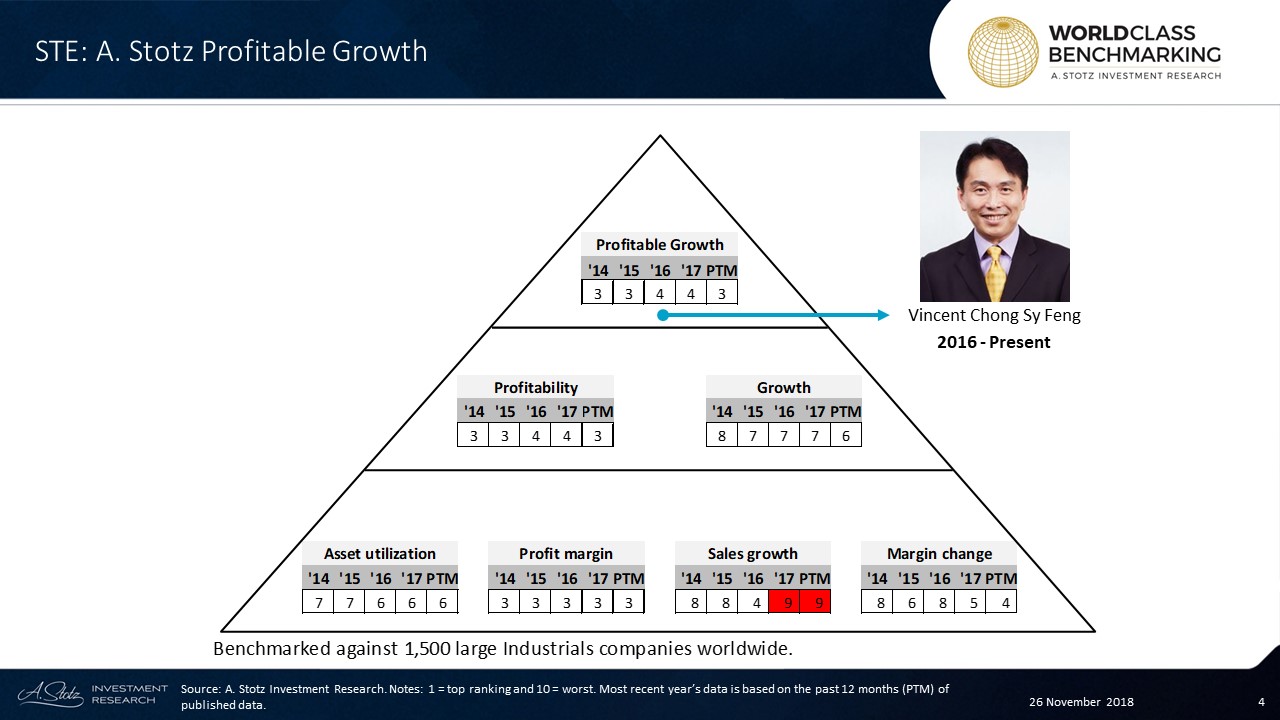 Asset utilization has shown a slight improvement from #7 in 2014-2015 to #6 in 2016 and has stayed there since. Profit margin has stayed at #3 in all years.
STE's Sales growth is among the worst of its peers, ranked at #9 since 2017. Margin change has shown fluctuations in its ranks and ranked at #4 in the past 12 months. The improved margin is what has driven the Growth rank improvement in recent years.
---
What're your thoughts on STE?
If you like our research, share it with your friends.
---
DISCLAIMER: This content is for information purposes only. It is not intended to be investment advice. Readers should not consider statements made by the author(s) as formal recommendations and should consult their financial advisor before making any investment decisions. While the information provided is believed to be accurate, it may include errors or inaccuracies. The author(s) cannot be held liable for any actions taken as a result of reading this article.