Makalot Makes Apparel for Well-Known American Brands
Background
Makalot Industrial Company Limited is a Taiwanese group engaged in the manufacturing of ready-to-wear apparel.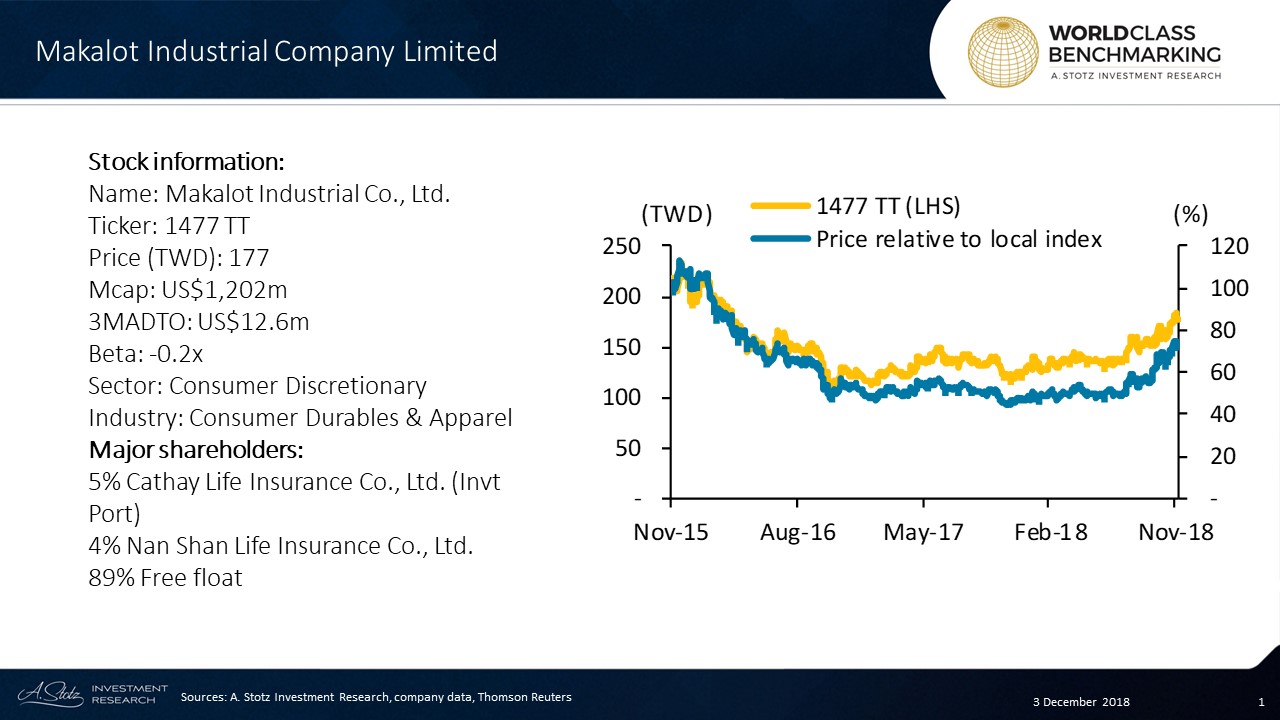 It has production bases in Indonesia, Vietnam, Cambodia, China, and the Philippines.
Major clients include GAP (GPS US), Fast Retailing (9983 JP), Kohl's (KSS US), and Target (TGT US).
Business Description
Makalot produces clothing which follows recent fashion trends and is in the lower retail price range. It also produces functional apparel which is focused on some special functionality ranging from temperature modulation to elasticity, anti-UV, and antibacterial, e.g. sportswear.
The growth rates for functional clothing are much higher than for regular apparel as increasingly customers can promote the high-technology aspects of the clothing.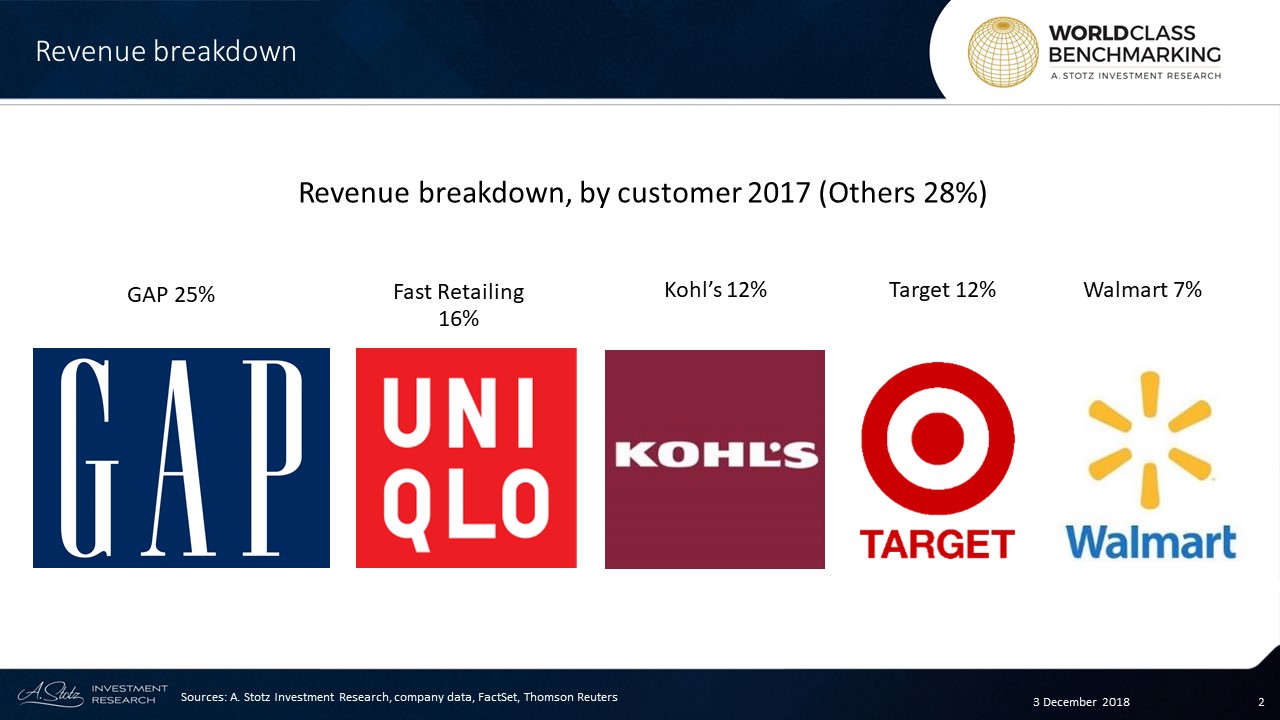 Major clients of Makalot include well-known retailers GAP (GPS US), Fast Retailing (9983 JP), Kohl's (KSS US), Target (TGT US), and Walmart (WMT US). US clients accounted for 80% of 2017 revenue. New clients, expected to start placing orders in 2019, include H&M (HMB SS), Zalando (ZAL GR), and Skechers U.S.A. (SKX US).
In 2017 Makalot's annual capacity was about 14m pieces. With production bases in Indonesia, Vietnam, Cambodia, China, and the Philippines, Makalot can easily adjust its capacities and take advantage of lower costs or avoid issues due to US-China trade war.
Leadership
Frank Chou Liping has been the CEO of MAKALOT since 1989 and has served as the Chairman since 2011.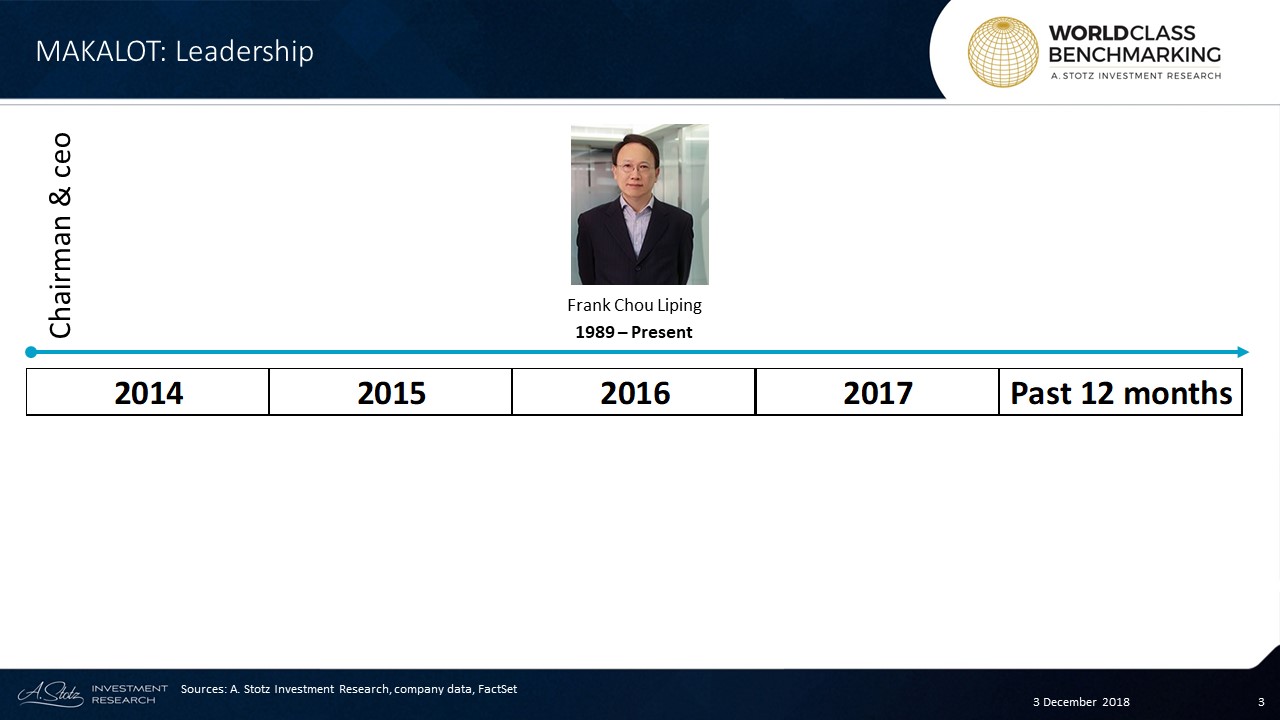 World Class Benchmarking
Profitable Growth has shown great ranks over the years, and in the past 12 months, Makalot ranked in the top 254 out of 1,270 large Consumer discretionary companies worldwide.
Profitability has shown the same ranks as Profitable Growth. Growth dropped to #9 in 2016 but has improved afterward.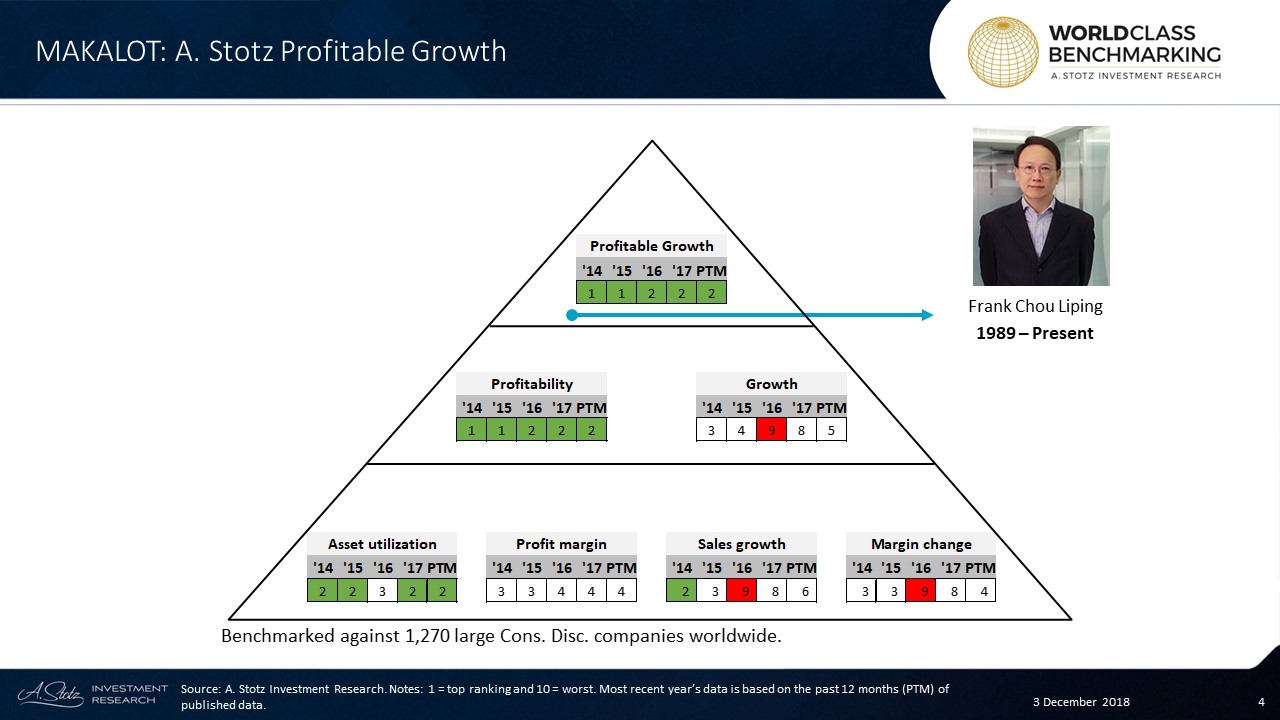 Asset utilization has consistently been ranked at #2 over the years except for 2016 when the rank fell to #3. Profit margin has stayed above the average level throughout the whole time period.
After 2015, Sales growth has ranked below average but shown an improving trend after 2016. Margin change has remained above the average over the years except in 2016 and 2017.
---
What're your thoughts on Makalot?
If you like our research, share it with your friends.
---
DISCLAIMER: This content is for information purposes only. It is not intended to be investment advice. Readers should not consider statements made by the author(s) as formal recommendations and should consult their financial advisor before making any investment decisions. While the information provided is believed to be accurate, it may include errors or inaccuracies. The author(s) cannot be held liable for any actions taken as a result of reading this article.