LG Collaborates with GM and Volkswagen in Automotive Electronics
Background
Founded in 1958 as GoldStar and later renamed LG Electronics Incorporated in 1995, it is one of the most recognizable subsidiaries of the LG group.
It is primarily engaged in handset, TV and home appliance production.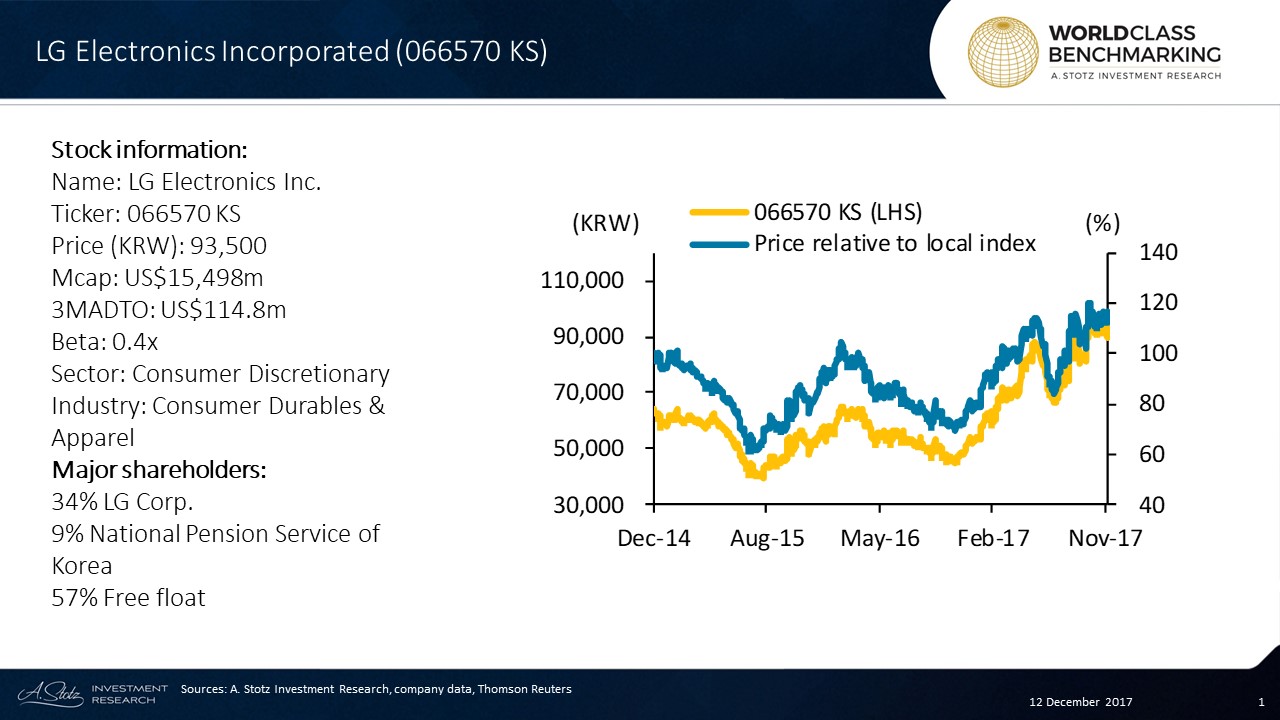 It is the second-largest producer of TV screens worldwide and one of the most popular producers of handsets in Korea.
Business Description
LGE's business can be divided into four divisions, the largest being Home Entertainment which includes Smart TVs using OLED and Ultra HD screens offering access to the Internet, camera modules, moving sensors and a wide range of applications. Other products include home audio, video solutions and projectors.
The Home Appliances and Air solutions division manufactures refrigerators, ovens, microwaves, washers, and dishwashers for home and commercial use. It also develops high-tech AC systems and solar panel energy systems for both home and commercial use.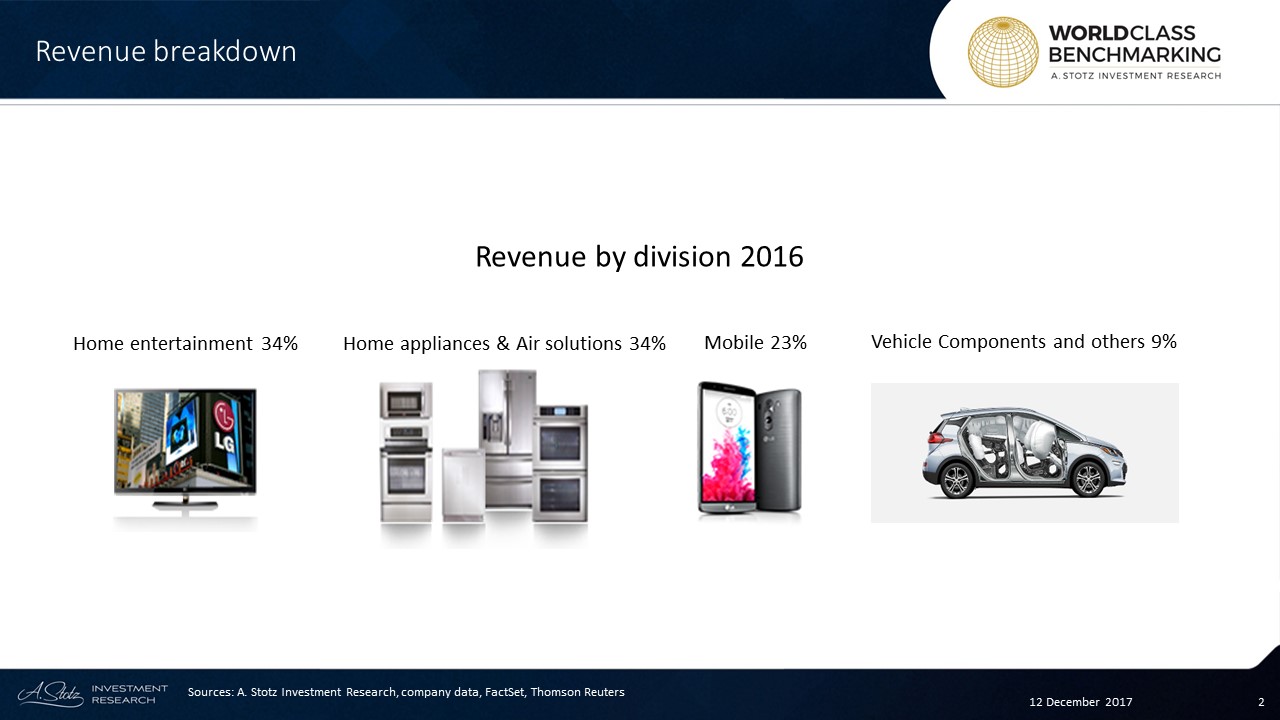 The Mobile division produces smartphones including its flagship G-series, competing with iPhone and Galaxy. It also produces tablets, smartwatches and mobile accessories.
Its newly created automotive segment, in co-operation with GM and Volkswagen, manufactures powertrain solutions and batteries for electric vehicles, thermal systems, and audio and navigation systems. LG plans to build a new factory in the US to support the division's growth.
Leadership
Koo Bon-joon is the current Vice Chairman of LG Electronics. He has served and are still serving in many other executives position within the LG group with his earliest positions dating back to 1999. He obtained his Bachelor of Science degree in Computer science and Statistics from Seoul National University in Korea and his MBA from the University of Chicago in the US.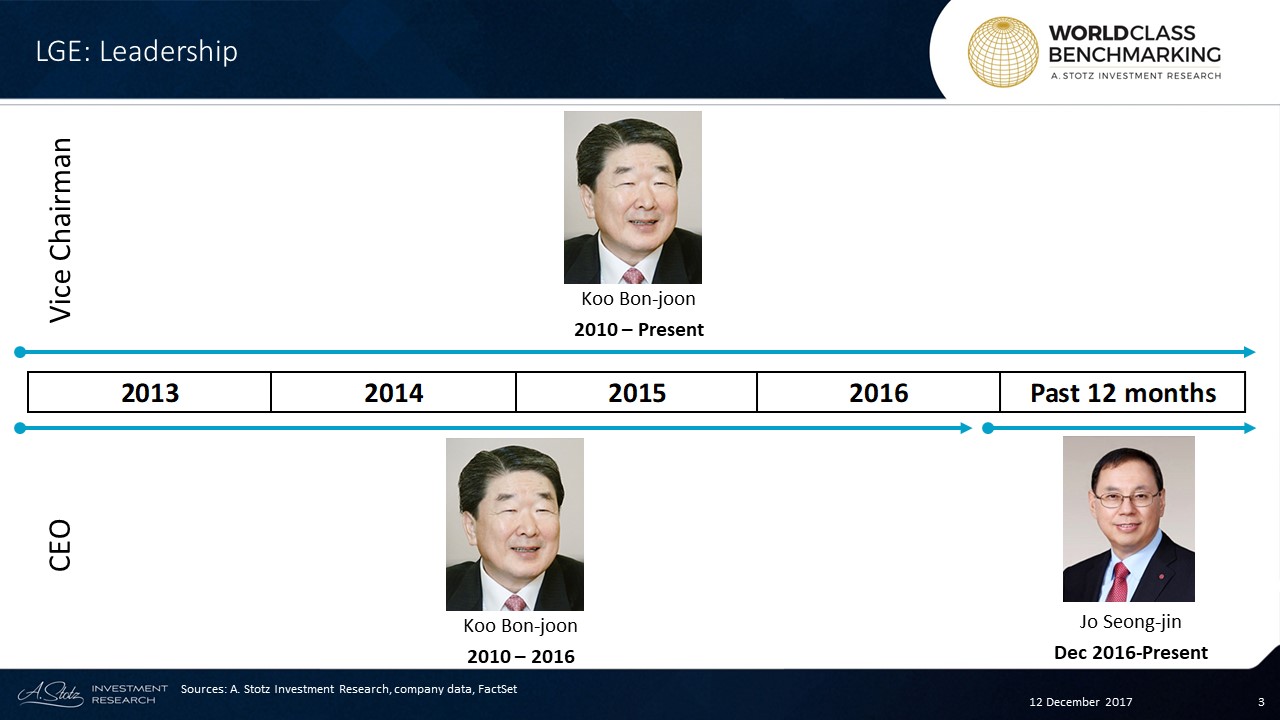 Jo Seong-jin has taken on the role of CEO of LGE after Koo Bon-joon in December 2016. He is also a Director of LGE and has served in the company since 2012.
World Class Benchmarking
Profitable Growth has recovered but still ranked below average at #6 from being ranked among the worst in 2015-2016.
Profitability saw a small improvement compared to Growth's huge improvement in the past 12 months.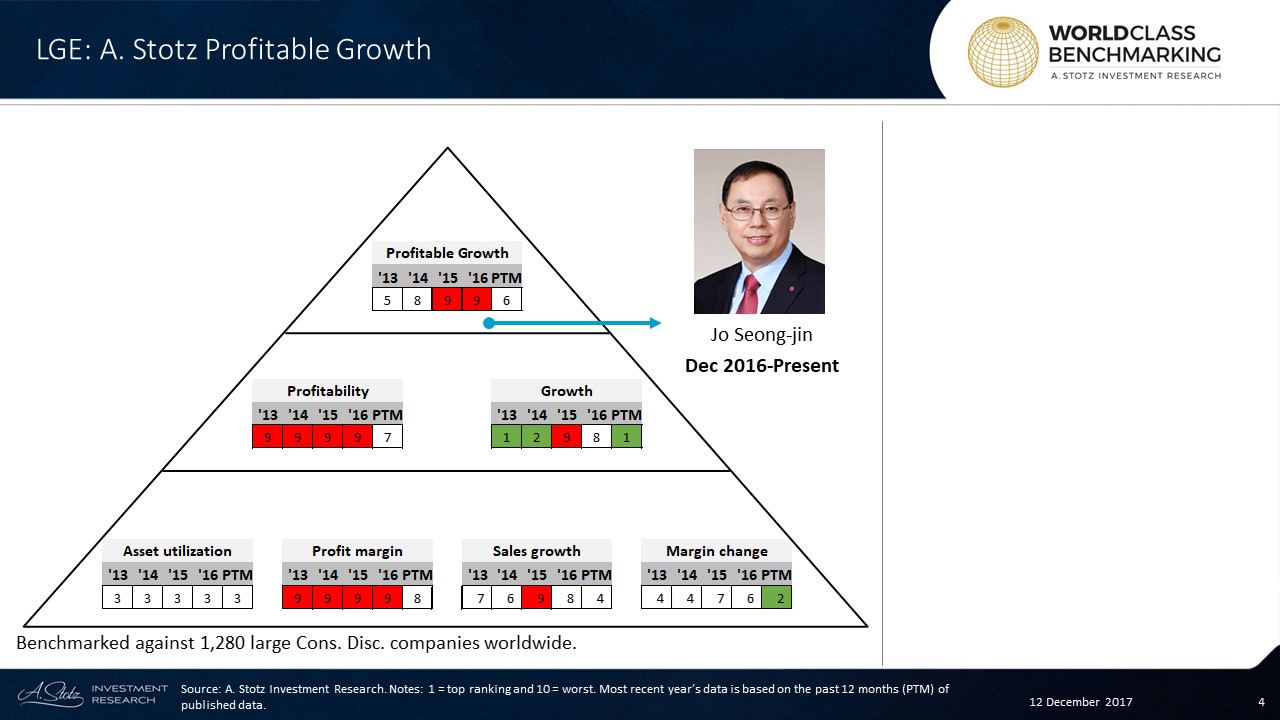 Asset utilization has been consistently high at #3 while Profit margin has been consistently low at #9, improved one step to #8 in the past 12 months.
Both Sales growth and Margin change experienced a good improvement in the past 12 months relative to 2015 and 2016.
---
What're your thoughts on LGE?
If you like our research, share it with your friends.
---
DISCLAIMER: This content is for information purposes only. It is not intended to be investment advice. Readers should not consider statements made by the author(s) as formal recommendations and should consult their financial advisor before making any investment decisions. While the information provided is believed to be accurate, it may include errors or inaccuracies. The author(s) cannot be held liable for any actions taken as a result of reading this article.