It's Not All about Facebook and Instagram Ads Nowadays
Background
Master Ad Public Company Limited is an advertising services company based in Thailand, with a focus on outdoor advertising through billboards, signs and displays.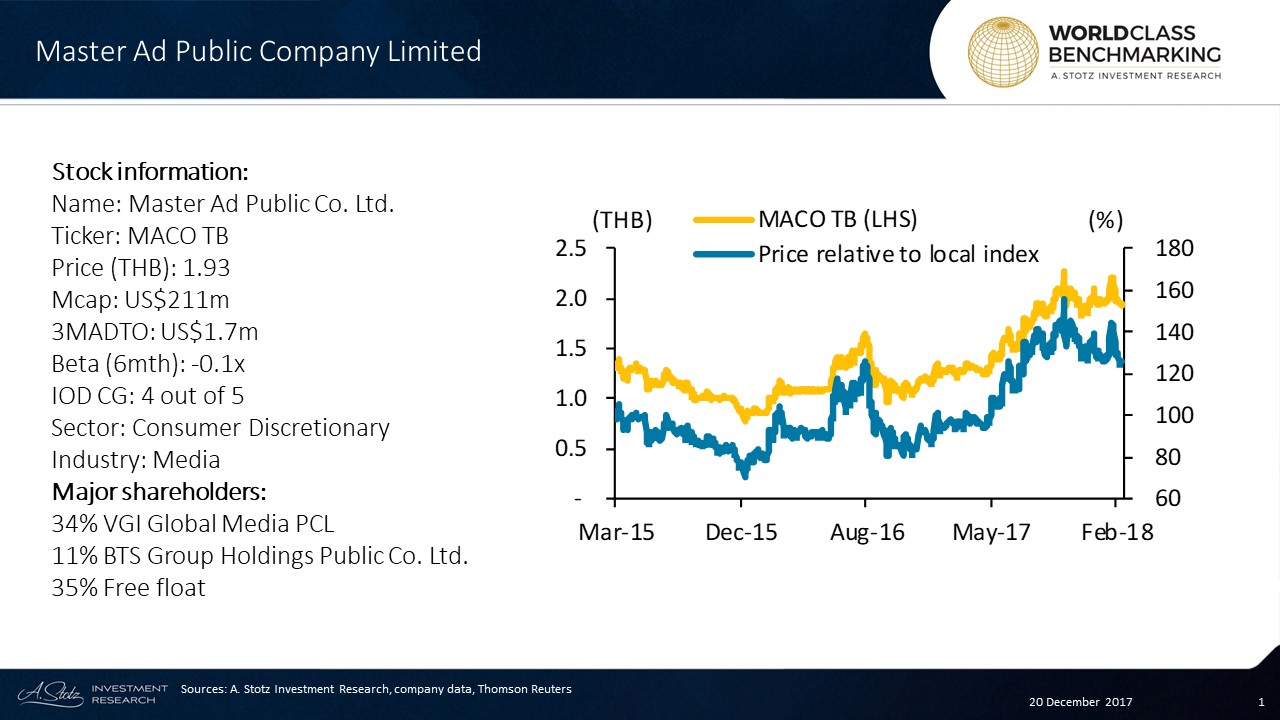 Most of the group's revenue is currently derived from its over 2,000 domestic static media billboards and signage, with digital media billboards still under 2% of total sales.
Business Description
MACO produces and provides outdoor advertising media services throughout Thailand, and has a 35% share of the local market. Just under 2/3 of its revenue is derived from billboards, while a little over a third is from street furniture such as pillars and posts.
Billboards includes customized media content specifically designed for out of home purposes. Out-of-home advertising has been the fastest growing media in Thailand over the past five years due to long consumer commutes and the amount of time consumers spend out of home.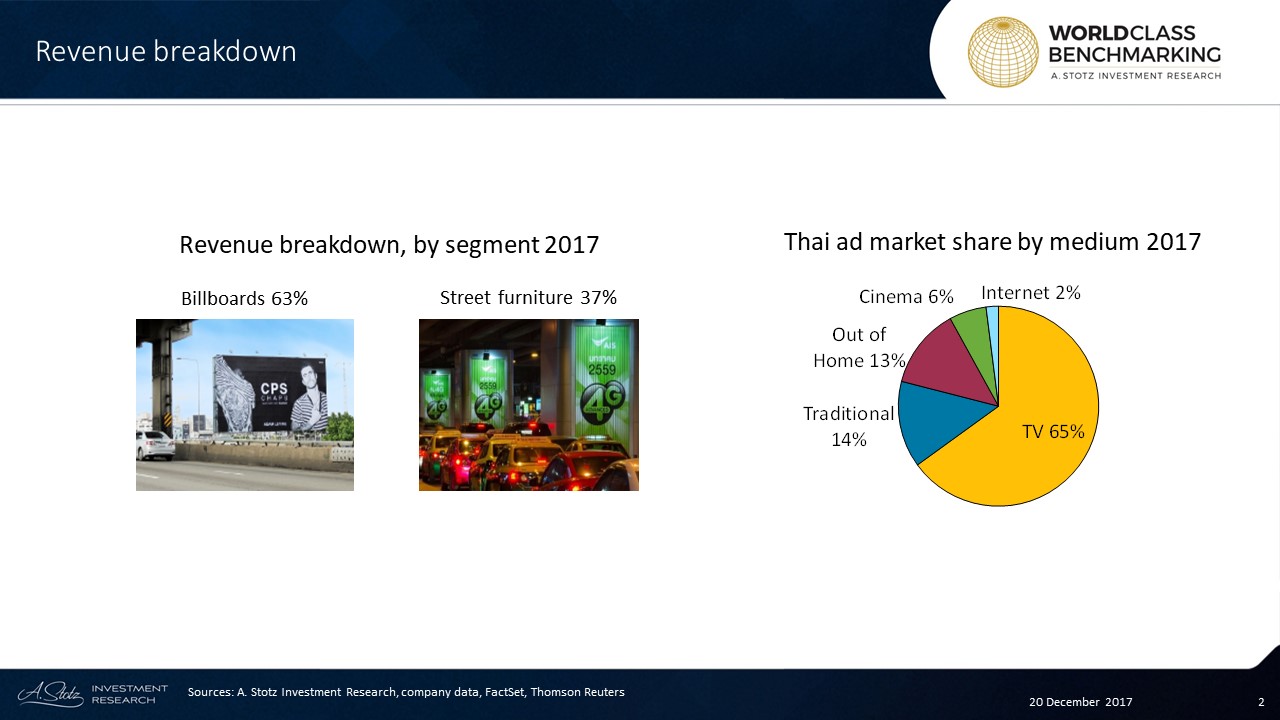 The company has more than 2,200 billboards and street furniture combined. Locations range from airports and highways to city centers and central business districts. While most of MACO's current outdoor media is static, the company has just started to convert to digital-based media; this should reach 2.5% of its total existing billboard revenue by the end of 2018, up from 1% in 2017.
MACO also aims to boost the number of its billboard spots in Malaysia.
Leadership
Mana Jantanayingyong was appointed the Chairman of MACO in 2016. He has experience in directorship as an Independent Director of VGI Global Media PCL (VGI TB) and has worked as a CEO of Group M as well. He received his Bachelor's degree in Business Administration from Rajamangala University of Technology, Thailand. He has also completed multiple programs from the Thai Institute of Directors.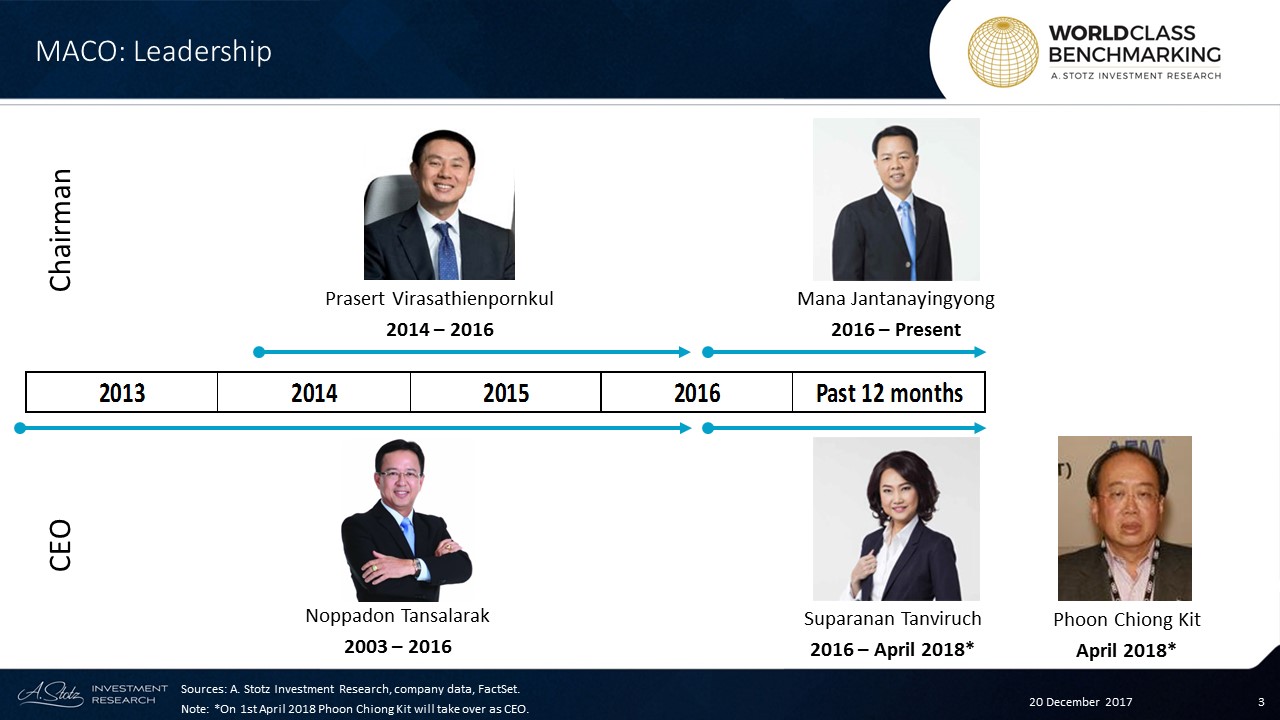 Supranan Tanviruch currently serves as the CEO of MACO and also holds directorship in multiple other companies. She received the Quality Person of the year award from The Foundation of Science and Technology Council of Thailand in the year 2017. Her education consists of Bachelor's and Master's degree in Accounting from Thammasat University, Thailand.
On 1st April 2018, Supranan will hand over her position as the CEO of MACO to Phoon Chiong Kit.
World Class Benchmarking
Profitable Growth has been stable in the top 3 and ranked at #2 in the past 12 months. MACO ranked among the top 154 of 770 small Consumer Discretionary companies globally.
Profitability has exhibit similar trends to Profitable Growth with consistently high rankings. Growth has had more fluctuations but improved to #2 in the past 12 months.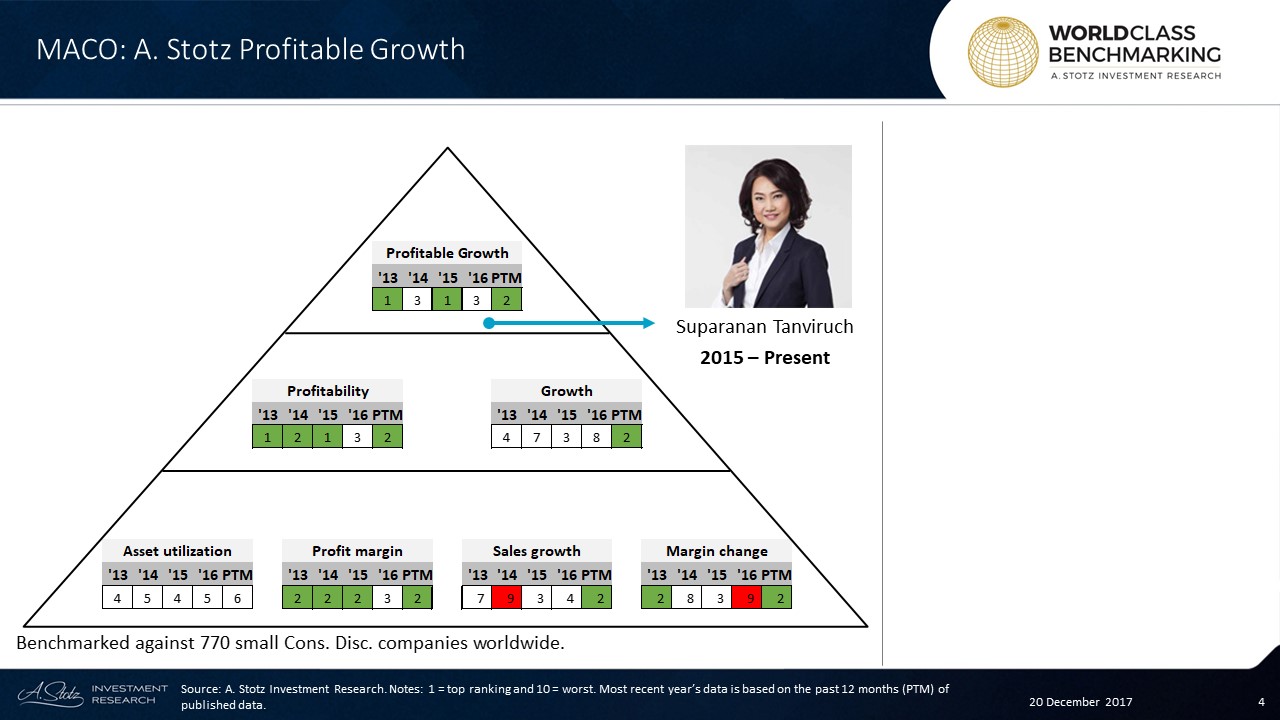 Asset utilization has been mostly about average whereas Profit margin has ranked consistently at #2 except for a dip to #3 in 2016.
Both Sales growth and Margin change have had fluctuations in their ranks since 2013 but, like most other scores, they improved to #2 in the past 12 months.
---
What're your thoughts on MACO?
If you like our research, share it with your friends.
---
DISCLAIMER: This content is for information purposes only. It is not intended to be investment advice. Readers should not consider statements made by the author(s) as formal recommendations and should consult their financial advisor before making any investment decisions. While the information provided is believed to be accurate, it may include errors or inaccuracies. The author(s) cannot be held liable for any actions taken as a result of reading this article.