Investment Opportunities in APAC at 2017 Taiwan Investment Conference
The 2017 Taiwan Investment Conference on 12 October 2017 to celebrate the 10th anniversary of CFA Society Taiwan. Keynote speakers and panel discussions highlight hot investment topics in Taiwan and the region. This post relates to the panel discussion on Investment Opportunities in APAC.
Moderator: Andrew Stotz, PhD, CFA, A. Stotz Investment Research
Panel: Nguyen Thi Vinh Ha, CFA, Partner at Grant Thornton (Vietnam), Ashraf Bava, CFA, Chief Executive at Nael Capital (Pvt) Limited, April Lynn Tan, CFA, Vice President and Head of Research at COL Financial, and Biharilal Deora, CFA, CIPM, FCA, CFP, CIWM, Partner at BDVG & Associates.
Markets discussed: India, Pakistan, the Philippines, Thailand, and Vietnam.
---
---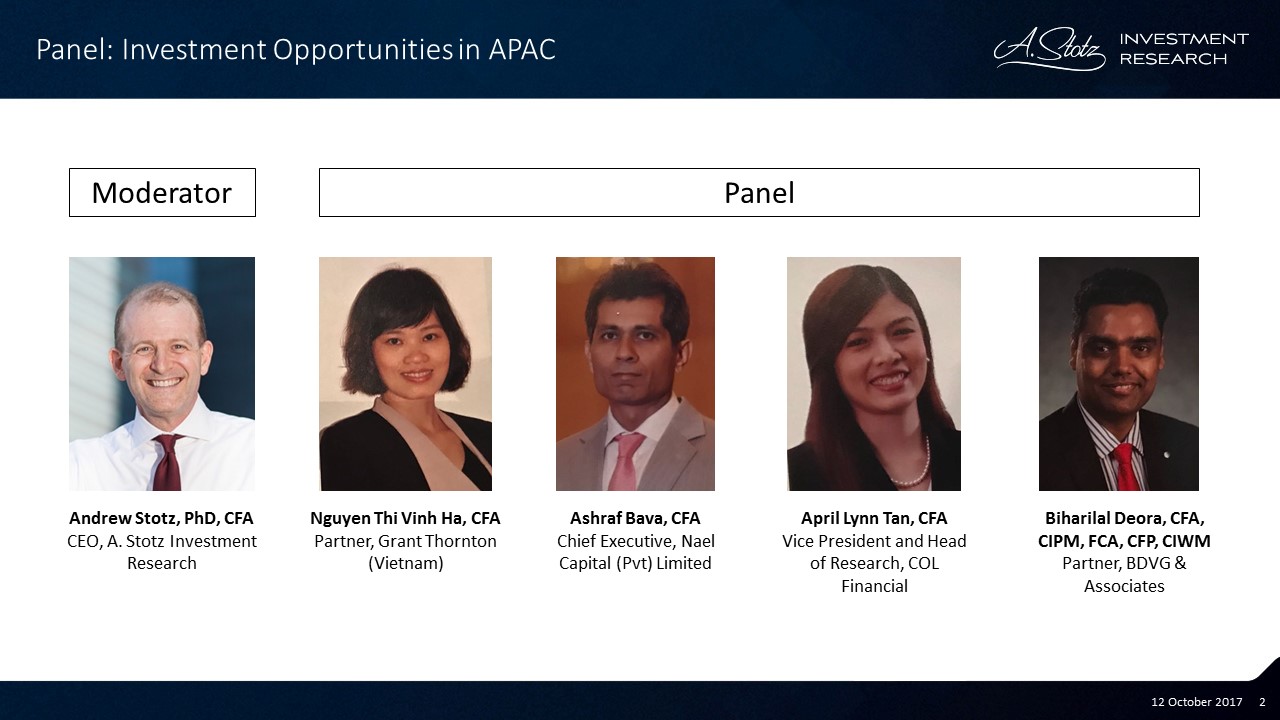 Executive summary: Investment opportunities in APAC
India: The largest economy, has had the highest GDP growth, but appears expensive
Pakistan: Highest population growth at 2%, strong profitability, low gearing, cheap valuation
Philippines: Large amount of young people, decent fundamentals, but expensive
Thailand: Aging population, very low unemployment, decent fundamentals and momentum, not expensive
Vietnam: Large share of population in the labor force, fundamentally strong, low gearing, relatively cheap
---
---
DISCLAIMER: This content is for information purposes only. It is not intended to be investment advice. Readers should not consider statements made by the author(s) as formal recommendations and should consult their financial advisor before making any investment decisions. While the information provided is believed to be accurate, it may include errors or inaccuracies. The author(s) cannot be held liable for any actions taken as a result of reading this article.