Indonesian Pharmaceuticals with World Class Financial Performance
Watch the video with Andrew Stotz or read a summary of the World Class Benchmarking on PT Kalbe Farma Tbk.
---
---
Background
PT Kalbe Farma Tbk (KLBF IJ) is an Indonesia-based pharmaceutical company. It manages an extensive portfolio of prescription pharmaceuticals and OTC drugs, energy drinks and nutrition products, as well as a distribution arm serving more than 1 million outlets. The company also operates in Southeast Asia, Nigeria and South Africa.
Business Description
Kalbe Farma has joint ventures with companies such as Blackmores (BKL AU) and Genexine (095700 KS). The business is divided into four divisions:
Distribution and logistics has reached more than 1 million outlets. It includes the distribution of medical devices from local and international companies and sells them to hospitals and clinics throughout Indonesia.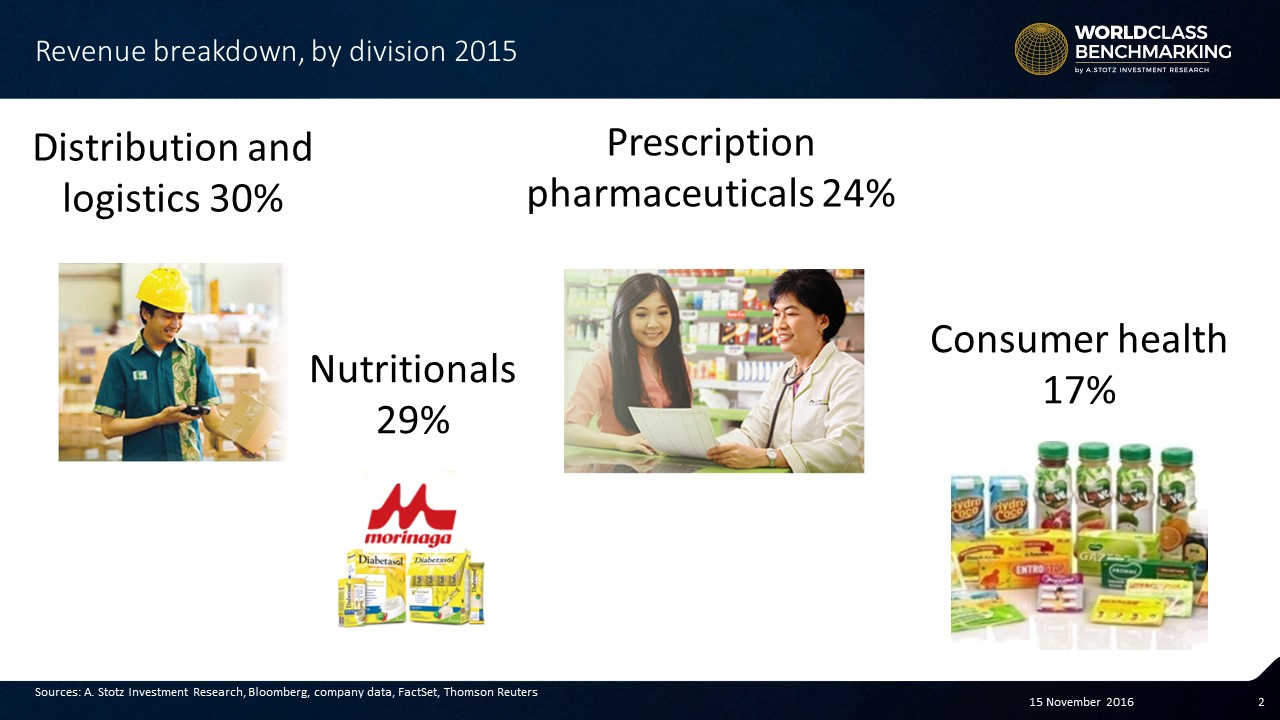 Nutritionals segment caters to all ages, from infants to adults, expectant and lactating mothers, elderly, as well as consumers with special medical needs. Its top products include Morinaga Chil Kid milk for kids and Diabetasol for diabetes.
Prescription pharmaceuticals offers a complete product range, from unbranded generic drugs and branded generics to licensed drugs.
Consumer health segment offers over-the-counter (OTC) drugs with therapeutic benefits, consumer health products, as well as energy drinks and healthy ready-to-drink products. Top goods in this segment include Extra Joss energy drink and ready-to-drink Hydro Coco.
Leadership
Johannes Setijono has been the President Commissioner of Kalbe Farma since 2008. Mr. Setijono has started his career at Kalbe Farma in 1972 as R&D manager. In 2011, he became the chairman of the Indonesian Pharmaceutical Association (GP Farmasi).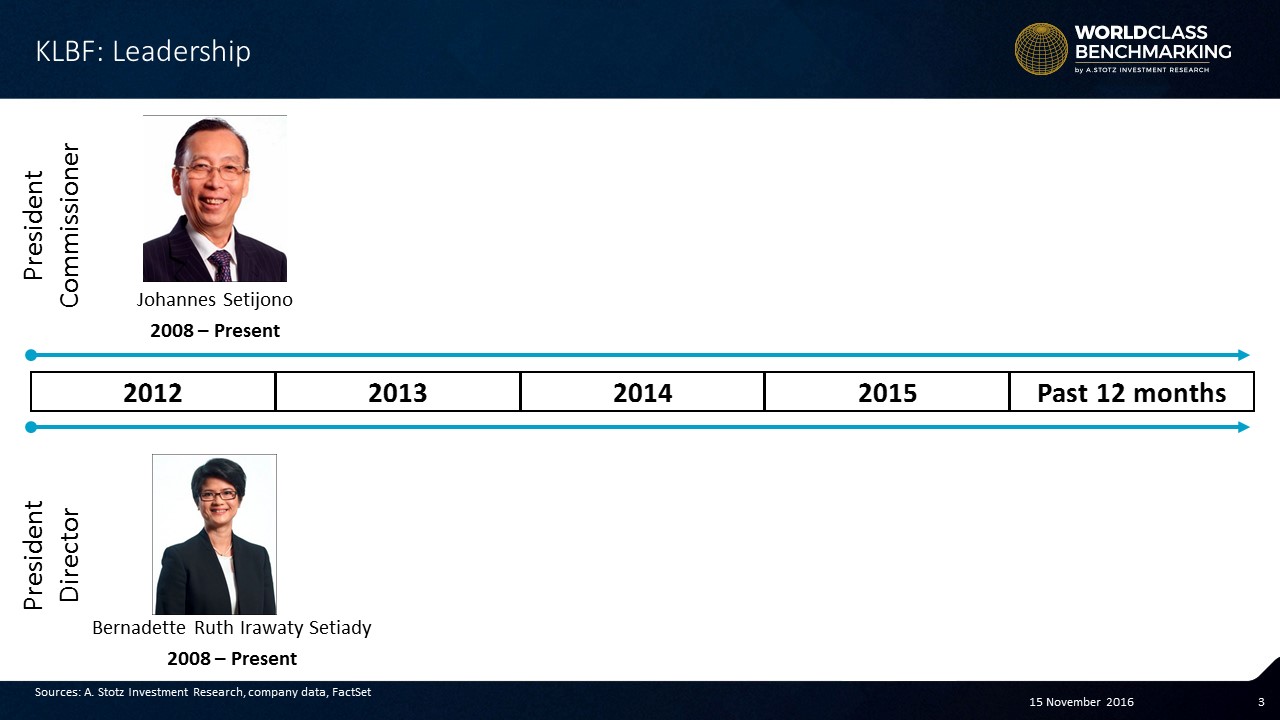 At the same time Mr. Setijono became President Commissioner, Bernadette Ruth Irawaty Setiady became President Director of Kalbe Farma. She's been working in the Kalbe Farma group since 1987 after earning her Master's degree at Cornell University in the US in 1986. Under her leadership, the company's financial performance has been World Class.
World Class Benchmarking
Kalbe Farma's Profitable Growth returned to World Class in the past 12 months, after a dip to #2 in 2015. The company has been stable in the top 33 of large Health Care companies globally.
Profitability has been World Class since 2012 and is the driver of the solid Profitable Growth rank. Growth was average until 2014 but has fallen since. This is the area Kalbe Farma's management needs to focus on.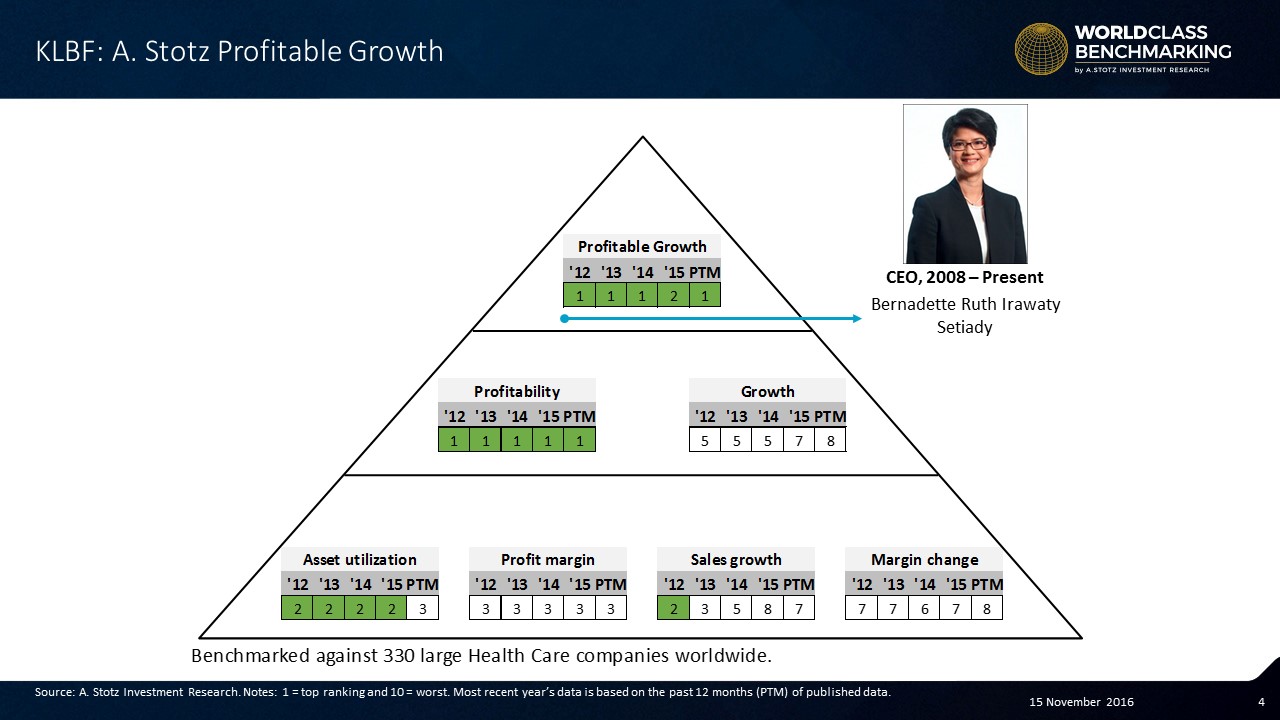 Profit margin and Asset utilization together drives Profitability. Asset utilization fell one step in rank to #3 in the past 12 months.
Sales growth and Margin change are both poorly ranked. Sales growth improved one step and Margin change worsened one step in rank in the most recent period.
---
Do YOU invest in Pharmaceuticals? Why / Why not?
If you like our research, share it with your friends.
---
DISCLAIMER: This content is for information purposes only. It is not intended to be investment advice. Readers should not consider statements made by the author(s) as formal recommendations and should consult their financial advisor before making any investment decisions. While the information provided is believed to be accurate, it may include errors or inaccuracies. The author(s) cannot be held liable for any actions taken as a result of reading this article.