Ground Control to Major Thai (Telecom)
Watch the video with Andrew Stotz or read a summary of the World Class Benchmarking on Intouch Public Company Limited.
---
---
Background
Intouch Public Company Limited invests in telecoms, satellite and media businesses.
Its biggest and most profitable investments are its 40% stake in Advanced Info Service (ADVANC TB), a Thai telecom leader, and its 41% stake in Thaicom (THCOM TB)—a major leading satellite communications business in the Asia-Pacific region.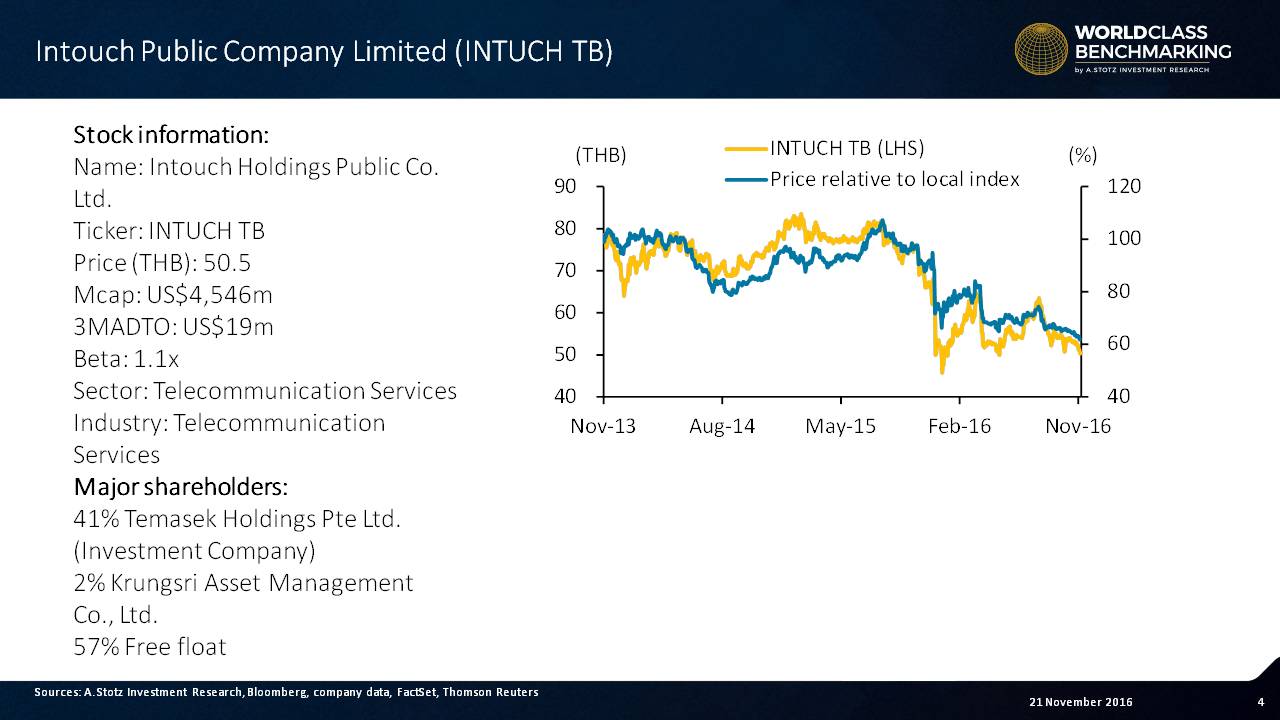 Business Description
INTUCH invest mainly in telecommunication and media businesses, but its 40% stake in Advanced Info Service (ADVANC TB), Thailand's biggest mobile phone operator, provides the lion's share of its revenue.
AIS has more than a 50% market share of Thailand's mobile subscriber market. AIS offers prepaid and postpaid mobile phone services including fast 4G technology. It also sells handsets and smartphones through its subsidiary, Wireless Device Supply Co., Ltd.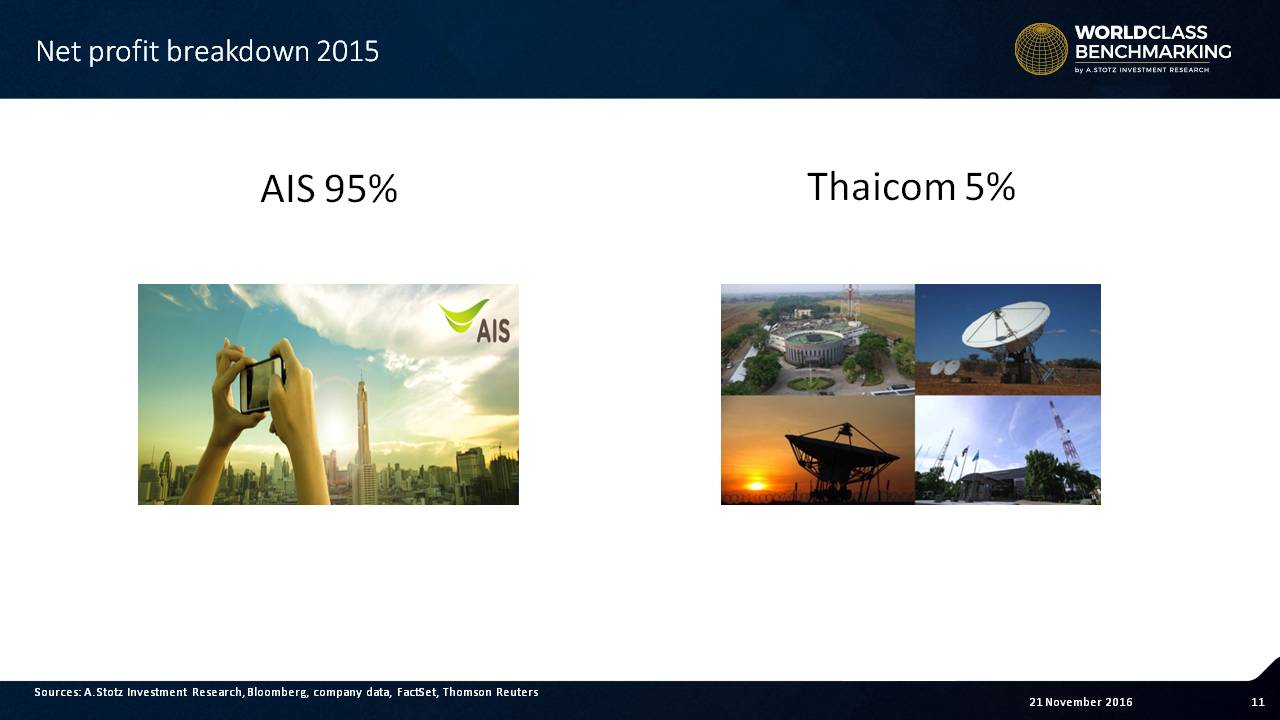 INTUCH's Satellite and International Business includes a 41% investment in Thaicom (THCOM TB)—a leader in satellite communications in the Asia-Pacific region. THCOM has launched eight satellites so far including the new Thaicom 8 launched in May 2016, providing millions of people with television access in Southern Asia and Africa.
Other investments include: Ookbee, an e-book store targeting Southeast Asia; Meditech, a producer of performance-enhancing drugs; Computerlogy, a big data and social media company; and High Shopping, an online shopping firm in Thailand.
Leadership
Results have remained bright for the fledgling company, since former CEO Yue Li stepped down in November 2015. Philip Chen Chong Tan took the reigns as CEO, and thus far, Intouch Holdings remains untouchable.
Before joining INTUCH, Tan was the CEO of GE Money and later held many senior roles at Bank of Ayudhya. While the company is still ranked #1 overall in Profitable Growth in 2016, Growth has improved over the most recent year to#4 from #6 under Tan's leadership.
World Class Benchmarking
Profitable Growth has been World Class every year except for 2013, when it was ranked #2. Intouch ranks among the best 6 of 60 medium-sized, global telecom companies.
Profitability is where Intouch derives much of its steam. But Growth has recently risen to above average as well.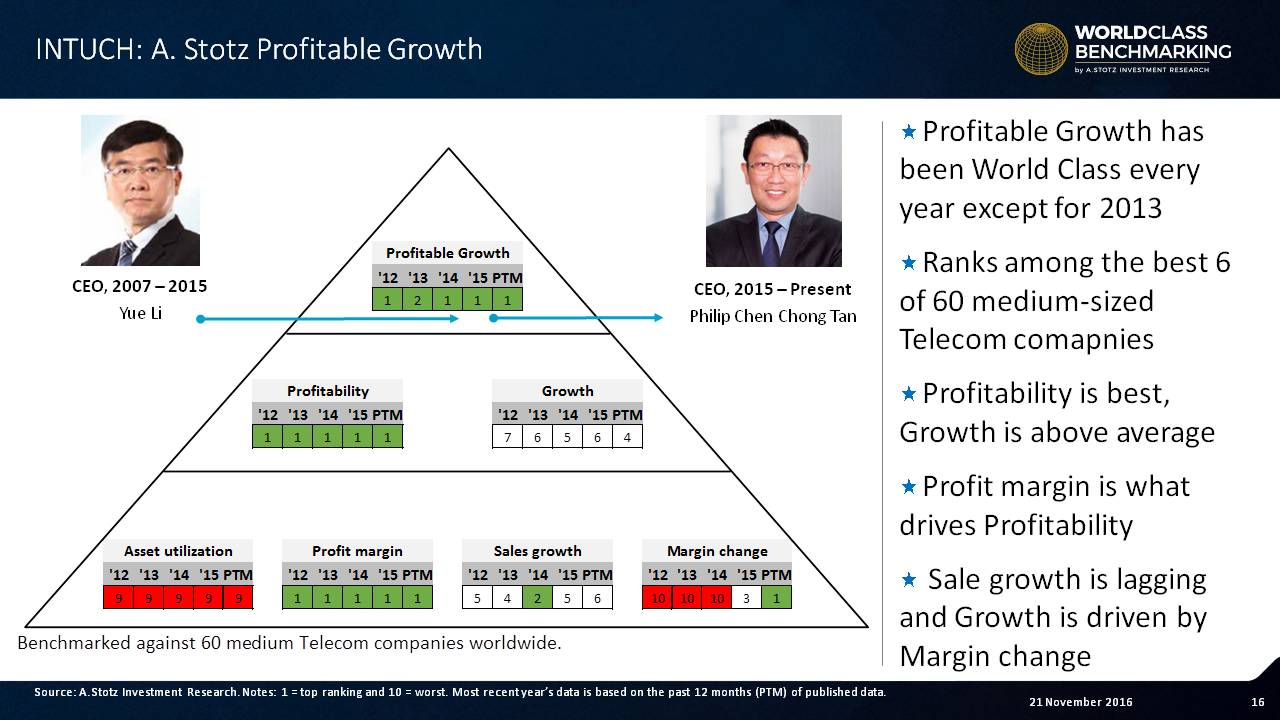 Profit margin is what drives Profitability, and the company's large market share keeps those margins fat.
Sales growth is the one metric seen to be lagging, but Margin change has risen to #1 in the past 12 months from #10 in 2014.
---
Would YOU dial in on Intouch's stock? Why or why not?
If you like our research, share it with your friends.
---
DISCLAIMER: This content is for information purposes only. It is not intended to be investment advice. Readers should not consider statements made by the author(s) as formal recommendations and should consult their financial advisor before making any investment decisions. While the information provided is believed to be accurate, it may include errors or inaccuracies. The author(s) cannot be held liable for any actions taken as a result of reading this article.