Great Profitability at Thailand's Largest Refinery and Supplier of Petroleum
Background
Thai Oil Public Company Limited is Thailand's largest refinery and supplier of petroleum products.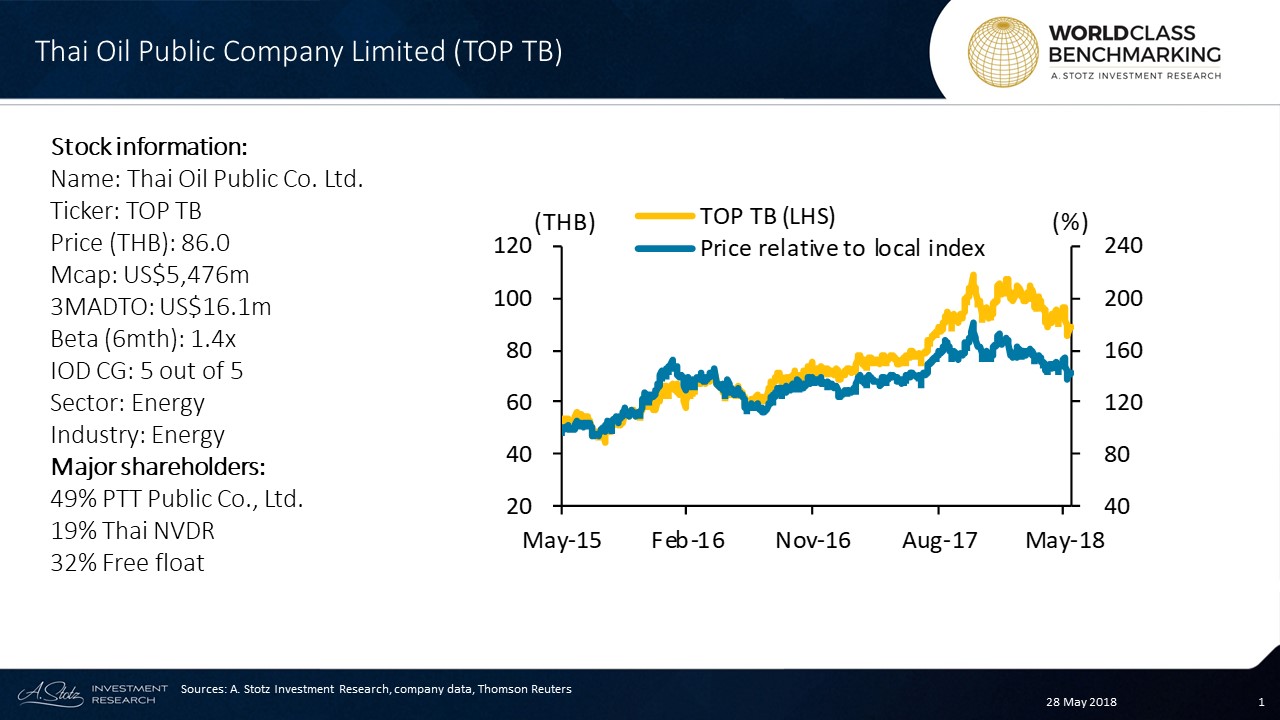 Its current refining capacity is 275,000 barrels per day. TOP also has related businesses of aromatics, lube-base oil, power generation, marine and pipeline transport, and solvents.
Business Description
TOP is a 49%-owned subsidiary of PTT Public Company Limited (PTT TB) and operates in eight business segments. Oil refining, which produces gasoline, diesel, jet fuel, kerosene, fuel oil and liquefied petroleum gas accounts for 85% of revenue. TOP's refining capacity is the largest in Thailand at 275,000 barrels per day or 22% of the country's overall refining capacity. In 1Q18, 85% of TOP's refinery sales were domestic.
Its other major business includes lube-base oil refining, which is a product of crude oil distillation; Petrochemicals, such as paraxylene, benzene, toluene and mixed xylenes; Solvent and chemical products, such as hydrocarbon and chemical solvents.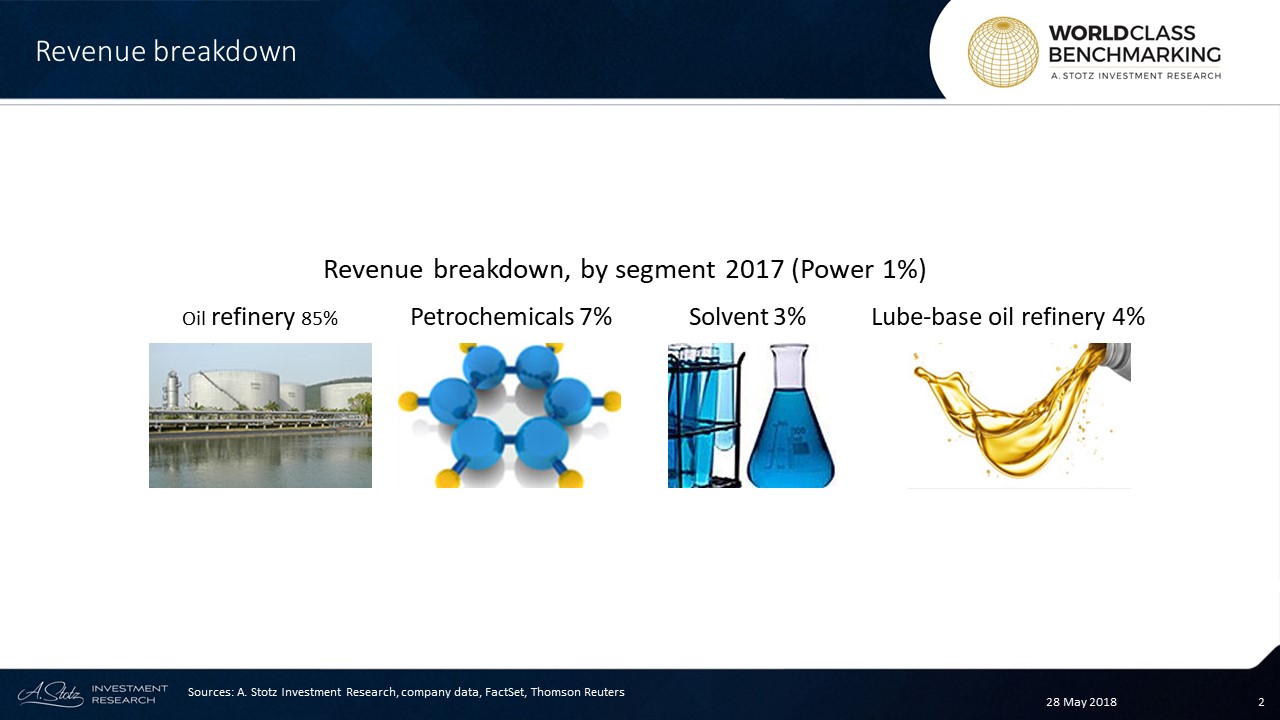 TOP operates its petrochemicals and lube-base business through wholly owned subsidiaries Thai Paraxylene Co., Ltd., which has 838,000 tonnes per annum (tpa) of aromatic capacity and Thai Lube Base PCL, which has 267,000 tpa of base oil and 350,000 tpa of bitumen capacity
TOP's new Clean Fuel Project, expected to start operations in 2022, aims to process cheaper crude oil and increase refining capacity.
Leadership
Thosaporn Sirisumphand has been the chairman of Thai Oil since 2017. Thosaporn earned a Bachelor of Public Administration from Chulalongkorn University, Thailand and a Master of Public Administration and a Ph.D. in Policy Analysis, Public Administration and Comparative Politics, Northern Illinois University, US.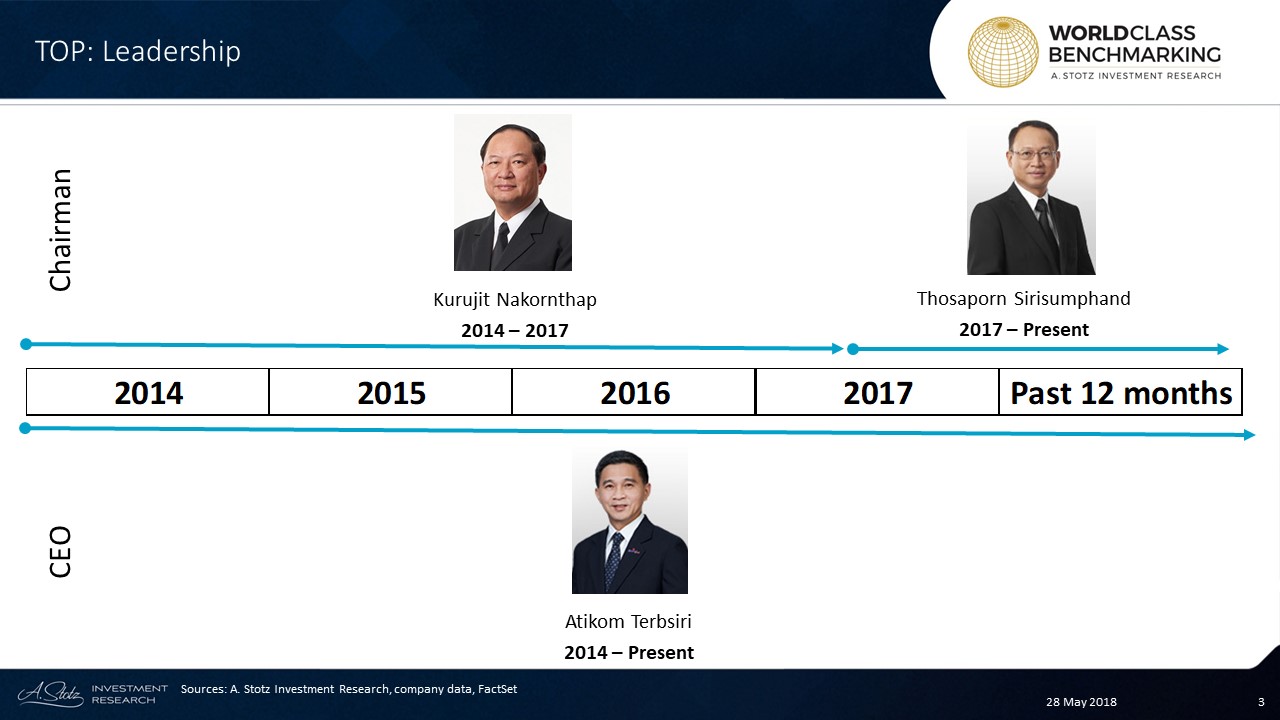 Atikom Terbsiri is the CEO of TOP and has been in the position since 2014. He is also on the board of directors of another PTT-controlled company, Global Power Synergy PCL (GPSC TB). Atikom received a Bachelor's degree in Business Administration from Assumption University, Thailand, an MBA from Armstrong State University, US, and a Doctorate Degree in Human Resources from Golden Gate University, US.
World Class Benchmarking
Profitable Growth ranked in the top 20% in 2015-2017, however, the rank fell one step to #3 in the past 12 months. TOP ranked among the top 99 out of 330 large Energy companies worldwide.
Profitability has been TOP's main strength and the company has consistently ranked in the top 20% since 2015. Growth has ranked poorly at #8 since 2017.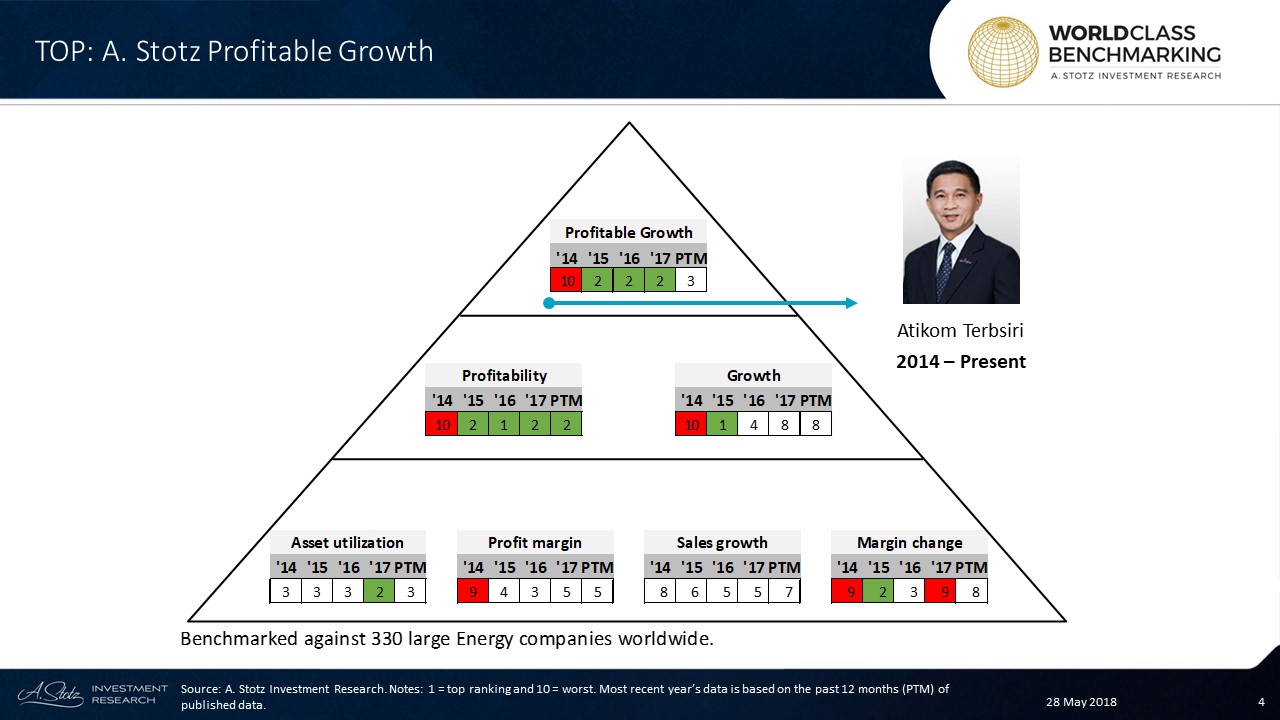 Asset utilization has persistently ranked in the top 30%. Profit margin has fallen to a #5 rank since 2017.
Sales growth ranked average in 2015-2017 but fell to #7 in the past 12 months. Margin change has fluctuated a lot and ranked at #8 in the past 12 months.
---
What're your thoughts on TOP?
If you like our research, share it with your friends.
---
DISCLAIMER: This content is for information purposes only. It is not intended to be investment advice. Readers should not consider statements made by the author(s) as formal recommendations and should consult their financial advisor before making any investment decisions. While the information provided is believed to be accurate, it may include errors or inaccuracies. The author(s) cannot be held liable for any actions taken as a result of reading this article.