Great Efficiency at Chevron's Thai Subsidiary
Background
Star Petroleum Refining Public Company Limited was founded in 1992 by Chevron South Asia Holdings and PTT PCL (PTT TB), PTT sold its last shares in SPRC in 2017.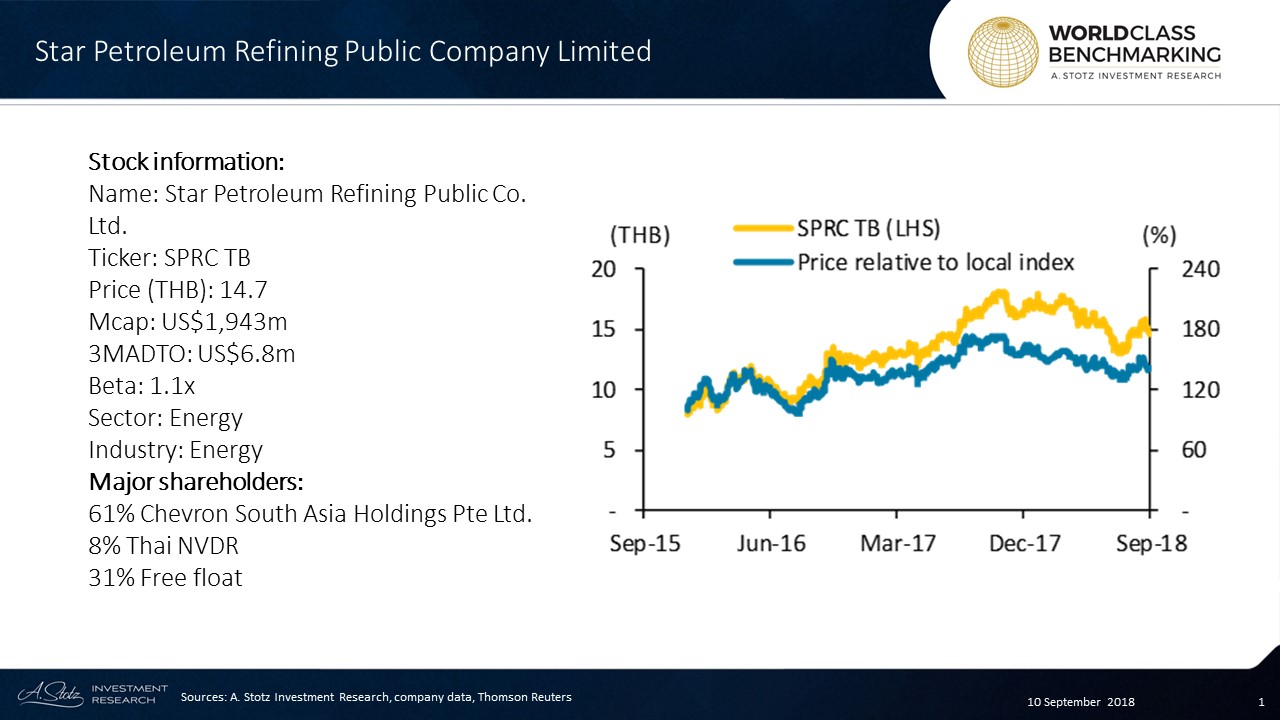 It is Thailand's fifth-largest refinery with a total capacity of 165,000 barrels/day. It is also one of Thailand's largest gasoline producers, covering a third of gasoline consumption in Thailand.
Business Description
SPRC operates a highly sophisticated refinery with a capacity of 165,000 barrels per day, possessing a wide product slate. Its refinery transforms crude oil into a variety of useful products. For 2Q18, SPRC's refining output came to 35% diesel, 24% gasoline, 10% fuel oil, 7% jet fuel and 24% others.
In comparison to other refineries, SPRC's refining procedures focus more on gasoline extraction. This has allowed SPRC to become one of the largest gasoline suppliers in Thailand despite being smaller in size than some of its competitors.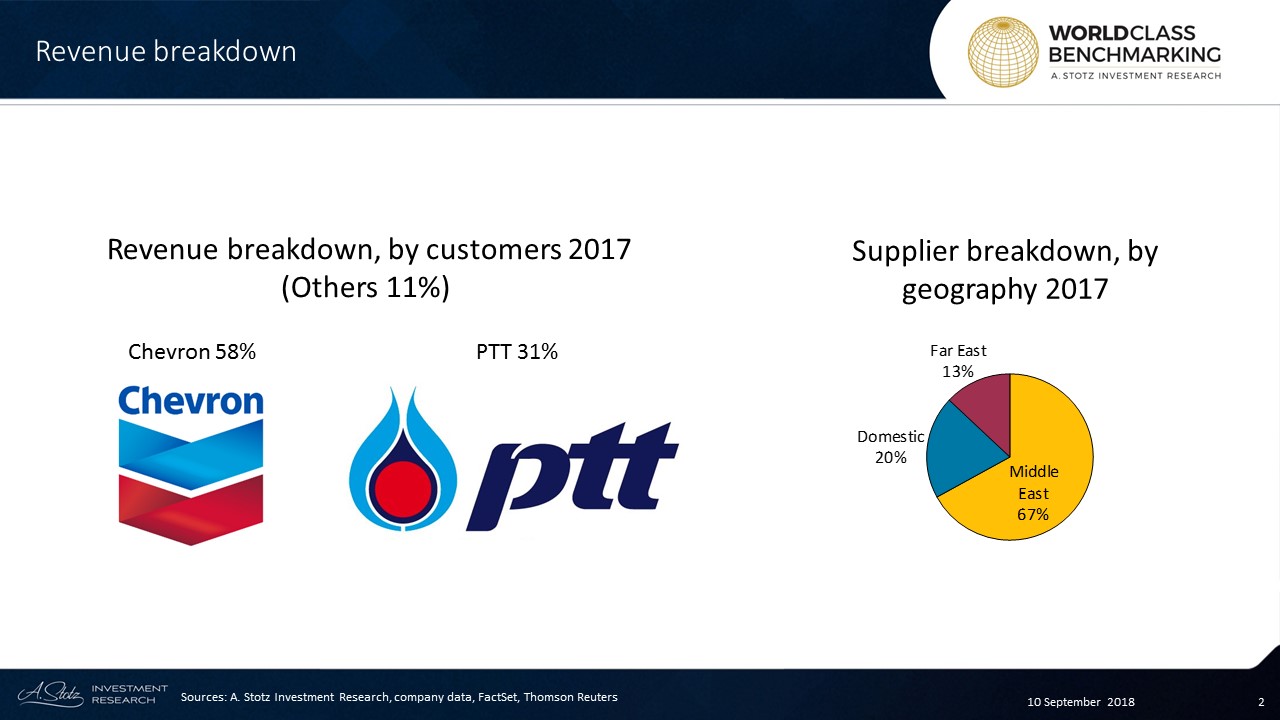 From SPRC's foundation up until its IPO in 2015, Chevron and PTT (PTT TB) held 64% and 36% respectively as its founders. Toward the end of 2017, PTT sold all its shares in SPRC to ease concerns regarding monopoly in oil refining in Thailand. Chevron is still the majority shareholder of SPRC.
Chevron and PTT are also the largest customers of SPRC, making up a total of 89% of total revenue. Others are products sold as Petrochemical feedstock and intermediate product exchange.
Leadership
Andrew Benjamin Walz has been the Chairman of SPRC since 2015 and he is also President at International Products, Chevron International in Singapore. He also holds the position of Director at Chevron Trading in Singapore and GS Caltex Corporation in South Korea. In the past, he completed a Bachelor's Degree in Civil Engineering from Colorado State University, US.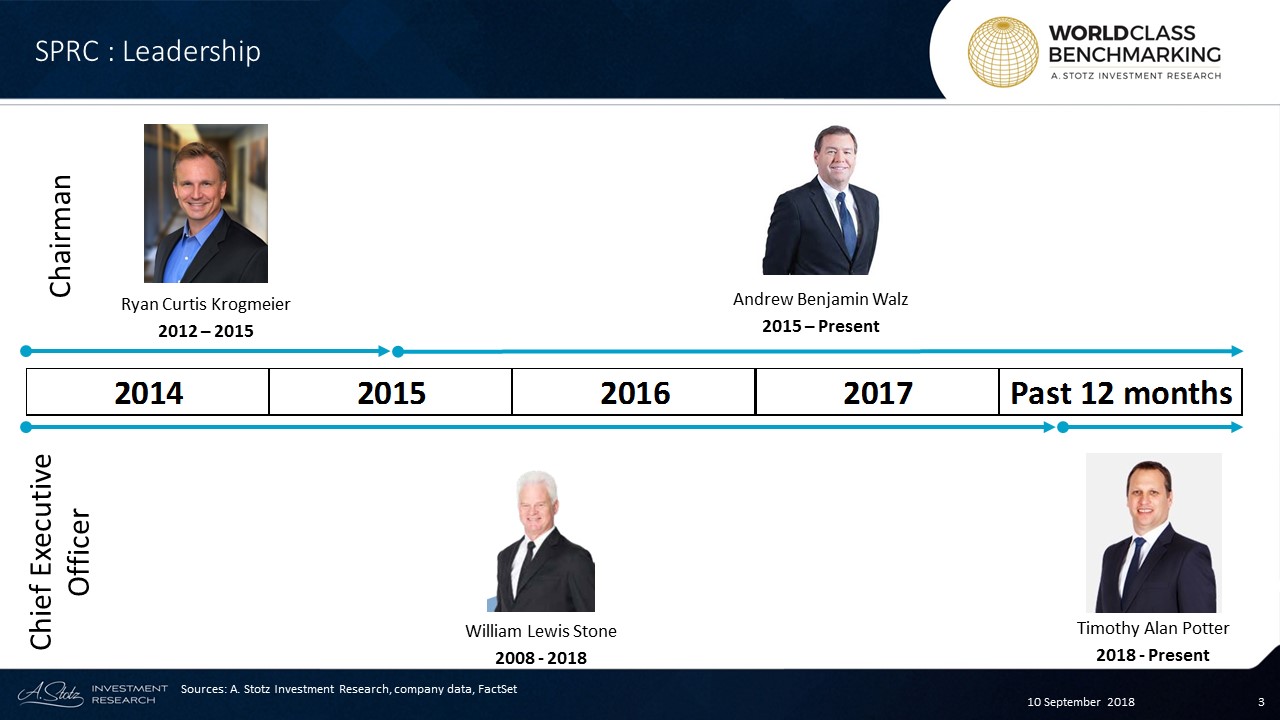 Timothy Alan Potter was appointed to be the Director and CEO of SPRC in 2018. He graduated with a Bachelor's Degree in Materials Engineering from California Polytechnic State University, US. Additionally, he has passed the Director Certificate Program (DCP256/2018).
World Class Benchmarking
Profitable Growth jumped to #1 from #10 in 2015, and in the past 12 months, SPRC ranked in the top 64 out of 320 large Energy companies worldwide.
Profitability jumped to #1 from #10 in 2015 as well and has stayed there since. Growth returned to #5 from #8 in the most recent period.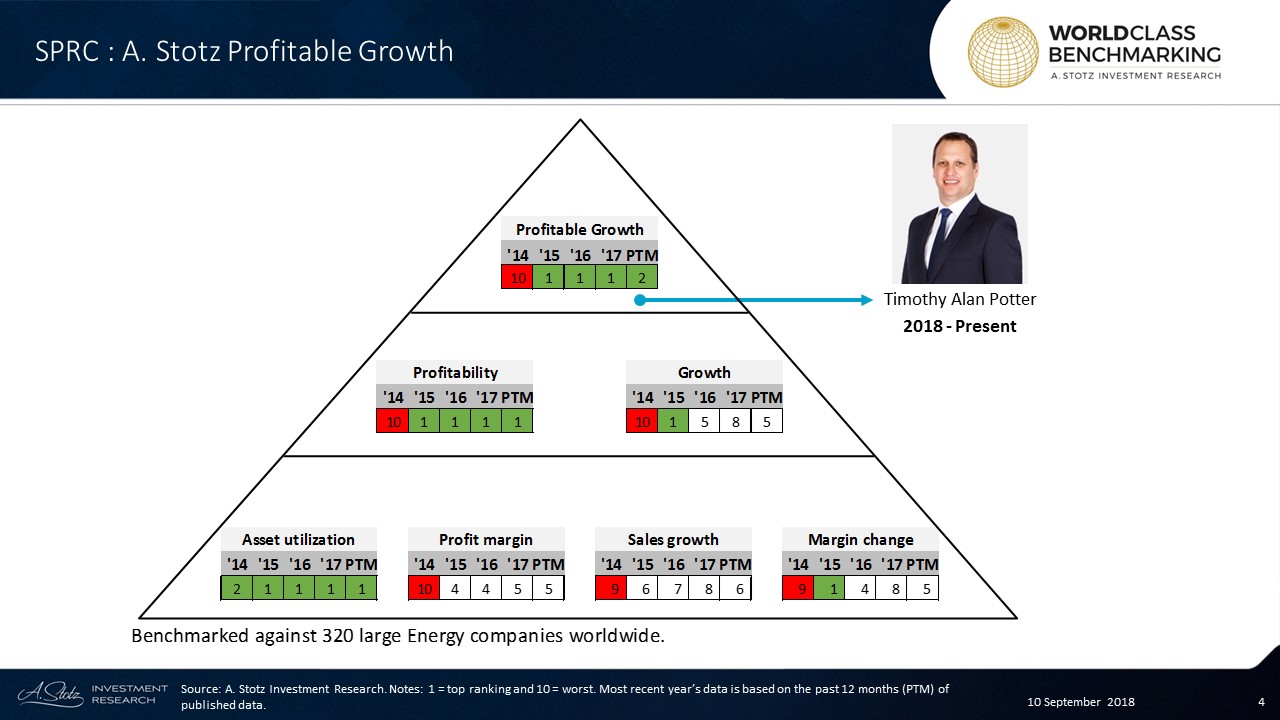 Asset utilization has ranked #1 since 2015. Profit margin has ranked in the upper half since 2015.
Sales growth has ranked below average for the whole time period. Margin change improved to #5 form # 8 in the past 12 months.
---
What're your thoughts on SPRC?
If you like our research, share it with your friends.
---
DISCLAIMER: This content is for information purposes only. It is not intended to be investment advice. Readers should not consider statements made by the author(s) as formal recommendations and should consult their financial advisor before making any investment decisions. While the information provided is believed to be accurate, it may include errors or inaccuracies. The author(s) cannot be held liable for any actions taken as a result of reading this article.