Going for Higher Margins in Info Tech
Background
Venture Corporation Limited is a leading global provider of technology services, products and solutions based in Singapore.
It consists of a network of more than 30 companies across the globe.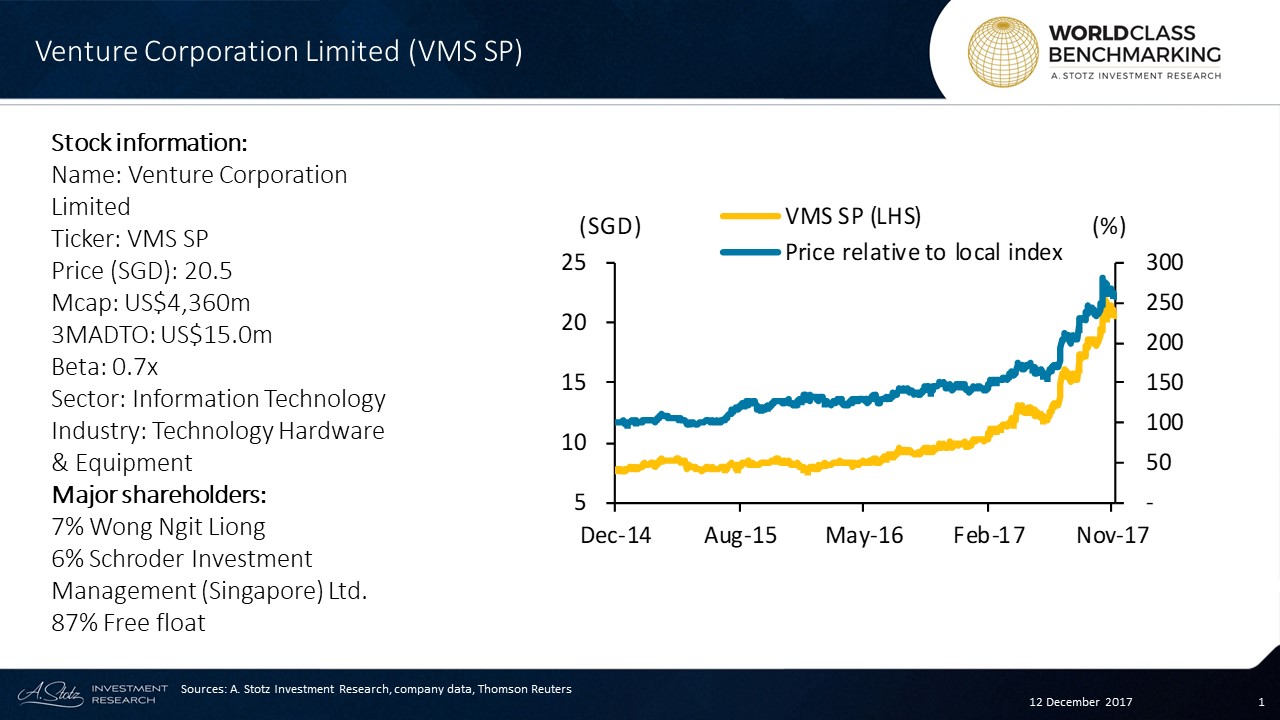 Its main manufacturing plants are in Singapore, Malaysia, and China, and its design and pilot production capacity is in the United States.
Business Description
VMS is one of the 15 largest global electronic manufacturing service (EMS) companies and provides an array of manufacturing, product design and development, engineering, and supply-chain management services.
Its manufacturing services include the assembly of various complex electronic products (circuits boards, fiber optics). VMS also provides original design manufacturing services such as planning complex printers, software and development; and testing products and programs.
The company's fulfillment services include logistics and micro-distribution, post-sales technical support, and supplier management.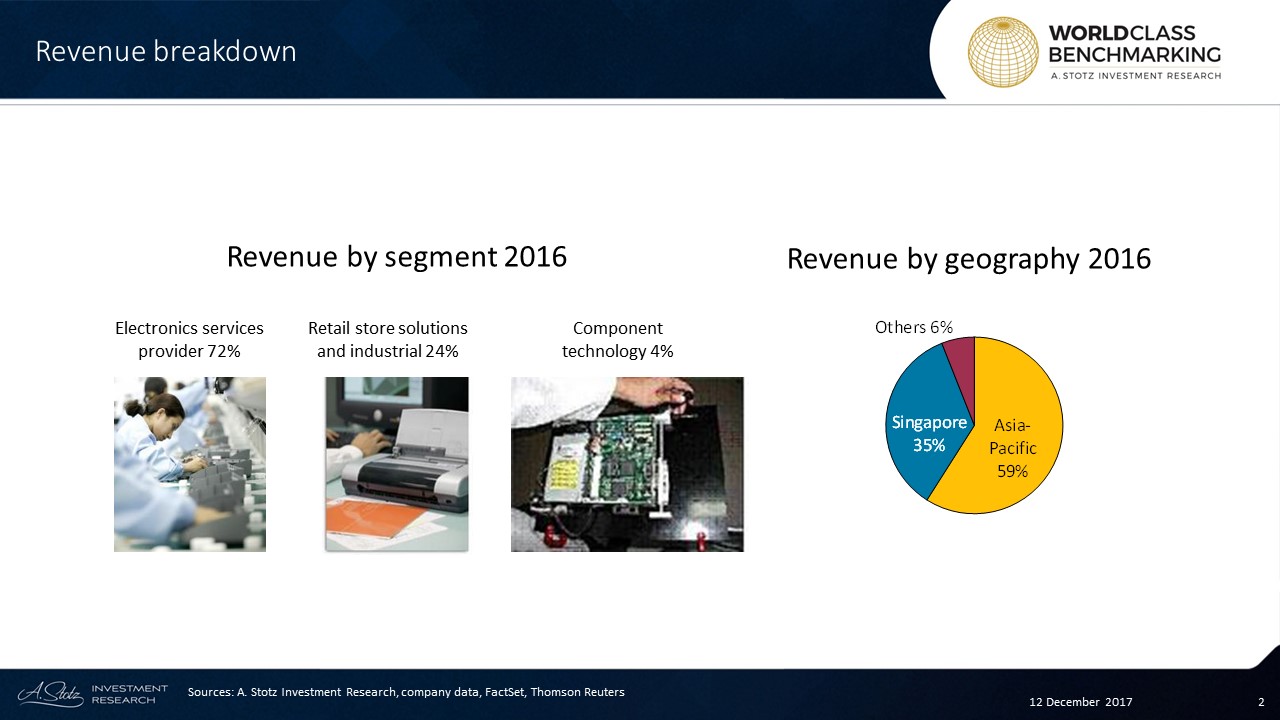 VMS has expertise in printing and imaging; advanced storage systems and devices; handheld interactive scanning and computing products; and retail store solutions.
Close relationships with customers through R&D, engineering, and design capabilities has given VMS new projects and supports a move to becoming more of an original equipment manufacturer (OEM) earning higher margins than being a pure EMS company.
Leadership
Wong Ngit Liong is the Chairman and CEO of VMS and its largest shareholder holding 7 percent of shares outstanding. He has received multiple awards in recognition of his performance including Businessman of the Year in 1998 by DHL Worldwide Express/Business Times, Ernst & Young Entrepreneur of the Year Award (Singapore) in 2002 and Asiamoney's Best CEO Award (Singapore) in 2004 among others.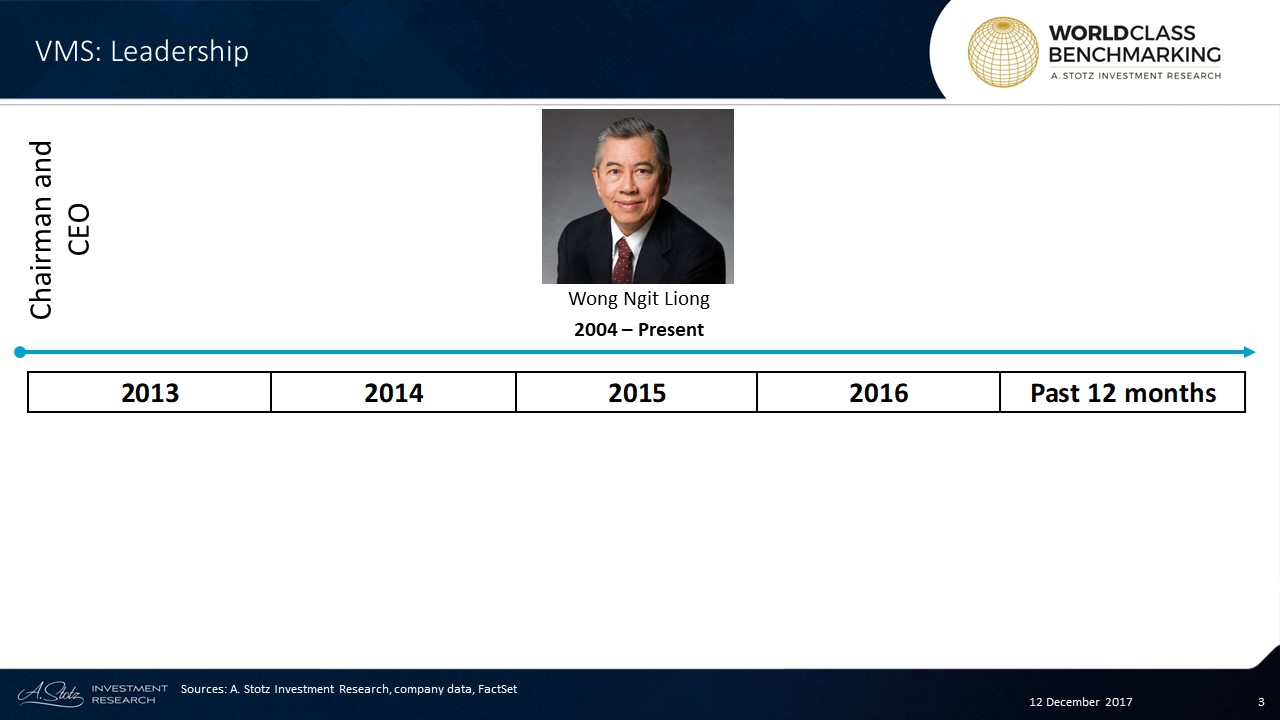 Mr. Wong holds Bachelor's degree in Electrical Engineering from the University of Malaya, Malaysia and a Master's degree in Electronics Engineering from the University of California, Berkeley, US. He also holds a Master of Business Administration degree with distinction from McGill University, Canada.
World Class Benchmarking
Profitable Growth has been improving consistently since 2013 and is now at #3.
VMS ranked among the top 204 of 680 large Information Technology companies worldwide.
Profitability and Growth have improved over the years with Profitability having marginally better rank in the past 12 months.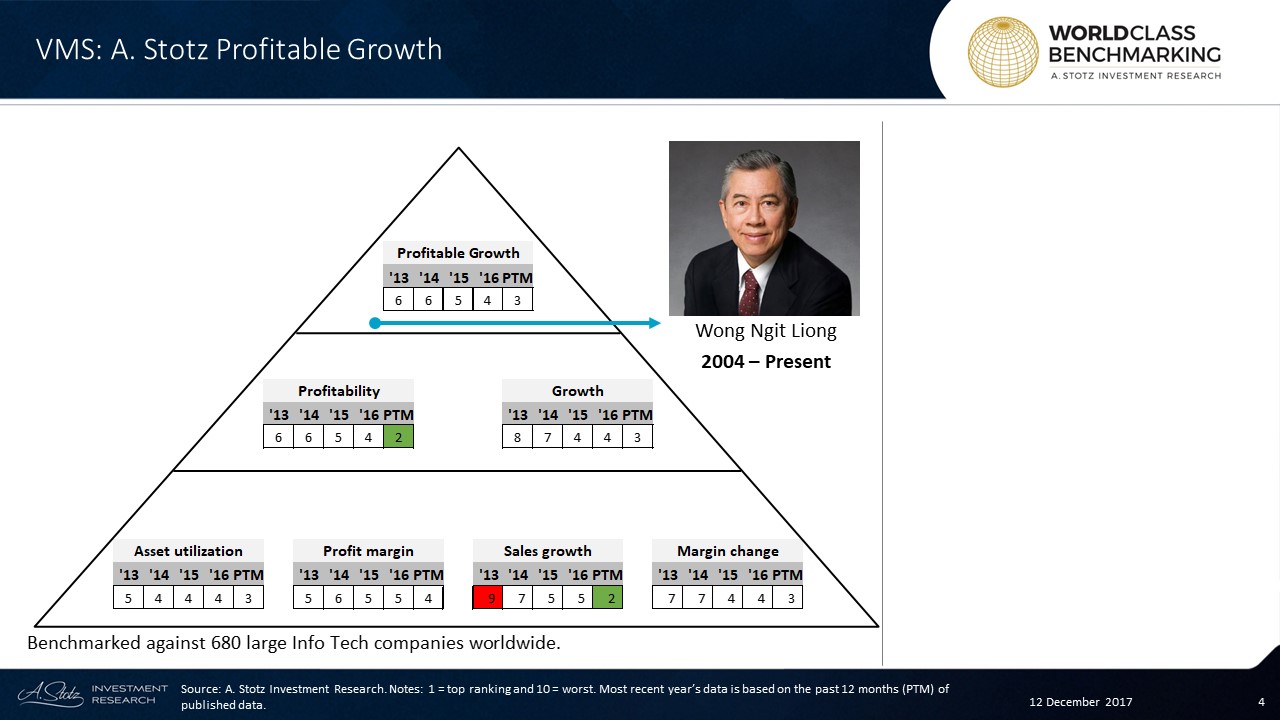 Asset utilization and Profit margin exhibit similar trends to Profitability with slow and steady improvement.
Sales growth and Margin change have also been improving but at a slightly faster pace, ranked #2 and #3 respectively.
---
What're your thoughts on Venture Corp?
If you like our research, share it with your friends.
---
DISCLAIMER: This content is for information purposes only. It is not intended to be investment advice. Readers should not consider statements made by the author(s) as formal recommendations and should consult their financial advisor before making any investment decisions. While the information provided is believed to be accurate, it may include errors or inaccuracies. The author(s) cannot be held liable for any actions taken as a result of reading this article.