Founder Leads Thai Auto Parts Manufacturer to Growth Strategy
Background
AAPICO Hitech Public Company Limited was established in 1996 to design, produce and install assembly jigs, especially for automotive manufacturing.
It also manufactures OEM automotive parts such as plastic molded, forged and machined parts and chassis frame components.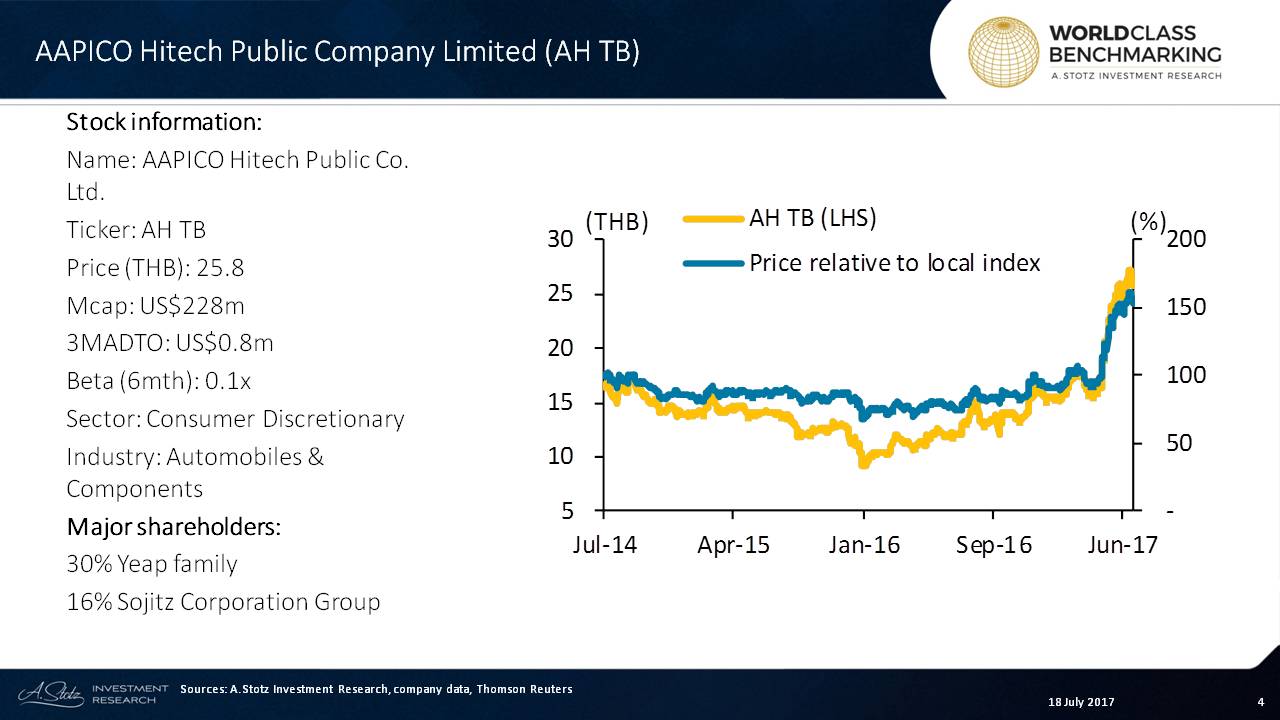 Its main customers are leading automotive assemblers in Thailand with additional market share in Malaysia.
Business Description
The manufacture of automobile assembly tools and parts comprises 65% of AAPICO's total revenue. This segment produces original equipment manufacturer (OEM) auto parts, which include steel fuel tanks and tank senders (gauges fuel levels), chassis frames, forged and machined parts, and pressed and stamped parts for major brand manufacturers such as Ford, Mazda, Isuzu, Honda, Toyota and Nissan.
Car sales and the provision of auto repair services contribute an additional 35% of revenue. AH operates dealerships for Ford, Honda and Mitsubishi in Thailand and Malaysia, as well as being a Hyundai distributor.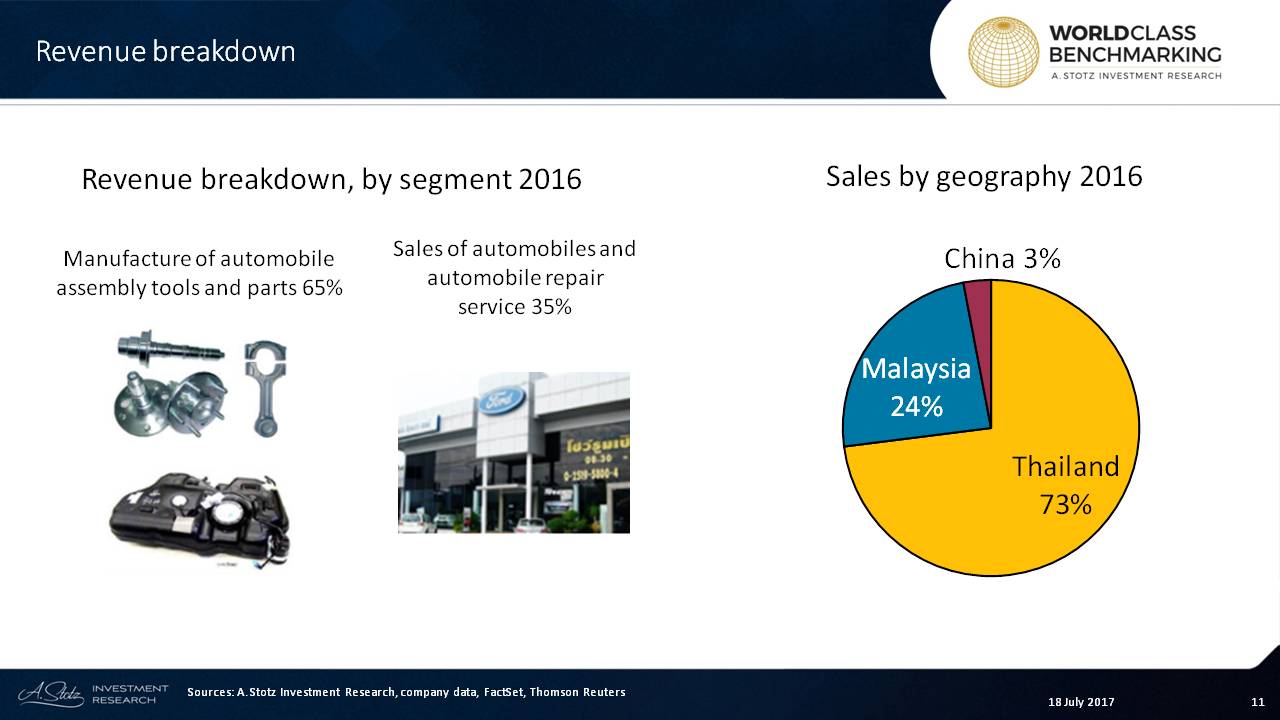 Geographically, the majority of its revenue comes from Thailand, which comprises 73% of total sales. This is followed by Malaysia, which supplies 24%, with the remainder coming from China.
Recently, the firm invested $100 million USD in the UK-based Sakthi Global Auto Holdings Limited, part of the Indian conglomerate Sakthi Group. The investment will give AAPICO access to new markets in the US and Europe. AAPICO is expected to receive an approximate 25% stake for its investment, of which $50 million USD is a synthetic convertible loan with a 20% interest rate
Leadership
Founder & CEO Yeap Swee Chuan has presided over the company since 1996. Mr. Yeap grew up in Malaysia and has held board seats with Goodyear Thailand and Jackspeed Corp.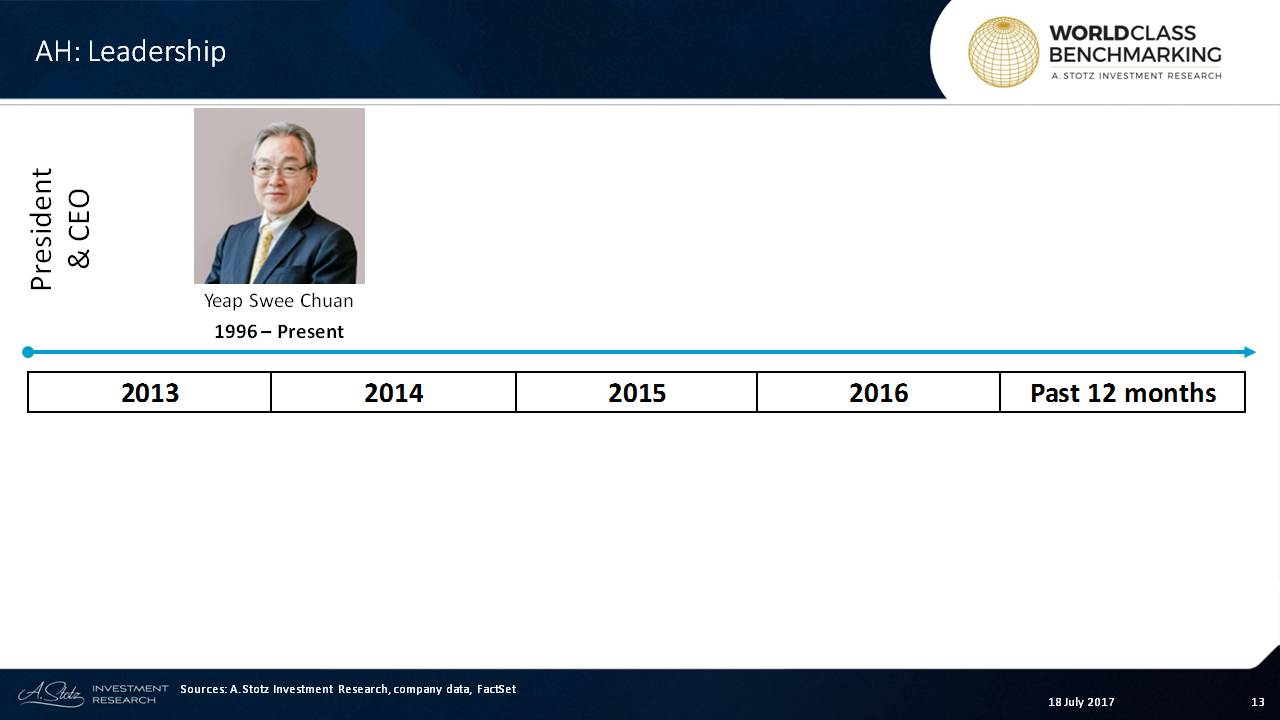 Interestingly, Mr. Yeap holds three bachelor's degrees: one in technology, one in engineering and one in industrial management.
World Class Benchmarking
Over the past 12 months, Profitable Growth improved to #4 from #5 in our World Class Benchmarking rank.
AAPICO is ranked among the top 540 of 1,350 medium Consumer Discretionary companies.
Profitability has remained average of late, while Growth has improved markedly to #2 from #9 in 2014.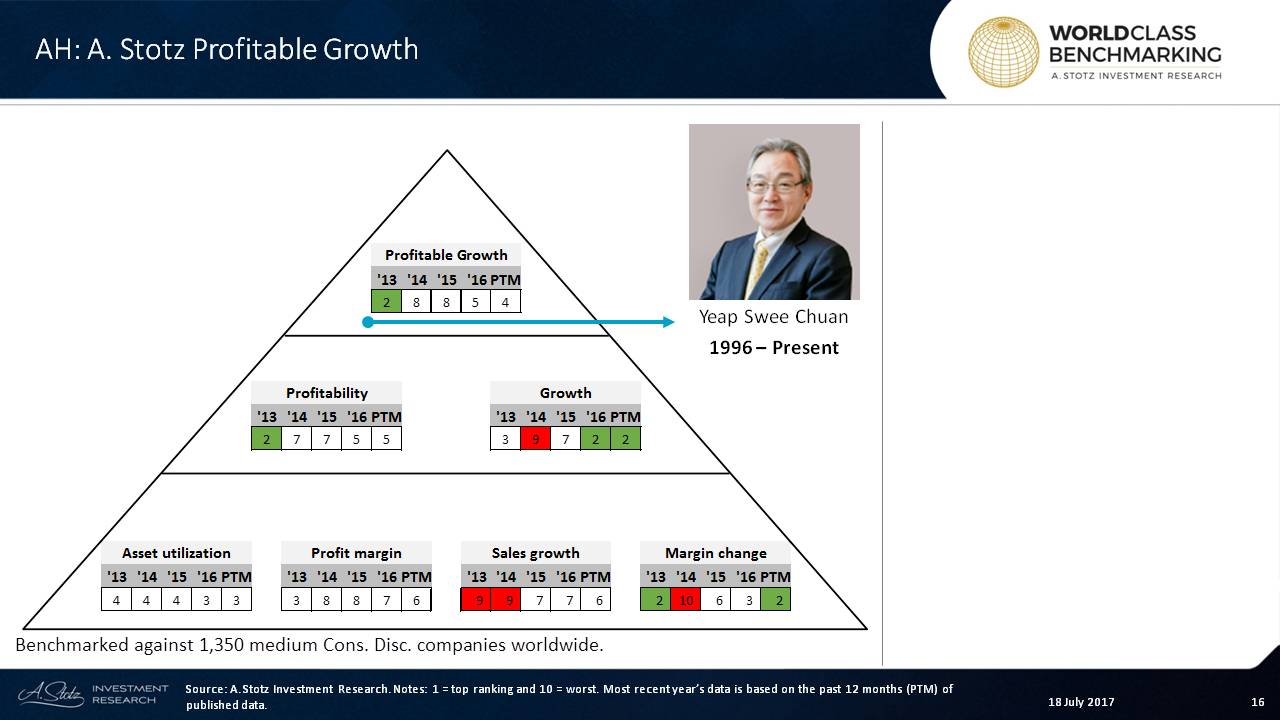 Asset utilization remained in the top 3, while Profit margin has been below average of late.
Sales growth was below average as well. Margin change has driven the Growth ranking recently, but sales could pick up with the recent investment in Sakthi Global Auto Holdings.
---
---
Are you impressed by AAPICO Hitech?  What's your thoughts?
If you like our research, share it with your friends.
---
DISCLAIMER: This content is for information purposes only. It is not intended to be investment advice. Readers should not consider statements made by the author(s) as formal recommendations and should consult their financial advisor before making any investment decisions. While the information provided is believed to be accurate, it may include errors or inaccuracies. The author(s) cannot be held liable for any actions taken as a result of reading this article.