Falling Profitable Growth at United Microelectronics Corporation
Background
Founded in 1980, United Microelectronics Corporation is Taiwan's first semiconductor company. It produces silicon wafers used in chips in every sector of the electronics industry as well as in telecom and energy.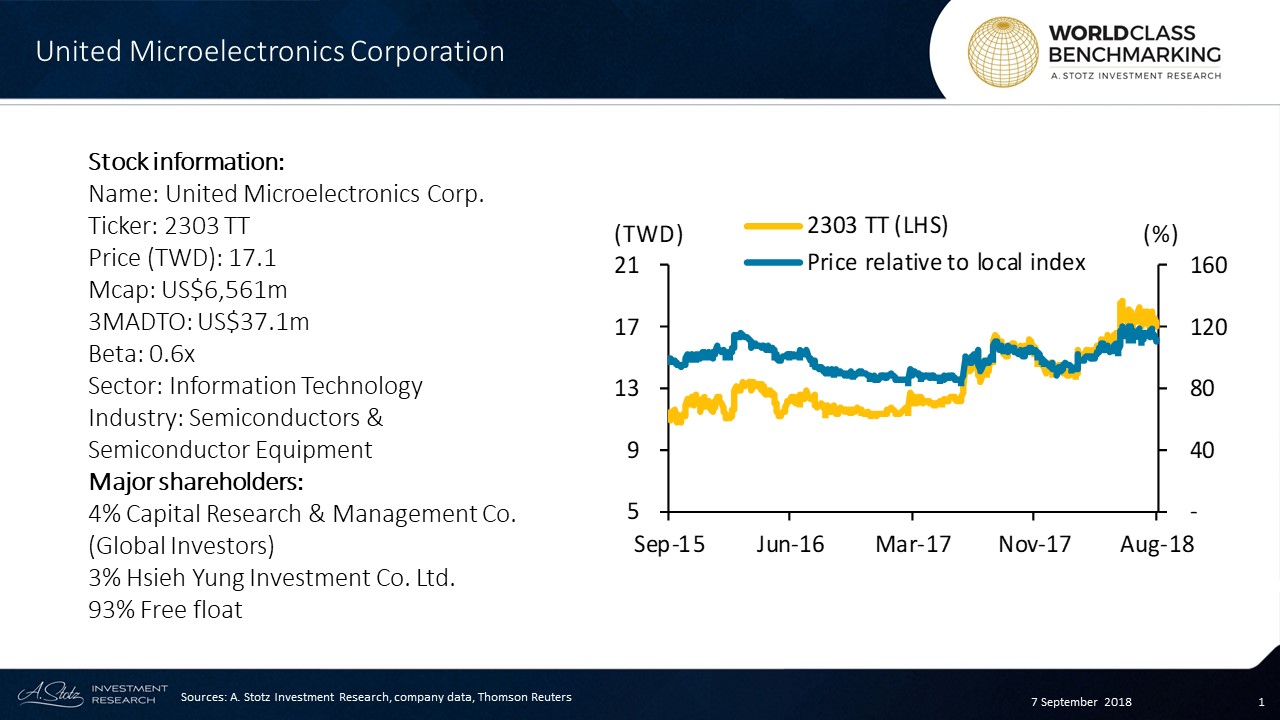 Production is sold to integrated circuit (IC) companies as well as to hardware makers that outsource manufacturing.
Business Description
UMC has 11 manufacturing facilities and produces nearly 600,000 wafers per month (wpm) and has 9% of global market share. The company has plants and offices in Taiwan, US, Europe, Japan, China, Singapore, and Korea. The acquisition of Mie Fujitsu Semiconductor Ltd, if approved by the regulator, should add capacity of 40,000 wpm in 12" wafers.
Customers are mainly fabless companies, which design, develop and outsource the manufacturing of hardware. UMC also sells to manufacturers who produce integrated circuits (IC), popularly known as chips.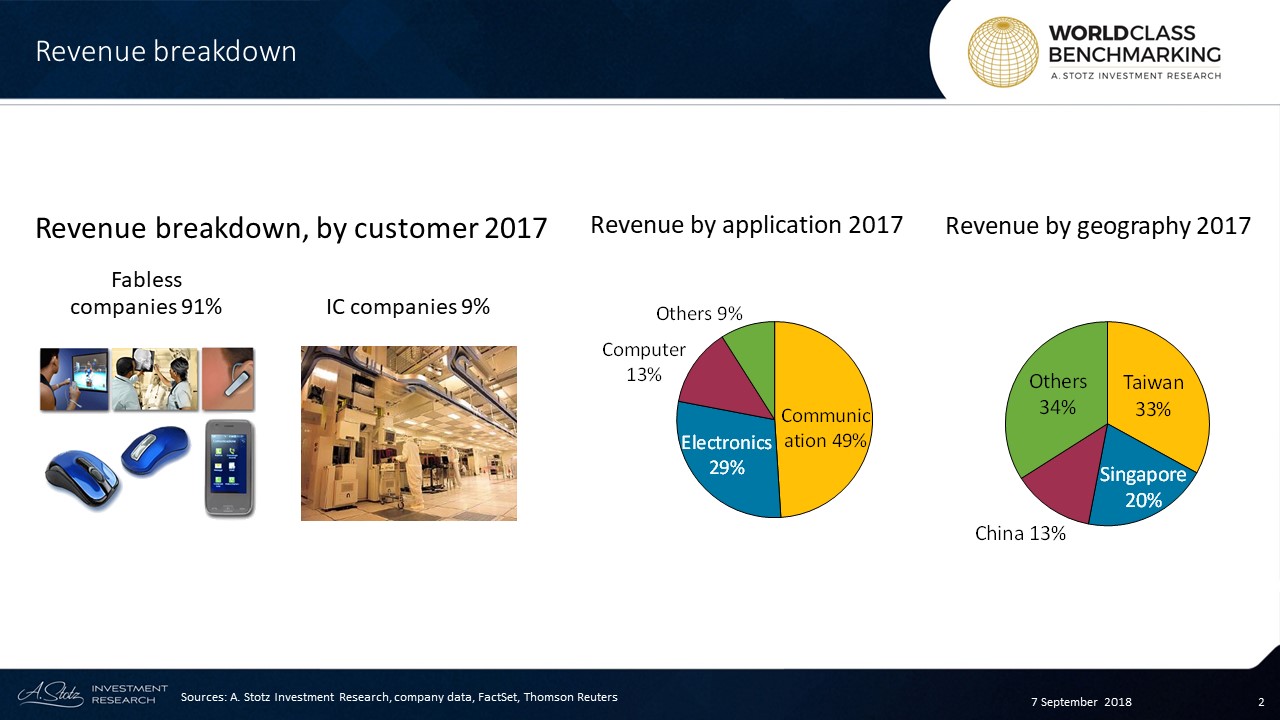 Wafers are used across more or less all industries working with hardware and chips. They differ in quality and fit within the systems: 14nm for high performance and low power consumption; 28nm fits all major market applications; 40nm-65nm are mainly used in transistors; 90nm for density and power efficiency; and A+ technology (0.11-0.50um) used in flash card controllers, MP3, touch controllers, etc.
The 22nm wafers are to replace 28nm in many applications because of their efficiency and are expected to start volume production in 2H19.
Leadership
Stan Hung has been the Chairman of UMC since 2008. Moreover, he also holds the same position at Fortune Venture Capital Corporation, TLC Capital Co., Ltd., UMC New Business Investment Corporation and Faraday Technology Corporation (3035 TT). He earned a Bachelor's degree in accounting from Tam Kang University, Taiwan.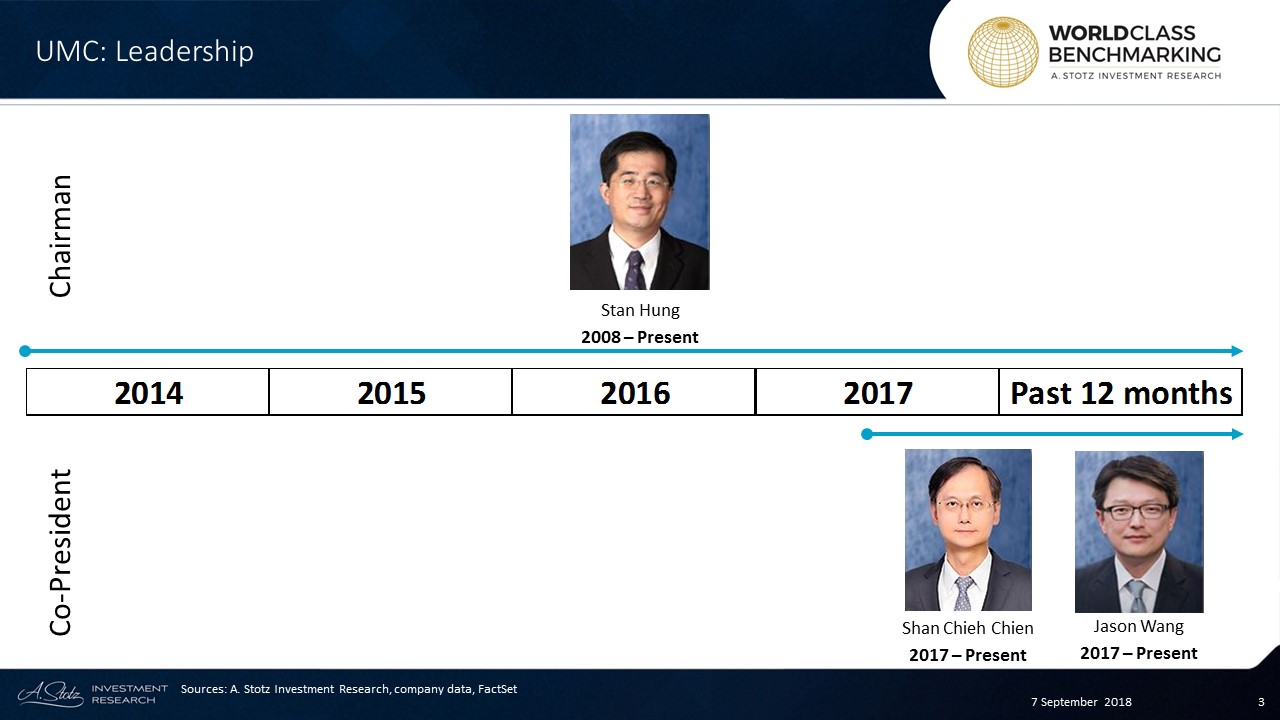 Shan Chieh Chien and Jason Wang were appointed to be co-presidents in 2017 after the retirement of the former CEO Po Wen Yen.
Shan Chieh Chien is also a director at UMC, Fortune Venture Capital Corporation, TLC Capital Co., Ltd., UMC New Business Investment Corporation, Epistar Corporation (2448 TT), among others. He graduated with a Bachelor's degree in chemical engineering from National Taiwan University.
Jason Wang also holds the position of director at UMC, Fortune Venture Capital Corporation, TLC Capital Co., Ltd., and others. He graduated in Business Administration at San Jose State University, US.
World Class Benchmarking
Profitable Growth has been falling from #6 in 2015 to #9 in 2017. In the past 12 months, UMC improved one step in rank to #8 among 690 large Information Technology companies worldwide.
Profitability and Growth have mainly ranked below average. Profitability has exhibited a downward trend and ranked at #8 in the most recent period. Growth ranked at #8 in the most recent period as well, a slight improvement from the #9 rank in 2017.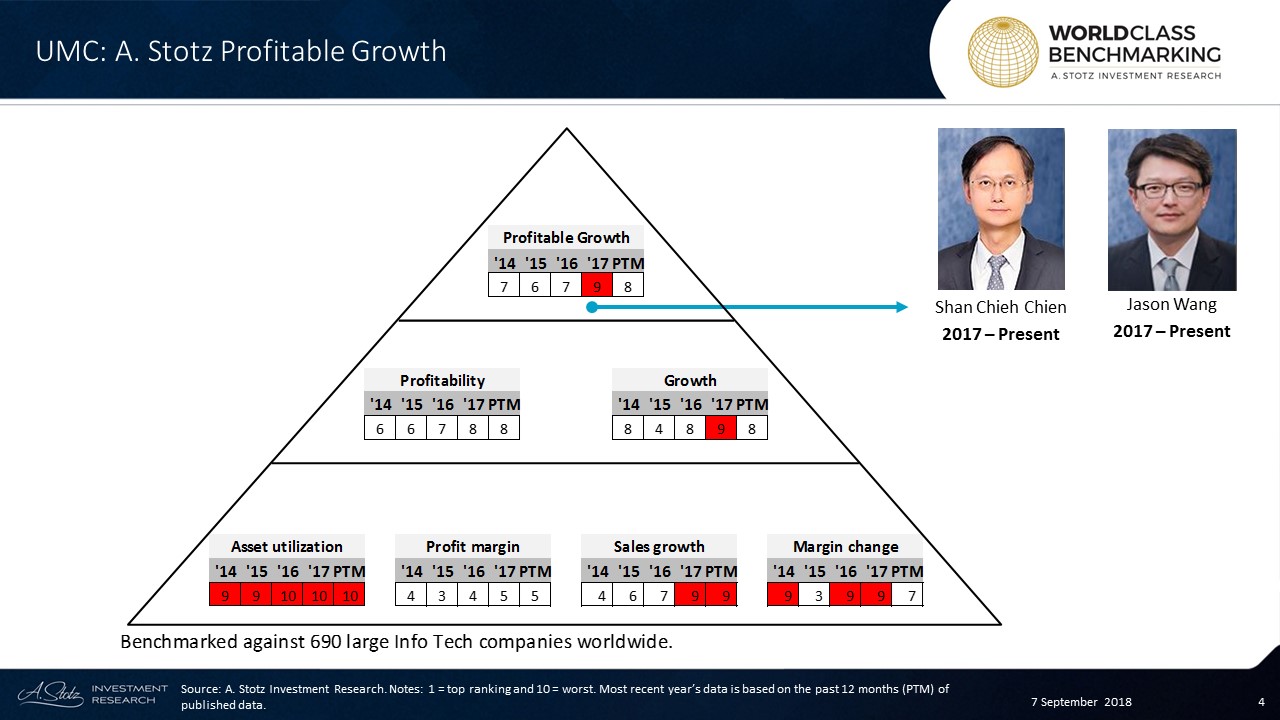 Asset utilization has ranked poorly over the years, while Profit margin that has ranked average or above.
Sales growth has been in a falling trend and had dropped to #9 in 2017 and stayed there in the past 12 months. Margin change saw a slight improvement in the most recent period to # 7 from being ranked #9 in 2016-2017.
---
What're your thoughts on UMC?
If you like our research, share it with your friends.
---
DISCLAIMER: This content is for information purposes only. It is not intended to be investment advice. Readers should not consider statements made by the author(s) as formal recommendations and should consult their financial advisor before making any investment decisions. While the information provided is believed to be accurate, it may include errors or inaccuracies. The author(s) cannot be held liable for any actions taken as a result of reading this article.