Coway Is Present in 18% of All Korean Households
Background
Coway Company Limited mainly engages in the production and sales of water purifiers and related products such as air purifiers.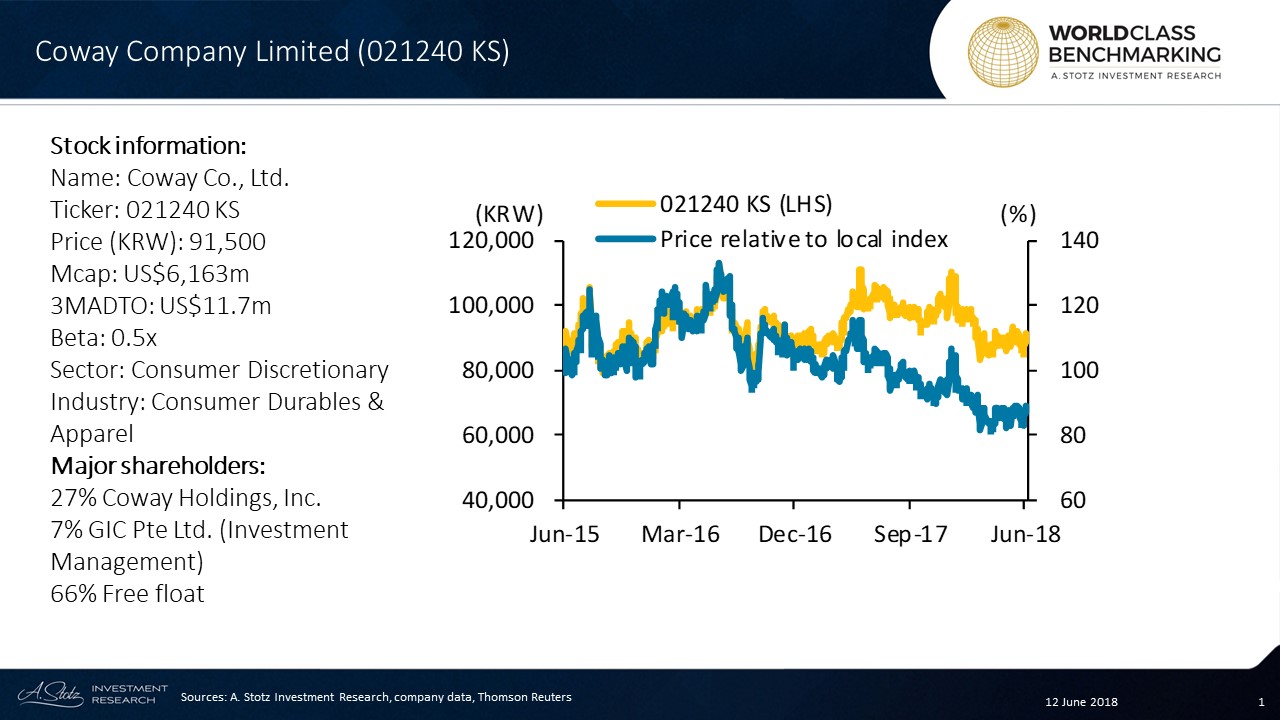 Founded in 1989, Coway now has over 5,000 employees and is the leading distributor of water purifiers in Korea with about 45% of market share. Coway has subsidiaries in China, Netherlands, Malaysia, Thailand and US.
Business Description
Coway manufactures and distributes purifiers for air, water and toilets. At a minor scale, it also engages in the distribution of cosmetics. Coway is the leading company in consumer electronics in Korea with the following market shares: 62% for water softeners, 45% in water purifiers, 44% in air purifiers, and 38% for bidets.
The company is divided into two main verticals: home wellness appliances and cosmetics with brands Allvit, Re: NK and Healthy-grew.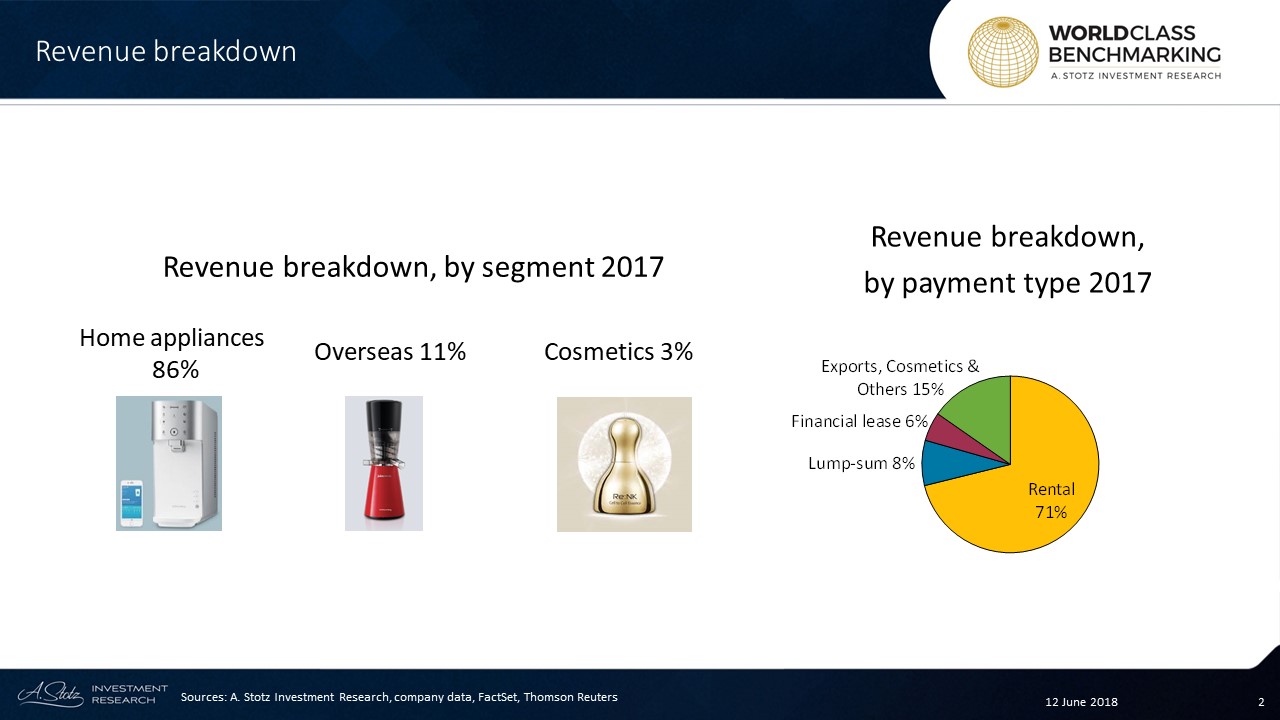 In home appliances, it offers purifiers, bidets, mattresses, vacuum cleaners, clothing care products (purifiers, air/steam chambers), water dispensers and the Coway Juicepresso. It also offers treatment solutions for food waste and sewage.
Coway provides different payment alternatives: rental, the lump-sum payment and financial lease. It also provides a membership option for product maintenance and more. The company has a total of 5.8m rental accounts and is present in 3.5m households, which represents 18% of all Korean households.
Leadership
Lee Hae-Sun is the current President and CEO of Coway. Mr. Lee earned a Bachelor in Economics from Chung-Ang University, Korea Master's in International Business from SungKyunkwan University, Korea and another Master's in International Marketing from National Chengchi University, Taiwan.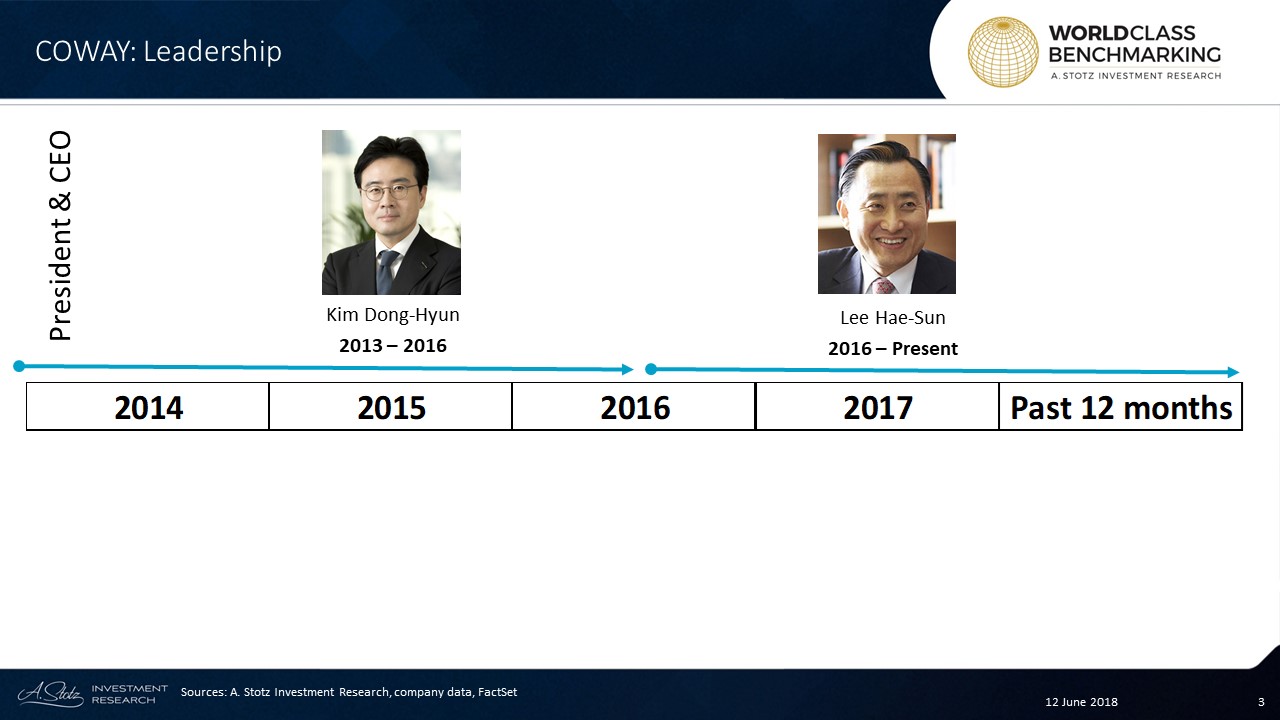 World Class Benchmarking
Coway has consistently ranked in the top on Profitable Growth relative to all sector peers of similar size. Since 2014, Coway has ranked in the top 128 out of 1,280 large Consumer Discretionary companies worldwide.
Similar to Profitable Growth, Profitability has continuously ranked #1 for the past five periods. While Growth has fluctuated, it has improved strongly since the dip to #9 in 2016. In the past 12 months, Coway's Growth rank stood at #3.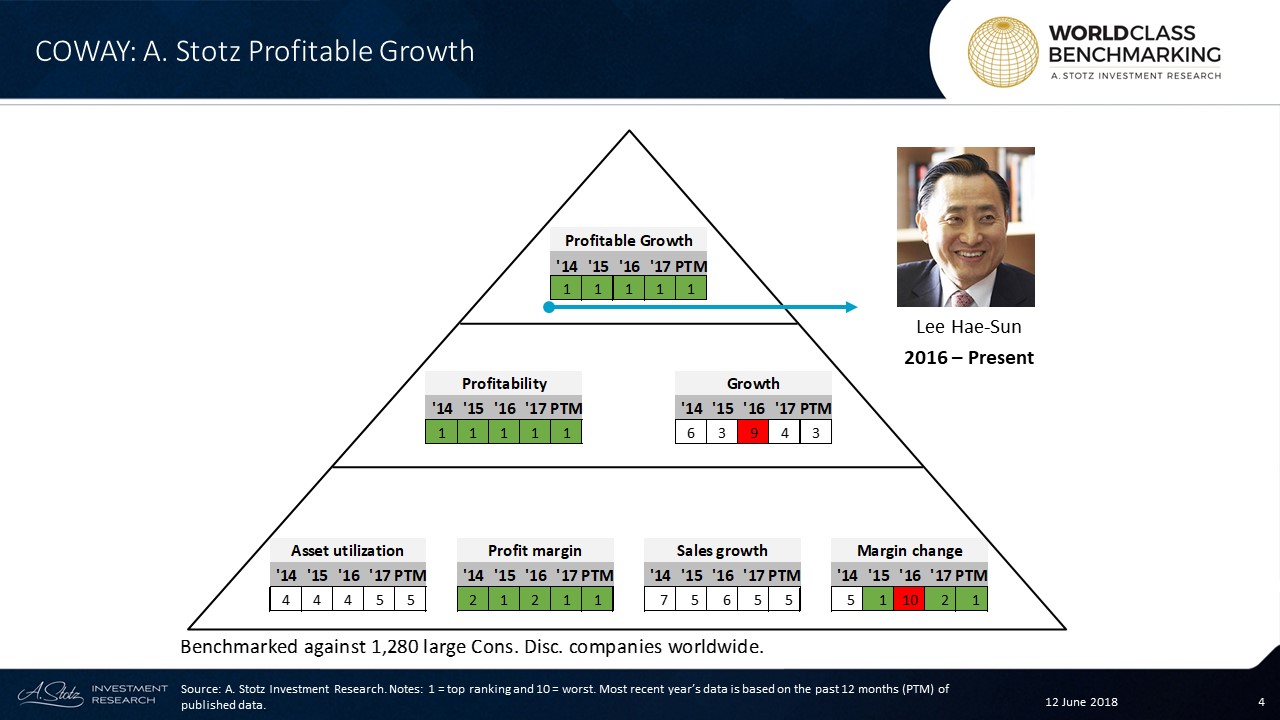 Asset utilization fell to #5 in 2017 and stayed there in the most recent period. Profit margin has shown a great performance, ranked in the top-two deciles for the whole time period.
Sales growth saw a slight improvement to #5 in 2017. Margin change has recovered from the plunge to #10 in 2016 and ranked at #1 in the past 12 months.
---
What're your thoughts on Coway?
If you like our research, share it with your friends.
---
DISCLAIMER: This content is for information purposes only. It is not intended to be investment advice. Readers should not consider statements made by the author(s) as formal recommendations and should consult their financial advisor before making any investment decisions. While the information provided is believed to be accurate, it may include errors or inaccuracies. The author(s) cannot be held liable for any actions taken as a result of reading this article.