Cornering the Filipino Food Market
Watch the video with Andrew Stotz or read a summary of the World Class Benchmarking on Universal Robina Corporation.
---
---
Background
Universal Robina Corporation (URC) is a Philippines-based food producer with a more than 40% share of the domestic market. It also has a large presence in Thailand, Singapore, Indonesia, Malaysia, Vietnam, China and Hong Kong.
Branded consumer foods account for more than 80% of revenue.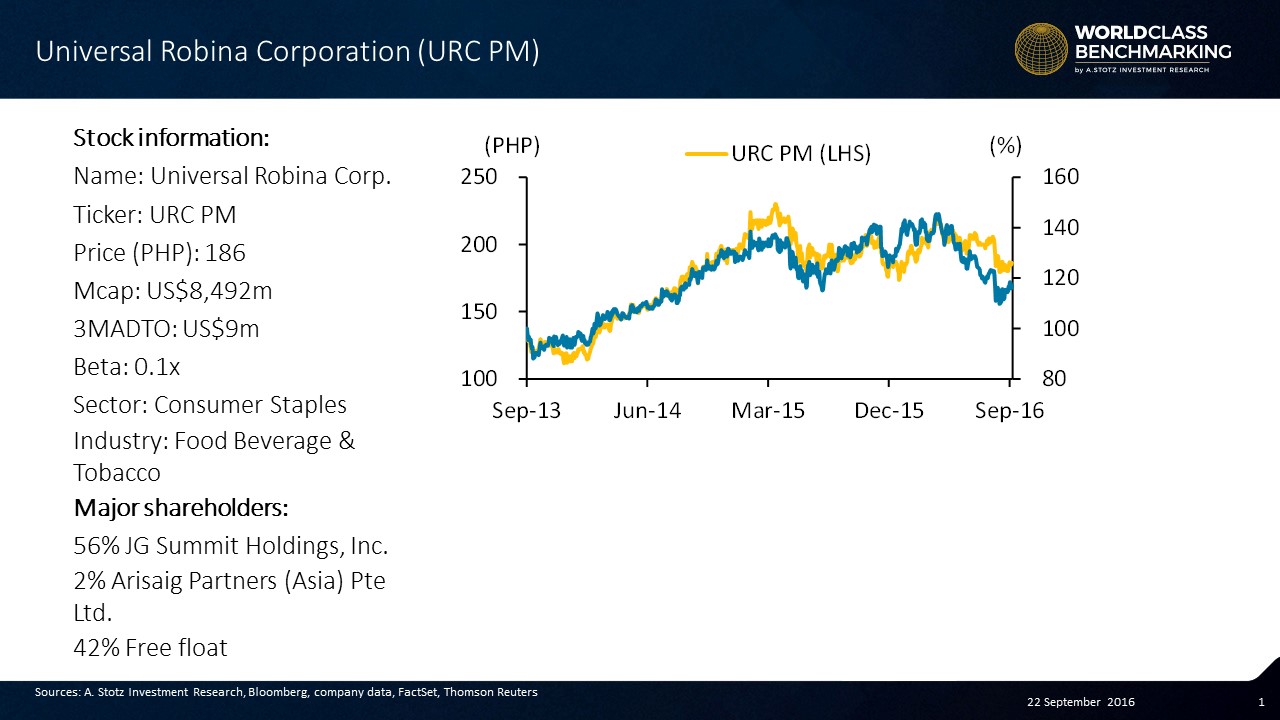 Business Description
Its business comprises three segments: Branded consumer foods (BCF), commodity food products (CFP) and agro-industrial products (AIP).
URC's manufacturing, distribution, and sales-and-marketing activities are handled primarily through its BCF segment, accounting for 83% of revenue and comprising snack foods, beverage, and grocery groups. The BCF unit manufactures and distributes a diverse mix of products, many of which have a dominant market share within their segment.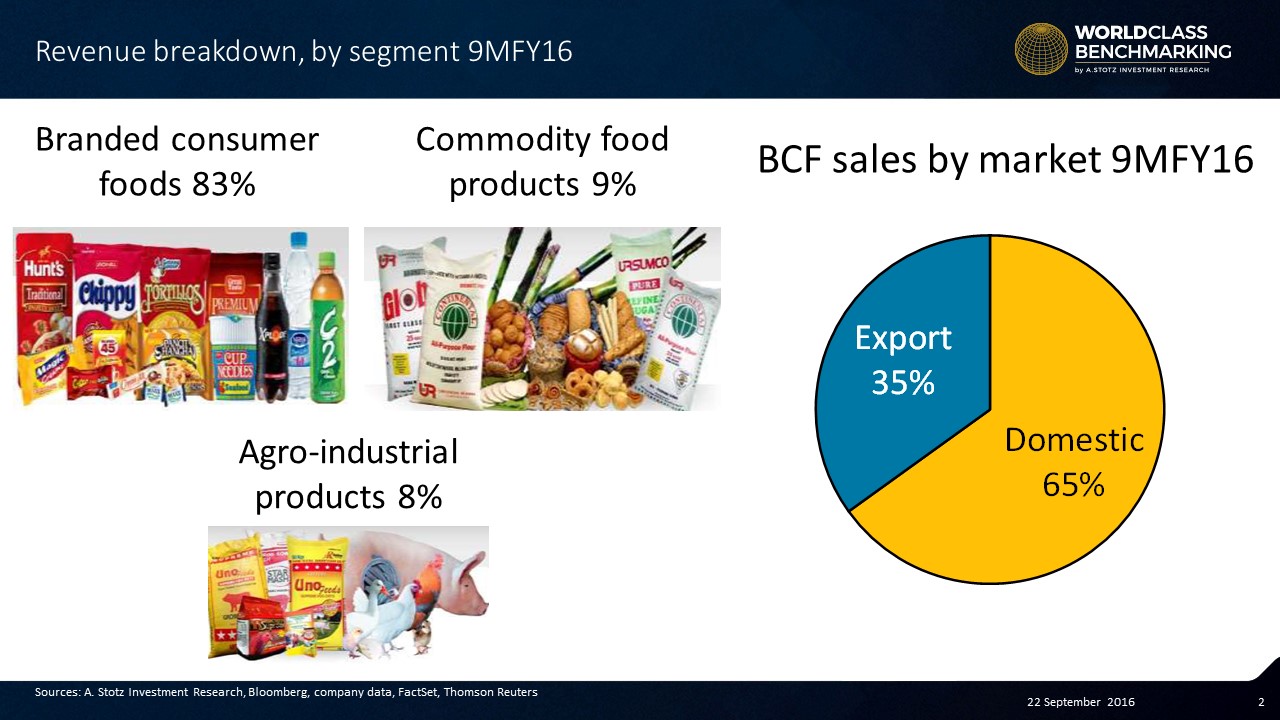 AIP is further divided into three subdivisions, which engage in hog and poultry farming at its Robina Farms location; the manufacture and distribution of animal feeds, glucose, and soy products at its Universal Corn Products location; and the production and distribution of animal health products at its Robichem location.
CFP operates sugar mills and refineries through its Sugar subdivisions, with a milling capacity of 31,000 tons of cane per day and production capacity of 33,000 bags of refined sugar per day. Its flour milling operation has a capacity of 2,150 tons per day.
Leadership
Chairman James Go received his B.S. and M.S. degrees in Chemical Engineering from The Massachusetts Institute of Technology, USA. Mr. James Go is a brother of Mr. John L. Gokongwei, Jr., father of the current CEO, and joined URC in 1964.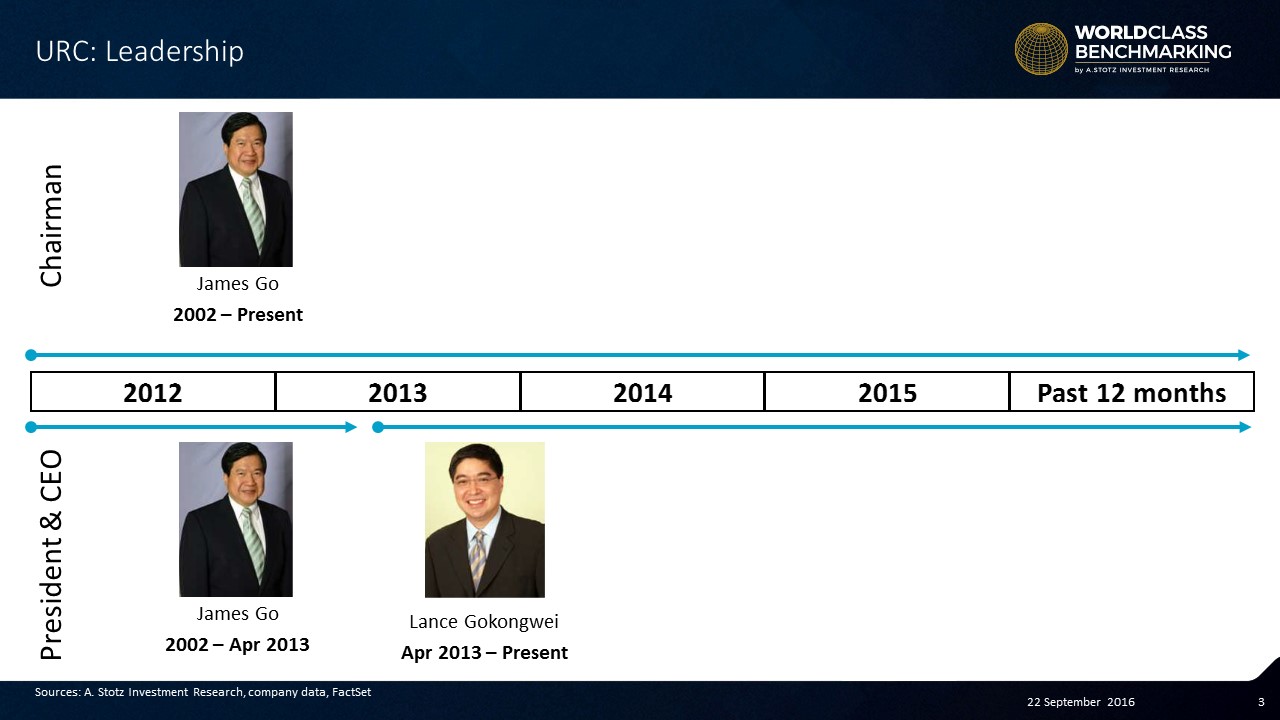 CEO Lance Gokongwei  received a B.S. in Finance from The University of Pennsylvania. Lance Gokongwei is the son of Mr. John L. Gokongwei, Jr. and joined URC in 1988.
Since assuming the leadership role, Gokongwei has kept profits high, but growth has steadily fallen compared to its peers.
World Class Benchmarking
Profitable Growth has remained World Class since 2013, when Gokongwei took over. URC ranks among the best 59 large consumer staples companies globally.
Much of the profitability at the company is owed to much greater than average margins at the food producer.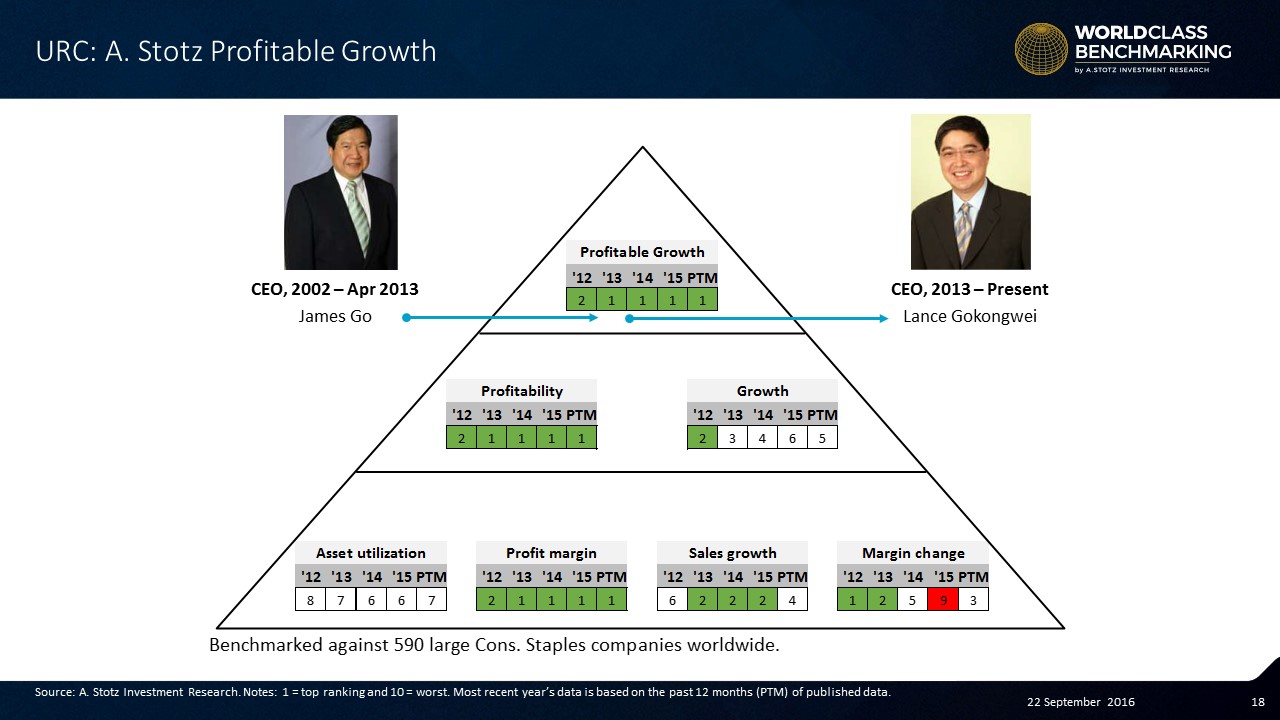 Growth has trailed competitors, however, in every year except one since 2012. It fell from #2 to #6 in 2015.
Profit margin has been World Class since 2013, and the Margin change saw a good improvement in the past 12 months compared to 2015.
---
Do YOU invest in the Philippines? Why / Why not?
If you like our research, please share with your friends.
---
DISCLAIMER: This content is for information purposes only. It is not intended to be investment advice. Readers should not consider statements made by the author(s) as formal recommendations and should consult their financial advisor before making any investment decisions. While the information provided is believed to be accurate, it may include errors or inaccuracies. The author(s) cannot be held liable for any actions taken as a result of reading this article.