Below-Average Profitable Growth at Bangkok Expressway and Metro
Background
Bangkok Expressway and Metro Public Company Limited has a government concession for construction and operation of various segments of the city's major expressways.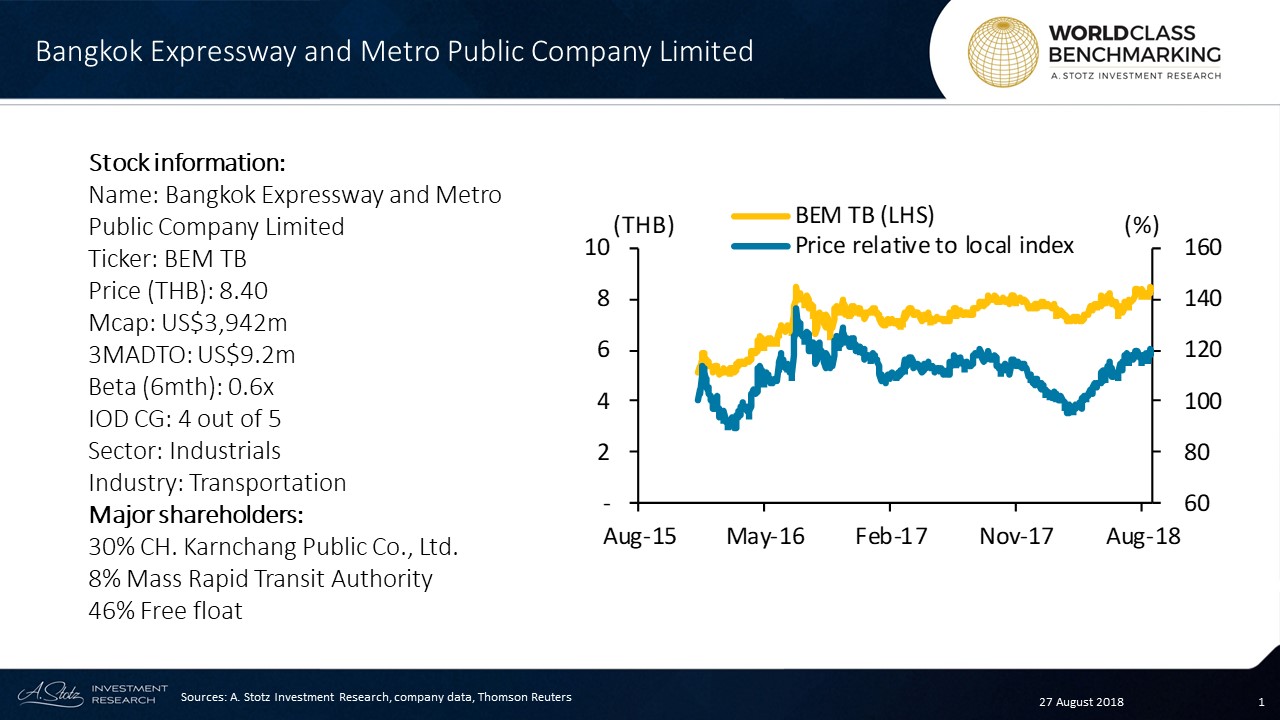 It also operates and manages two of Bangkok's subway train lines, the Blue and Purple lines, and is involved in media and related services on and along those transit routes.
Business Description
BEM is the merged entity of BECL and BMCL, and started trading in 2015. The main business of BEM is construction and management of the key Si Ra-Outer Ring Road Expressway (SOE), as well as other segments of the city's expressways. This accounts for 2/3 of revenue. Just under 1/3 of revenue is the management of two Bangkok subway lines, the Blue and the Purple lines, while the rest is related media and metro services.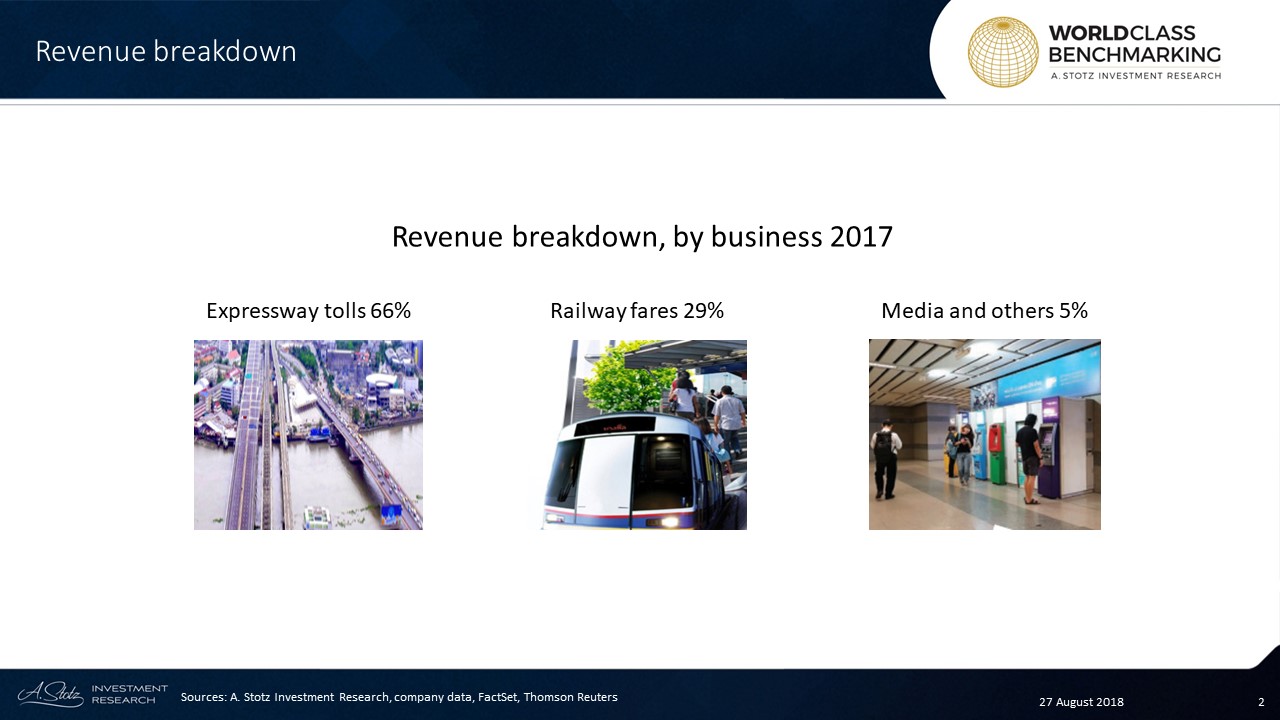 The concession for one of the expressway segments is due for renewal in 2020, and BEM is likely to win the bid because it did the initial investment, design and construction of the main SOE expressway. The SOE concession ends in 25 years. BEM is expected to make bids for construction and management toll concessions for other expressway projects over the long term.
The subway lines, the connection between the two lines, plus planned extensions, should boost passenger numbers longer term. Media and related metro services are focused on and along the two lines.
Leadership
Virabongsa Ramangkura was appointed the role of independent Chairman in 2015. He also holds directorship and chairmanship in multiple other companies. His education consists of Bachelor's in Political Science from Chulalongkorn University, Thailand and Master's and Ph.D. in Economics from the University of Pennsylvania, US.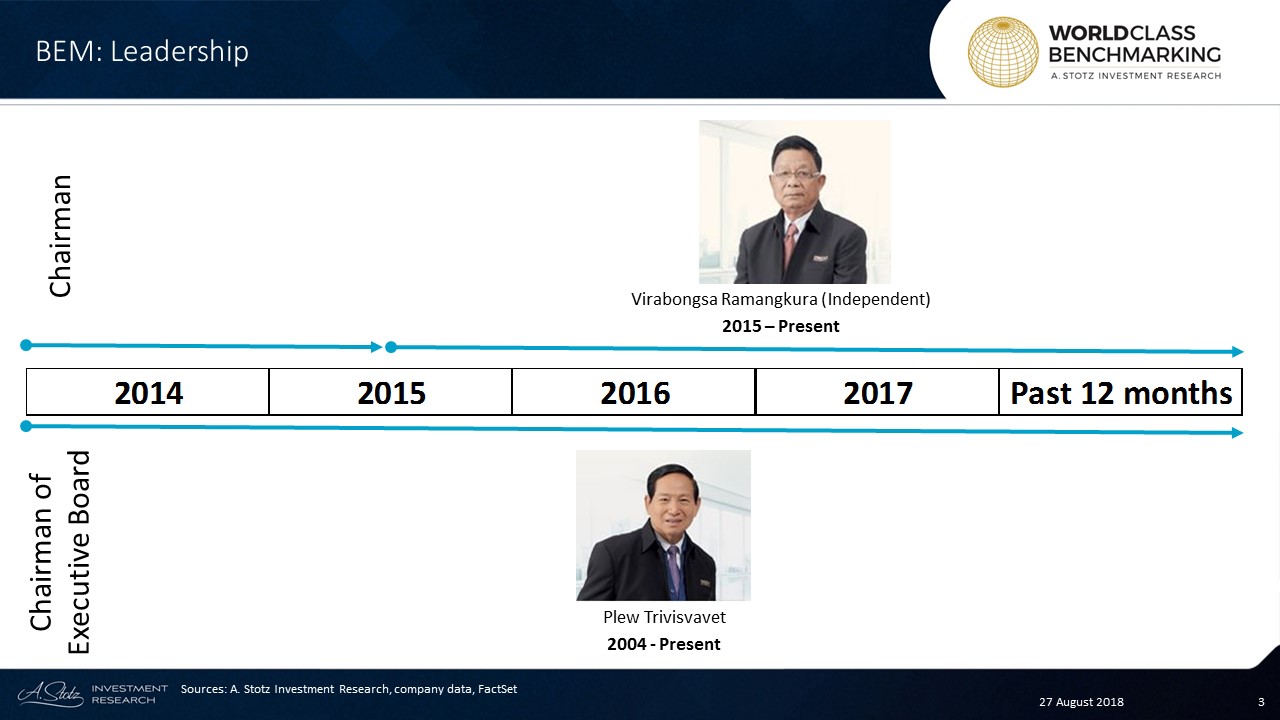 Plew Trivisvavet was appointed the role of Chairman of the Executive Board in 2004. He is also Chairman to CH. Karnchang PCL (CK TB) and Vice Chairman to Thai Tap Water PCL (TTW TB). He received both his Bachelor's and Master's degree in Electrical Engineering from Osaka University, Japan.
World Class Benchmarking
BEM's Profitable Growth has consistently ranked at #6 with no changes since 2014. The company ranked in the lower half among 1,450 medium-sized Industrials companies globally.
Profitability has shown the same ranks as Profitable Growth while Growth has seen improvements since 2014 and ranked at #6 in the most recent period.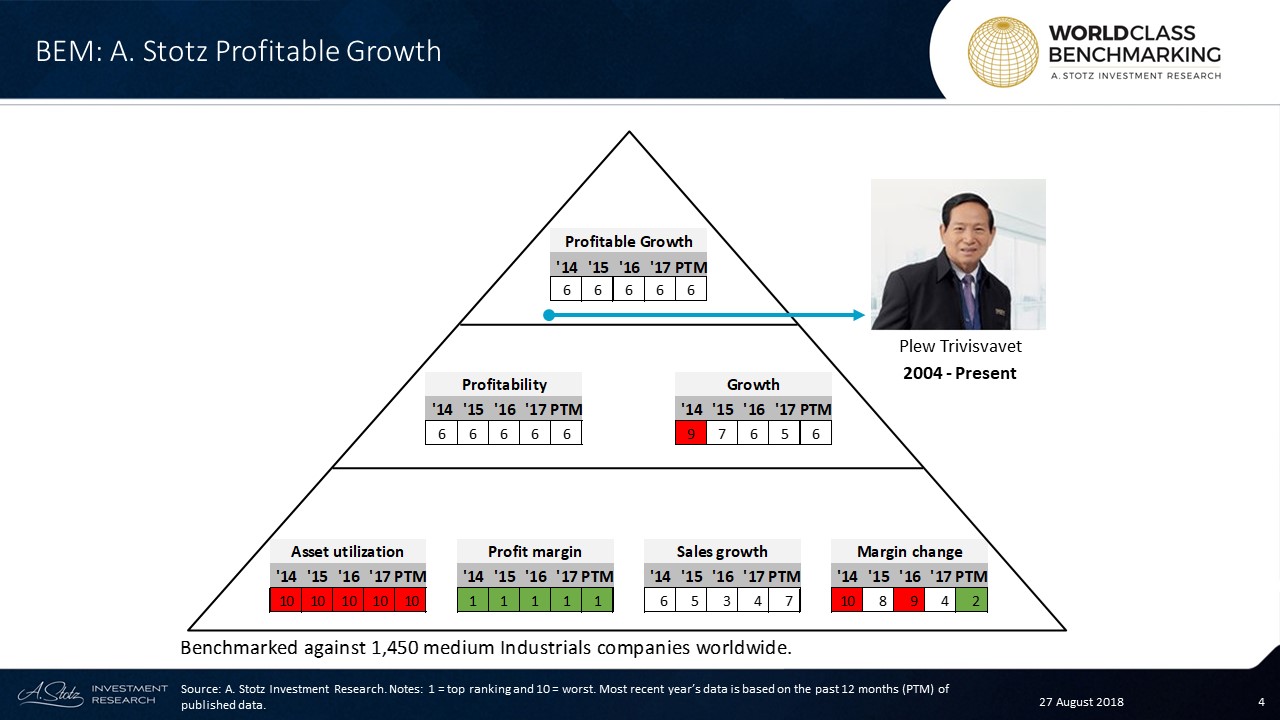 Asset utilization and Profit margin display a stark contrast in which ranks have been stable at #10 and #1 respectively.
Both sales growth and Margin change has seen improvements since 2014. However, Sales growth has fallen to #7 in the past twelve months while Margin change has risen to #2.
---
What're your thoughts on BEM?
If you like our research, share it with your friends.
---
DISCLAIMER: This content is for information purposes only. It is not intended to be investment advice. Readers should not consider statements made by the author(s) as formal recommendations and should consult their financial advisor before making any investment decisions. While the information provided is believed to be accurate, it may include errors or inaccuracies. The author(s) cannot be held liable for any actions taken as a result of reading this article.