As Cheap as It Is, Singapore Fails to Draw Interest
Watch the video with Andrew Stotz or read a summary of the country profile on Singapore.
---
---
Four Pillars of GDP: Export-driven economy
Singapore's GDP has been growing at a slow pace of late, 2.4% over the last four quarters. Exports have been the main contributor to GDP growth, but private consumption has created a headwind against overall growth.
Cheap PE, high dividend yield
Singapore remains relatively cheap, considering its price-to-earnings (PE) ratio relative to Asia. Its PE is expected to sit below 15x for the year.
Relatively slow earnings growth explains the cheap valuation, however, with both 2015 and 2016 seeing a full-year reduction.
Singapore has the second-highest dividend yield, at an expected 3.9% for the year, with only Taiwan offering a higher yield.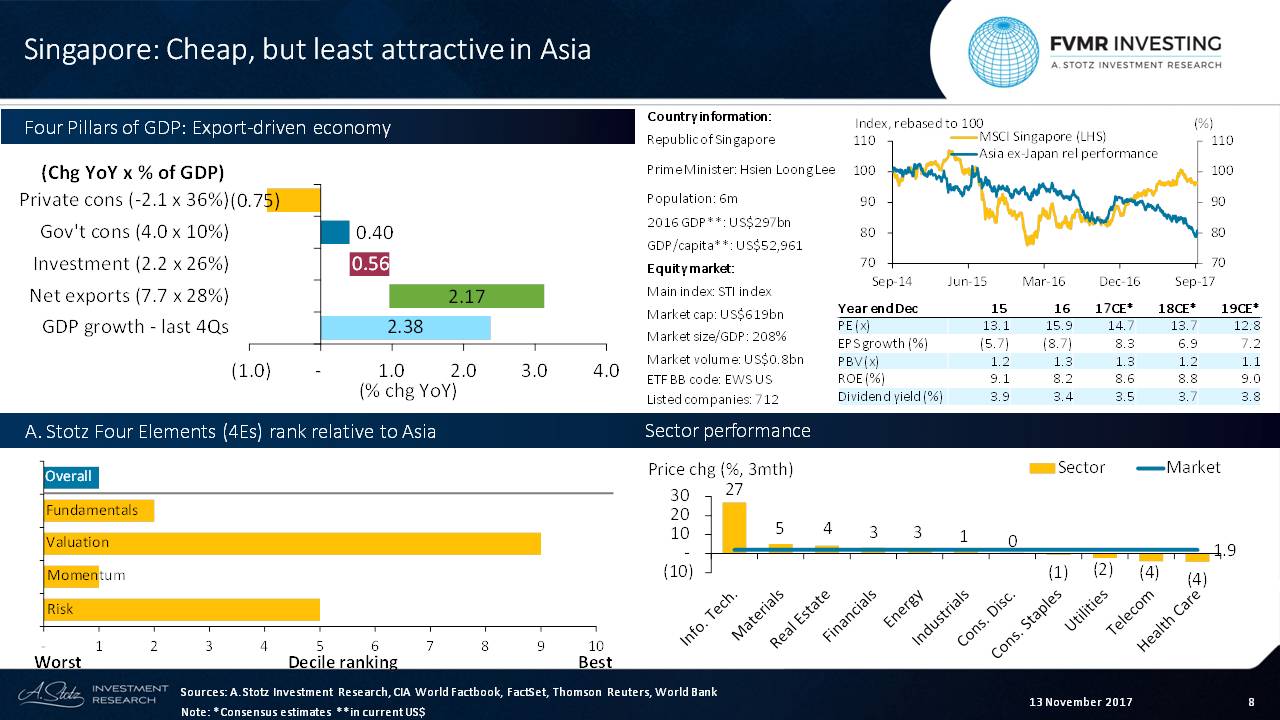 A. Stotz Four Elements: Singapore's rank relative to Asia
Overall, Singapore is the least attractive market in Asia, considering all our four elements: Fundamentals, Valuation, Momentum and Risk.
Fundamentals: Singapore has the second lowest ROE in Asia in the past 12 months.
Valuation: The market's multiples are low and the dividend yield is high.
Momentum: The country features poor earnings and price momentum.
Risk: The market has a moderate volatility profile.
Massive performance in the Info Tech sector in 3Q17
Top 3 largest sectors: Industrials: 27% of the market; Real Estate: 23%; Financials: 20%.
Best sector & stock: Information Technology: +26.9% & Hi-P International Ltd.: +49.6%.
Worst sector & stock: Health Care: -4.3% & Raffles Medical Group Ltd.: -14.9%.
*CE is consensus estimates
---
Are you investing in Singapore?
If you like our research, share it with your friends.
---
DISCLAIMER: This content is for information purposes only. It is not intended to be investment advice. Readers should not consider statements made by the author(s) as formal recommendations and should consult their financial advisor before making any investment decisions. While the information provided is believed to be accurate, it may include errors or inaccuracies. The author(s) cannot be held liable for any actions taken as a result of reading this article.