A. Stotz All Weather Strategy – February 2020
We're in rough waters, and gold was the winner in the past three months. The All Weather Strategy has outperformed World equity, much due to heavy weights in gold and bonds. We increase the target allocation of Bonds to 25% and reduce Japan equity to 5%. COVID-19 remains the biggest, but not the only concern. Our primary aim is to limit the downside; therefore, we prefer defensive assets.
The A. Stotz All Weather Strategy is Global, Long-term, and Diversified:
Global – Invests globally, not only Thailand
Long-term – Gains from long-term equity return, while trying to reduce a portion of losses during equity market downturns
Diversified – Diversified globally across four asset classes
The All Weather Strategy is available in Thailand through FINNOMENA. Please note that this post is not investment advice and should not be seen as recommendations. Also, remember that backtested or past performance is not a reliable indicator of future performance.
The All Weather Strategy has now been up and running at FINNOMENA for 1 year. We're grateful for all the investors that have put the trust in our All Weather Strategy. We're also thankful for FINNOMENA offering us the opportunity to make the strategy available as a GURUPORT.
We're in rough waters
The opening of 2020 has undoubtedly been rough for equity investors. It's not easy to sit still in the boat when the value of your portfolio falls massively in a day due to big drops in the stock market. That's why we created the All Weather Strategy; equity has had the highest long-term return, but the ride is bumpy, and we aim to cushion the downside by reducing the equity allocation at times.
Review
It was all about COVID-19
In our rebalancing in December 2019, we increased the target allocation of Japan to 25% from 5%, which hurt the return as Japan was the worst performer in the past 3 months
Japan's GDP growth plunged in 4Q19, surprising the market, and the country has gotten closer to a recession
At the same time, Japan is the country with the fifth-highest number of confirmed COVID-19 cases in the world
Panic in equities and pessimism in commodities
In total, we had a 65% target allocation to equity, US equity had a 25% allocation, and it was among the worst performers as well
Commodities besides precious metals performed relatively poorly in the past 3 months as well
Oil and industrial metals fell as the global growth outlook worsened
Pandemic panic led investors to defensive assets
As COVID-19 has led to falling equity markets across the board and falling prices in many commodities, defensive assets, gold and bonds, performed well in the past 3 months
Gold price shot up in the past 3 months as panic spread in the markets, and it was the best-performing asset by far
Past 3 months: Equity fell around the globe, the All Weather Strategy outperformed
All Weather Strategy: Outperformed World equity by 3.4%
Gold: COVID-19 panic has pushed up the gold price
US: Strongest in the Developed world
Japan: Worst performer due to recession fears and COVID-19 outbreak
Since inception: The strategy has outperformed World equity
The All Weather Strategy had a 45% equity allocation from inception to September 2019, and 65% after that
The high gold allocation has paid off recently as it has lowered the downside compared to an equity-only strategy
Since inception: The volatility of All Weather Strategy has been about 65% of the volatility of World equity
The volatility of All Weather Strategy has been about 65% vs. the volatility of World equity
25% bond allocation until September 2019 has contributed to the low volatility of All Weather Strategy
As gold is uncorrelated to equity, it has dampened the overall All Weather Strategy volatility
Since inception: Has All Weather Strategy lost less when World equity has fallen
A key feature of All Weather Strategy is that it aims to lose less when equity markets fall
Looking at the 10 worst days of World equity since the inception of All Weather Strategy, the has strategy has lost less on every day so far
Much due to low equity weight and gold allocation
Since inception: All Weather Strategy has mainly outperformed when World equity has suffered big drops
Largest outperformance has been in the months of  February 2020, May 2019, and August 2019 when World equity has fallen the most
Gold and bonds served as an effective hedge in the two months in 2019, and gold worked as a hedge in February 2020 as well
Weights
Increase Bonds to 25% and reduce Japan to 5%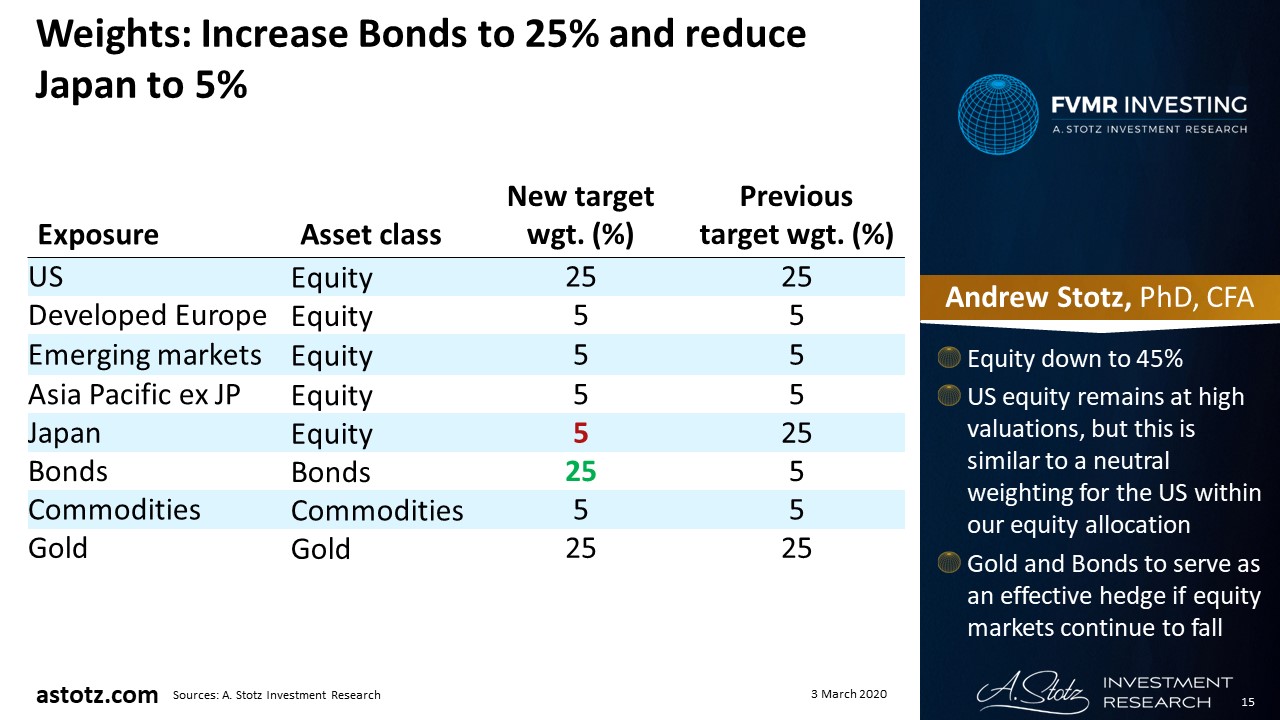 Equity down to 45% from 65%
US equity remains at high valuations, but this is similar to a neutral weighting for the US within our equity allocation
Gold and Bonds to serve as an effective hedge if equity markets continue to fall
Outlook
The market is sure the Fed is going to cut the rate at the March meeting
Positive for gold, risk for US market

US gov't debt and currency issues

The market now expects rate cuts in the US to stimulate the US economy

Market-implied probability of 100% for the Fed to cut rates by 0.5% at the March meeting (this was written before the Fed announced its 0.5% emergency cut, so Fed basically reacted to the market)

Looking at corporates, fundamentals appear to have peaked which could lead to limited upside in equity
It's not all about COVID-19
COVID-19 development is going to overshadow the impact from the US-China "phase one" trade deal
Unrest in Hong Kong could worsen as protests seem to resume after a "Corona break"
Geopolitical tensions between US and Iran remain, the conflict in Syria continues with Turkey and Russia as main players at the moment
How much worse can COVID-19 get?
In January, we said:
"If China can't contain the coronavirus and it spreads to other countries, the global growth outlook could rapidly worsen"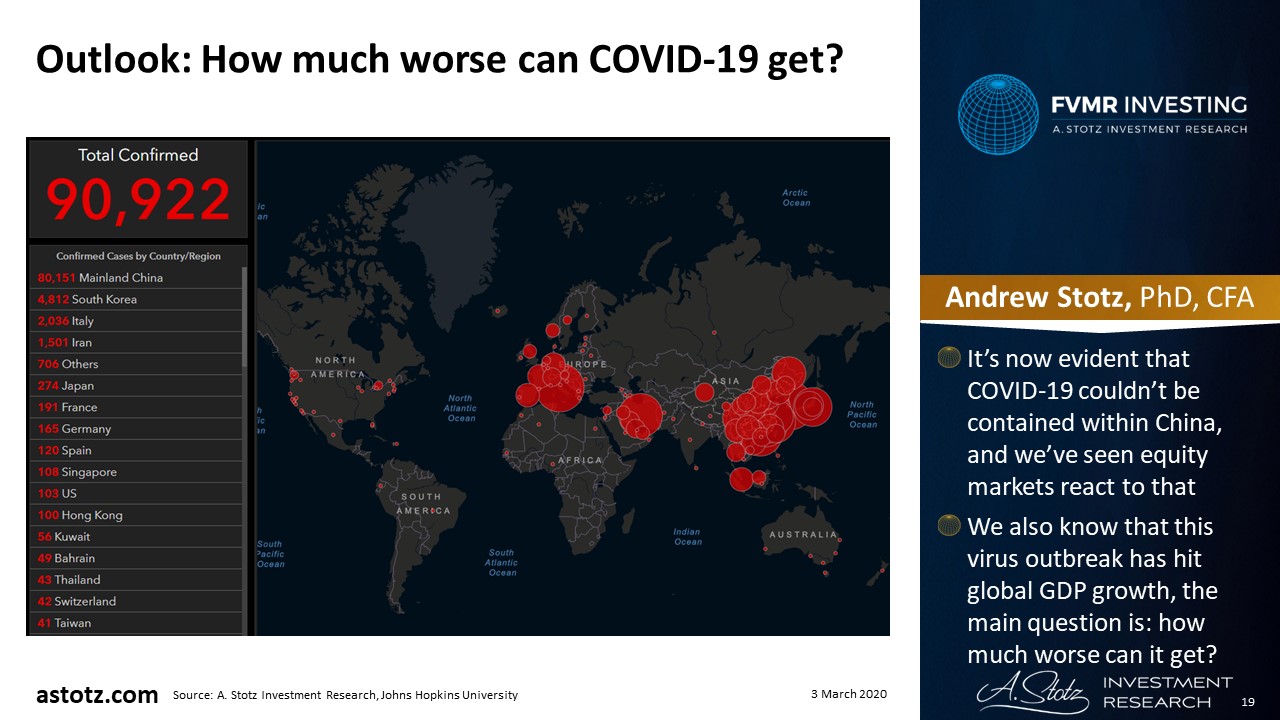 It's now evident that COVID-19 couldn't be contained within China, and we've seen equity markets react to that
We also know that this virus outbreak has hit global GDP growth, the main question is: how much worse can it get?
Global pandemic is possible, but not the only risk on the horizon
Geopolitical tensions and the COVID-19 outbreak are negatives for the global growth outlook and equity
If COVID-19 becomes a global pandemic, things can become a lot worse
There's always a risk of overreacting in times like this, but even if a global pandemic is avoided, there are still geopolitical tensions, peaking fundamentals, and high valuations left to overcome
Focus on limiting the downside
The All Weather Strategy aims to capture as much of the long-term equity return as possible, while also working to reduce the risk of an equity-only portfolio
As such, we are comfortable to overweight defensive assets; gold and bonds
Bond prices could be boosted by further rate cuts or larger-than-expected rate cuts
Gold has historically offered a safe haven in tumultuous times and is uncorrelated to equity over time
Regional Equity FVMR Snapshot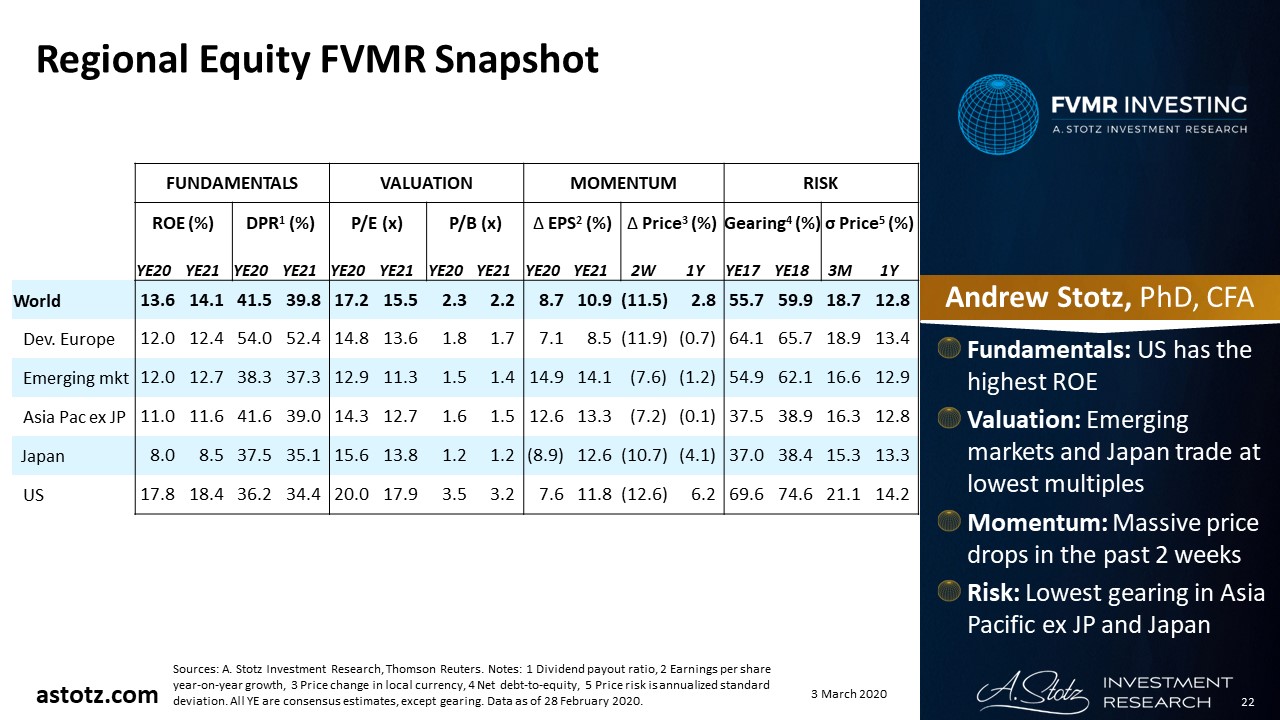 Fundamentals: US has the highest ROE
Valuation: Emerging markets and Japan trade at the lowest multiples
Momentum: Massive price drops in the past 2 weeks
Risk: Lowest gearing in Asia Pacific ex Japan and Japan
---
DISCLAIMER: This content is for information purposes only. It is not intended to be investment advice. Readers should not consider statements made by the author(s) as formal recommendations and should consult their financial advisor before making any investment decisions. While the information provided is believed to be accurate, it may include errors or inaccuracies. The author(s) cannot be held liable for any actions taken as a result of reading this article.