A. Stotz All Weather Alpha Focus – April 2022
All Weather Alpha Focus was 1.3% above the 60/40 portfolio in April. In the near term, the war in Ukraine is going to rattle markets, and we think Energy and Commodities will do well. We keep Gold as insurance. We expect central banks to do what they can to prop up markets and the Indian stock market to remain strong. Risks: Global recession, crash in the Indian market, collapse in energy prices.
A. Stotz All Weather Alpha Focus is Global, Opportunistic, Long-term, and Defensive:
Global – Invests globally, not only Thailand
Opportunistic – Tilts towards asset classes, sectors, regions, and themes in a quest to enhance returns and manage risks
Long-term – Gains from long-term equity return
Defensive – Aims to reduce extreme losses during equity market downturns
All Weather Alpha Focus is available in Thailand through FINNOMENA, and you can learn more here. Please note that this post is not investment advice and should not be seen as recommendations. Also, remember that backtested or past performance is not a reliable indicator of future performance.
Review
Performance of the World stock markets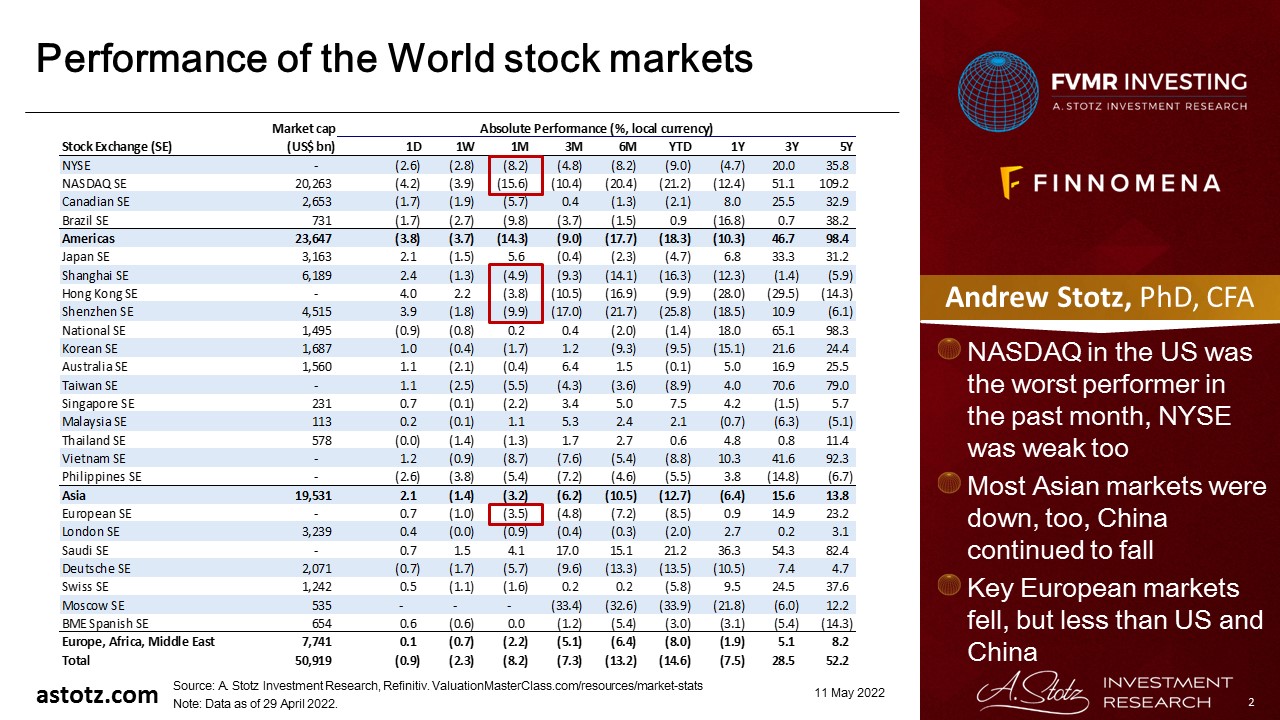 NASDAQ in the US was the worst performer in the past month, NYSE was weak too
Most Asian markets were down, too, China continued to fall
Key European markets fell, but less than US and China
World stocks continued to fall in April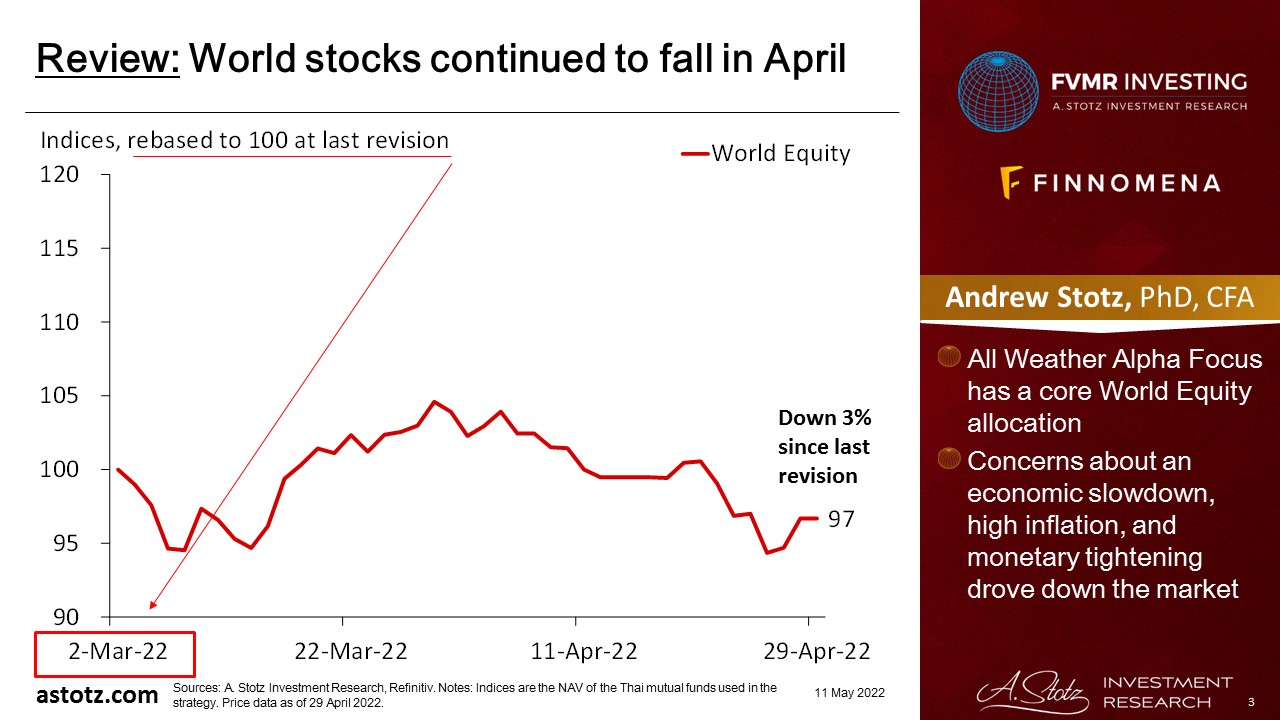 All Weather Alpha Focus has a core World Equity allocation
Concerns about an economic slowdown, high inflation, and monetary tightening drove down the market
Continued high volatility in Energy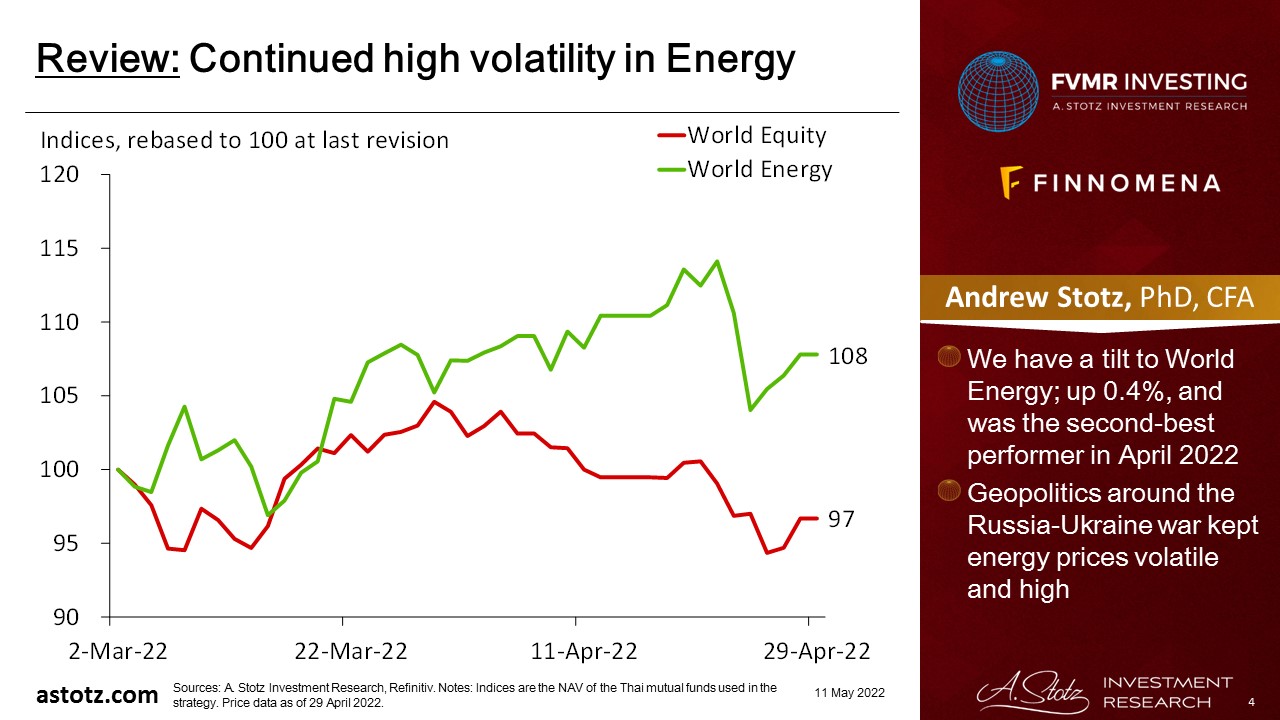 We have a tilt to World Energy; up 0.4%, and was the second-best performer in April 2022
Geopolitics around the Russia-Ukraine war kept energy prices volatile and high
World Financials has mostly tracked World Equity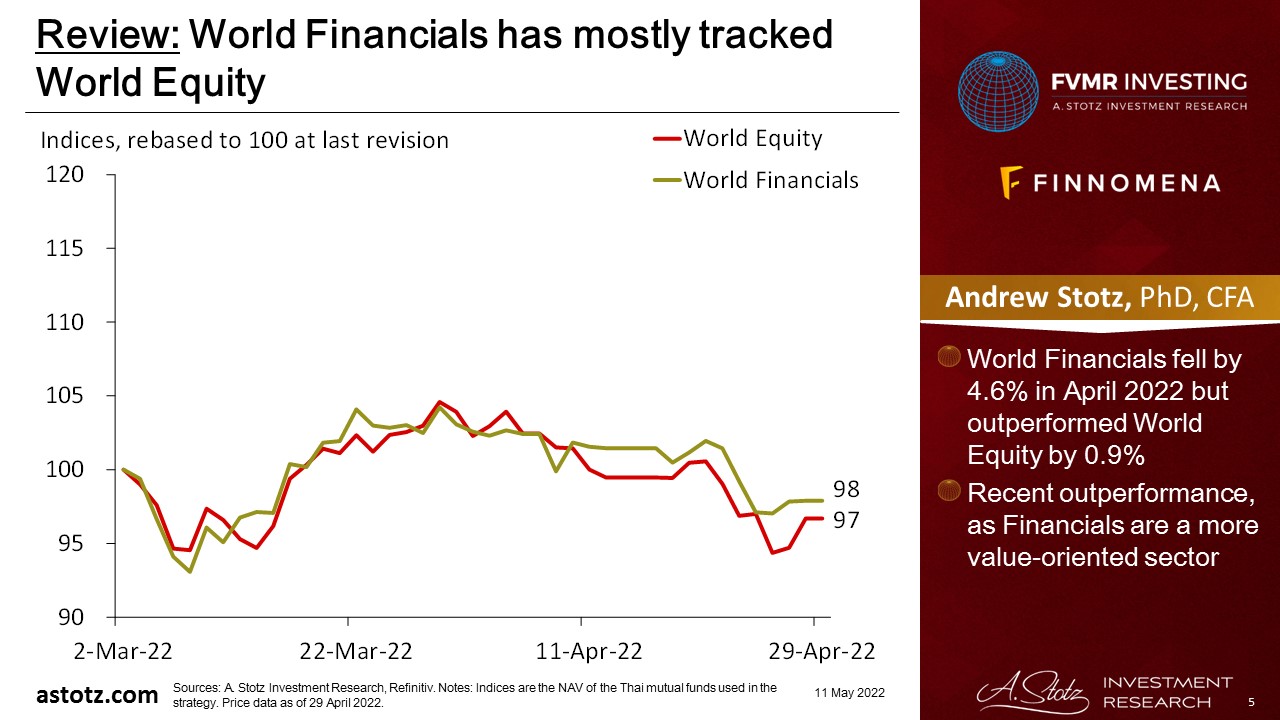 World Financials fell by 4.6% in April 2022 but outperformed World Equity by 0.9%
Recent outperformance, as Financials are a more value-oriented sector
April was bad for Healthcare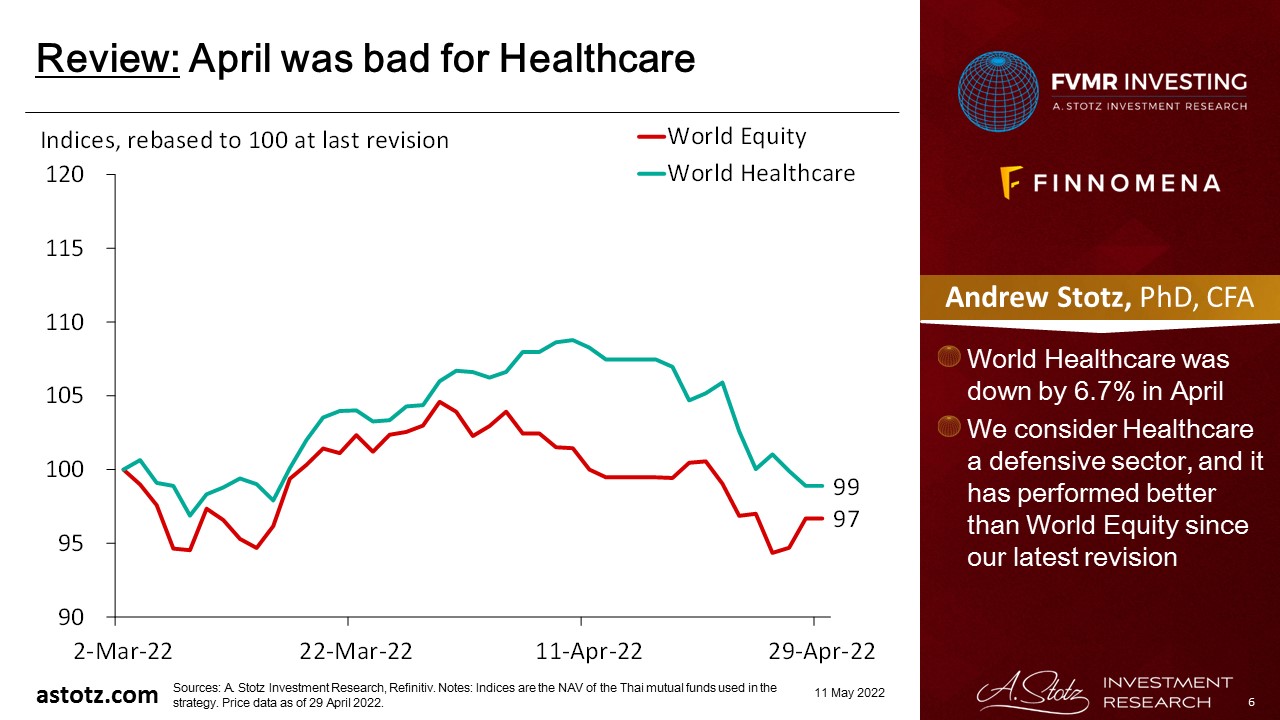 World Healthcare was down by 6.7% in April
We consider Healthcare a defensive sector, and it has performed better than World Equity since our latest revision
Infrastructure fell less than World Equity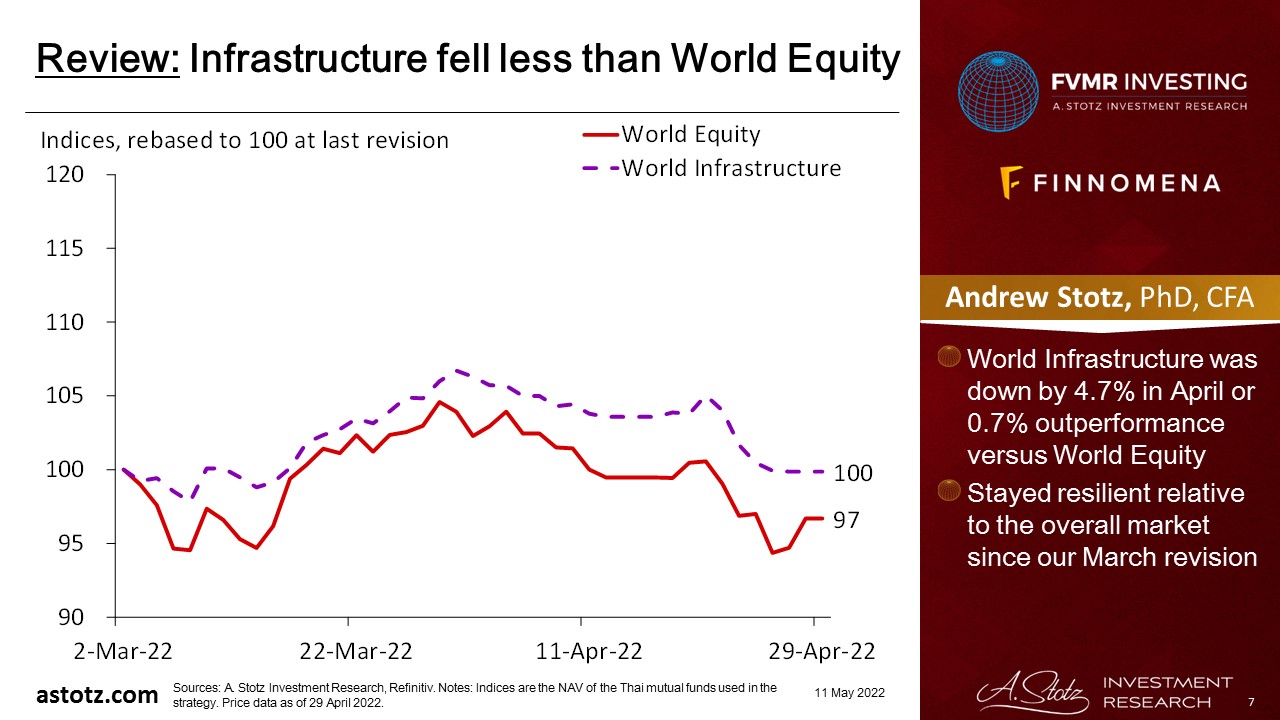 World Infrastructure was down by 4.7% in April or 0.7% outperformance versus World Equity
Stayed resilient relative to the overall market since our March revision
India has been resilient since our last revision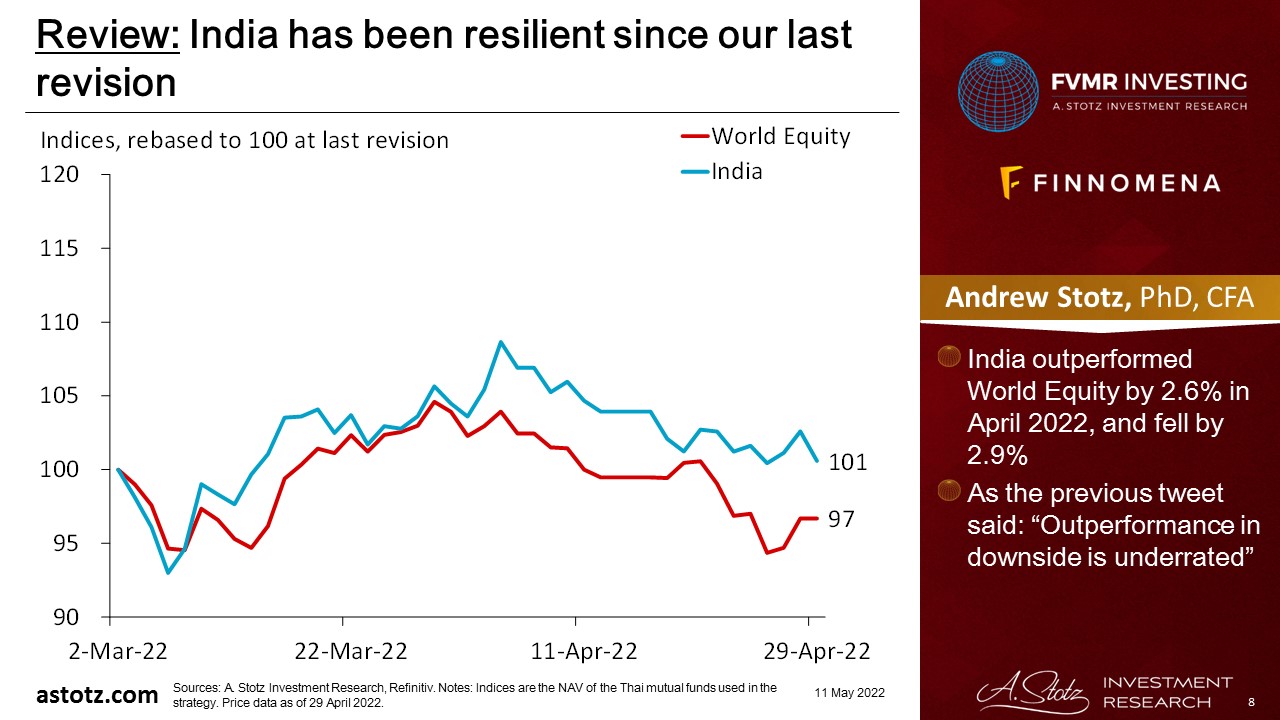 India outperformed World Equity by 2.6% in April 2022, and fell by 2.9%
As the previous tweet said: "Outperformance in downside is underrated"
Thai money market stayed flat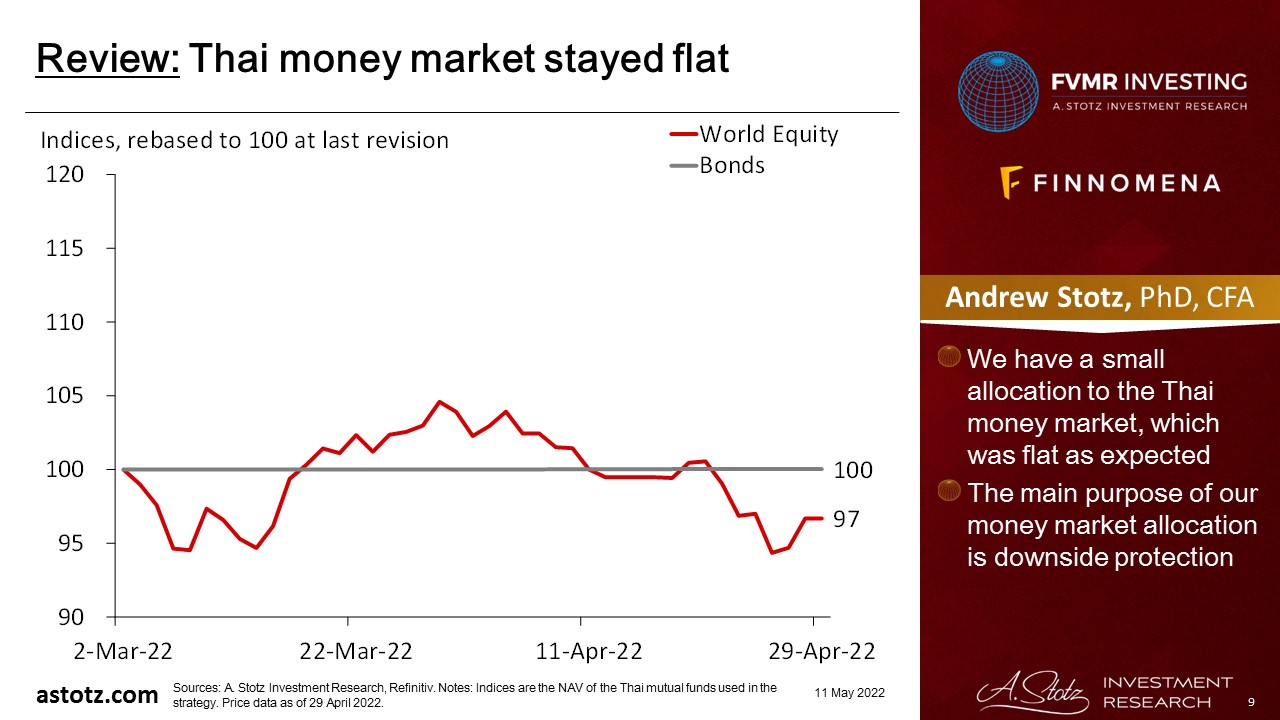 We have a small  allocation to the Thai money market, which was flat as expected
The main purpose of our money market allocation is downside protection
Commodities have remained strong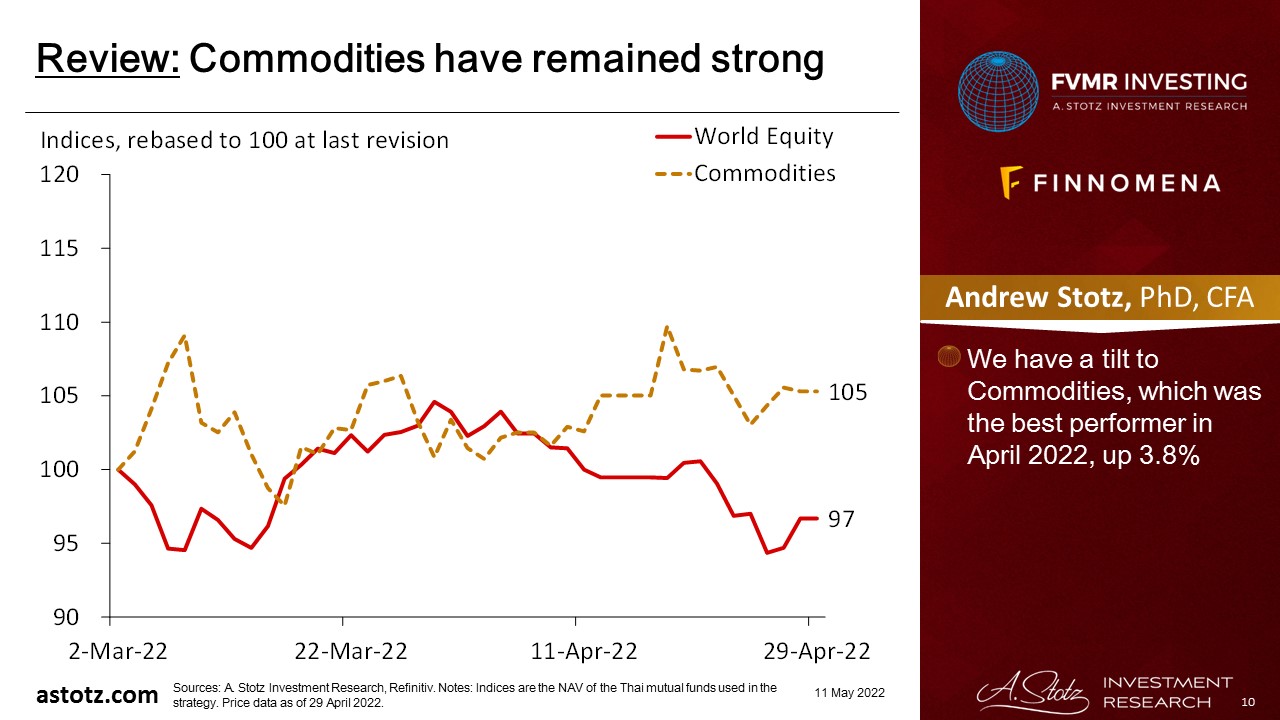 We have a tilt to Commodities, which was the best performer in April 2022, up 3.8%
Energy and Agriculture saw a continued rise in prices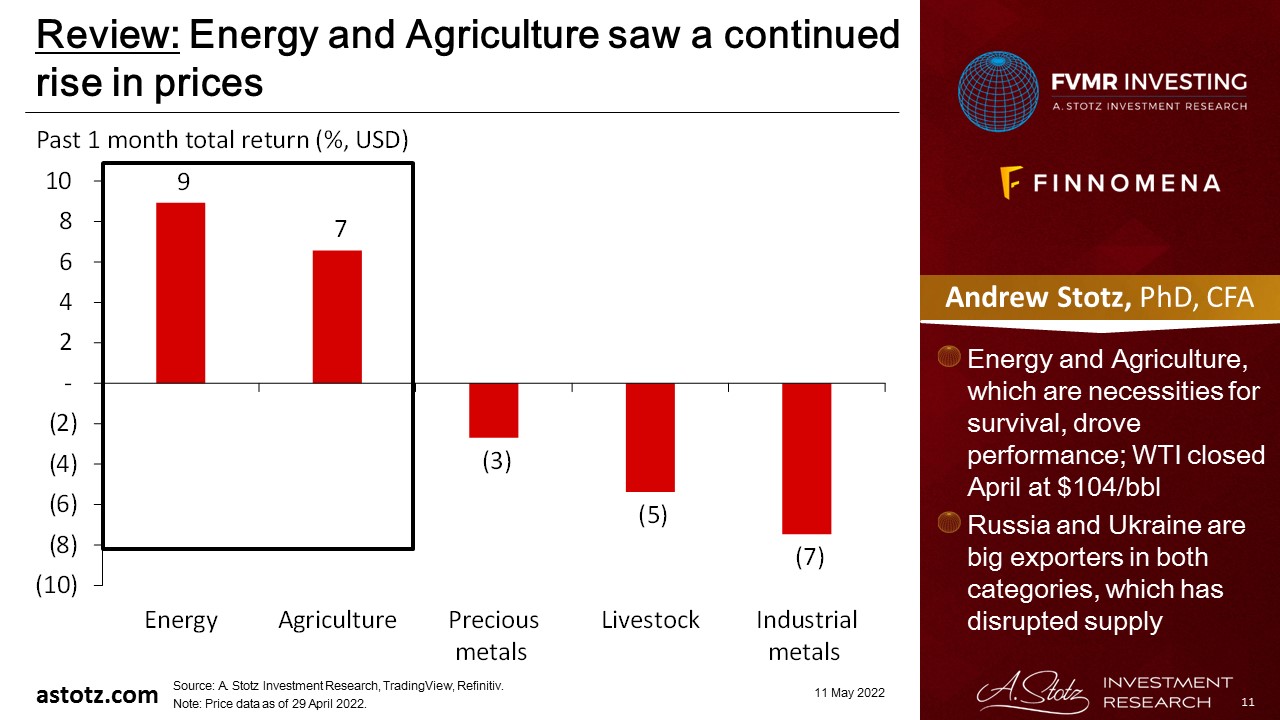 Energy and Agriculture, which are necessities for survival, drove performance; WTI closed April at $104/bbl
Russia and Ukraine are big exporters in both categories, which has disrupted supply
Gold has been flat since the last revision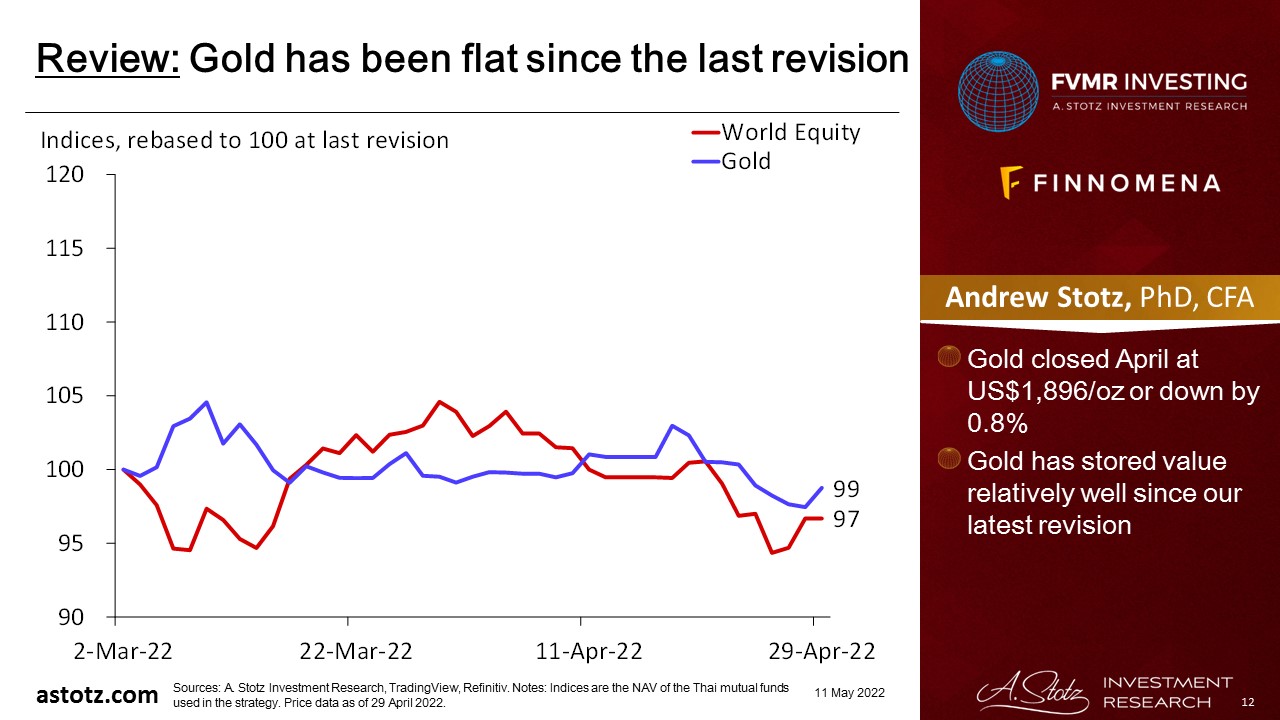 Gold closed April at US$1,896/oz or down by 0.8%
Gold has stored value relatively well since our latest revision
Alpha Focus is slightly above the 60/40
Six months in, Alpha Focus closed 0.6% above the 60/40
Our three tilts and Gold were helping the strategy to get above the 60/40 in April 2022
Alpha Focus has held up when World Equity has fallen
Six months in, Alpha Focus closed 5.2% above World Equity
Past month: Alpha Focus was 1.3% above the 60/40 portfolio
Alpha Focus was down in April but above 60/40
All three of our tilts beat World Equity
We increased Gold in our latest revision to have some insurance; slightly down, but 4.7% above World Equity
All Weather Alpha Focus is an exclusive strategy available in Thailand through FINNOMENA, learn more here. 
---
DISCLAIMER: This content is for information purposes only. It is not intended to be investment advice. Readers should not consider statements made by the author(s) as formal recommendations and should consult their financial advisor before making any investment decisions. While the information provided is believed to be accurate, it may include errors or inaccuracies. The author(s) cannot be held liable for any actions taken as a result of reading this article.