A Legacy Utility Looks for Growth
Watch the video with Andrew Stotz or read a summary of the World Class Benchmarking on Manila Electric Company.
---
---
Background
Founded in 1903, Manila Electric Company (MER) is the largest distributor of electricity in the Philippines, generating and distributing power to more than 5.5 million commercial, industrial and residential customers.
MER's power plants are primarily run on coal and natural gas, and the company compromises 55% of the Philippines' total energy sales.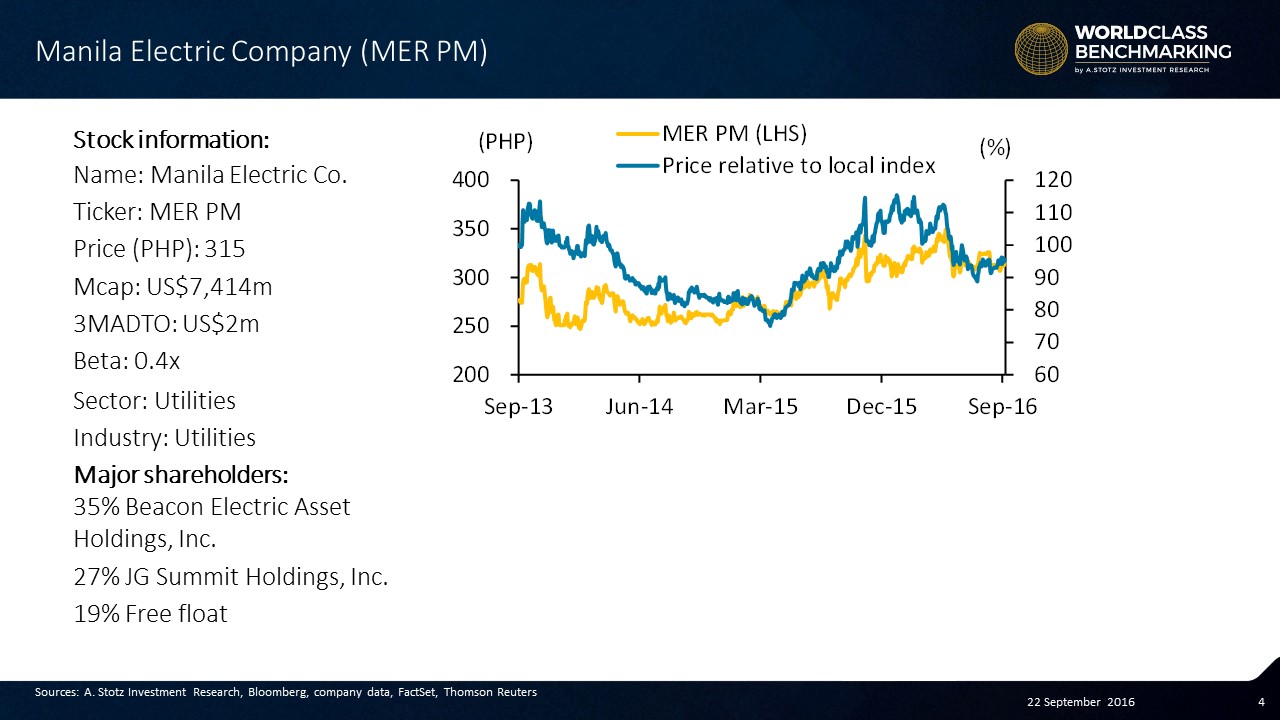 Business Description
MER (commonly called Meralco) is a power distributor and generator. It builds and invests in power plants mainly on the Philippines' biggest island of Luzon. In Singapore, it has a 70% stake in a gas-fired plant and sells energy to local distributors.
The majority of MER's power is produced by gas-fired and coal-fired power plants, and the remainder comes from hydro, biomass and geothermal generating plants. The company produces about 75% of Luzon island's electricity consumption.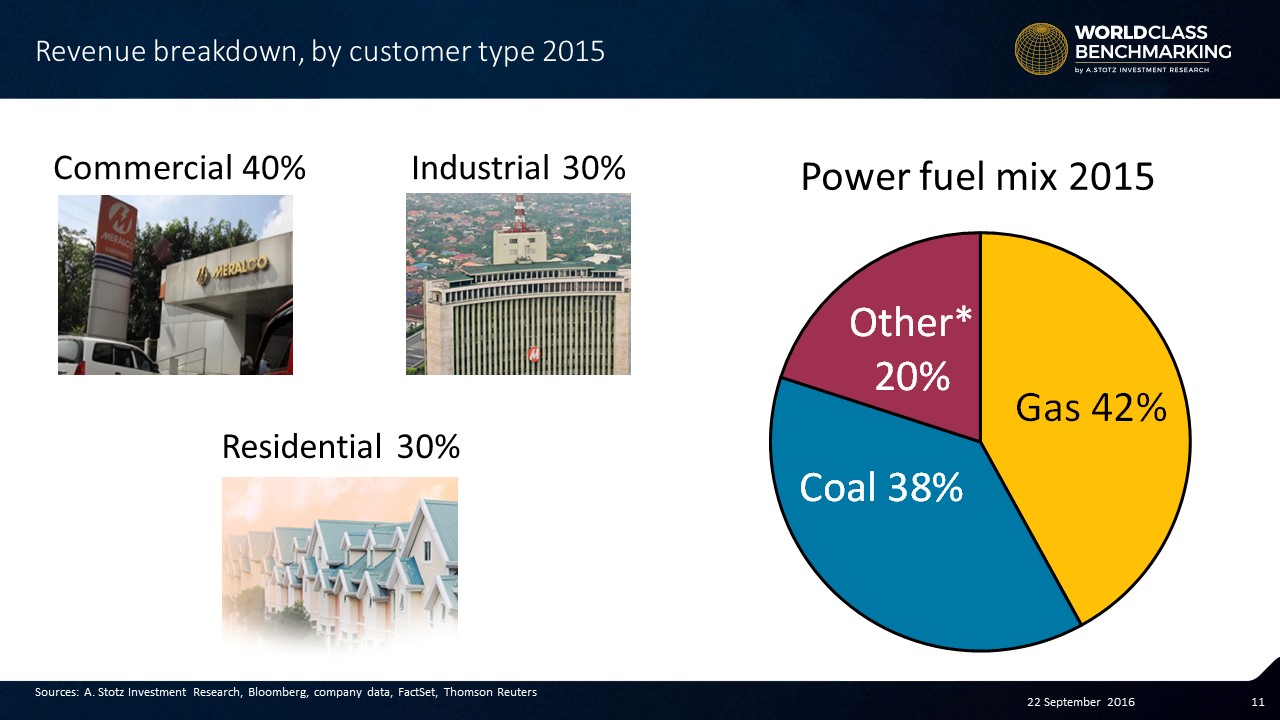 It divides its customers into three segments: commercial, which accounted for around 40% of sales in 2015; industrial, generating 30% of sales; and residential, which also accounted for 30%.
MER's largest projects include the 455MW coal plant expansion in Quezon, expected to finish in 2019, and the construction of a 600MW coal-fired power plant on Subic Bay, which is scheduled for completion in 2019/2020.
Leadership
Manuel Pangilinan has been the chairman of Manila Electric since May 2012. Before that he was the President and CEO for the two year prior to taking over as chairman.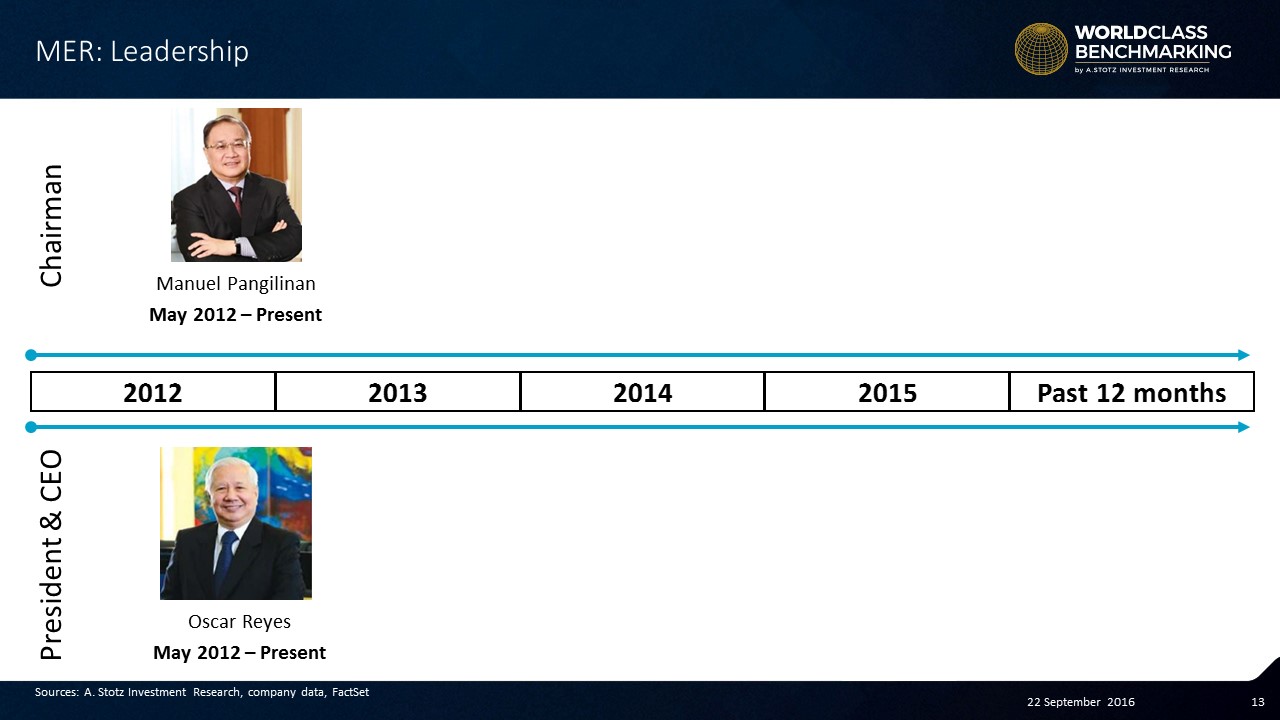 Oscar Reyes was a director and a Chief Operating Officer at the company before being named President and CEO in 2012. Additionally, he is a member of the Advisory Board of the PLDT, Inc.
Since taking the helm at Manilla Electric, Reyes has kept the company among the top 20% of large utilities globally, in terms of Profitable Growth and profitability. But growth at the legacy producer has remained harder to produce consistently.
World Class Benchmarking
Profitable Growth has been stable at #2 for the last three years. However, the Profitability is slightly down from when Reyes first took over in 2012 and 2013, when the company ranked #1.
Still, MER ranks among the best 58 large Utilities companies globally.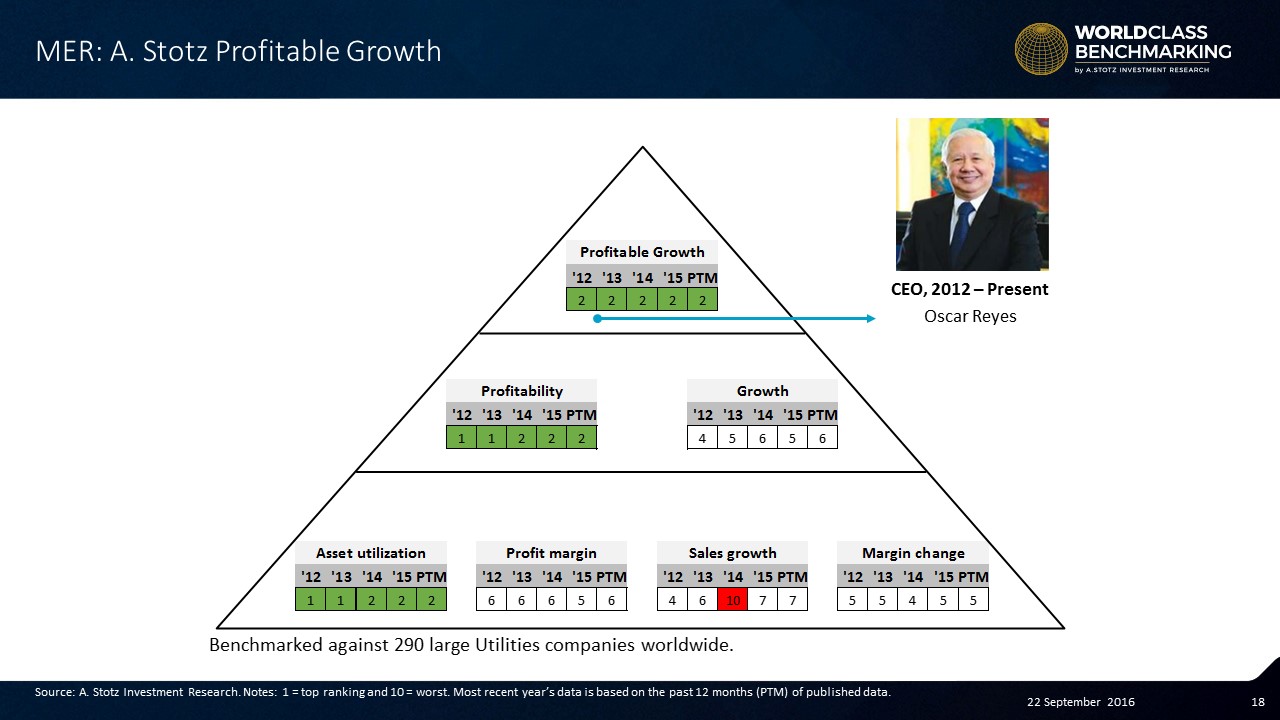 The main reason is that both Profitability and Asset Utilization remains solid. Growth, however, fell to below average in the PTM.
Sales growth has remained weak, although it's better than 2014. Sales would be expected to improve once the two aforementioned coal plants come online over the next few years.
---
Are YOU supplied by Meralco? How do you like it?
If you like our research, please share with your friends.
---
DISCLAIMER: This content is for information purposes only. It is not intended to be investment advice. Readers should not consider statements made by the author(s) as formal recommendations and should consult their financial advisor before making any investment decisions. While the information provided is believed to be accurate, it may include errors or inaccuracies. The author(s) cannot be held liable for any actions taken as a result of reading this article.