Thai Operator of Indonesian Coal Mines
Background
The Lanna Resources Public Company Limited is a Thai company engaged in the production and distribution of coal from mines located in Indonesia.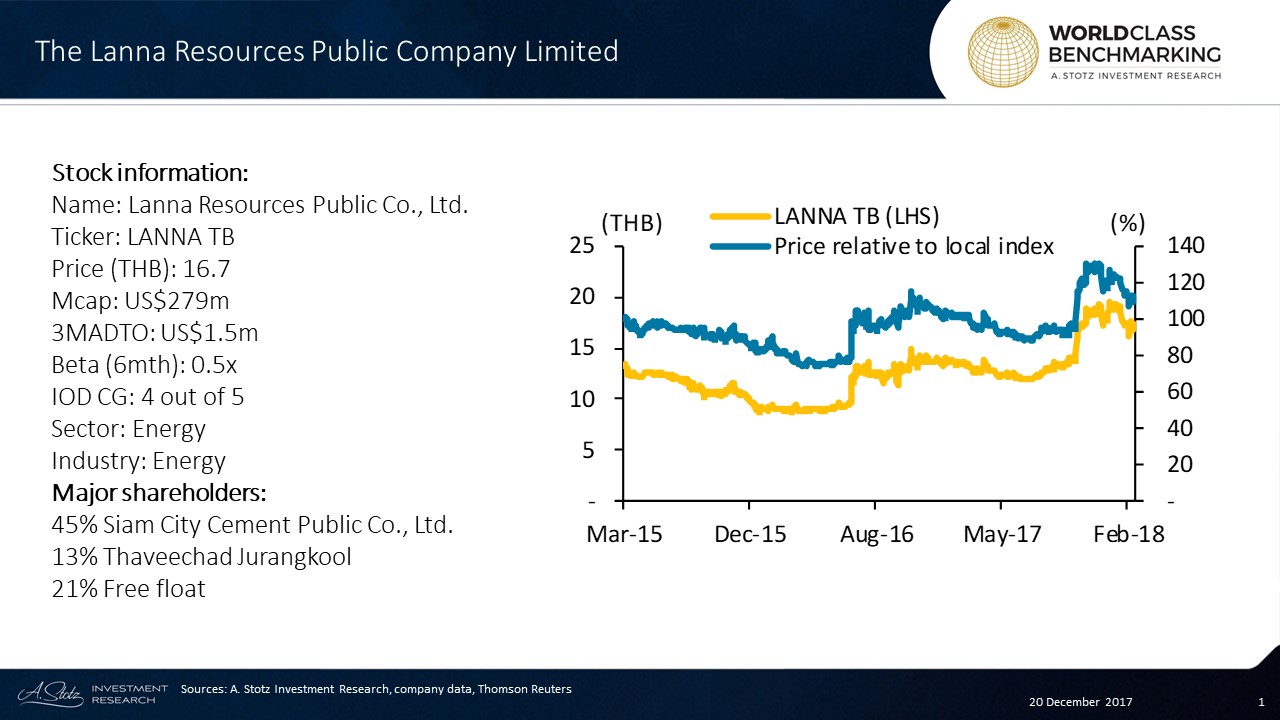 It sells domestically and internationally via exports to the North Asian and Indian markets. Through a listed subsidiary, it also sells ethanol. Siam City Cement PCL (SCCC TB) owns 45% of LANNA.
Business Description
LANNA has two major businesses. The largest business, accounting for almost three-fourths of revenue, is the operation of a number of joint ventures (JV) coal projects, mainly in Indonesia, and the distribution of the mined coal. The coal is sold into Thailand's domestic market and exported overseas to North Asia and India.
Processing of coal, mainly from its Indonesian coal JVs, and holding of coal inventory both take place at the company's Ayutthaya Coal Center in Thailand, which can support over 200,000 tonnes of coal inventory.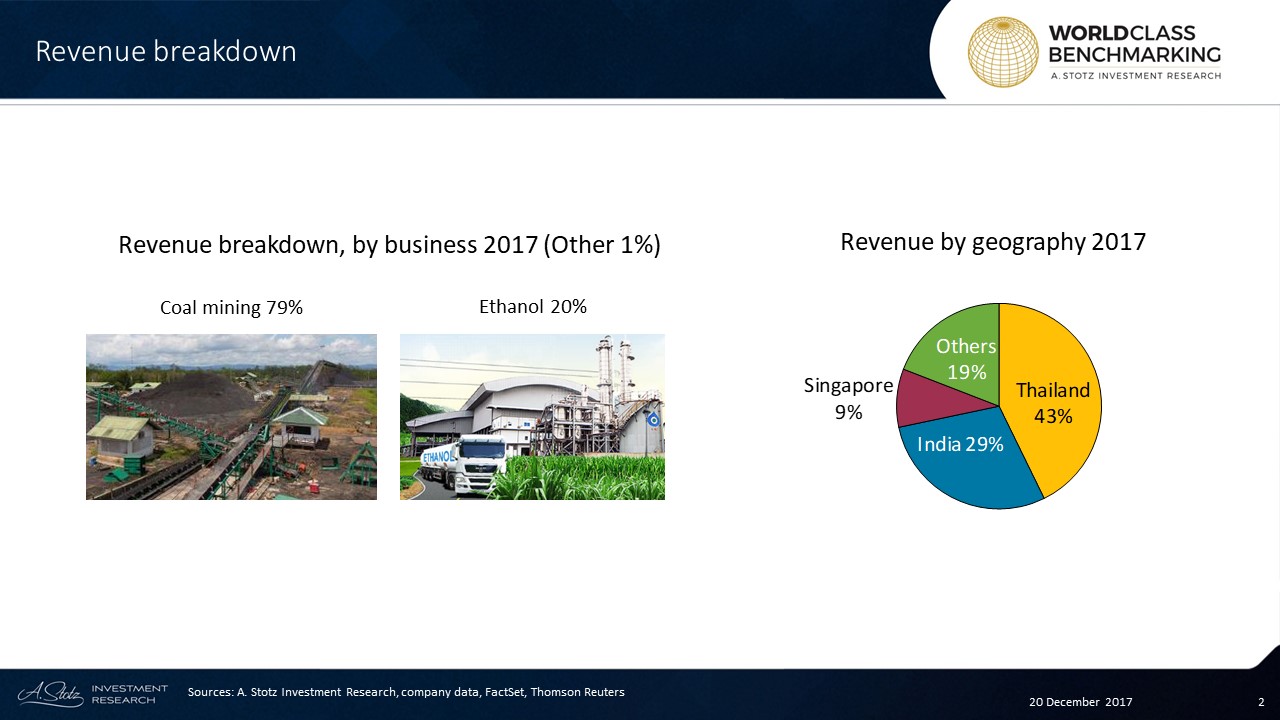 The other major business is run by the company's 51%-owned subsidiary, Thai Agro Energy PCL (TAE TB); it has two clean fuel ethanol production plants operating in Thailand, with a total capacity of 350,000 liters per day. The ethanol is mainly derived from molasses.
LANNA should reduce its ownership to 41% from 55% and to 49% from 65% in its two Indonesian subsidiaries by 2019, required by Indonesian law for the subsidiaries to get coal concessions. LANNA will keep managerial control though.
Leadership
Somkiart Limsong has been the Chairman of LANNA since 1997. Along with his current position, he has been chairman of Gulf Electric PCL and Siam City Cement PCL in the past. His family is also the fifth largest shareholder of LANNA. He holds an M.B.A. from Harvard business school.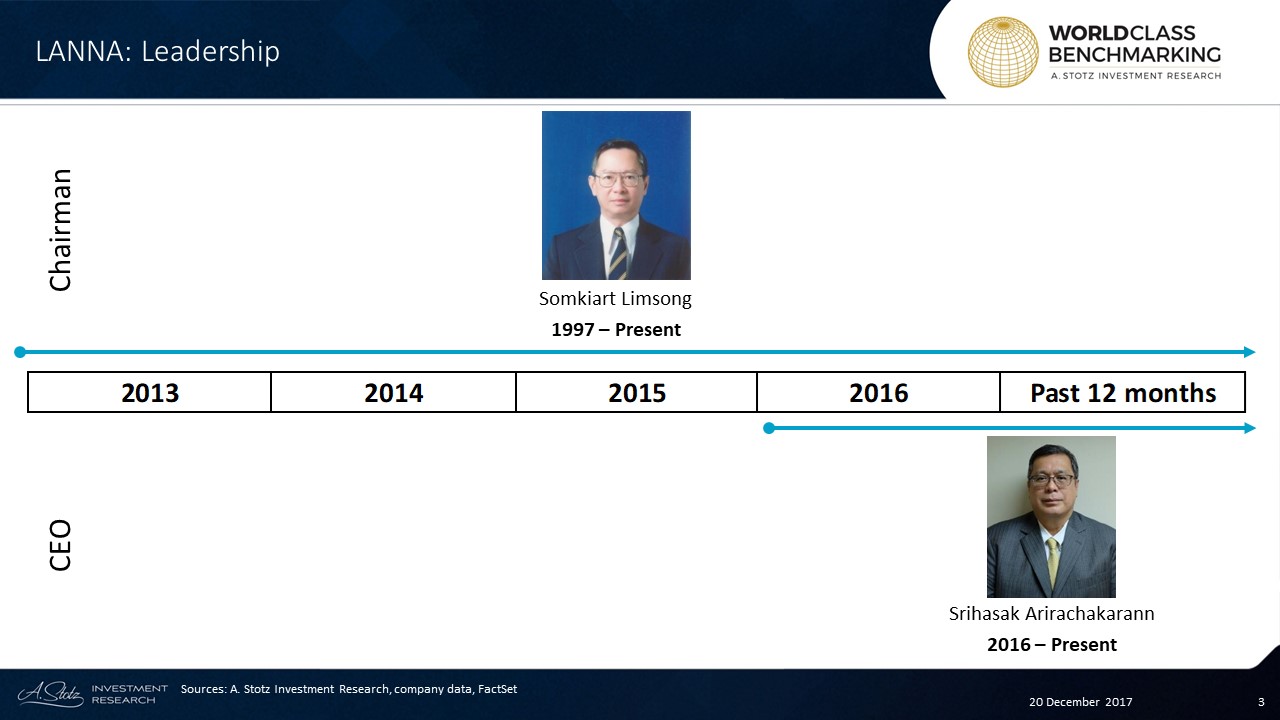 Srihasak Arirachakaran has been the CEO of LANNA since January 2016. He holds board memberships in other companies including Thai Agro Energy and PT Lanna Harita Indonesia, subsidiaries of LANNA. He completed his undergraduate, masters and doctorate degree in Engineering from the University of Tulsa, US.
World Class Benchmarking
Profitable Growth has ranked slightly above average since 2013 but improved to #1 in the past 12 months. LANNA ranked among the top 25 of 250 medium-sized energy companies worldwide.
Profitability and Growth ranked at #2 in the past 12 months after great improvements over the years.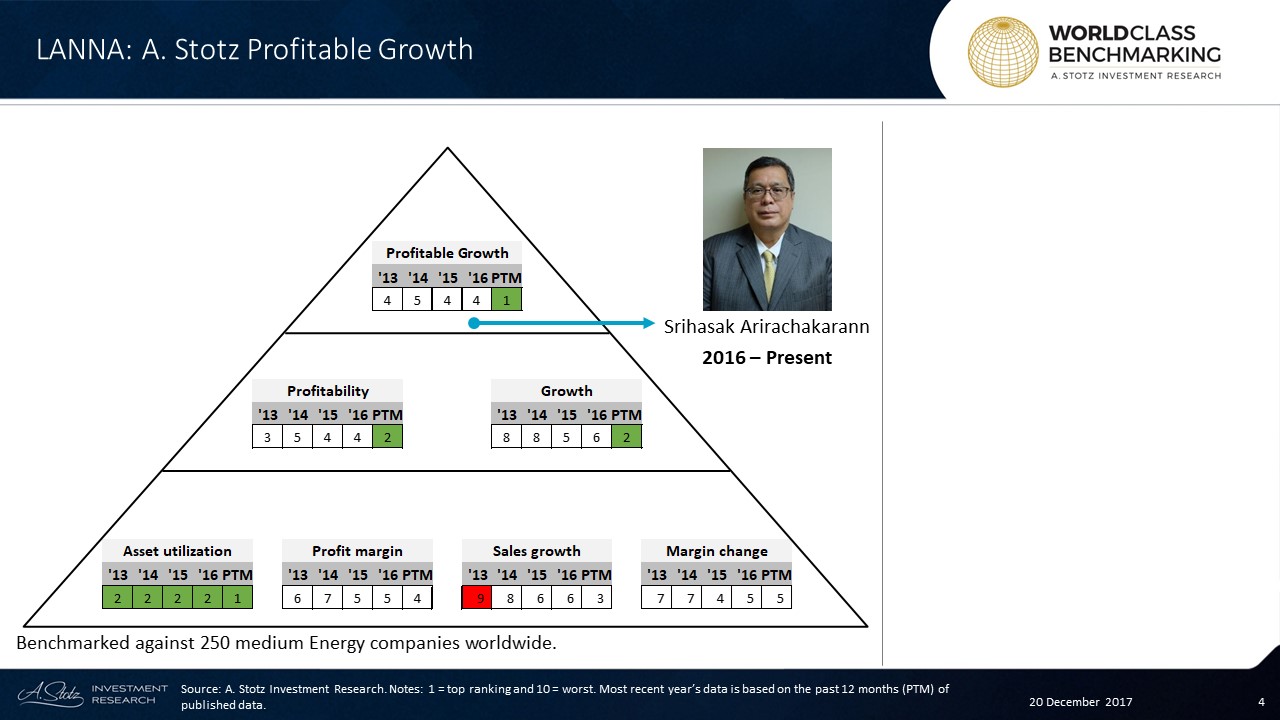 Asset utilization has maintained an excellent rank since 2013 and improved further in the past 12 months. Profit margin has mostly been unimpressive but has gradually improved.
Both Sales growth and Margin change have had relatively stable improvements. In the past 12 months, Sales growth improved to#3 from below average.
---
What're your thoughts on LANNA?
If you like our research, share it with your friends.
---
DISCLAIMER: This content is for information purposes only. It is not intended to be investment advice. Readers should not consider statements made by the author(s) as formal recommendations and should consult their financial advisor before making any investment decisions. While the information provided is believed to be accurate, it may include errors or inaccuracies. The author(s) cannot be held liable for any actions taken as a result of reading this article.