Lotte Shopping Has Ranked the Worst Since 2017
Background
Lotte Shopping Company Limited is a Korean company founded in 1970.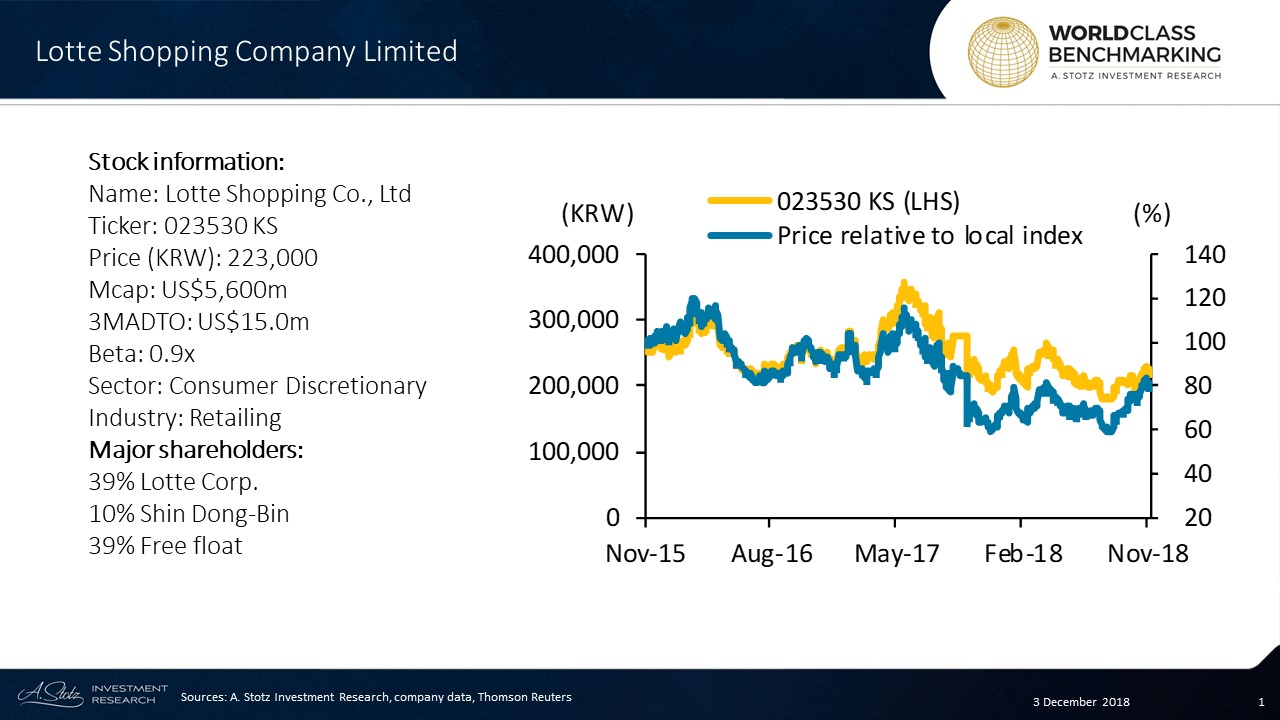 It mainly engages in retail operations through department stores, hypermarkets and electronic stores, supermarkets and others including cinema. Besides Korea, the company also operates in China, Indonesia, Vietnam, and Russia.
Business Description
LS generates 91% of revenue in Korea, has expanded overseas to China, Vietnam, Indonesia, and Russia. The company operates in five segments with Hypermarket being the main revenue contributor at 36%. This segment mainly sells groceries through Lotte Mart.
Another 11% is contributed by Lotte Supermart which also sells general household products and fresh food but in a bigger store format.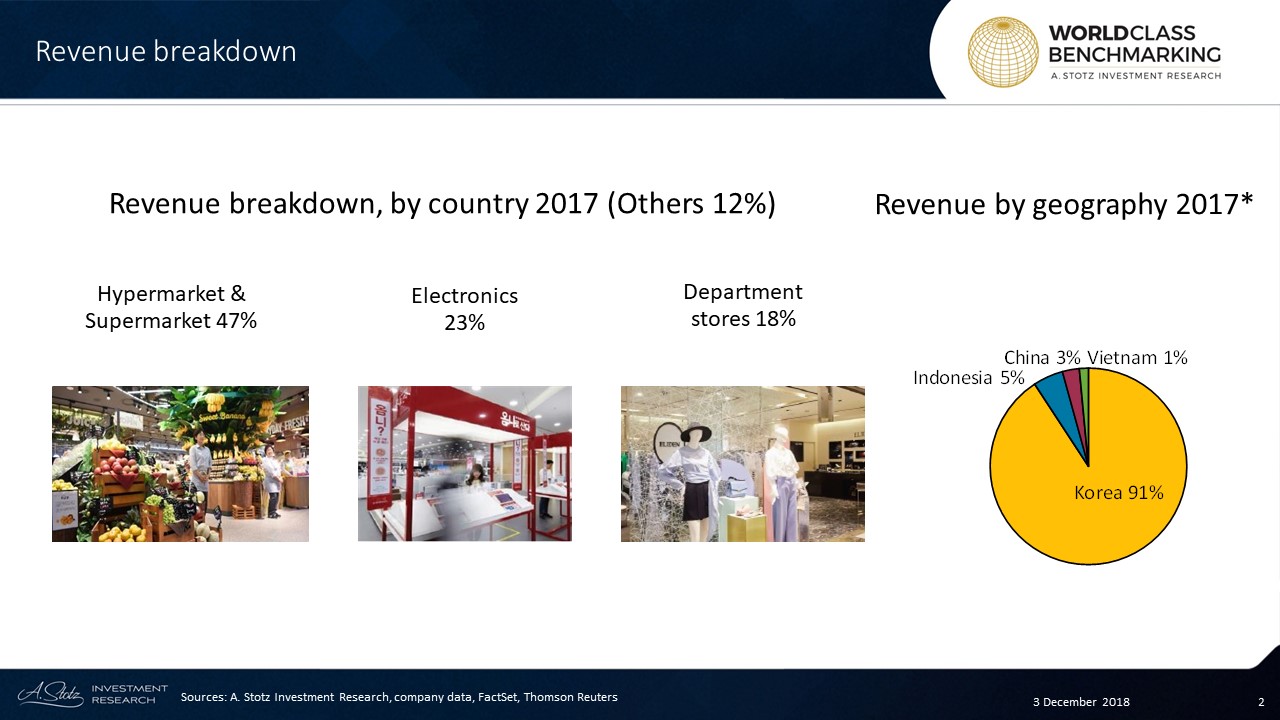 The Electronics segment sells home appliances and computers and accounts for 23% of revenue. Lotte Department Stores contributed 18% revenue by selling luxury goods, clothing, and furniture.
The remaining 12% of revenue comes from Lotte Cinema and Lotte Home Shopping.
To save costs, LS has exited the China hypermarket business. It sold 74 hypermarkets to Wumei Holdings and shut down 26, with 12 more in the pipeline for shutdown. LS also works to increase automation as well as reallocation of current staff in a move to reduce SG&A cost by KRW100bn.
Leadership
Shin Dong-Bin has been the Chairman of LS since 2000 and holds the same position at other companies under the Lotte Group. He obtained a Bachelor's Degree in Economics from Aoyama Gakuin University, Japan and a Master of Business Administration from Columbia University, US.
On December 22, 2017, he was handed down a two-year suspension of a jail sentence with embezzlement and breach of trust in October 2016. Moreover, on February 13, 2018, he was sentenced to 30 months in jail but the Seoul High Court released and suspended Shin's jail sentence for four years on October 5, 2018.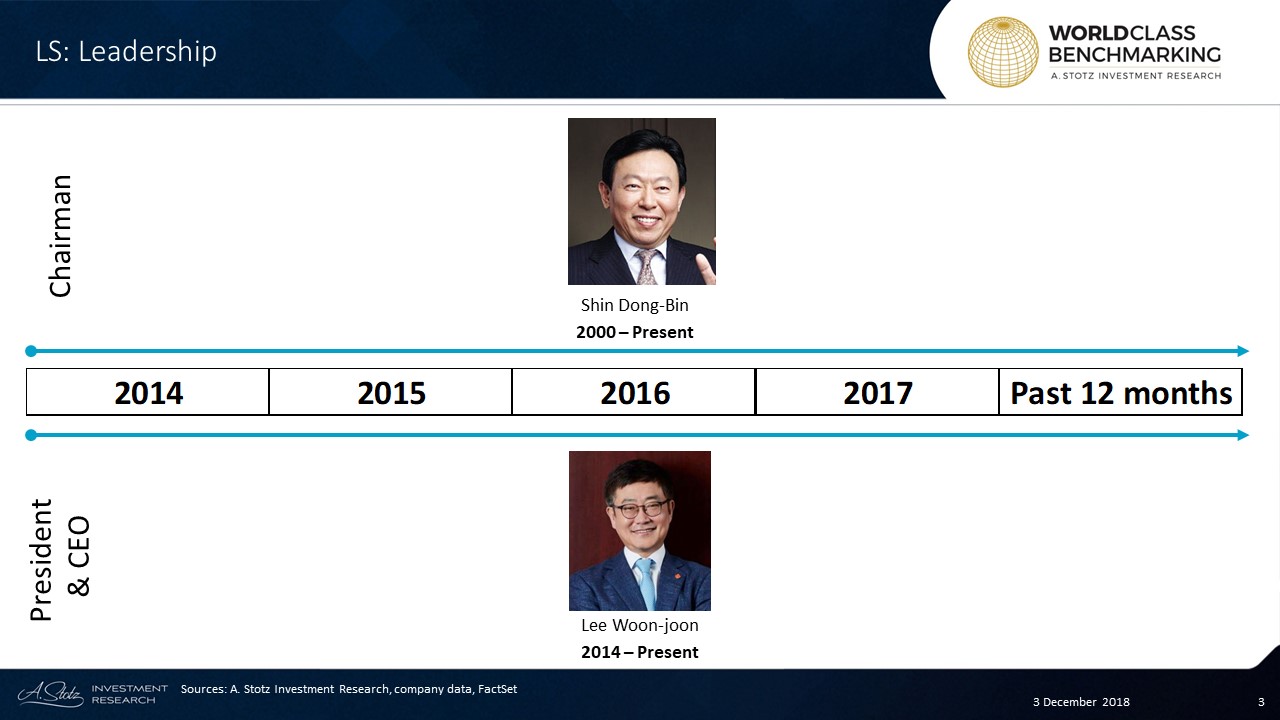 Lee Woon-Joon has served as the President and CEO of LS since 2014. In the past, he also held a Directorship position at Lotte Group. Furthermore, he graduated from Cheongju University in South Korea in 1977.
World Class Benchmarking
Profitable Growth has ranked among the worst over the years. In the past 12 months, LS ranked among the worst 127 out of 1,270 large Consumer Discretionary companies worldwide.
Profitability has shown the same poor ranks as Profitable Growth.  Growth improved in 2016 but has dropped to #10 afterward.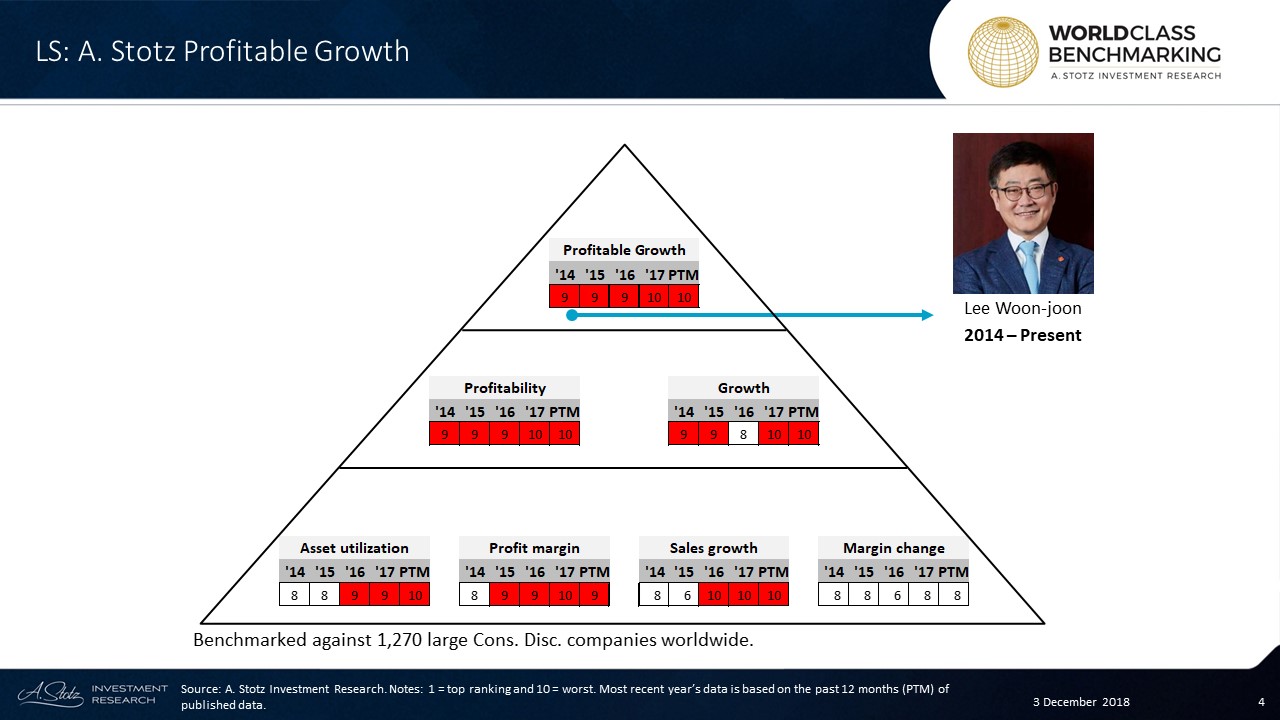 Asset utilization and Profit margin have shown very poor ranks for the whole time period.
Sales growth has ranked in the worst decile since 2016. Margin change has been steady at #8 throughout the time period except the year 2016 when LS ranked at #6.
---
What're your thoughts on LS?
If you like our research, share it with your friends.
---
DISCLAIMER: This content is for information purposes only. It is not intended to be investment advice. Readers should not consider statements made by the author(s) as formal recommendations and should consult their financial advisor before making any investment decisions. While the information provided is believed to be accurate, it may include errors or inaccuracies. The author(s) cannot be held liable for any actions taken as a result of reading this article.