Sales Growth Has Picked Up at Geely Automobile
Watch the video with Andrew Stotz or read a summary of World Class Benchmarking on Geely Automobile Holdings Limited.
---
---
Background
Founded in 1986, Geely Automobile Holdings Limited is a Chinese manufacturer of passenger cars, SUVs and motorcycles.
The company is the owner of Volvo and plans to add another brand, Lynk and Co, in 2017.
Geely is the second largest car manufacturer in China with around 96% of its cars sold domestically.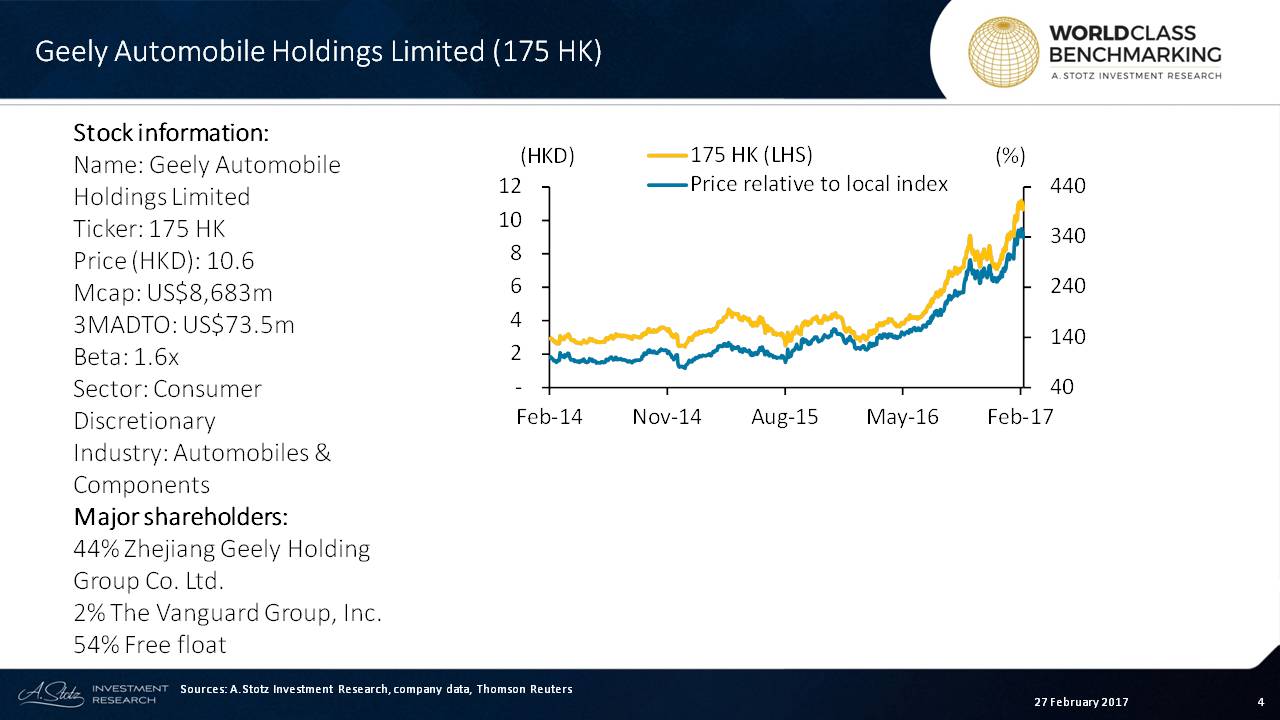 Business Description
Geely is 42%-owned by Zhejiang Geely Holdings Group.
Its portfolio consists of 30 models spanning from low-to-medium segment sedans, such as its New Vision, the GC9 and the premium Emgrand series, to new offerings in the expanding van sector.
The company's commitment to a new energy vehicle strategy, announced in November 2015, will leverage Volvo's expertise to produce electric and hybrid cars and to achieve 90% of sales from this type of vehicle by 2020.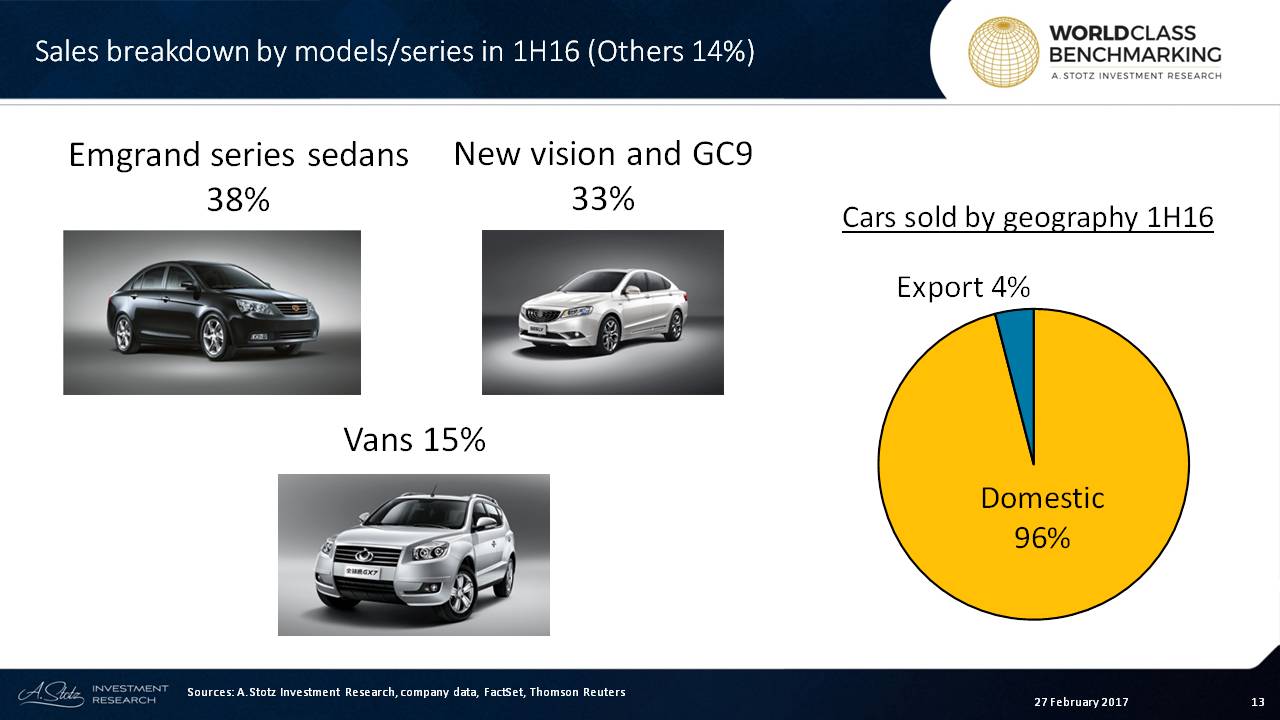 The company's sales network comprises 1,000 dealers and 1,000 service stations across China and 540 sales and service stations in 43 other countries. Most of the vehicles are sold in-country with a small portion of exports going mostly to Saudi Arabia, Sri Lanka, Belarus, Cuba, Egypt and Ethiopia, which together stood for more than 81% of its total exports.
The purchase of Volvo Cars by Zhejiang Geely Holdings Group Co., Ltd. for US$1.8 billion in 2010 was the biggest foreign car acquisition in China's history. Since then, Volvo has launched plants in China.
Leadership
Chairman Li Shufu began his current role in 2005 and is in charge of overall strategic planning. He is a principal founder of Geely and has 30 years of experience in the Chinese automotive market.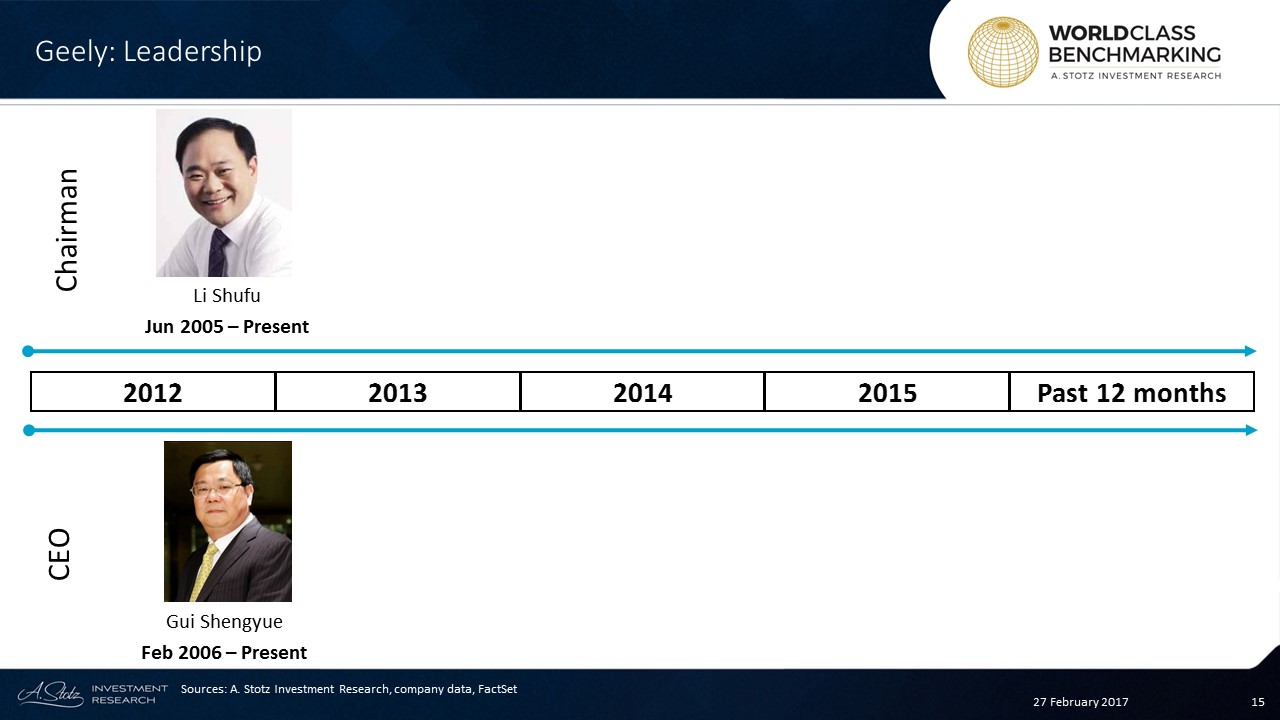 Gui Shengyue joined Geely in 2005 as an Executive Director before being named CEO one year later. Shengyue has more than 29 years of experience in administration and project management. Thus far, his leadership has put Geely in the top half of financial performers globally in the automotive industry.
World Class Benchmarking
Profitable Growth has been unusually stable at #4 over the last five years, except for a drop to #6 in 2014.
Geely currently ranks among the best 496 of 1,240 large consumer discretionary corporations.
Profitability sits slightly above average at #4 for the past two years, while Growth has been strongly ranked at #2 during the same time period.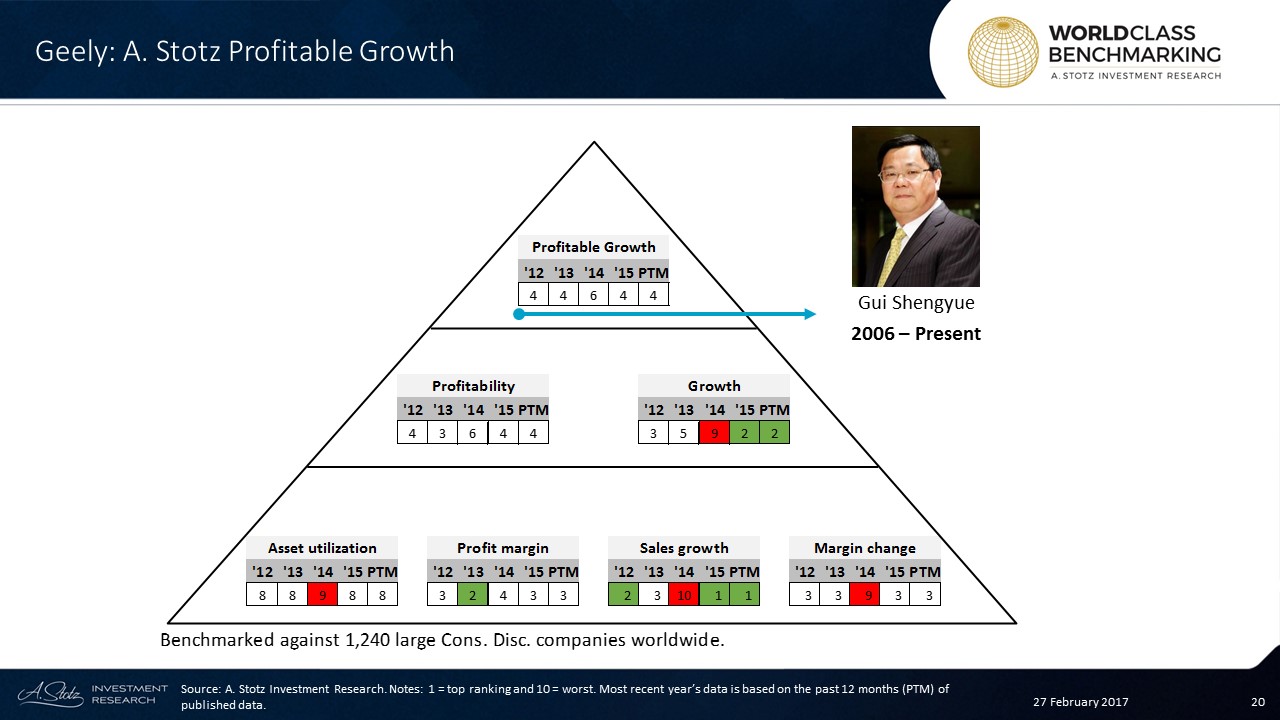 Asset utilization has remained poor for years, while Profit margin has driven the profitability rank all along.
Sales growth (#1) and Margin change (#3) have both been strong since 2015.
---
Would you invest in Geely Automobile?
If you like our research, share it with your friends.
---
DISCLAIMER: This content is for information purposes only. It is not intended to be investment advice. Readers should not consider statements made by the author(s) as formal recommendations and should consult their financial advisor before making any investment decisions. While the information provided is believed to be accurate, it may include errors or inaccuracies. The author(s) cannot be held liable for any actions taken as a result of reading this article.