Diversified Thai Conglomerate with Presence across ASEAN
Background
Siam Cement Public Company Limited is a highly diversified company that engages in chemical, cement and building materials and packaging businesses.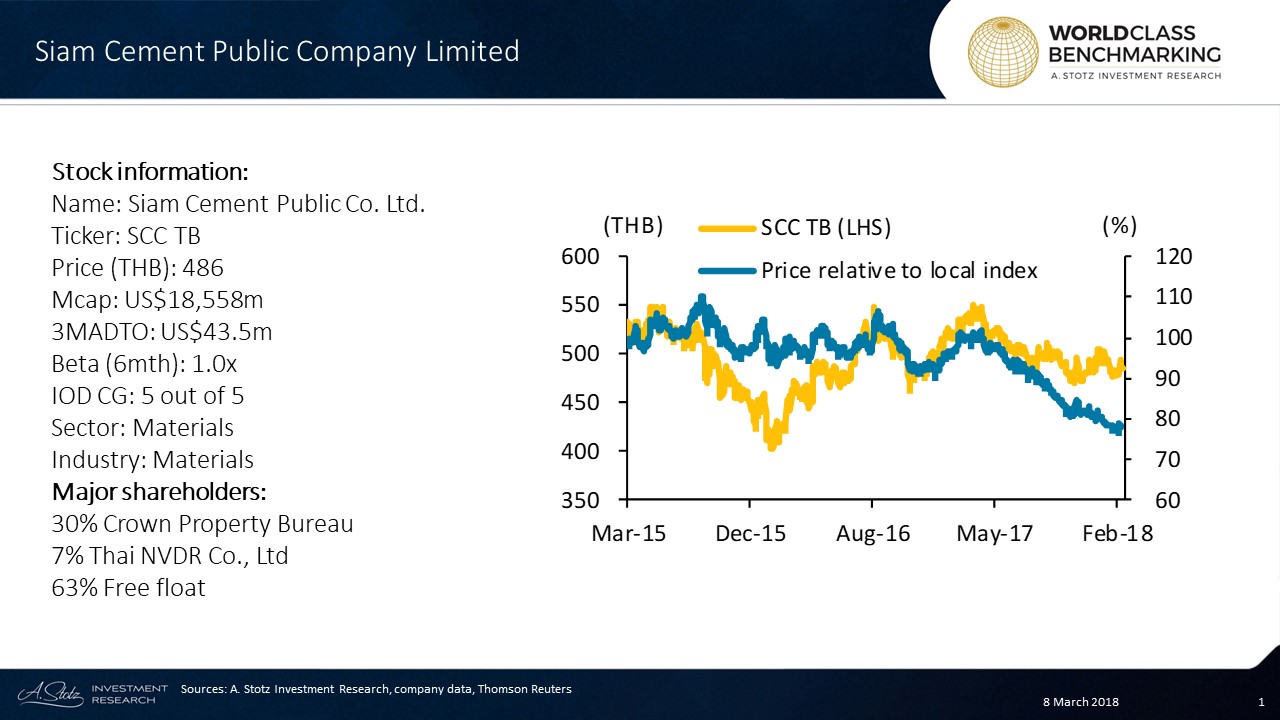 It is headquartered in Thailand and has operations or plants in China, Indonesia, Vietnam, Myanmar, Cambodia and Laos.
Business Description
SCC has three strategic business units. Its cement-building materials segment contributes 36% of total revenues, manufactures and sells grey cement, ready-mixed concrete, white cement, dry mortar and refractory cement. Its plants are in Thailand, Cambodia, Vietnam, Indonesia, Myanmar, China and Laos.
The company's chemicals segment manufactures and supplies a full assortment of petrochemical products ranging from upstream olefins and intermediate petrochemicals to downstream petrochemicals such as polyethylene (PE) and polypropylene used in lubricants, cars, construction, and film. SCC has developed in-house new forms of PE with improved properties that can be used in high-value added (HVA) products.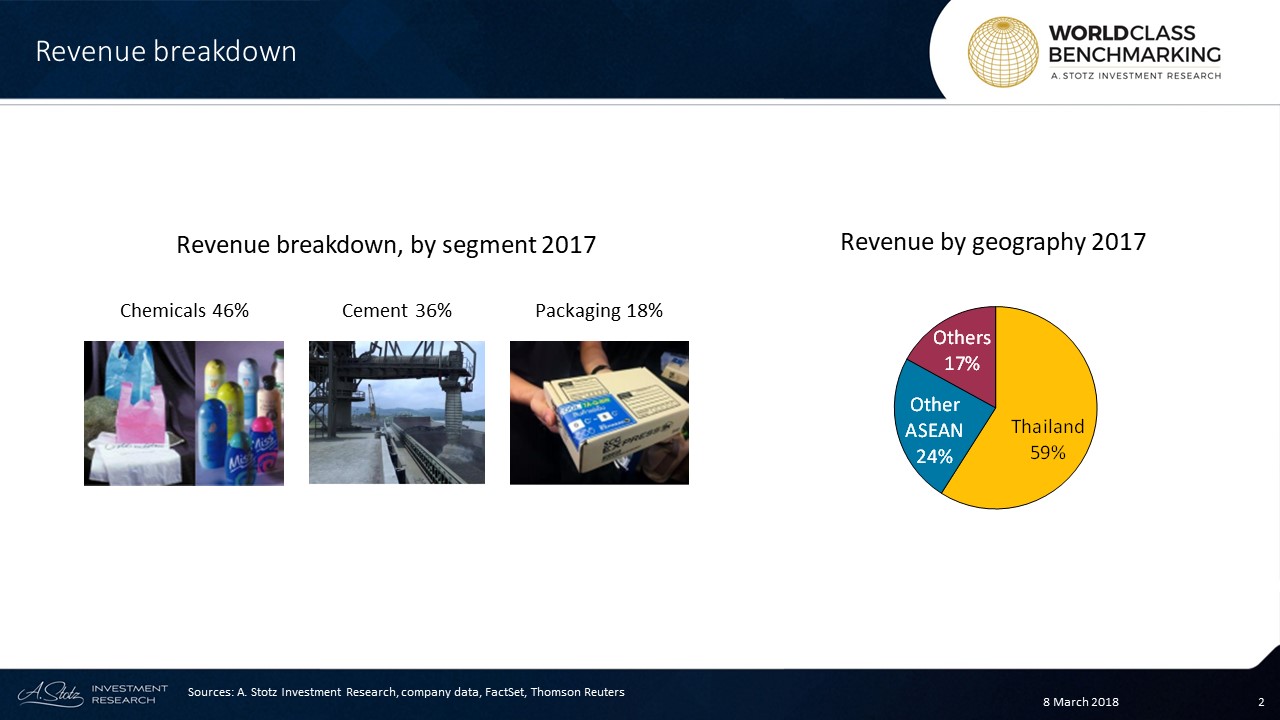 Upon completion in 2022, the Long Son Petrochemicals project in Vietnam should expand SCC's capacity by 70%.
SCC rebranded its SCG paper division to SCG packaging to focus on providing packaging for food, beverage and electronics industry including printing paper, paper boxes, corrugated containers.
Leadership
Chirayu Isarangkun Na Ayuthaya is the Chairman of SCC and has served in this position since 2007. He has held Chairmanship at The Siam Commercial Bank Public Company Limited (SCB TB) along with many other notable positions some of which he still holds. His education includes B.Sc. and Ph.D. in Economics from London School of Economics, UK and the Australian National University respectively.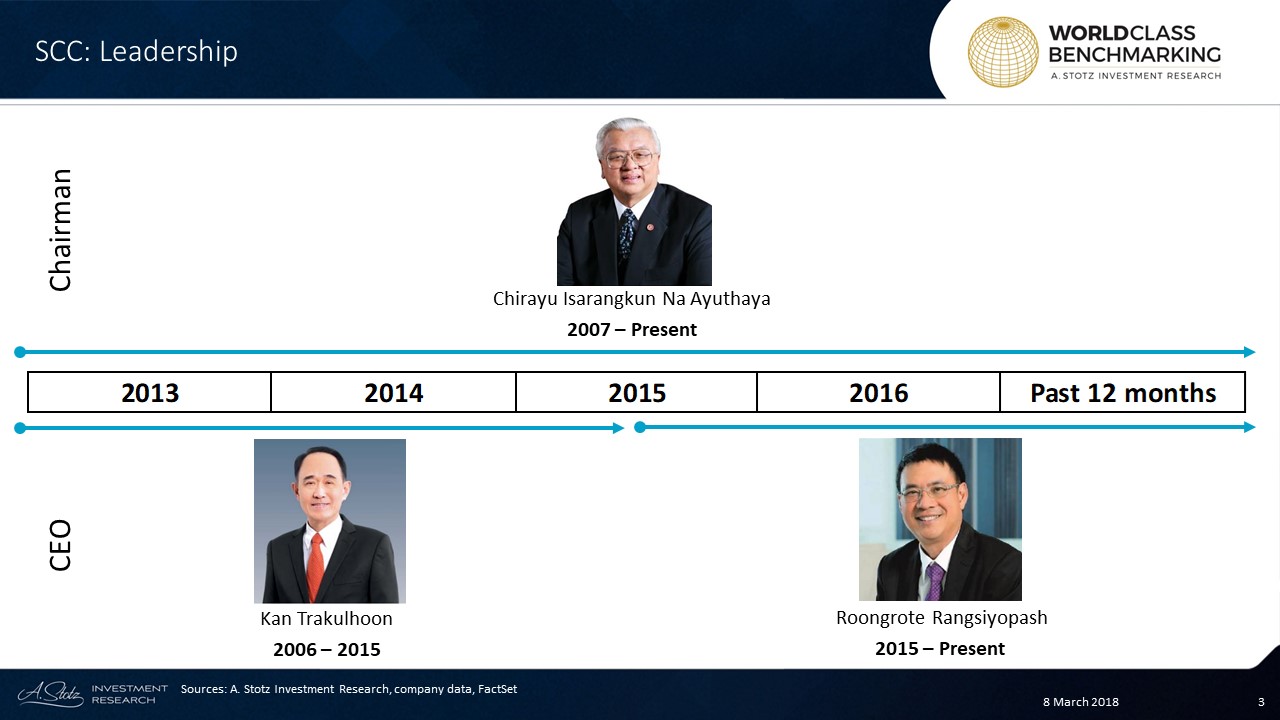 Roongrote Rangsiyopash was appointed the CEO of SCC in 2015. His other current positions include the role of Chairman at Thai British Security Printing Public Company Limited (TBSP TB) and he is also a Director at two other companies. He received his Bachelor's Degree in Mining from Chulalongkorn University, Thailand, Master's Degree in Industrial Engineering from the University of Texas, US and MBA from Harvard Business School, US.
World Class Benchmarking
Profitable Growth has been good in recent years, ranked between #2 and #3 since 2013. In the past 12 months, SCC ranked among the top 225 of 750 large Materials companies worldwide.
Profitability has consistently performed well with a slight drop to #3 in the past 12 months. Growth has fluctuated over the years and currently has a low rank of #8.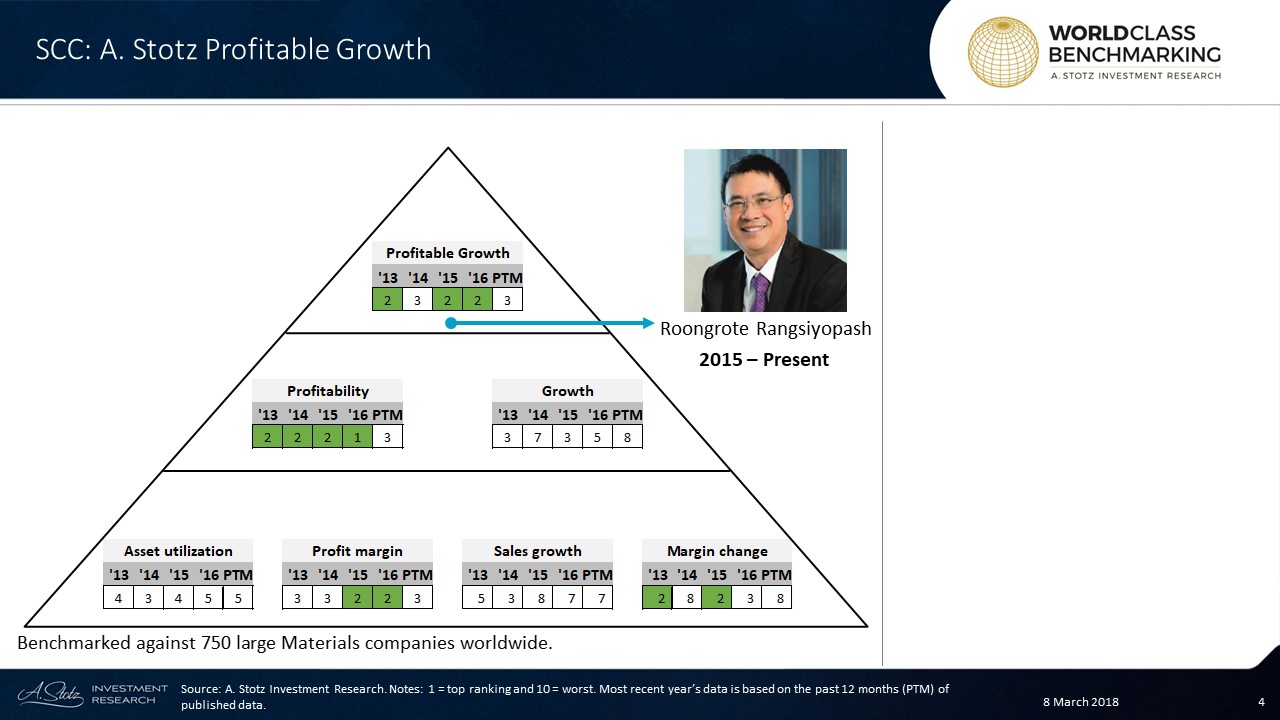 Both Asset utilization and Profit margin have been relatively stable. In the past 12 months, Asset utilization stayed average and Profit margin fell one step in rank to #3.
Sales growth has been relatively poor with most of it ranks at average or below, ranked at #7 in the most recent period. Margin change has been volatile and been worsening since 2015.
---
What're your thoughts on SCC?
If you like our research, share it with your friends.
---
DISCLAIMER: This content is for information purposes only. It is not intended to be investment advice. Readers should not consider statements made by the author(s) as formal recommendations and should consult their financial advisor before making any investment decisions. While the information provided is believed to be accurate, it may include errors or inaccuracies. The author(s) cannot be held liable for any actions taken as a result of reading this article.