Consistently Great Profitability at Chularat Hospital
Background
Chularat Hospital Public Company Limited operates seven clinics and four hospitals in Thailand. CHG has about 600 inpatient beds, though generates slightly more income from its outpatient services.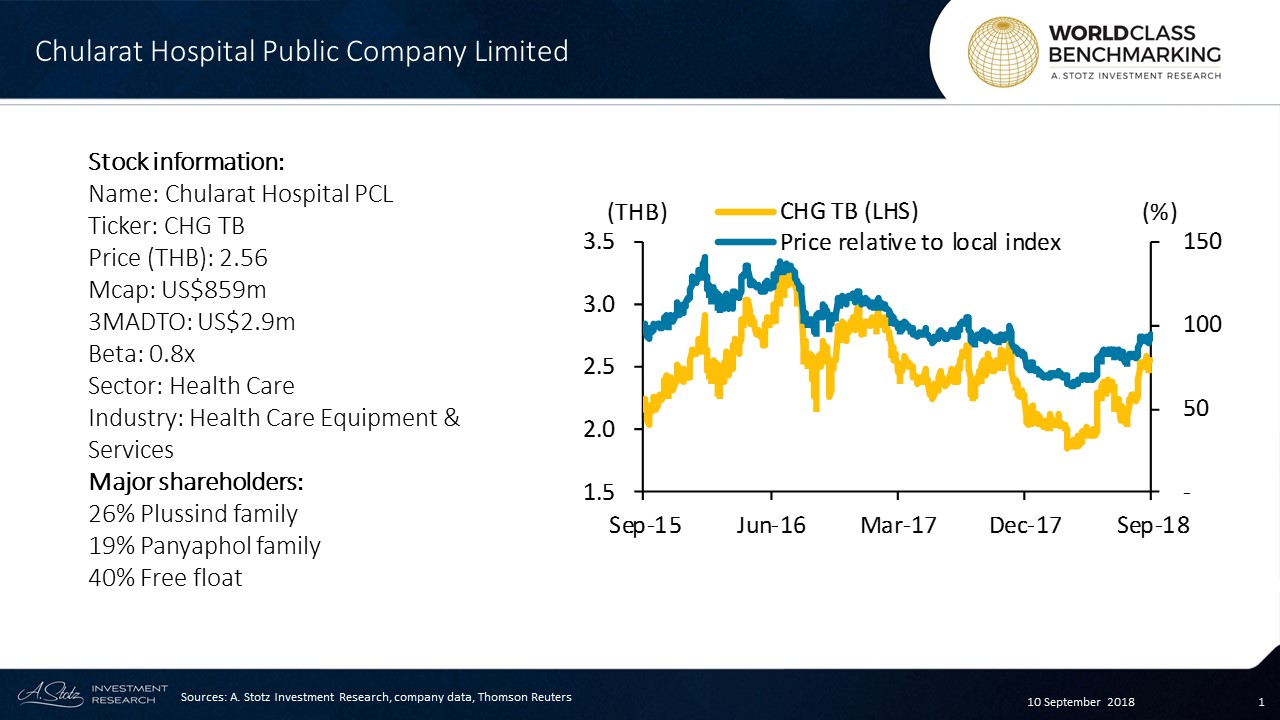 It also engages in related businesses, such as production and distribution of drugs and medical equipment, and provision of research and laboratory services.
Business Description
CHG operates in two segments, Hospital Operations and Other Businesses. It also distributes medical instruments and dietary supplements. Patients are categorized as outpatients unless they are hospitalized for more than 24 hours, which are then called inpatients.
The company has seven main hospitals with 599 beds and seven clinics operating under the Chularat brand. They provide medical treatment and nursing care to patients and managed-care patients under different government programs. It has expertise in hand and microsurgery – as it treats many accident victims from the eastern Bangkok and east of Bangkok industrial zones – neonatal intensive care and stroke treatment.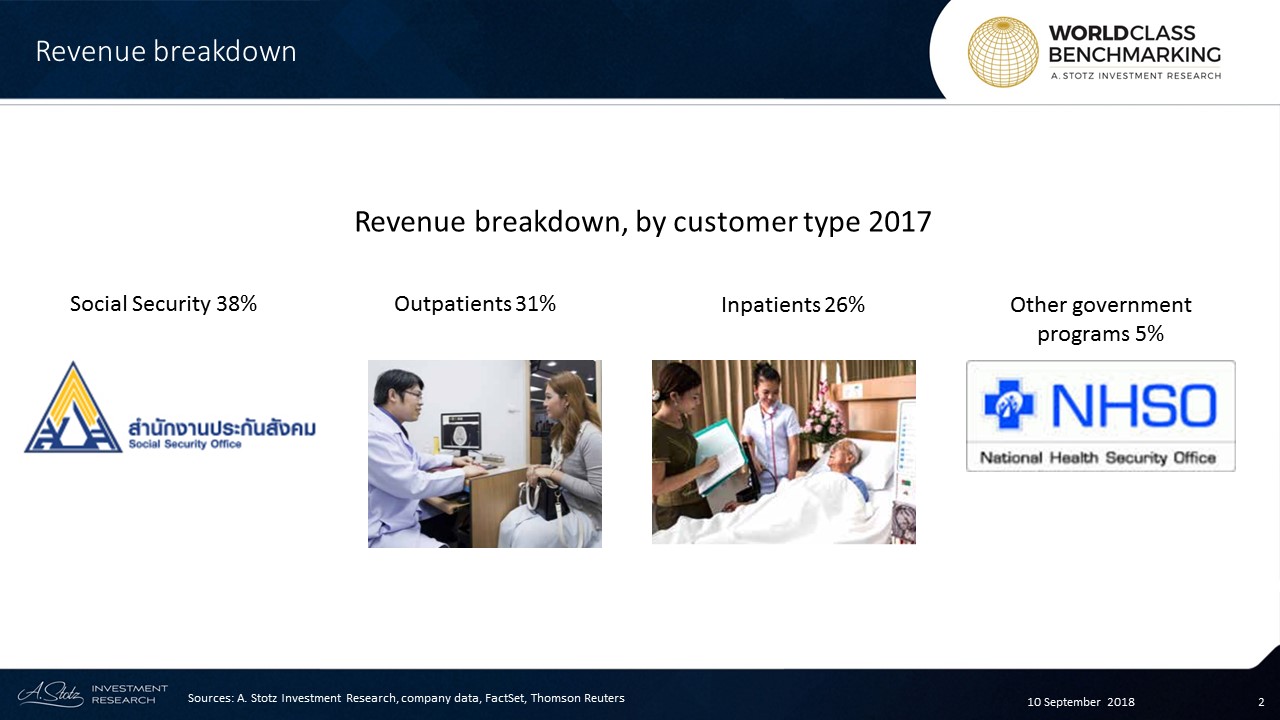 CHG has eight subsidiaries, most of which are responsible for operation of different hospitals and/or clinics. Thai Amdon Co., Ltd. is the exception as it serves as an import and distribution business for medical equipment.
New hospital with a budget of USD18m, Ruampat Chachoengsao, has been under construction since 2016 and is expected to fully operate in 1H19. It's going to add 100 beds and 20 operating rooms to CHG's capacity.
Leadership
Kriengsak Plussind was appointed as Chairman of CHG in 2004, and also has served the same position at Ilicon Company Limited since 1976. He is also on the board of directors in numerous other companies. He studied a Mini MBA in Health from Chulalongkorn University, Thailand and Director Accreditation Program (DAP) Class 2011 Thai Institute of Directors.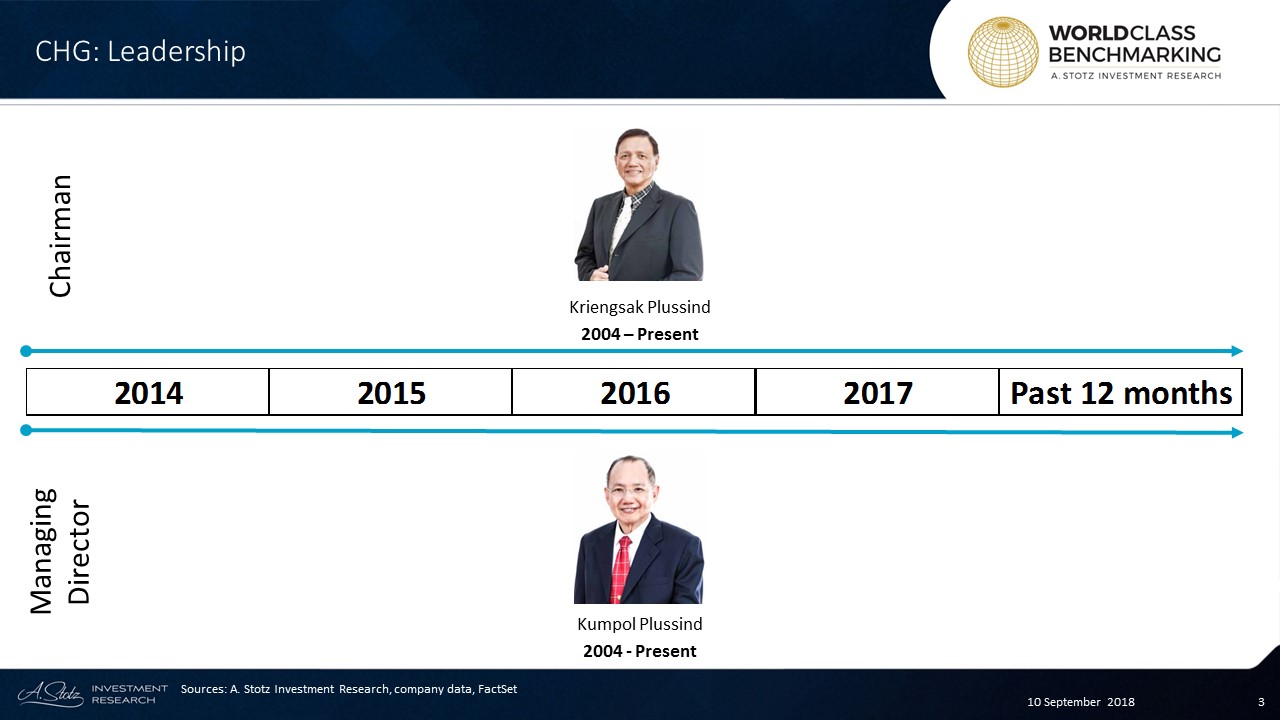 Kumpol Plussind has held the position of Managing Director since 2004. He earned a Doctor of Medicine from Chulalongkorn University, Thailand and passed the Director Accreditation Program (DAP) Class 2011 Thai Institute of Directors.
The Plussind family owns 26% of the shares outstanding.
World Class Benchmarking
Profitable Growth at CHG has been great over the years, and in the past 12 months, the company ranked in the top 144 out of 720 small Health Care companies worldwide.
Profitability and Growth have both been stable over the years. Profitability has consistently ranked at #1 except for the year 2017 when it dropped to #2. Growth has consistently ranked at #5 except for the year 2017 when it dropped to #6.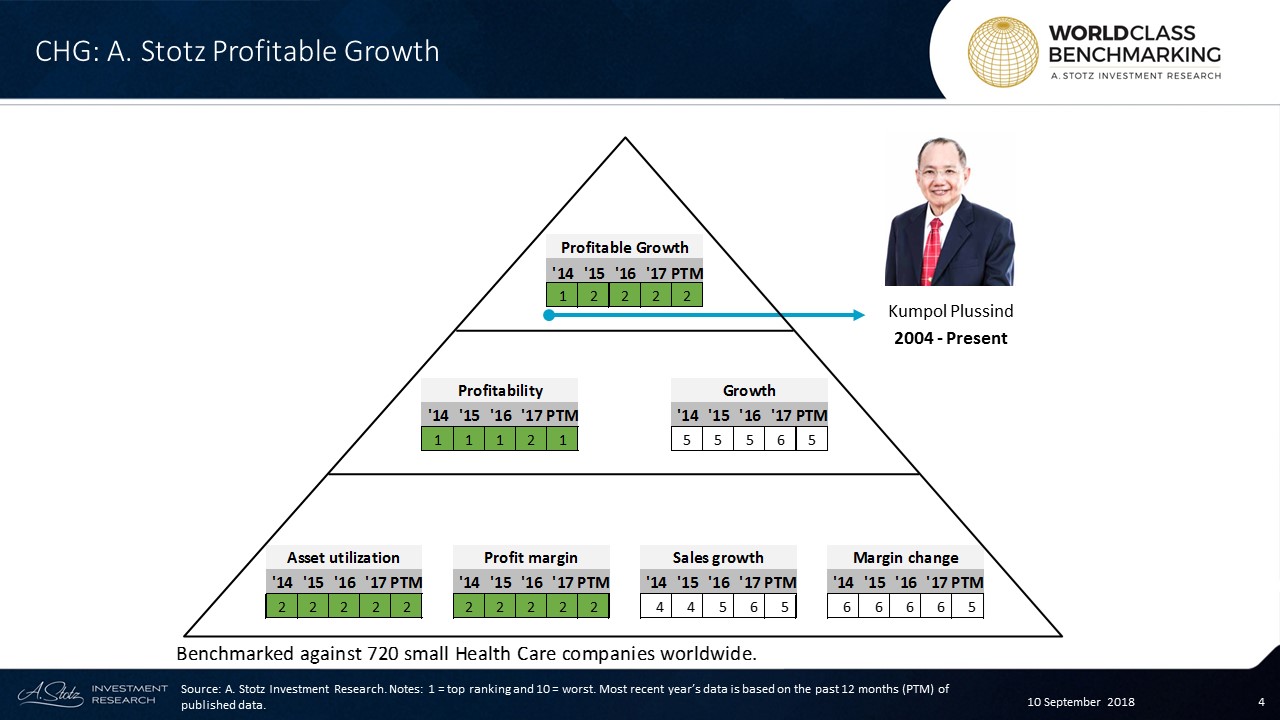 Asset utilization and Profit margin have consistently ranked at #2 since 2014.
Sales growth improved to #5 from #6 in the most recent period, same for the Margin change.
---
What're your thoughts on CHG?
If you like our research, share it with your friends.
---
DISCLAIMER: This content is for information purposes only. It is not intended to be investment advice. Readers should not consider statements made by the author(s) as formal recommendations and should consult their financial advisor before making any investment decisions. While the information provided is believed to be accurate, it may include errors or inaccuracies. The author(s) cannot be held liable for any actions taken as a result of reading this article.